This post may contain affiliate links which may give us a commission at no additional cost to you. As an Amazon Associate we earn from qualifying purchases.
Halloween is sneaking up on us! Throwing a tricked-out bash for the day of spook can be big bucks if you're not careful. SITStah Joanne from Suburban Life Journal shares with us how to do it on the cheap.
For someone who didn't want to leave behind the lazy, cicada singing days of summer, oh boy am I embracing the season now. I have three pinboards dedicated to Halloween alone on Pinterest.
I can't get enough and my excitement has spilled over to my daughter. We are planning a kids Halloween bash this year, her first ever. With Christmas and a birthday looming in the distance, this has to be done as low budget as possible. How are we doing it?
Tips for A Cheap & Easy Halloween Party
The Dollar Store is Your Friend, But Shop Early.
These days, dollar stores carry so many great items, including party items of every kind, from decorations to table settings to candy. We found Halloween themed paper plates, napkins and cups, and a disposable tablecloth. Unique finds were scary items such as Styrofoam grave stones, a fake skull, a fake laboratory rat, a witch's mask and other items to be used for a scary scavenger hunt; a black plastic cauldron and flower foam circles to display the ghost brownie pops that I will be making.  Fake spider web material (used bunched up instead of spread out) with spiders will mask the flower foam and give the appearance that the ghost pops are rising from the bubbling cauldron. We also found gummy body parts and themed treat bags. We spent about $25 for decorations, party goods and candy.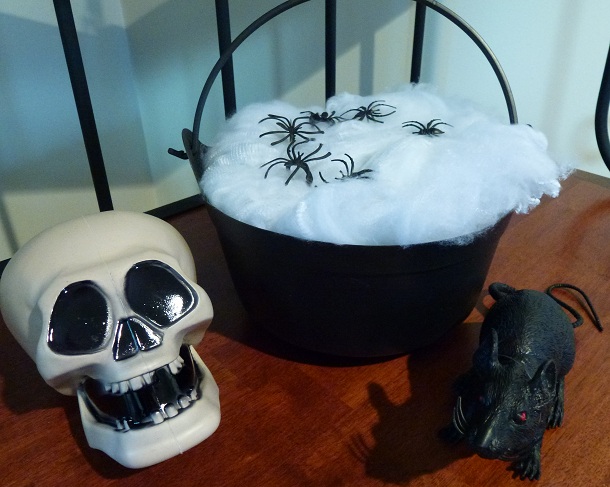 Moonbounce for $179? I Think Not.
We are planning old-fashioned games. On the agenda are the scary scavenger hunt, apple bobbing and mini boo pumpkin decorating.
We are putting our own twist on the scavenger hunt. Kids will work in teams to find the items on their list. Each item, when found, will have a letter attached to it. They will write the letter in the blank next to the item on their list. When all items have been found, the letters will spell out a message such as Happy Halloween or Trick or Treat. The first team to solve the spooky message wins, but everyone gets treats for solving the message. Saving money here involves using items you already have on hand, such as a realistic looking bat I picked up years ago at our local renaissance festival or the gargoyle I have sitting in the garden. I plan on moving things around so my daughter will not have an advantage.
To save costumes or to prevent faces from getting wet on a chilly day, you can have kids bob for apples with a kitchen utensil such as a ladle or wooden spoon, something challenging but not impossible. I am using a lined galvanized tub that I already have on hand so the cost is only for the apples. If you have the room and enough supervision, kids can dip their apples afterwards in heated caramel and decorate them.
We will be using mini boo pumpkins for decorating. They are the least expensive and the easiest to handle for younger members of the party. They also make great party favors. Go through your child's art supplies to see what you have on hand. My daughter always has more than enough supplies to share and we even found Halloween stencils that we forgot she had.
Keep the Guest List Small
You don't have to invite the entire class if you are discreet. I allowed my daughter to choose a few playmates from school since we have cousins and friends outside of school that will be coming. We sent evites. They are free but not everybody checks their email regularly, so it may be wise to follow up with a phone or text reminder to check email for a party invitation.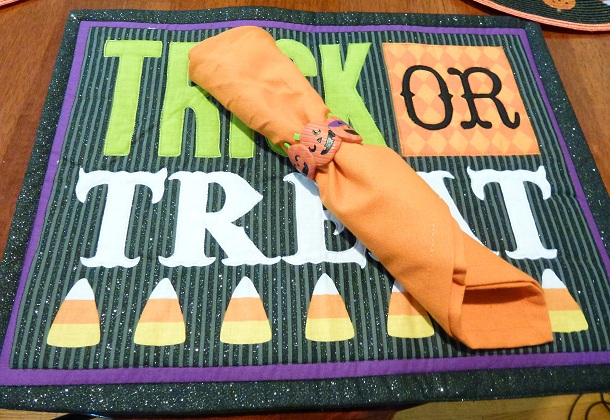 Music Sets the Mood
I downloaded some kids' Halloween songs and sound effects on iTunes for about $7.99. Sound effects can be played during the scavenger hunt to give it a creepier feel.
Happy Haunting!
About the Author: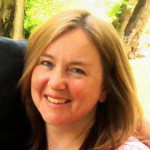 I am the writer/blogger for Suburban Life Journal. I would describe myself as a reawakened writer. Life comes full circle. I spent 21 years in the science field. I am a military wife and mom to a 6 year old daughter and two stepchildren, 17 and 11. We have a mini zoo. My blog explores family and parenting issues, hopefully with a sense of humor as often as possible, and covers the occasional DIY project. I enjoy writing, reading, and gardening. I can't seem to stop photographing backyard frogs and toads. I stalk them.
Want to Write for Us?
Are you interested in guest posting for The SIT Girls? Then let us know! Our super easy process is described in this post. We'd love to drive more page views to what you have to say.
More Crafts Posts That You'll Love
It is our most favorite time of year! Come indulge your inner craft-er with us: