This post may contain affiliate links which may give us a commission at no additional cost to you. As an Amazon Associate we earn from qualifying purchases.
Sugar and Spice and everything nice… that's what the holidays are made of! Okay, maybe not all the time, but that is what a Cookie Exchange Party is made of! A cookie exchange party is one of the best ways to sample baked goods.
As I have mentioned before, the holidays are busy for us, so a party that solves a solution is right up my alley. Much like my Gift Wrapping Party, this Cookie Exchange Party solved a problem! Get your mixer, butter, and sugar ready, and invite all your best baker friends to enjoy the holidays and sample tons of delicious treats!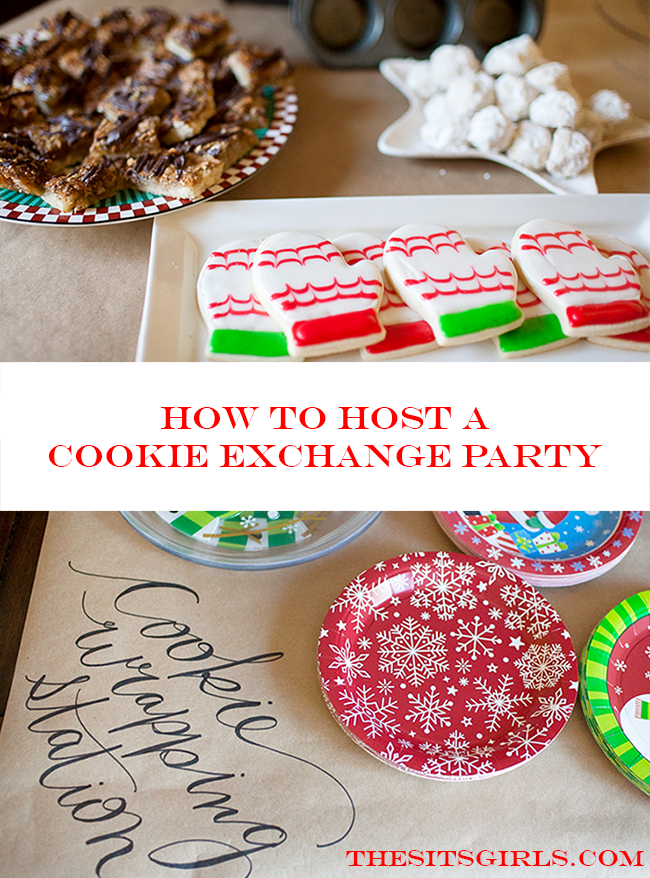 How To Host A Cookie Exchange Party
This year I was invited to two cookie exchanges, and jumped at the opportunity to attend. I love to bake, and the best part is to share recipes and see what others have come up with! The premise of the party is that you ask each guest to bake 3-4 dozen of ONE recipe. The dozen amount could be more or less depending on how many guests are coming. For a group of 20 ladies we were each asked to bake 4 dozen cookies or bars.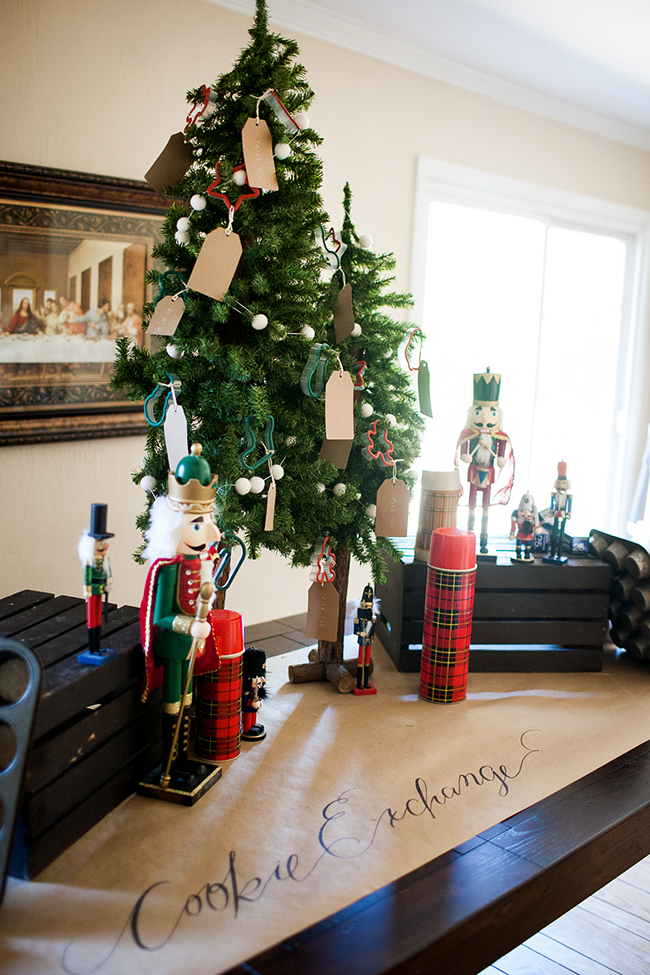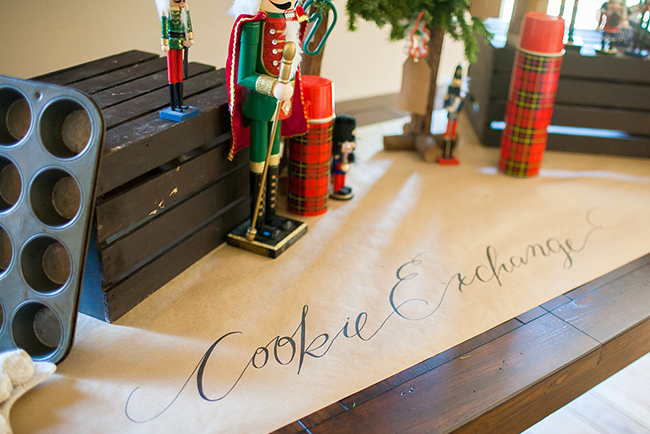 The best part about a cookie exchange party is it's really low key and your guests can relax. You are not rushing around to grab a white elephant gift or an Ugly Sweater at the last minute. The cookies can be baked in your own home at your leisure. Once you arrive, you drop your cookies, a copy of your recipe, and then grab a tray and load up on sugary goodness to take home!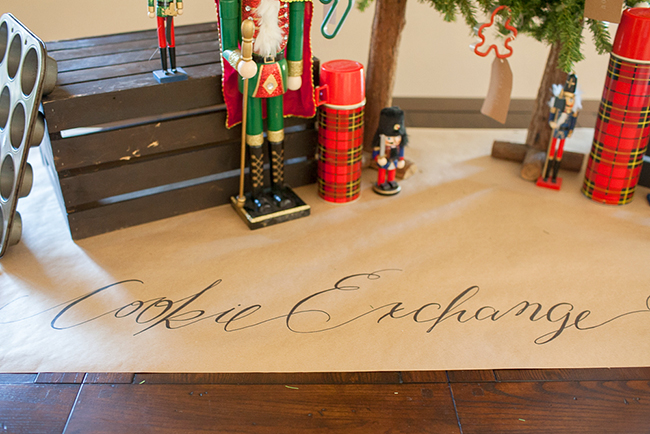 The decorations for the party had to be kept simple since we needed a lot of table space for all the goodies! My dear friend, who has beautiful handwriting, helped design our kraft paper table runner.
On one end we wrote, "Drop your treats here" so our guests would know where to set all their sugary sweets!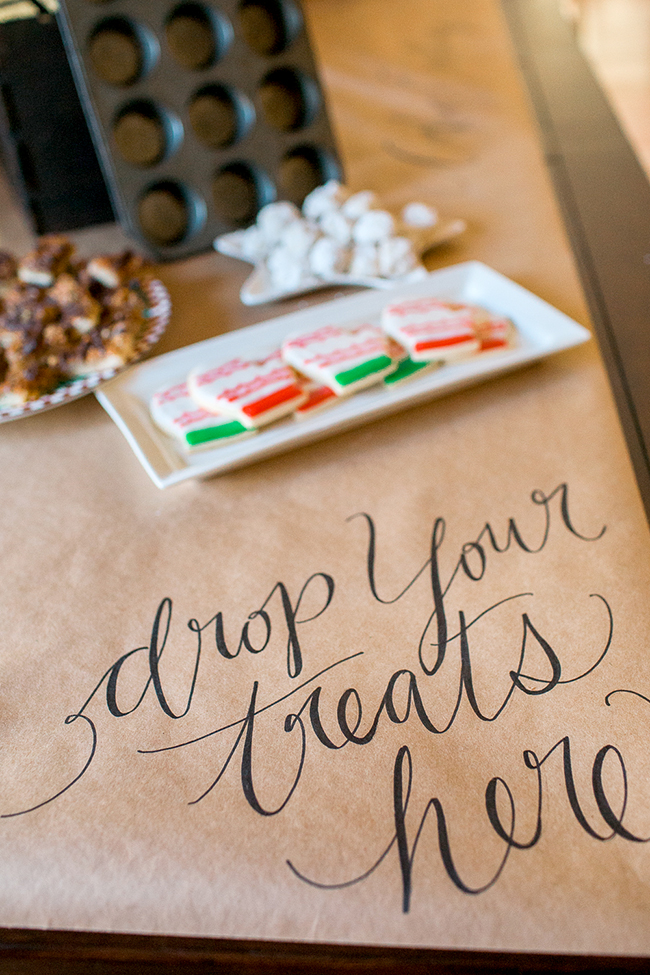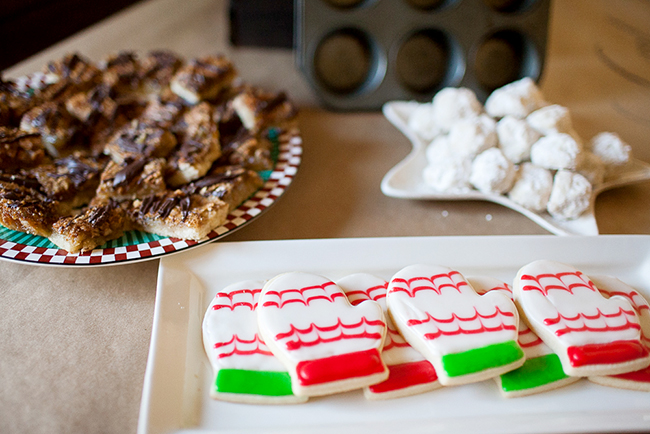 On the opposite end we had a "Cookie Wrapping Station" set up. I provided cute Christmas platters, plastic wrap, tin foil, zip lock bags, and anything else the ladies needed to wrap up their goodies!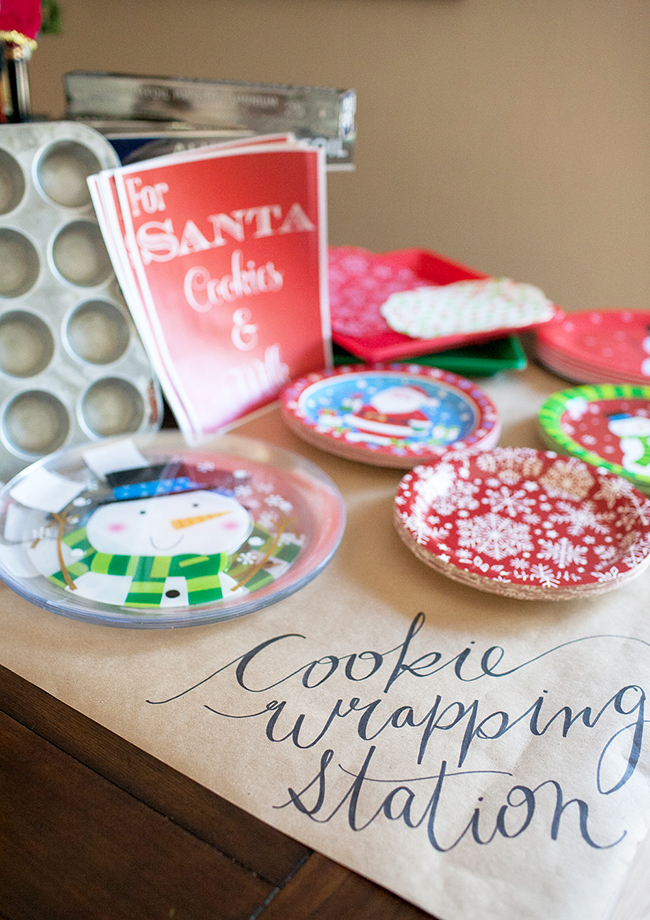 For some extra decoration I added some old tin muffin pans. It's such a fun idea to use everyday household items to decorate for a party. It saves money, and looks shabby chic!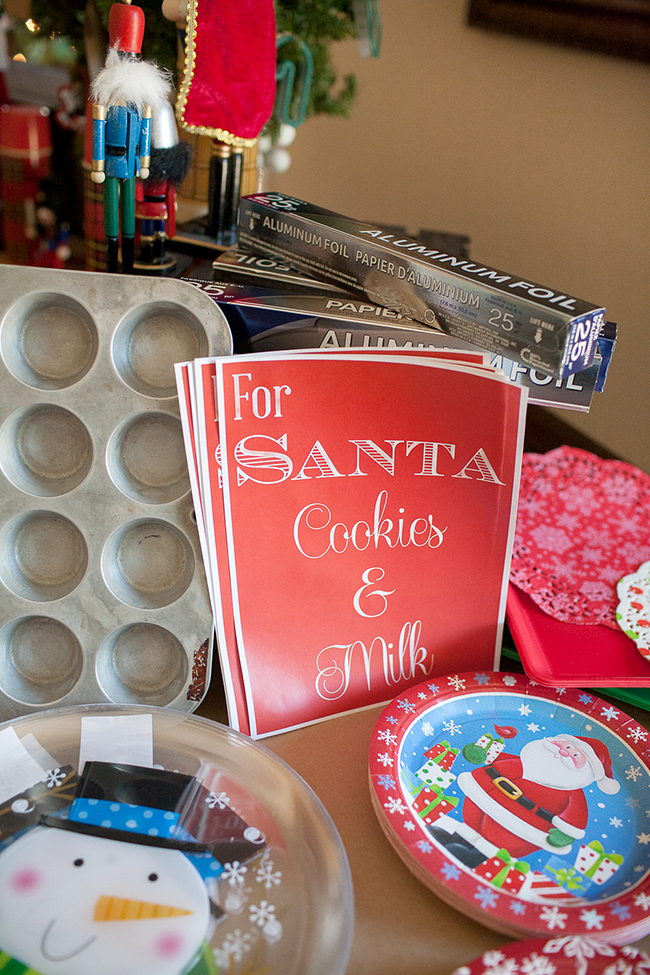 For favors I chose to go with the obvious choice – a cookie cutter!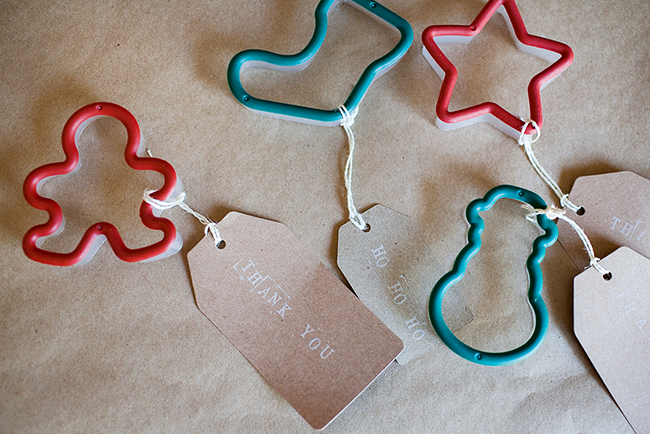 I hung them as ornaments on our little pine trees, and let the ladies choose one before they left.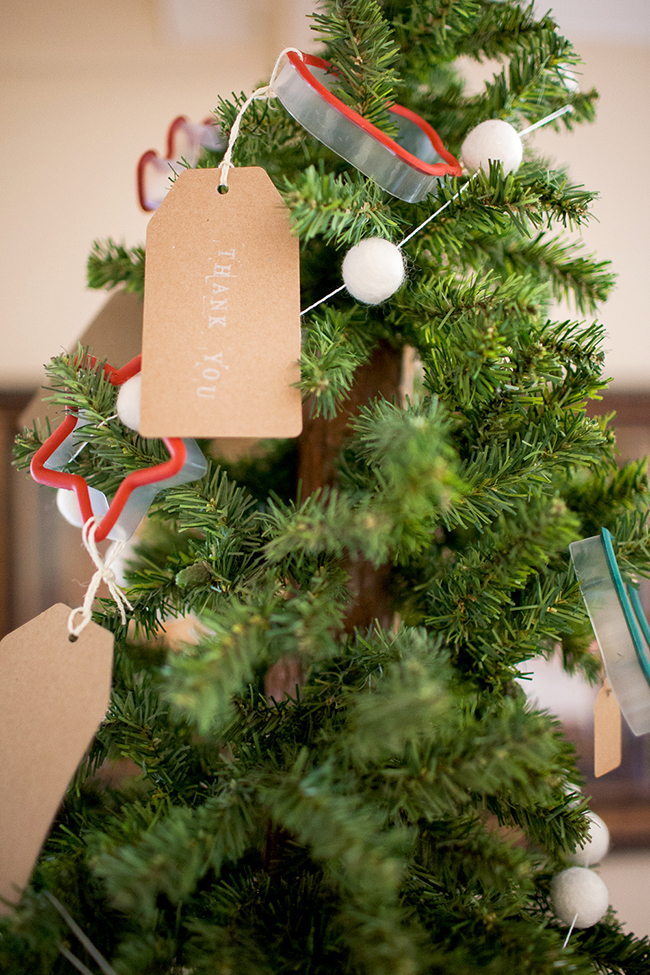 When I think of cookies I go right to thinking of cookies for Santa. I let each lady take one of our adorable "Cookies For Santa" printables so they were all set for Christmas Eve! I always like to plan early, and the kids will have a blast setting a little area with their own sign for Santa!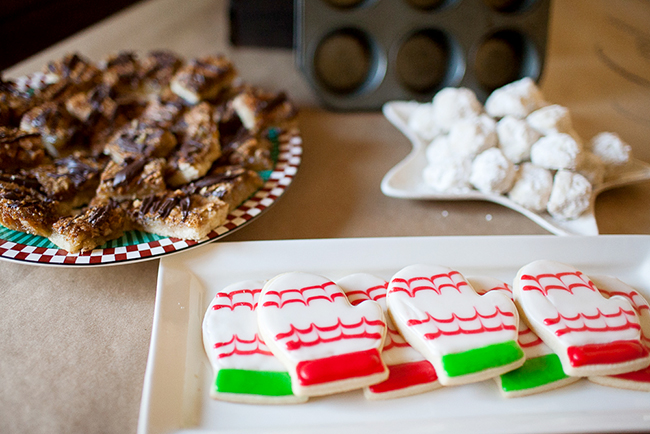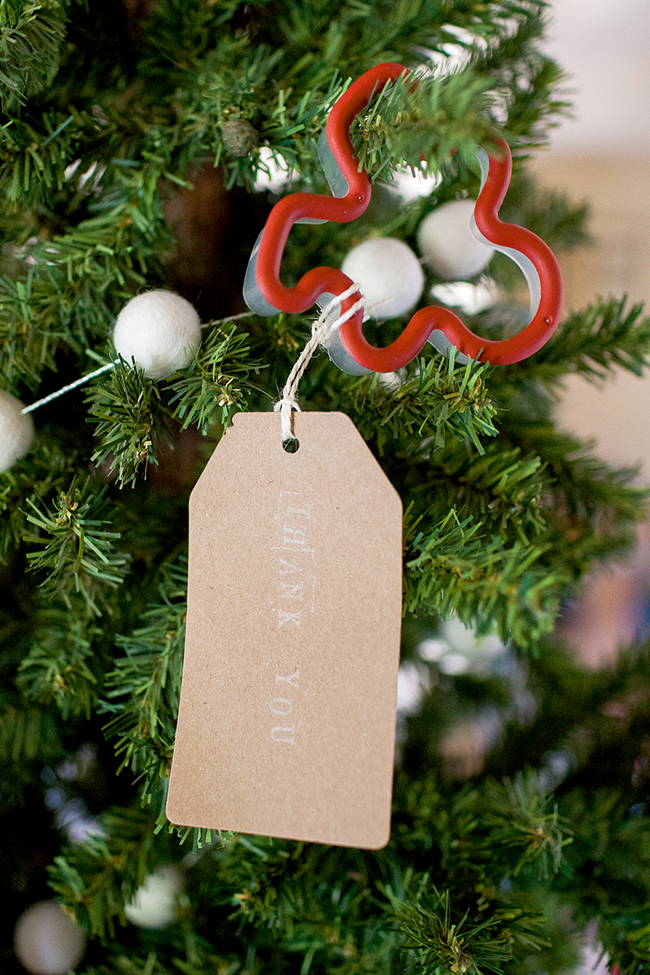 Get ready to host an awesome cookie exchange this year. This is my favorite holiday party, because the setup is minimal, you don't have to worry about preparing all the food, and lets be honest…dessert is the best part of every meal!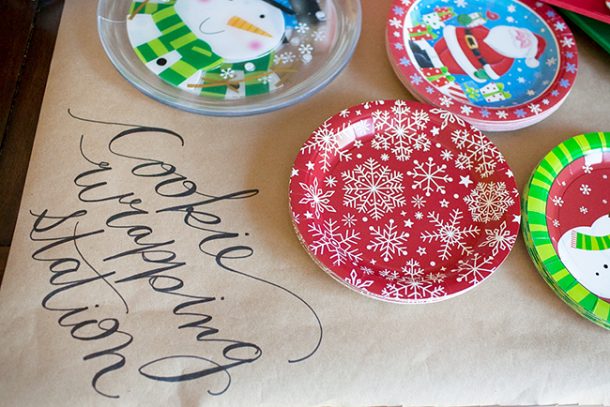 Try some new recipes this year, and get your girlfriends together for a fabulous time!
Looking for great cookie recipes?

Grab our free cookie recipe ebook and check out some of our favorite Christmas cookie recipes: