This post may contain affiliate links which may give us a commission at no additional cost to you. As an Amazon Associate we earn from qualifying purchases.
One of my fondest memories growing up is our annual Easter Egg Hunt. My family was pretty big, with 30 first cousins, so there was always lots of eggs and lots of competition! My cousins and I had such an amazing time racing to collect the eggs in my Grandma's backyard. Now that I am a mom, it is so fun to continue the traditions with my kids! Here are some tips for the perfect Easter egg hunt I have acquired through my vast egg hunting experience!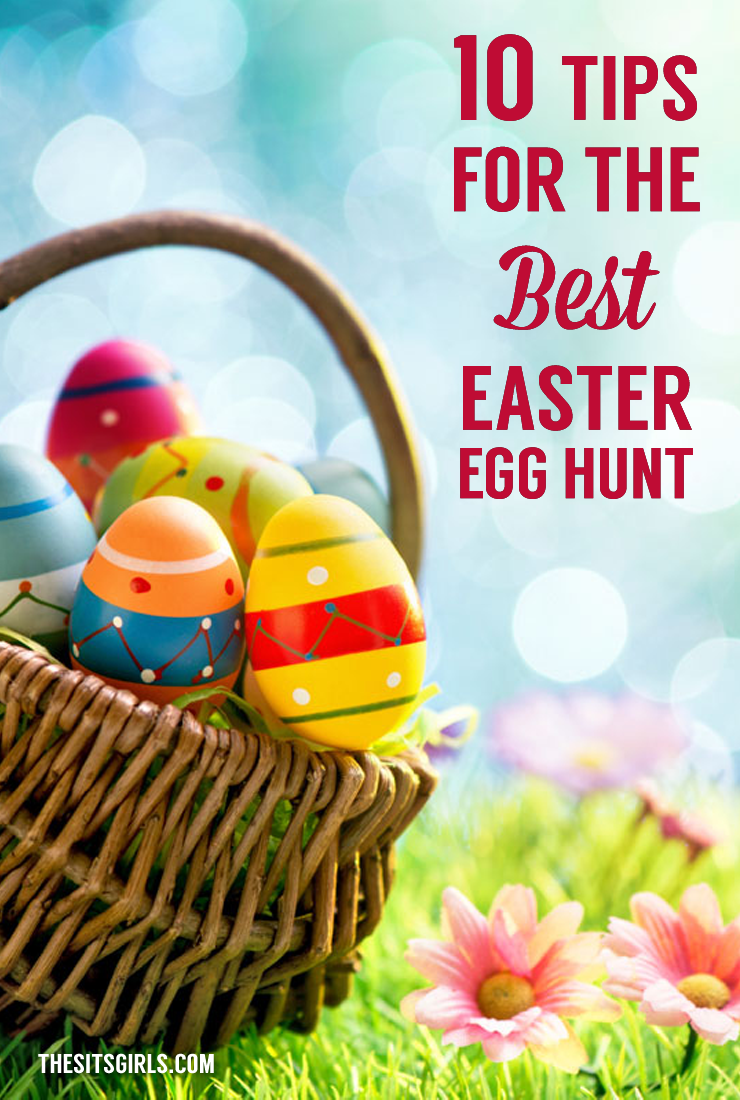 Tips for the Perfect Easter Egg Hunt
Tip 1: Give the Little Ones a Chance!
This seems super practical, but is often forgotten. It is always a good idea to use the idea of staggering starting times depending on ages. In our family, we have every age from toddlers to teens, so we stagger out the starting times. The toddlers start first with a two minute head start. Two minutes later come the 5-8 year olds, and finally two minutes after that, the big kids. It seems to work well, so everybody has a fighting chance to fill their baskets to the brim!
Tip 2: No Little Kids… No Problem!
If your kids have suddenly become too cool for an Egg Hunt then we have the perfect way to fix that! Why not do a Glow-in-the-Dark Easter Egg Hunt? Let each kid invite a couple of friends and organize a late night egg hunt. You can purchase glow in the dark easter eggs, spray them with glow in the dark spray paint, or put a small LED tea light in the plastic eggs to light them up. It is always fun to watch the bigger kids forget their age and have some good, old-fashioned family fun!
Tip 3: Too Much Candy!
Easter can often times mean too many sweet treats! Kids are on a never ending sugar high for a couple weeks, and you are at your wits end. This year try some other ideas to fill plastic eggs. A few of my favorites are Legos, puzzle pieces, hair clips, stickers, silly putty, or the best yet… money!
Tip 4: The Golden Egg
Each year we had a Golden Egg hidden. I am not sure if it stemmed from something Willy Wonka related, but it was the most coveted in all the land! The Golden Egg was always hidden in the best spot. It was, of course, filled with candy and MONEY! The finder of the Golden Egg was the "winner" of the hunt. They got to take the egg home to act as a trophy and reminder that they were the official champion of the egg hunt that year! It was also a great concept for us kids that it is quality over quantity sometimes!
Tip 5: Color Competition
A great way to make sure that things stay "fair" is to do a Color Competition. I use quotations on the word fair, because, lets face it, sometimes the Easter egg hunt can get a little bit crazy. The rules for this are quite simple. Each child gets assigned one color for their eggs, and that is the only color of egg they are to hunt for. This is such a fun idea, because it makes sure each child gets the same amount of eggs, and helps relieve some of the competition aspect. If there are normally break-downs after an egg hunt, then this is your best option!
Tip 6: Official Egg Hunt Drink
A serious egg hunt can take awhile! Do not forget that the adults need a little TLC, too! Why not let the adults enjoy the fun of the egg hunt by sipping on a delicious cocktail. One of our personal favorites is Moscato Pink Punch. It is the perfect drink, because not only is it a festive color, but it can be made in bulk! Whip up a batch, and let the adults enjoy the party, too!
Tip 7: A Bunny Trail
Each year as kids we tried desperately to catch the Easter Bunny. However he has some serious hops and always evaded us. We were left with elusive footprints of where he had been! Try making an Egg Hunt that follows the path of Easter Bunny tracks! You can make some easily with a little flour and water. Kids will be delighted to follow the bath of the bunny!
Tip 8: Mystery Note
One fun idea my husband's aunt has started is to leave a note inside the plastic eggs. She leaves a note that says, " Find Uncle/Aunt ______ to claim your prize." I absolutely love this idea, because it helps the kids interact with the extended family. The kids love running to search for various adults to trade in their notes for a special prize. Often times the prize is something a little bigger like a $5 gift card or a large size candy bar.
Tip 9: Neighborhood Hunt
If you live on a quiet street and are close friends with your neighbors, this is the hunt for you! Why not make the egg hunt into more of a Scavenger Hunt. Have the kids create teams and then give them a list of eggs they need to find. For instance, "3 yellow, 4 purple, 2 blue, etc."  Help them go house-to-house and check off the items along the way!
Tip 10: Blow it up!
This year I am going to try something new with the kids! I am going to fill balloons with eggs and set them out among the Easter Eggs. I can not wait to watch the kids as they try to pop all the balloons! I think it will be a great way to slow the bigger kids down, and also absolutely hilarious to try to watch them pop all the balloons. It's fun for both kids and adults!
15 Fabulous Things You Need for Your Egg Hunt Party
Long gone are the days where you toss a couple plastic eggs in the grass and call it an Egg Hunt!  These cute ideas range from custom Easter Egg Hunt signs to beautiful table settings to dine at. If you have no kids, that is no problem! Check out the idea to do an Easter Egg hunt for the dogs! So cute!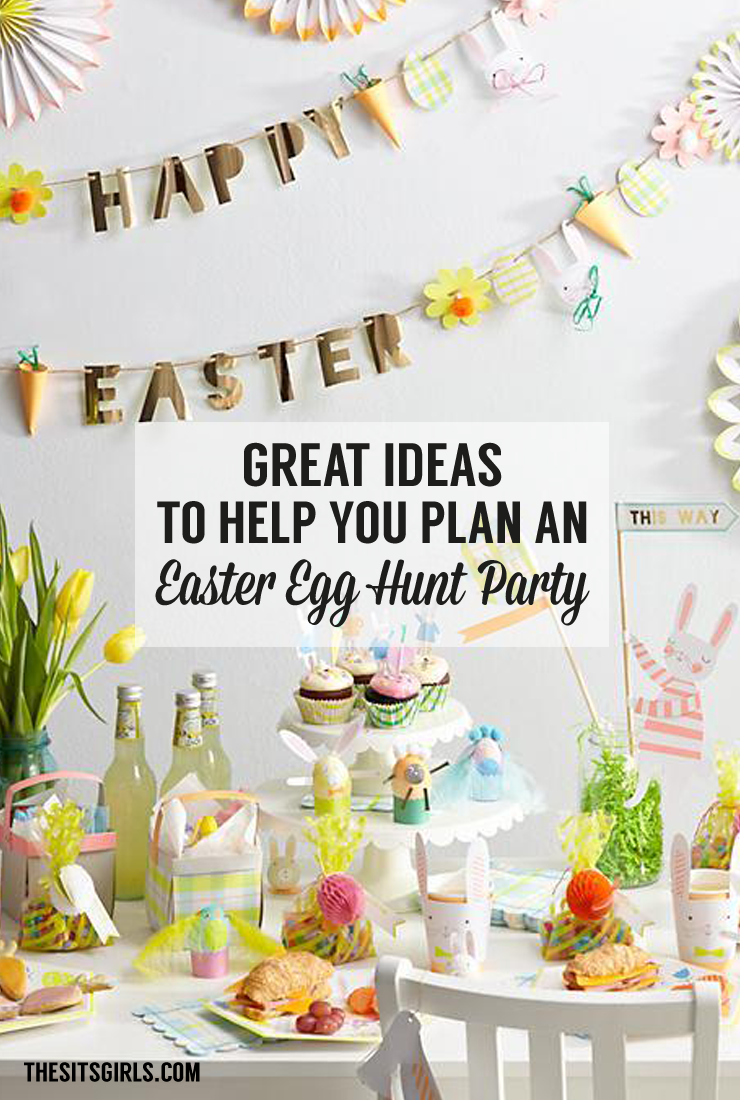 There are some fun ideas like using puzzle pieces and making custom baskets that will have kids squealing with joy! Whatever direction you take, remember don't forget to seriously tie your shoes before breaking loose for the Egg Hunt!
The Kim Six Fix: Egg Hunt Easter Mantel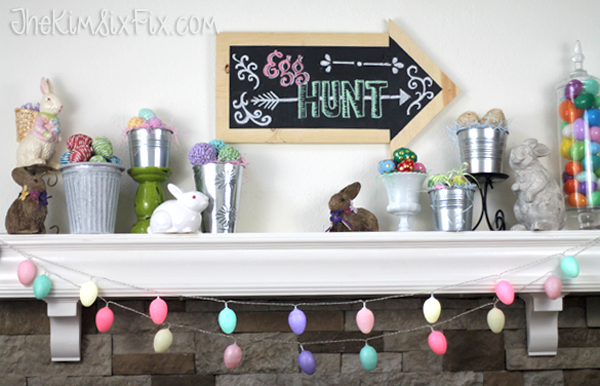 Uncommon designs: Quick and Easy Easter Egg Hunt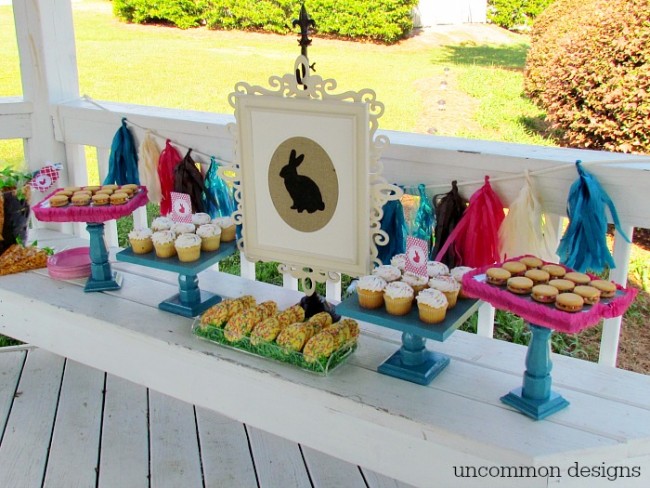 All for the Boys: Light Up Easter Egg Hunt
mollymoo: Easter Egg Hunt Clue Cards & Game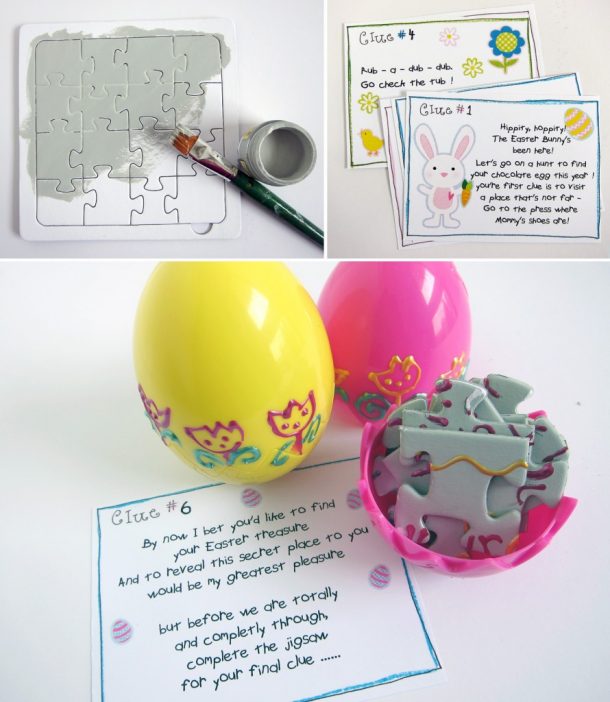 Just Us Four: Customized Easter Baskets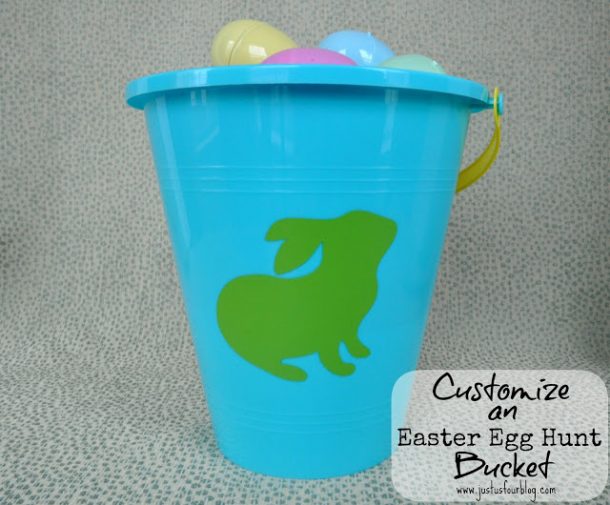 View From the Fridge: Easter Kids Table Setting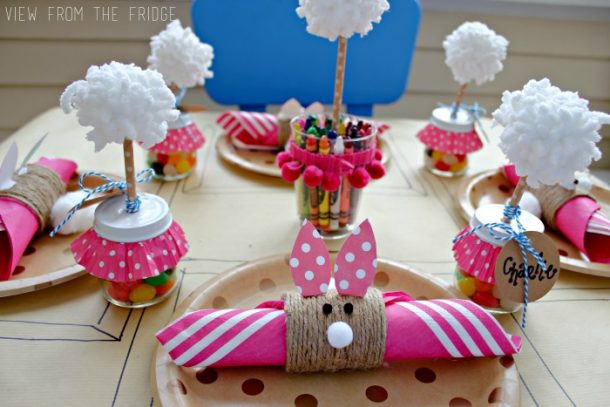 Mod Podge Rocks: Easy Easter Egg Hunt Learning Game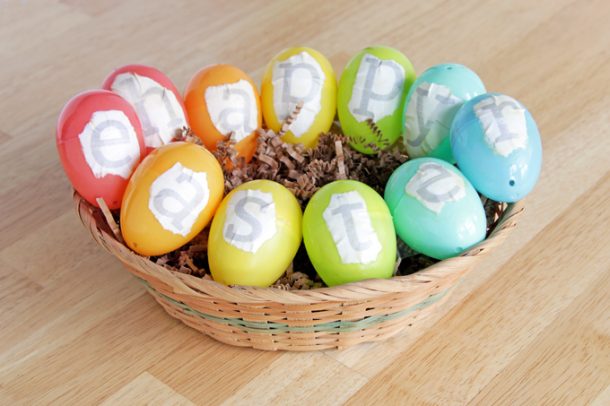 Average Inspired: 20 Minute Easter Grass " Egg Hunt" Sign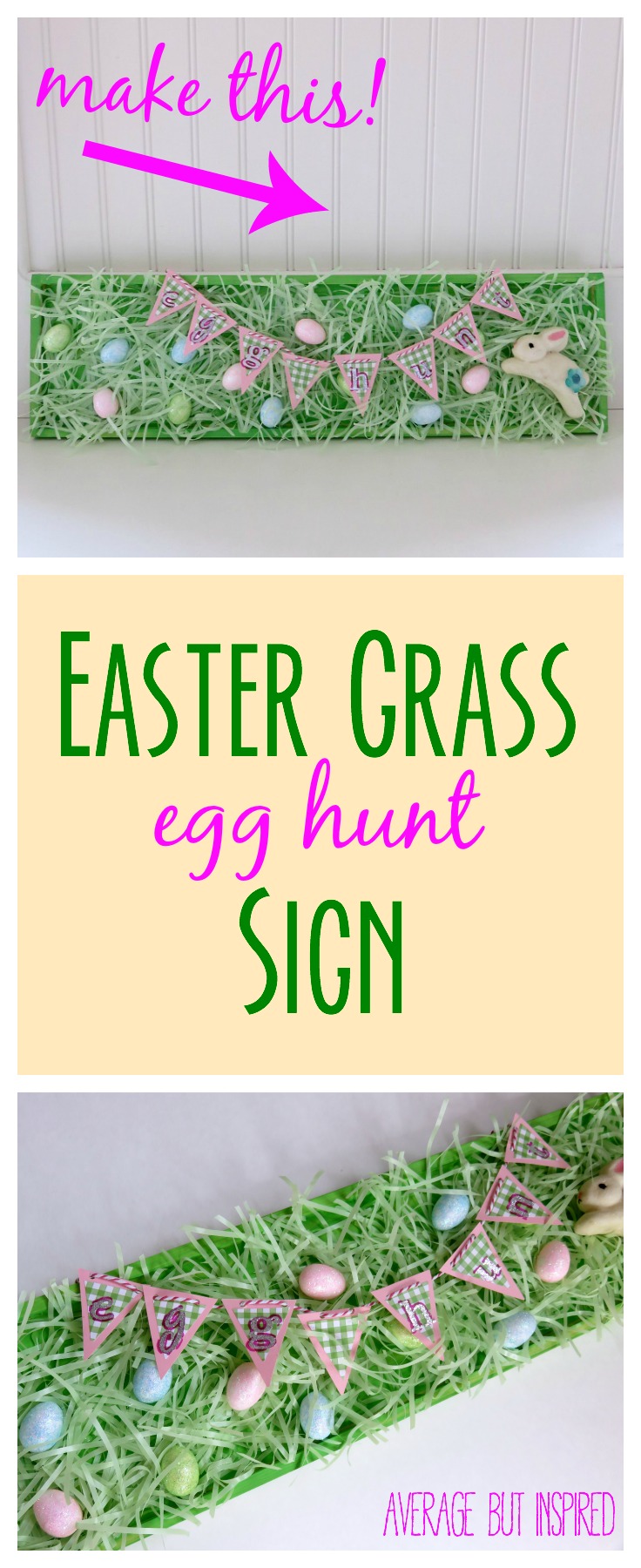 House of Hawthornes: Dog Easter Egg Hunt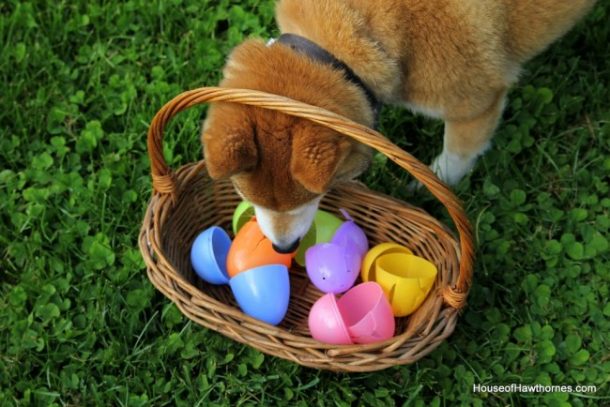 The Sits Girls: 50 Ideas For Easter Egg Decorating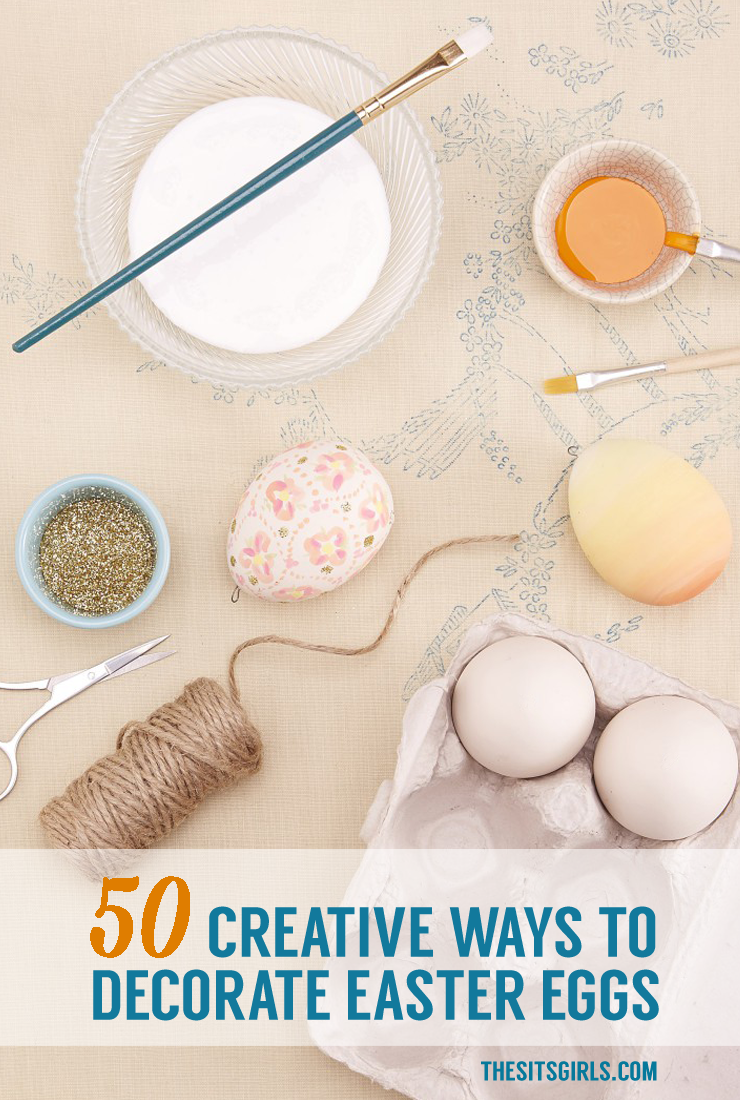 Stuffed Suitcase: Easter Scavenger Hunt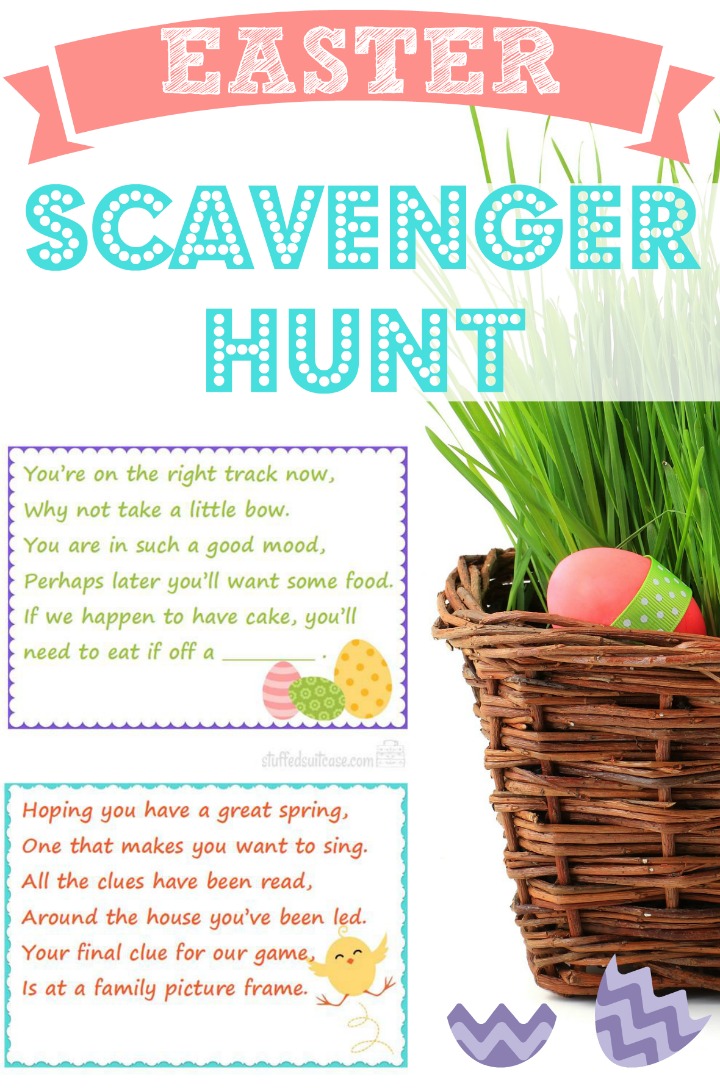 In the Playroom: Fine Motor Easter Egg Hunt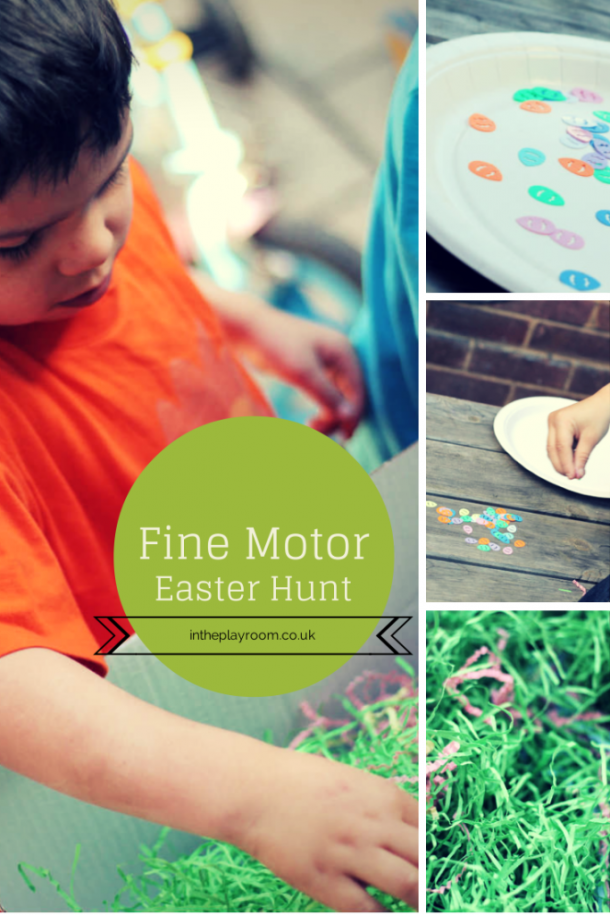 Mostly Together Mommy: Easter Egg Bingo
Giggles Galore: Easter Egg Hunt Party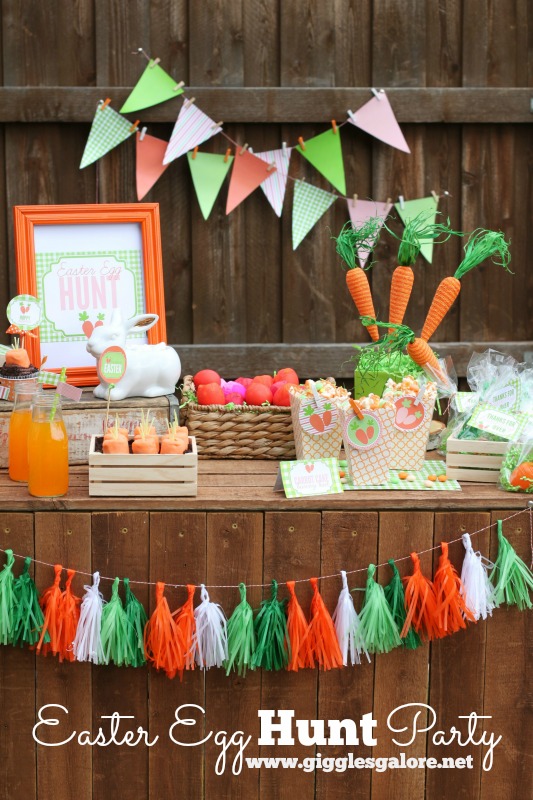 Hello Creative Family: 25 Ideas For Non Candy Plastic Easter Egg Stuffers
Whew! There you have it! Lots of great ideas to make your Easter Party spectacular and your Eater Egg Hunt the talk of the neighborhood for years to come. But, most importantly, great ideas to build great memories with your family.
Do you have any Easter egg hunt tips that I missed? Share them in the comments!