This post may contain affiliate links which may give us a commission at no additional cost to you. As an Amazon Associate we earn from qualifying purchases.
One of the hottest colors this season is blush. Blush or neutral colors are all over the runway and in every decor shop. You could basically say blush is the new white! The beautiful muted rose color has become one of my person favorites. It was my inspiration for this years holiday table and family party. Naturally, blush goes perfect with gold. Gold is my go to for an accent color. It pairs well with numerous other things, and adds a ton of impact to any tablescape! This Elegant Christmas Party decor is sure to have all your guests feeling like they are in a Winter Wonderland!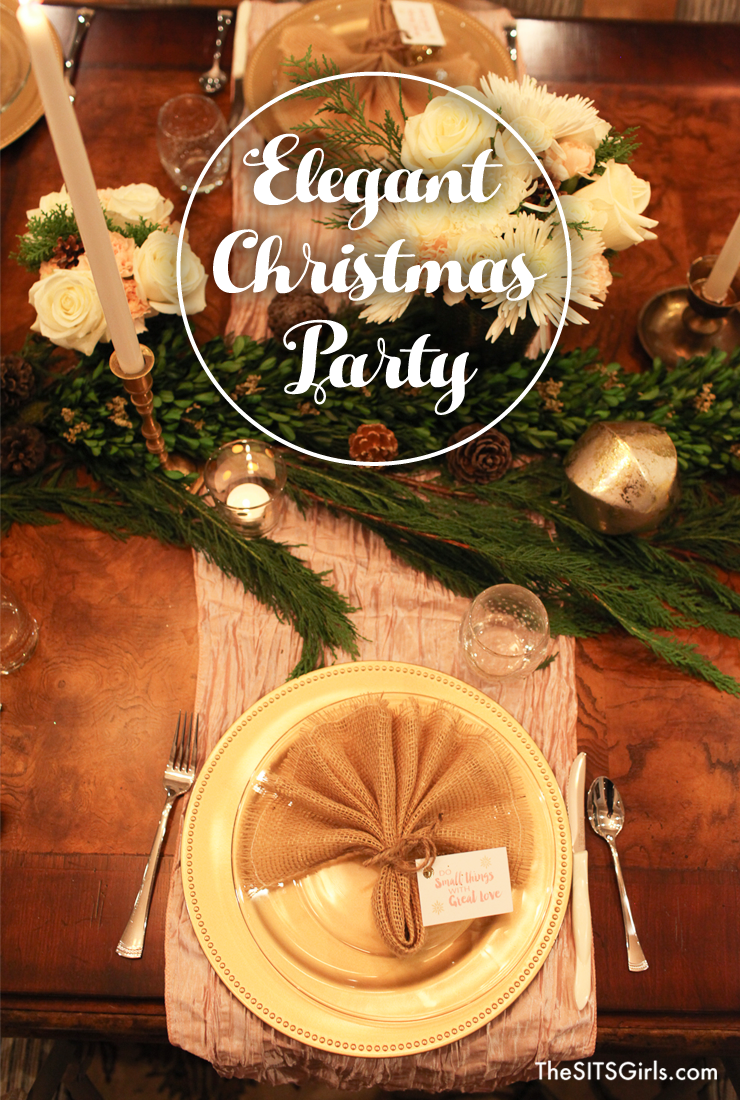 Elegant Christmas Party Decor
When planning a table I always find 2-4 colors that pair well together. Once I get my color board going, I build from there by adding texture. For this table and holiday party I chose blush, gold, burlap, and evergreen. The blush and gold were my base colors, and the burlap and evergreen let me add the necessary texture to really make the table pop!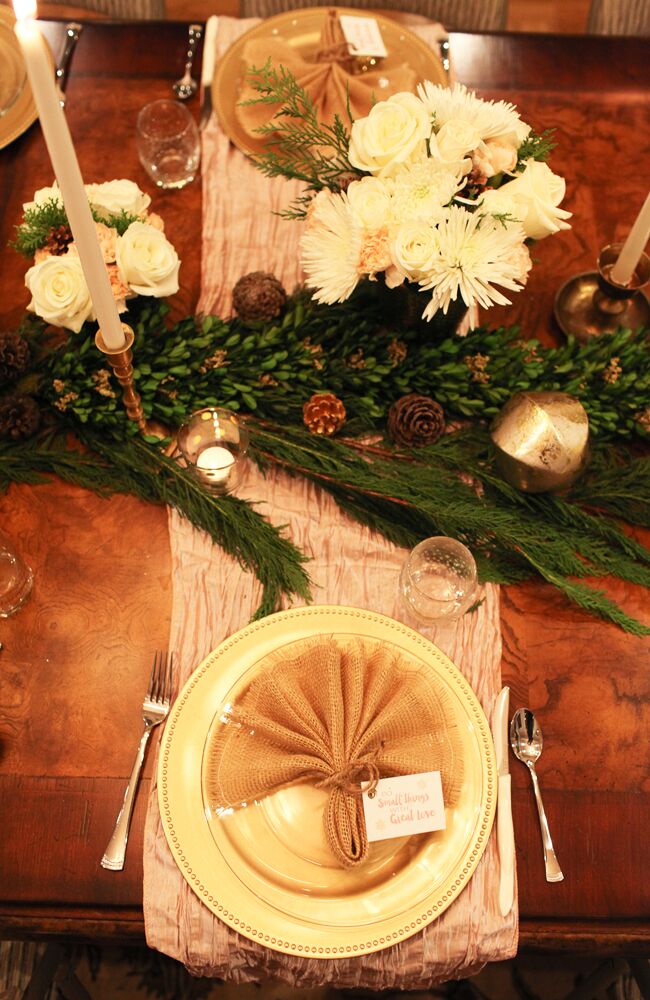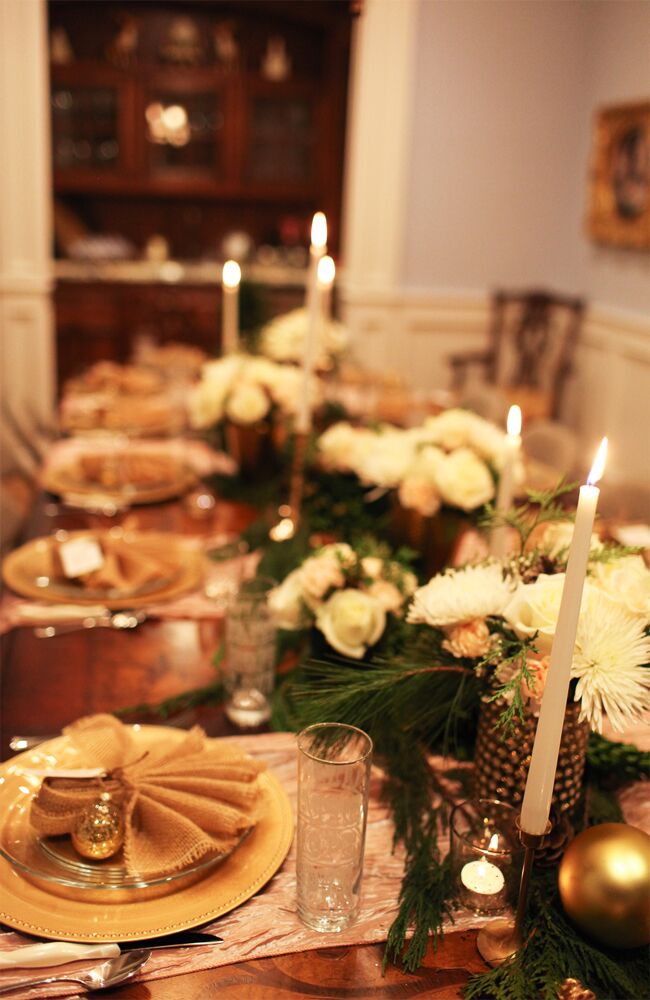 A super fun and festive way to add in a holiday feel is use over sized ornaments in your decor. I would recommend buying the shatterproof ornaments so that in case one was to roll of the table you are covered — especially if you have little guests at your party. You can get a variety of textures and shapes of the same colored ornament, and it will give your table a fun eclectic feel while still matching.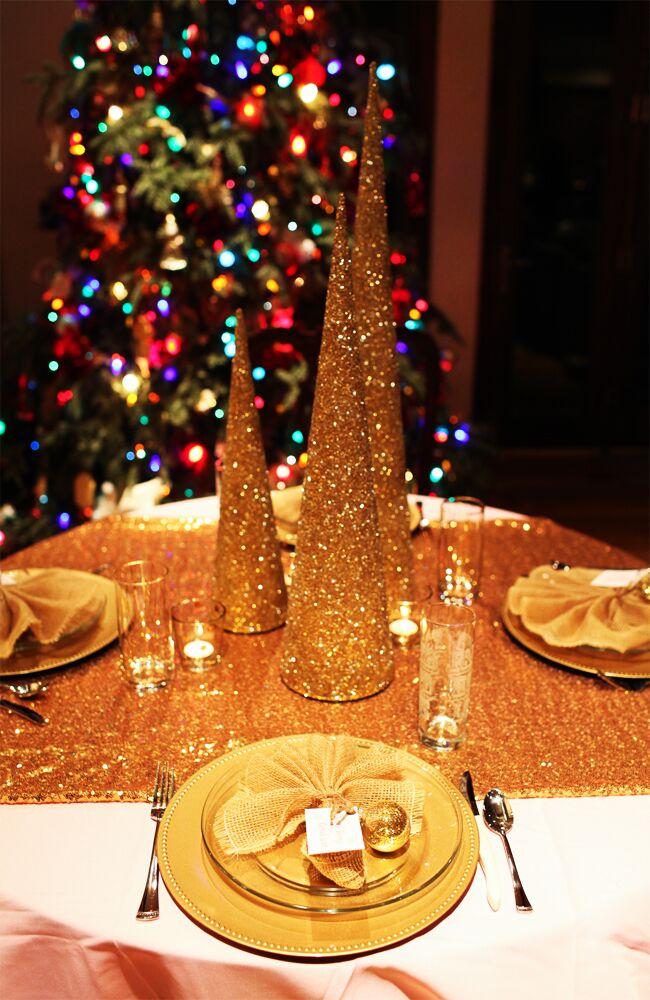 As I mentioned before, adding texture to the table really makes it feel rich and inviting. I used two types of garlands, mixing preserved boxwood garlands with natural pine garlands to achieve my natural greenery table runner.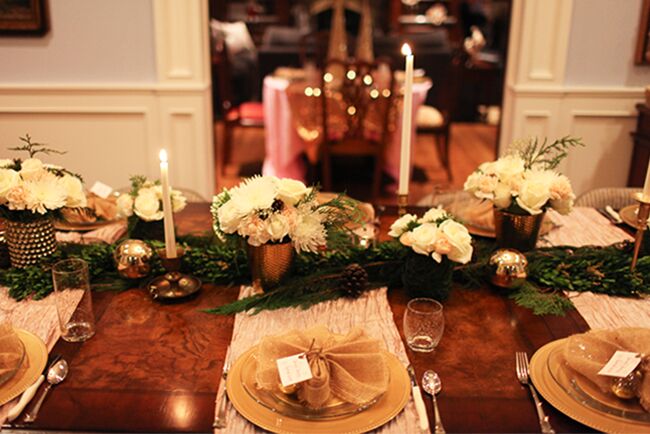 The flowers were such a fun part of the table. They are designed to match the decor, but also contain pops of winter touches. It is such a fun idea to add small pine cones and sprigs of evergreen to any flower display.  It enhances your bouquet and alludes to winter.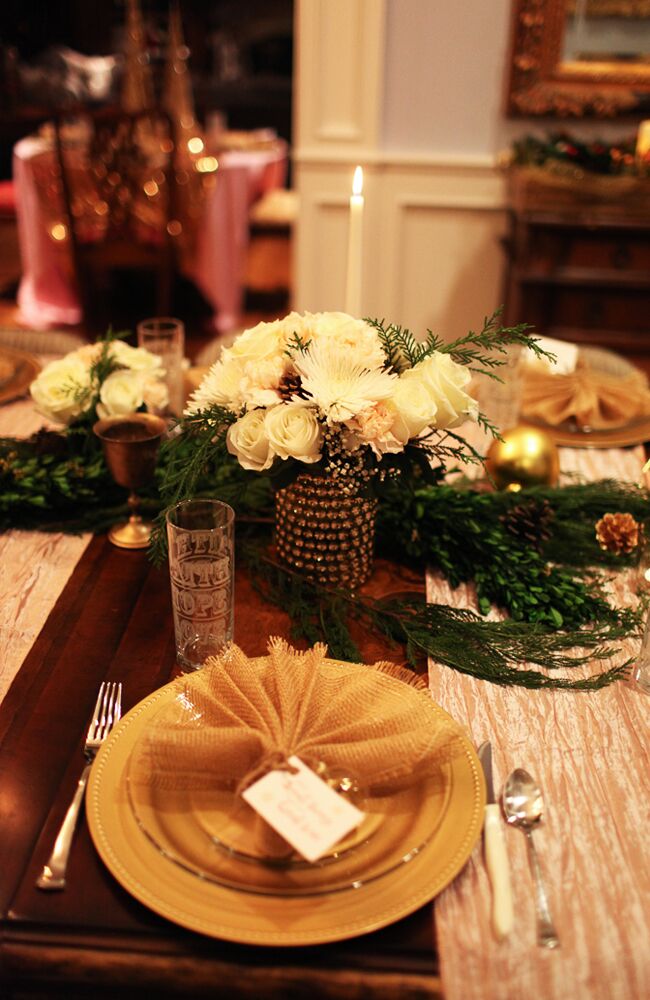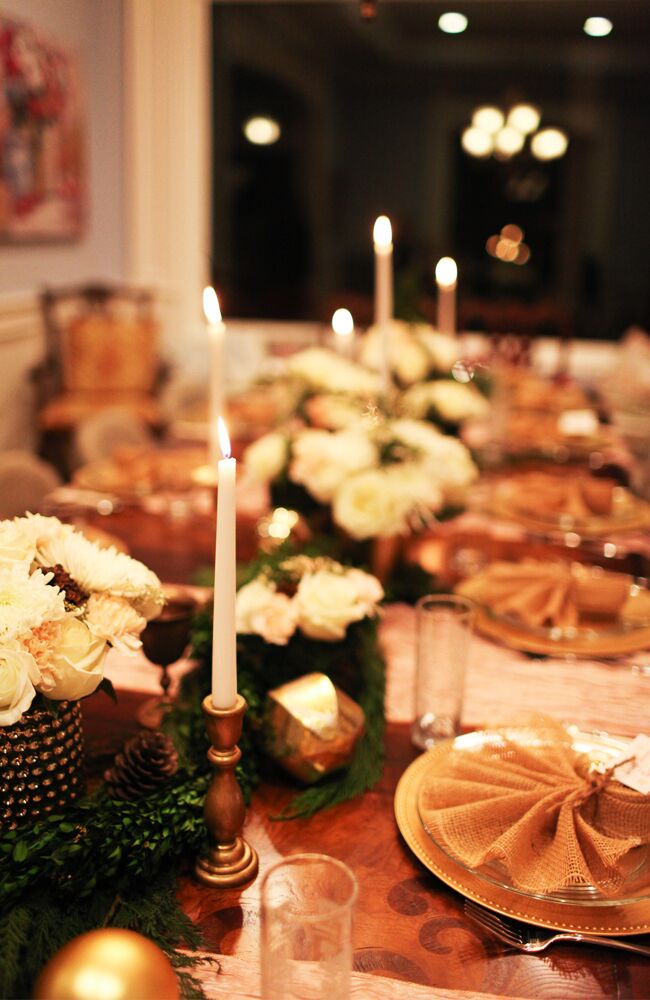 I used these gold candlesticks for my Thanksgiving tablescape, and I will for sure use them again! They helped add some varying height to the table, but were not so tall that guests could not see and talk to one another.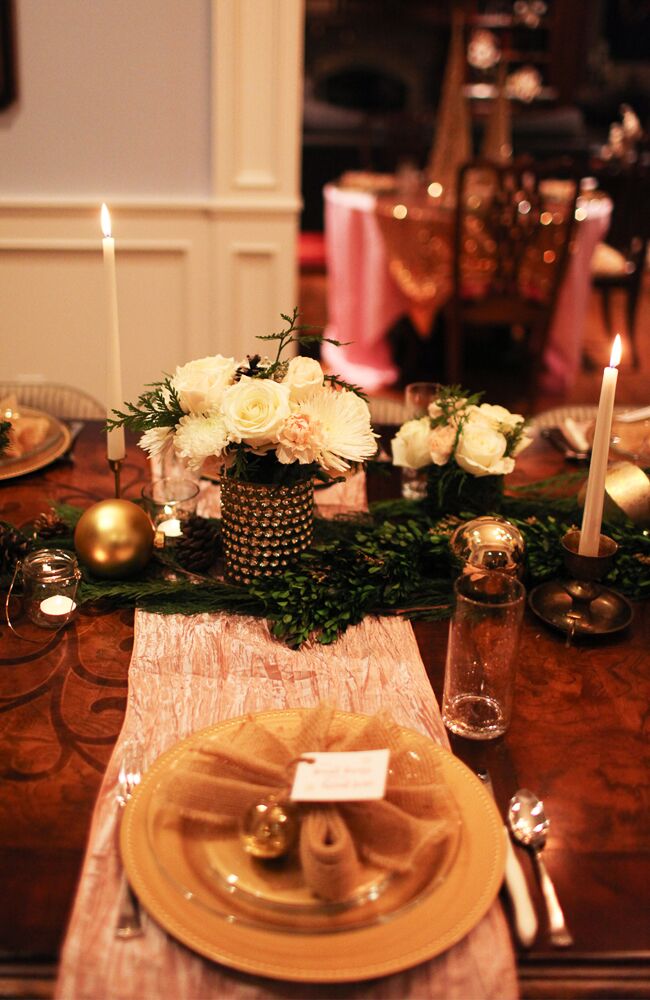 I found awesome burlap napkin squares, and I highly suggest in investing in some of these. They are so versatile and add a lot of texture to any plate. I wrapped them in twine and finished them off with a DIY ornament filled with gold glitter. These darling tags are such a good reminder for the holiday season.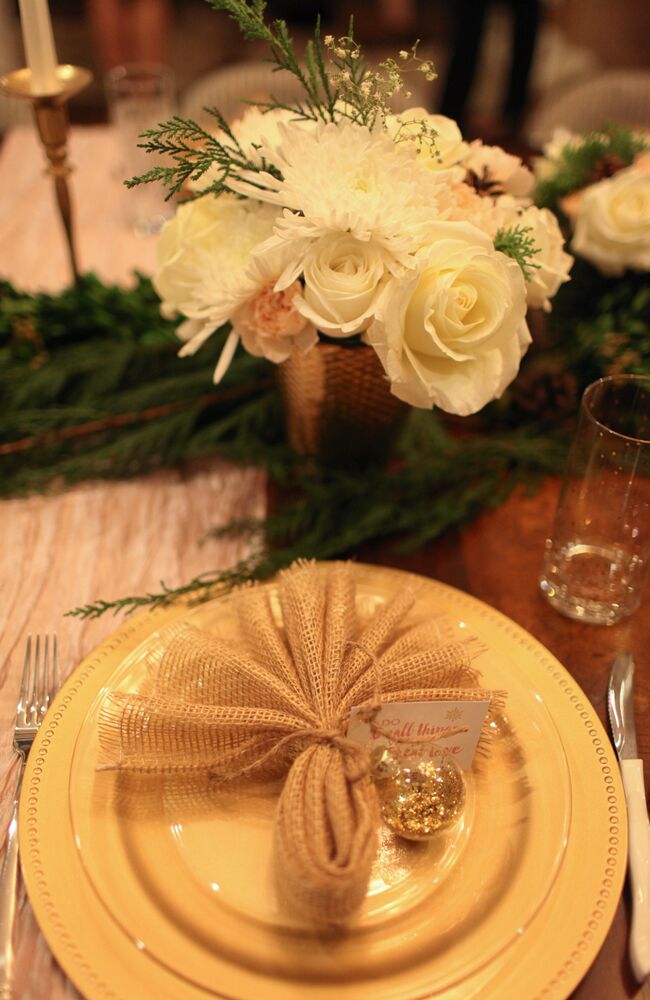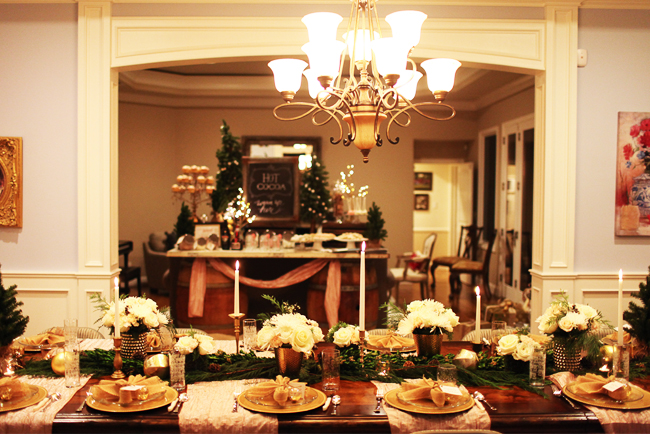 No party is complete without a dessert bar!
Even an elegant Christmas party needs desserts and drinks. I offered an array of blush and white treats to match the party decor. I love having different goodies, so guests can choose whatever tickles their fancy.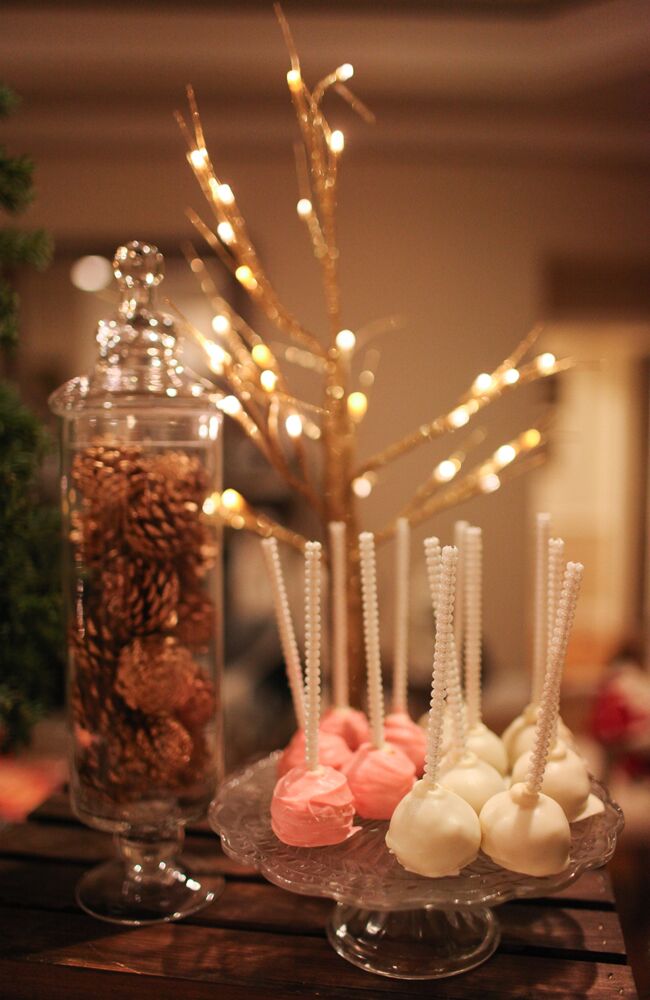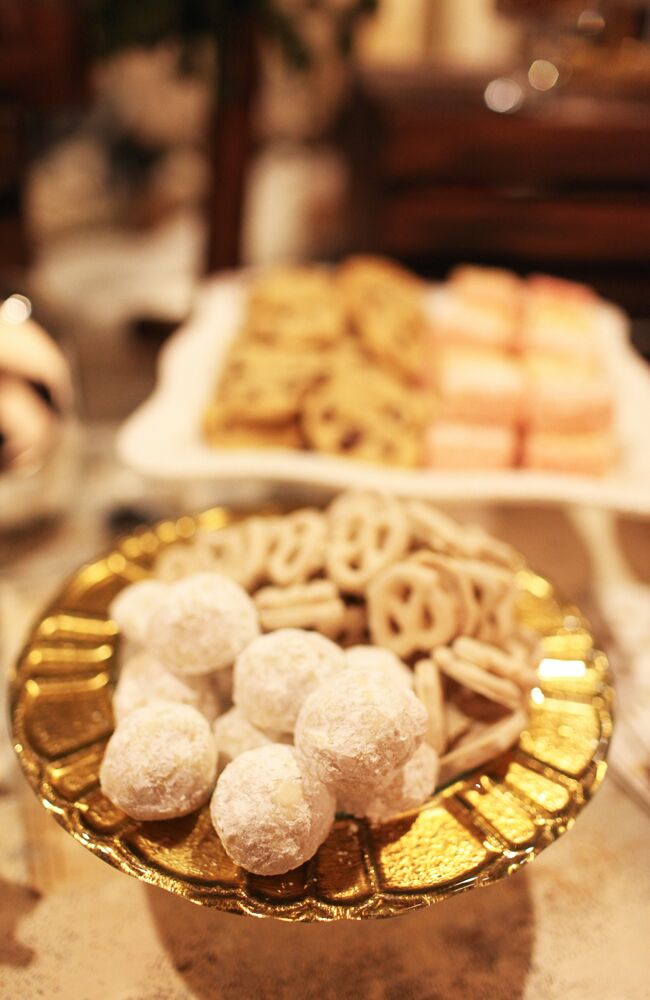 We had hot chocolate available along with fun mixers! Peppermint Schnapps, Kahula, and Grand Marnier were also on hand if guests chose to make theirs an Adult Hot Chocolate.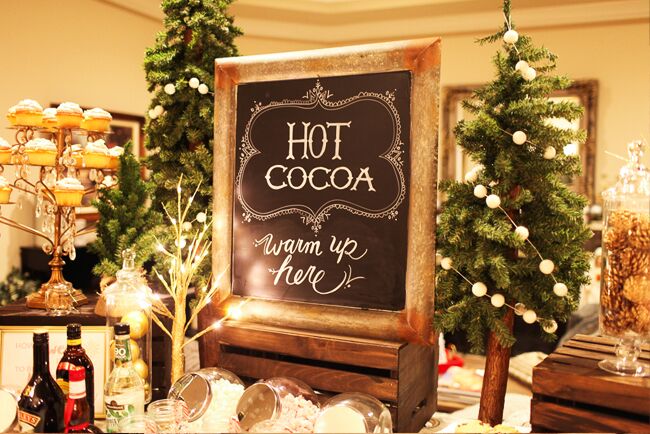 I also love offering a signature drink to my guests, and my delicious, festive punch was a home run! The cranberries are perfect during the winter season, and it was perfectly light and bubbly. It was also super easy to make!
I served it in darling printed glassware that was mixed and matched to the table.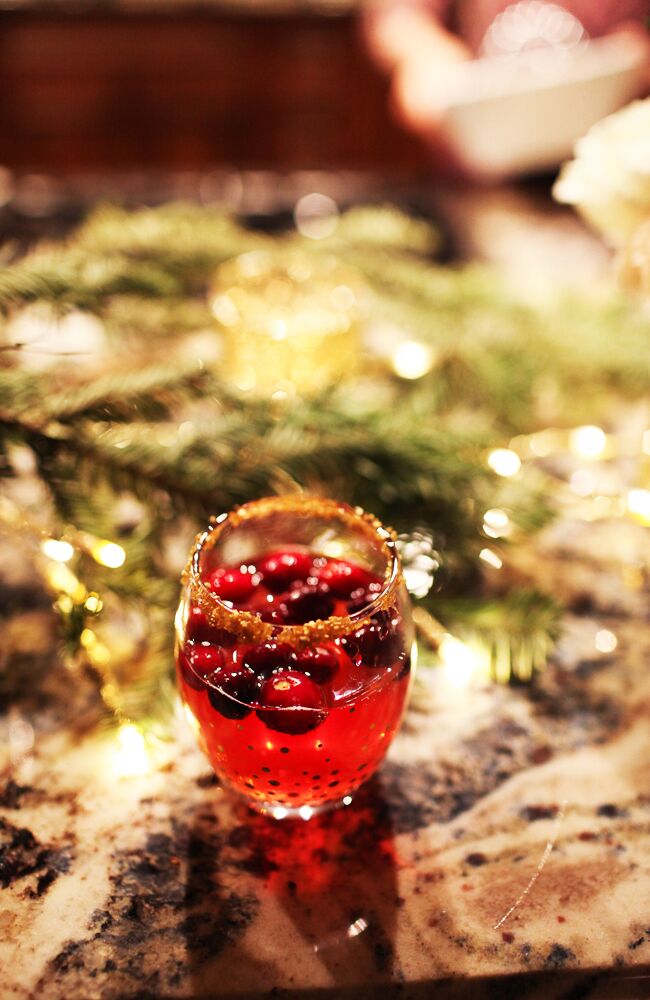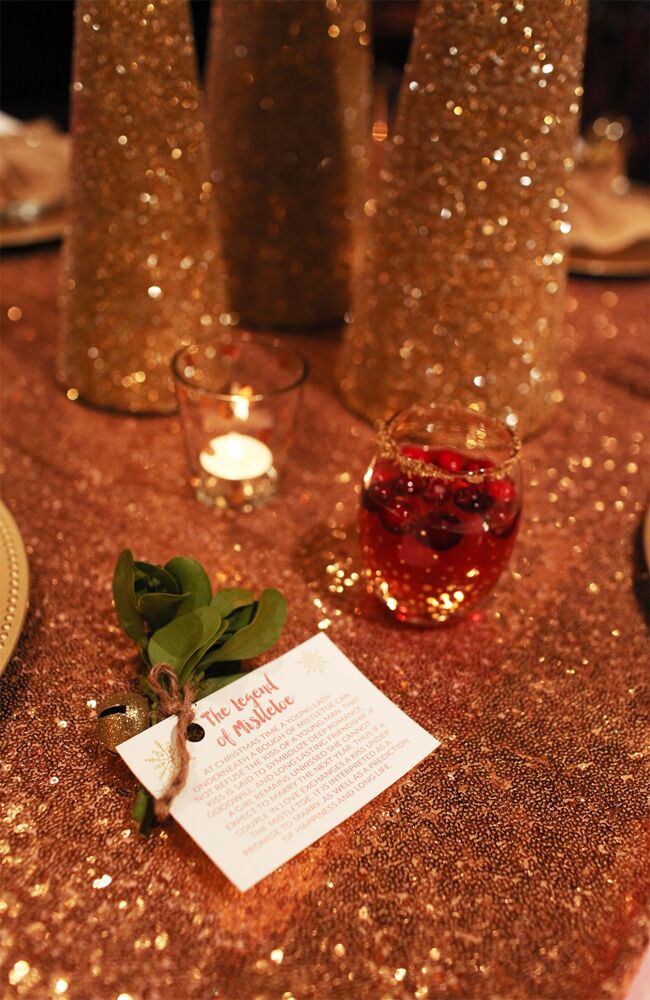 Each guest got to take home one of my personal favorite holiday favors… mistletoe! I seriously do not understand why it is not used more often! For starters it is super cheap (if not free) and screams Christmas.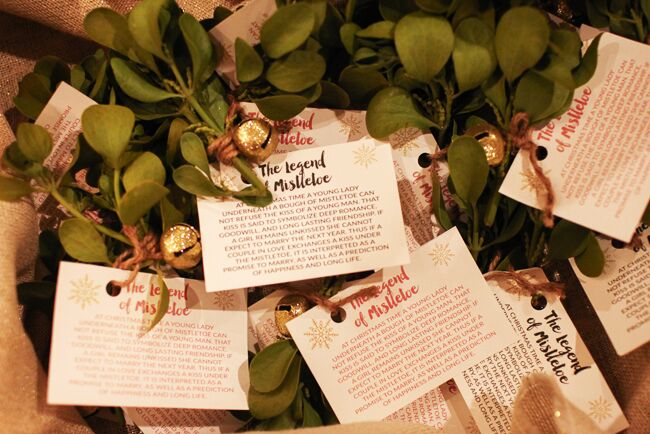 I attached a little card and gold bell to each bunch of mistletoe. The card explains the Legend of Mistletoe to the guests, and tells them of the long tradition of mistletoe on Christmas. After all, you are supposed to spread the love and holiday cheer during the holidays!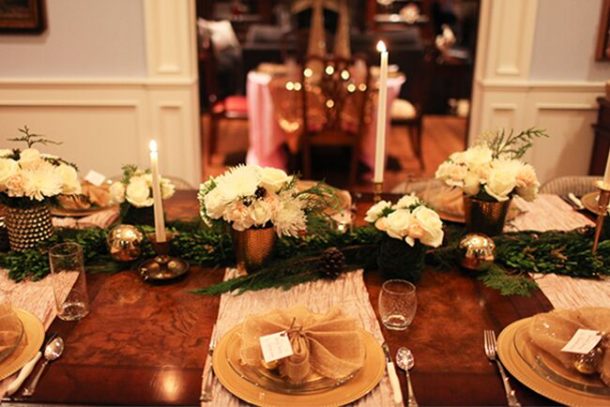 Overall the tablescape was a welcome change from the traditional red and green. It really elevated the party and took things to a whole new level. The best part is, these colors can be mixed and matched for any season! Use the blush for an Easter table and use the gold chargers for a fun St Patricks Day dinner!
For more fun during the holiday season and the rest of the year, check out all of our easy party ideas and visit our Party Planning Pinterest Board!
Follow The SITS Girls's board Party Planning on Pinterest.
*A huge thanks goes out to our favorite photographer, Kelli Seeley, for these beautiful pictures.