This post may contain affiliate links which may give us a commission at no additional cost to you. As an Amazon Associate we earn from qualifying purchases.
June is a busy month with end of school, graduations, and weddings, BUT we can't forget the most important event of all … Father's Day! That's right ladies, we can't forget to honor all those amazing men in our lives! I must admit, now that I am a mom, Mother's Day is fast becoming my favorite holiday. It is all about me on that day, and my husband makes sure of that, so I have to make sure I return the favor! You can never have to many easy party ideas, so here is an easy Father's Day tablescape that will WOW your special guy along with some Father's Day party ideas you will love!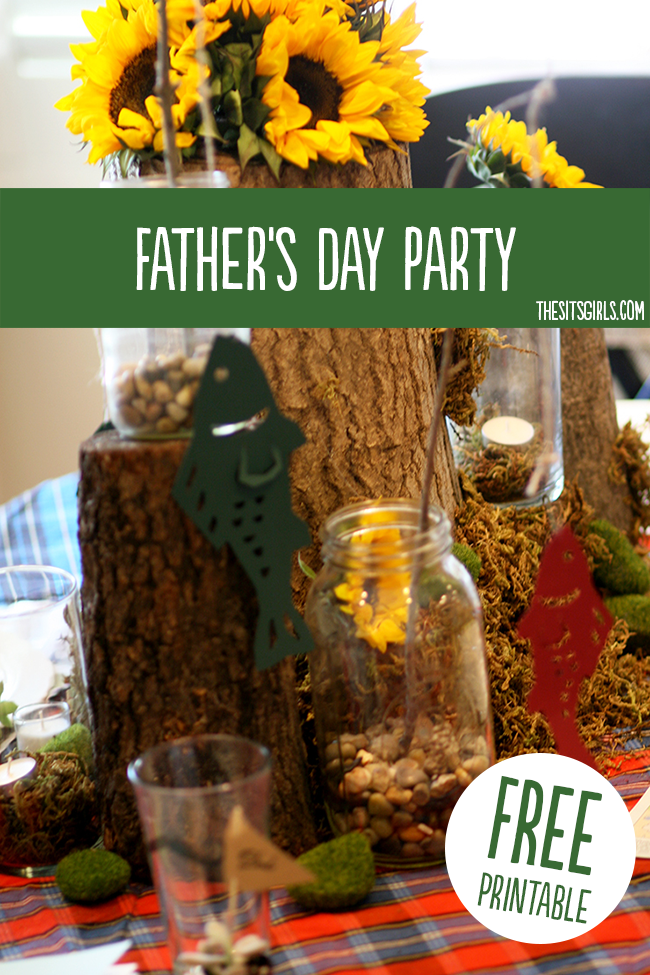 Father's Day Party Ideas: Tablescape
My husband loves to fish, and loves the outdoors, so that became my inspiration for creating a dining table for him. I think personalizing the table to your man is the best way to go for this holiday. If he's not in the outdoors you can create a sports themed table, or if he loves to read, why not use all those books to create a dramatic centerpiece? So for starters, my first project was the fishing pole centerpiece, which is SO easy!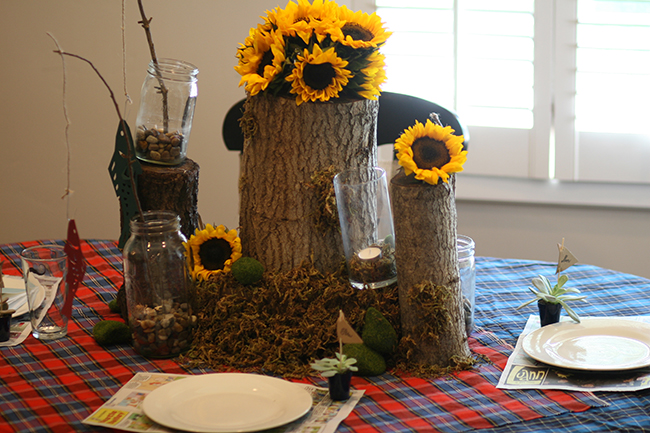 Let your kids help make this one. I cut fish out, and attached it to some extra twine I had. Then I found some twigs outside, and tied the twine to it. Finally, stick them in a mason jar filled with some rocks, and you have a super affordable and CUTE centerpiece!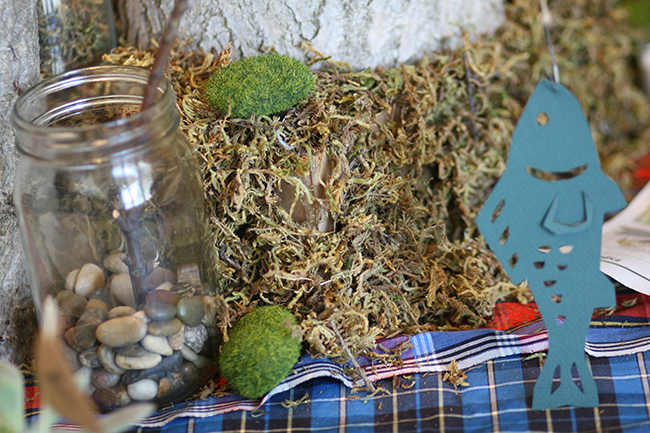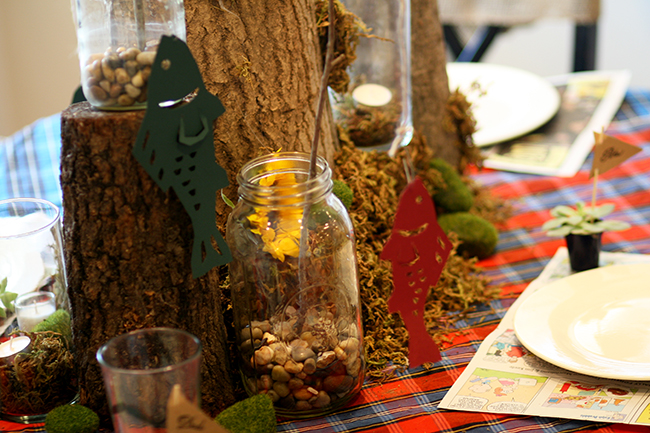 You can even let your kids color the fish, or write their names on them! I used logs from outside to give the table some height, and layered moss around it, to really bring the outdoors in.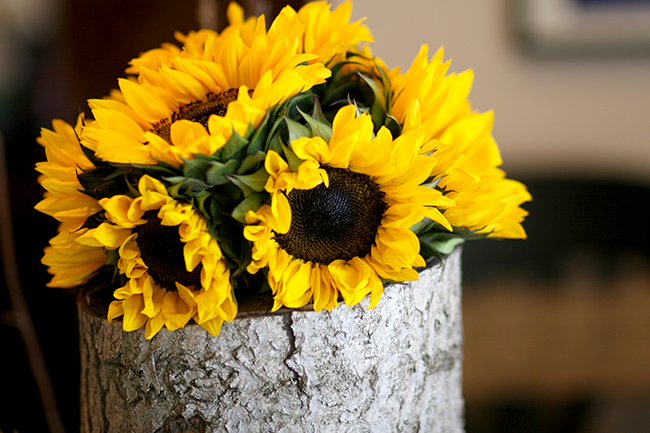 I layered plaid fabric on the table to give it a really manly feel, and then added pops of color with the yellow sunflowers. As I mentioned in the summer backyard party decorating ideas post, my dad is a sunflower geneticist, so naturally these flowers are a perfect addition for Father's Day.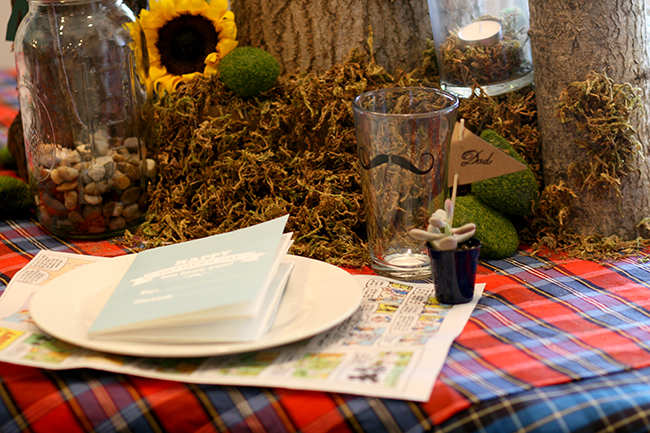 My place mats were a super easy, and last minute thought. I love to layer patterns, and textures, and as I was looking the through the morning paper it hit me. Comics! My husband always reads them, so I cut them the size of place mats, and used a white plate to offset all the busyness of the pattern.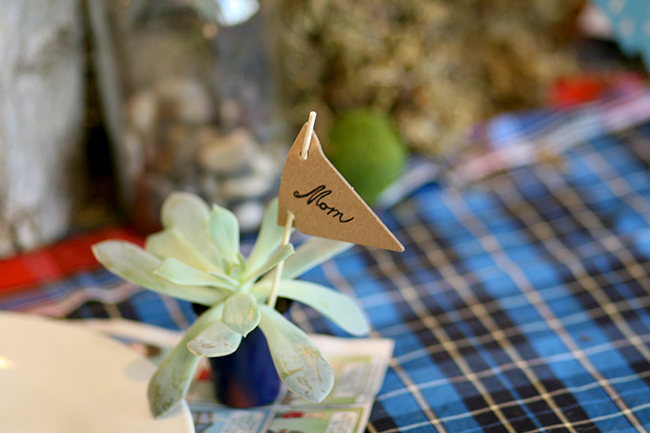 I saw these cute little succulents at the store, and new I had to use them to create some sort of place card.
When planning your table try to utilize what you have, and then buy the little things to add to it. My moss rocks, plates, mustache cup, and moss were all found at dollar store, which brought my total table to the cost of $13! Personally, I was very happy with that.
The finishing touch was of course this amazing Father's Day booklet! You are welcome in advance for helping you find the perfect gift for that dad!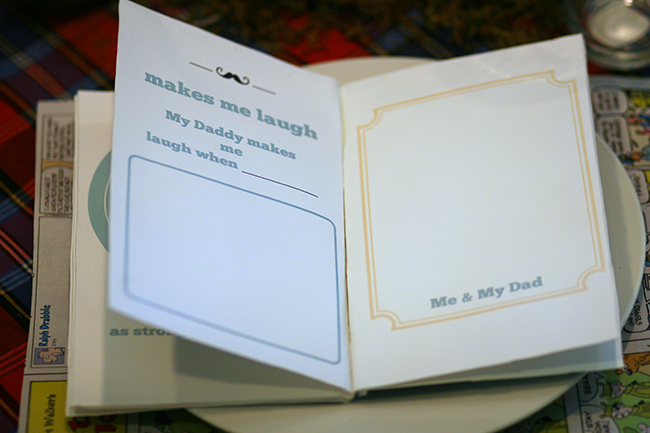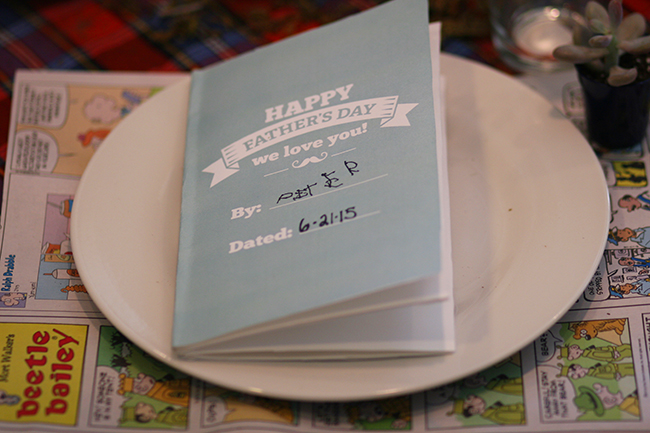 Seriously it is so cute, and such a fun project for kids to do. Even the manliest of men will shed a tear, when they see the home drawn pictures, and sweet words.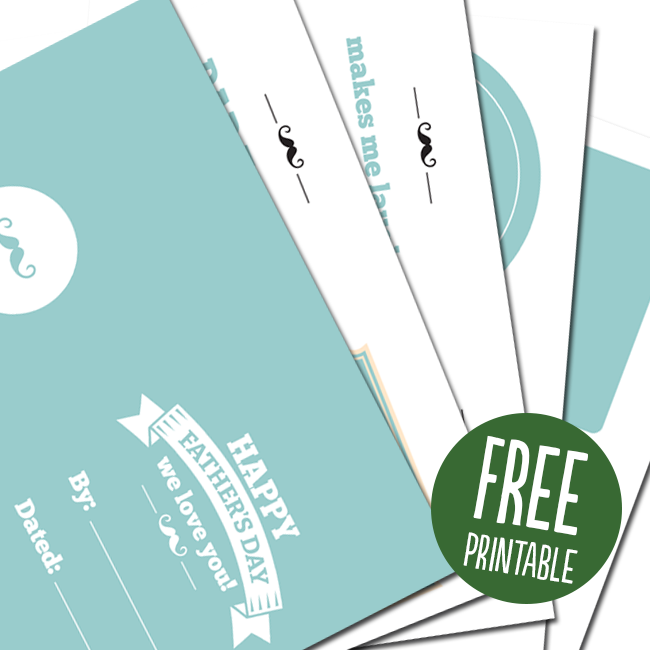 For more Father's Day party ideas, check out our list of 10 Food Bar ideas!