This post may contain affiliate links which may give us a commission at no additional cost to you. As an Amazon Associate we earn from qualifying purchases.
Hello, my name is Leah, and I am a food station addict. I can't get enough of them. I rank food bars at the top of my list of easy party ideas. I think the trend began with candy bars at weddings, and has since evolved. Candy is great, don't get me wrong, but I think the best food bars are when they are personalized to fit the guest of honor or a theme. I was instantly obsessed after creating my first food bar at my wedding. My family owns ice cream parlors, so we are lucky enough to have an abundance of ice cream and toppings at our disposal. At my wedding we did an ice cream sundae bar, and the guests were thrilled.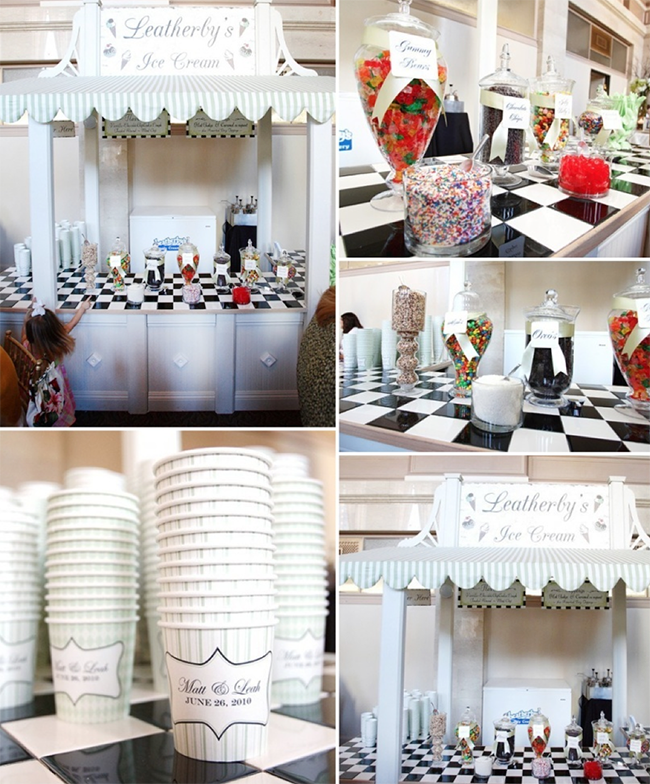 It was so fun to watch guests go back for seconds, and YIKES! Even thirds! Ever since then, I have been smitten with food bars.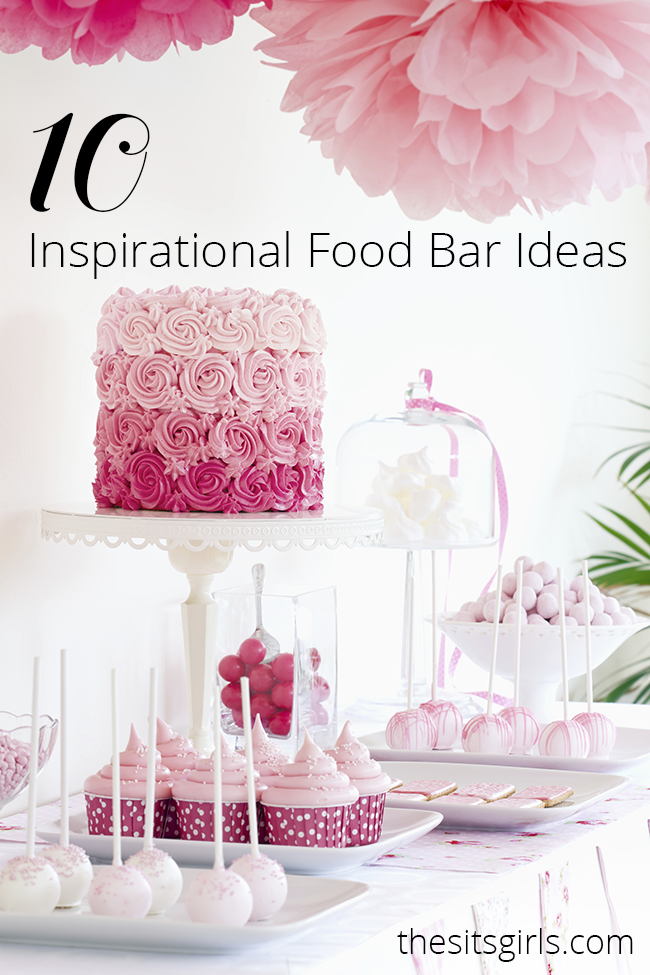 10 Inspirational Food Bar Ideas
A food station creates a unique experience, and a talking point for the guests. I say, the more unique your food bar, the better!
1. Cereal Bar for a morning brunch. Bring out your favorite cereals, and let your guests mix and match to their heart's content! You can even have fun toppings like berries and bananas.
2. S'mores Bar for a rustic wedding. Offer different flavors of marshmallows and different kind of candy bars to make the s'mores extra fancy.
3. Cookie Bar. My go to food station is always a cookie bar. It is so easy to create, and totally affordable! Ask all your favorite bakers to whip up a couple dozen of their signature cookies, and set out some goody bags for your guests, and you are good to go.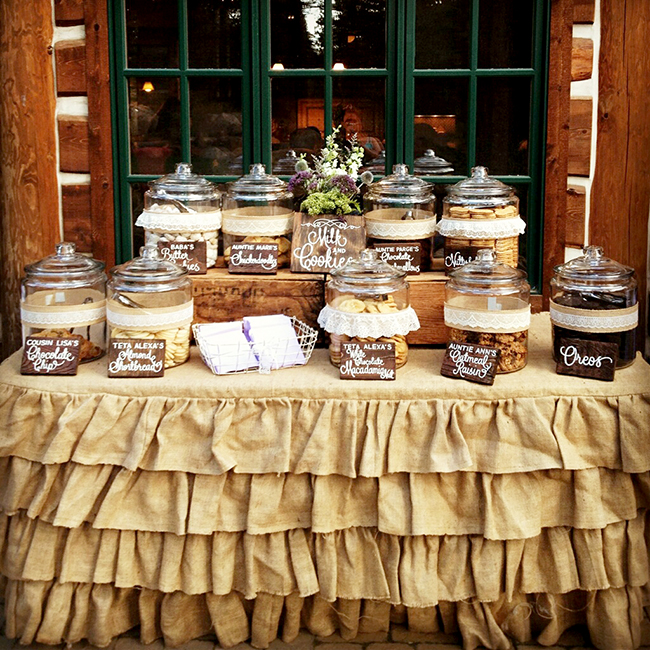 I am lucky enough to have a super talented best friend, Emily, that makes these beautiful handcrafted wooden signs. On one collaboration she created signs for a beautiful cookie bar design! Signage for a cookie or food bar is an absolute must!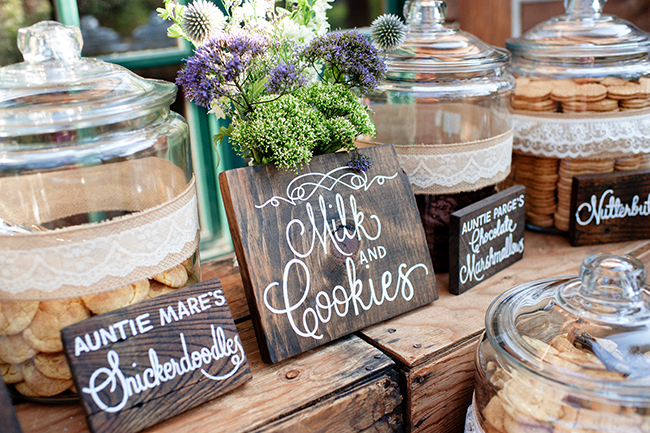 I personally, would put a sign on every tag or jar, or pretty much anything I can. Guests love reading the information, and knowing what they are eating! It turns the food station in to an experience, rather than just a place to get some grub.
4. Coffee Bar for the caffeine addict. You can offer different flavors of coffee and biscotti to go with it. You could even include other coffee treats, like chocolate covered espresso beans.
5. Taco Bar for Cinco De Mayo. Everyone loves the chance to make their own taco! Don't forget the guacamole – it's my favorite.
6. Candy Bar. Sometimes you have to stick with the classics!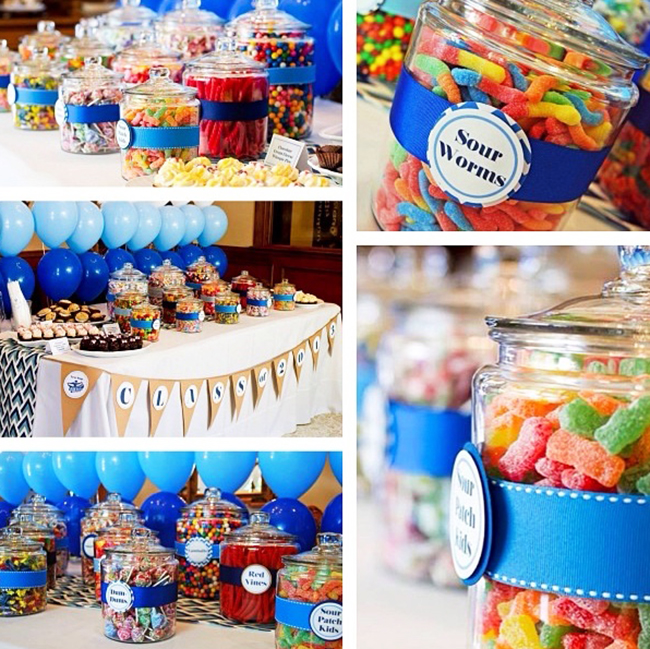 Food stations, are not just for the ladies, even the manliest of men enjoy a beautiful spread of their favorite treats!
7. Cigar Bar.
8. Beef Jerky Station.
9. Burger Bar. Lay out all your favorite burger toppings, and pull out your grill. This is a great idea for a summer evening.
10. Whiskey Bar. I recently created a whiskey tasting station for my husband's surprise party, and it was a huge hit.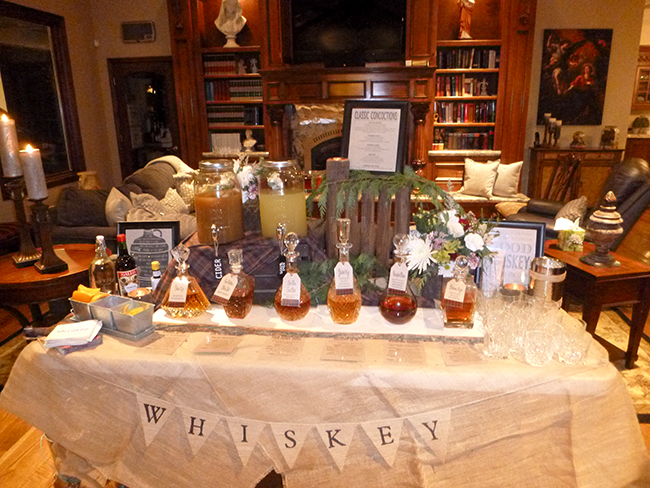 I included the tasting notes to accompany each of the types of whiskey, as well as instructions of how to taste whiskey. Even non whiskey drinkers were hovering around all night.
Hopefully this has inspired you to branch out beyond the candy and get creative with the food bar at your next party!