This post may contain affiliate links which may give us a commission at no additional cost to you. As an Amazon Associate we earn from qualifying purchases.
Football season is always a great excuse for good food and a party! We love to have our friends and family over to watch the game in style. Our schedule is so busy, that I am often left trying to piece together game day decor at the last minute. These fun game day printables are just what you need for a quick and easy game day party!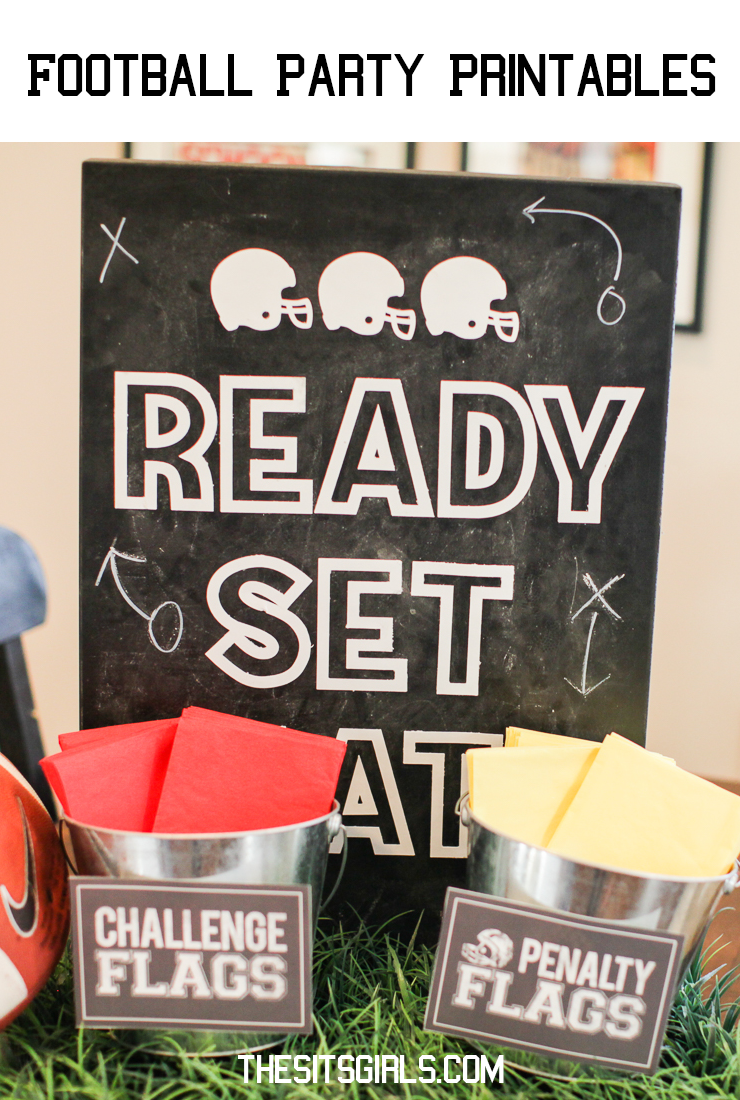 Fun Game Day Party Printables
A few simple accessories will turn your game day gathering into a game day party! *Note: this post contains affiliate links.
If you have ever watched a football game, you have probably noticed that the referees hold their hands on their belts most of the game.  This is because they have their hands always read to throw out a penalty flag. What is a penalty flag? To be honest, I really couldn't tell you exactly what classifies as a penalty, I just know that basically it means that one of the teams did something against the rules. I do, however, know that they look almost exactly like a yellow paper napkin.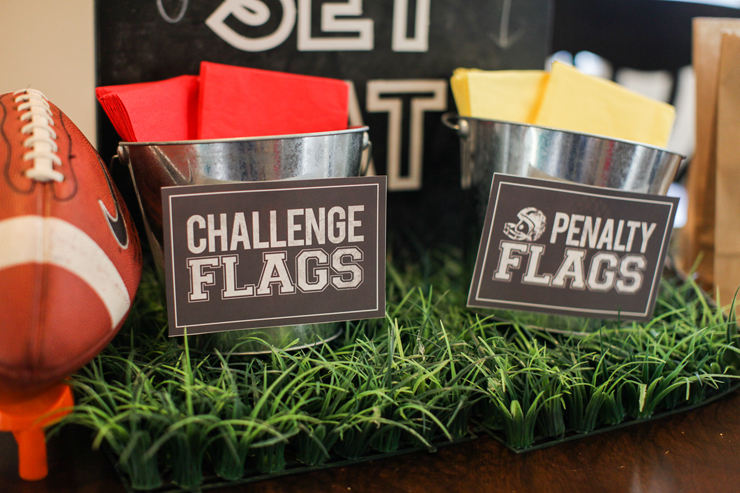 The other type of flag that you will see tossed around is a challenge flag. Again, my knowledge of this is limited. But, basically the head coach uses a challenge flag to request the review of a referee's call on the field. And it looks almost exactly like a red paper napkin.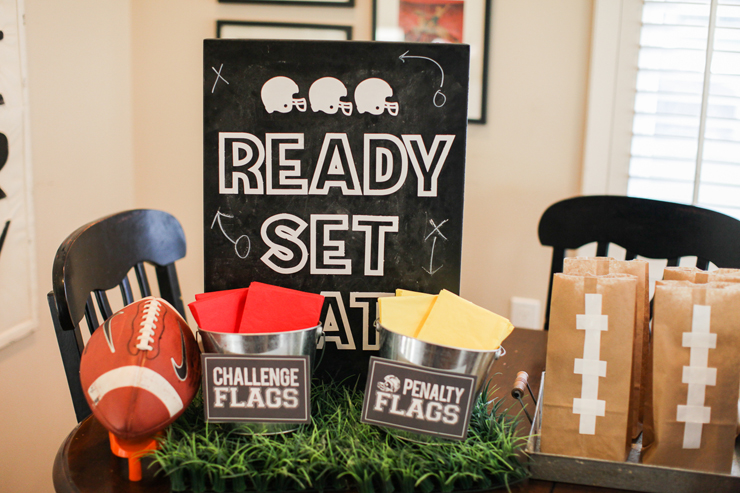 Using these adorable printables and some basic colored napkins I was able to quickly add fun and festive flair to our football party setup. All it took was a printer and a quick trip to the dollar store!
We have a large family, so our parties usually have at least 20 kids. If you have kids, you know that kids and food on small paper plates is a terrible combination. My solution was to use white duct tape to transform brown lunch bags into makeshift football-inspired bags. Fill with popcorn or their favorite snacks, and you are good to go!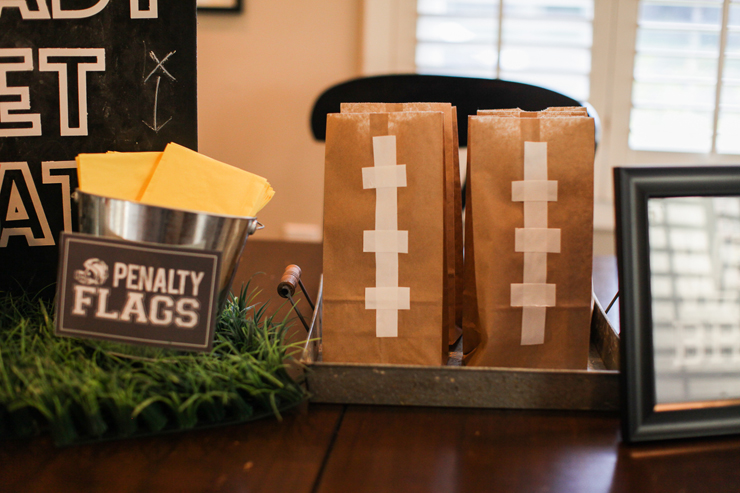 Of course after all the yelling and rooting for your team your guests will need to quench their thirst! Make sure they take a water break and wet their whistle! A simple sign is a fun way to make kids feel like little athletes.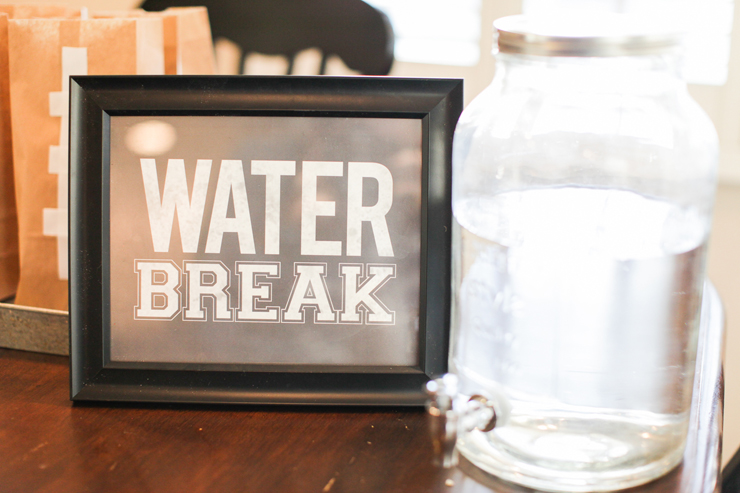 I also had a tattoo station for the kids. They can get their game face on. The tattoos were super fun and mimicked the black lines players wear underneath their eyes.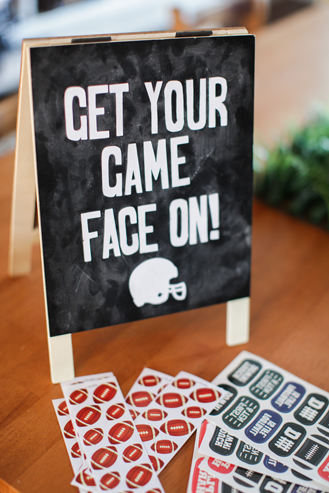 A couple items that I used for my game day party decor are these tin buckets and fake grass.
Ready. Set. Hike!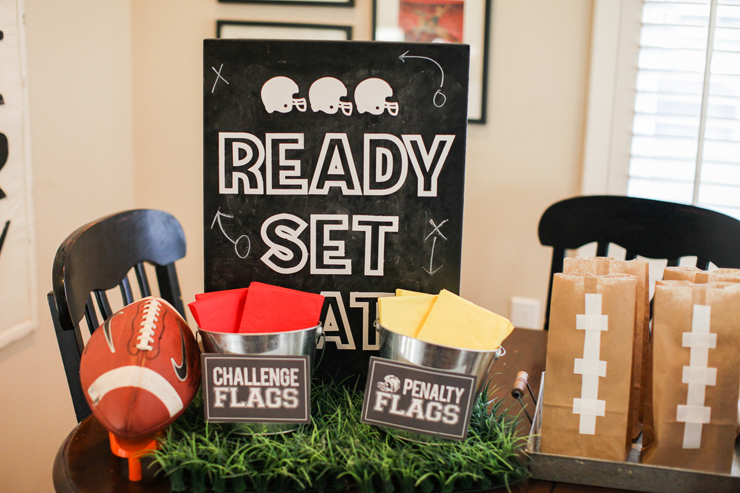 Good luck to your favorite team! 🙂