This post may contain affiliate links which may give us a commission at no additional cost to you. As an Amazon Associate we earn from qualifying purchases.
The holiday craziness is here! Shopping, baking, prepping, and for sure NOT sleeping. This time of year can be exhausting as you try to cram everything in to a couple of weeks. Among all this craziness you are invited to 10 holiday parties. Regretfully, I can never attend all the parties that I want because there is so much to do. On my never ending to-do List is always wrapping presents. Two years ago I vowed that I would not wait until Christmas Eve to wrap them, and I have stuck to it. So this year, I have decided to combine my holiday party and wrapping presents! I will be throwing a Gift Wrapping Party for my girlfriends, and I'm so excited about how cute everything looks!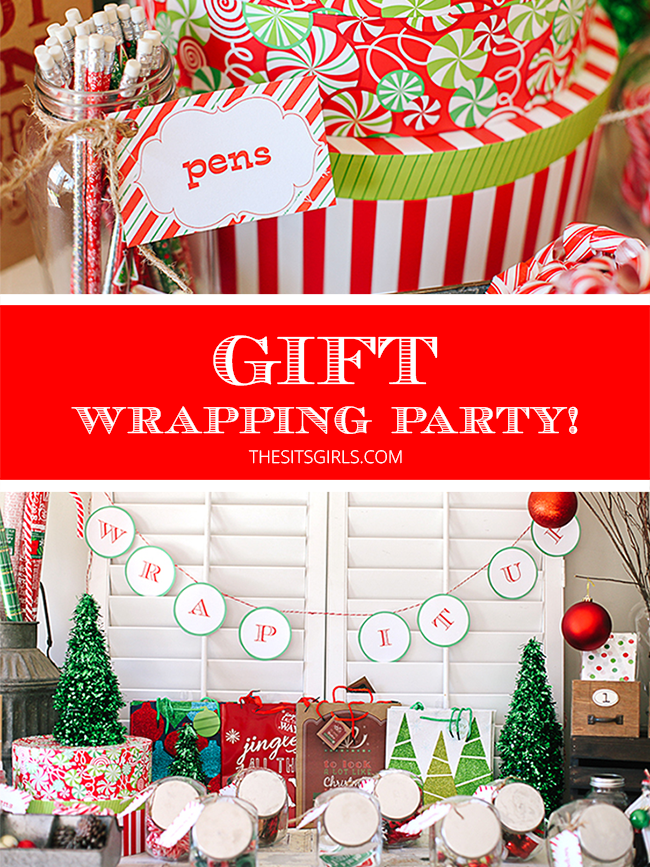 Gift Wrapping Party
What exactly is a Gift Wrapping Party? It is the best way to have a holiday party with all your girlfriends. Invite everyone over to wrap their gifts and socialize. You provide all the necessary gift wrapping essentials, and they bring all their loot to your house to wrap without having to worry about their little ones sneaking in and getting a peek at their presents early. It is so fun to see what awesome deals or great gift ideas people have scored.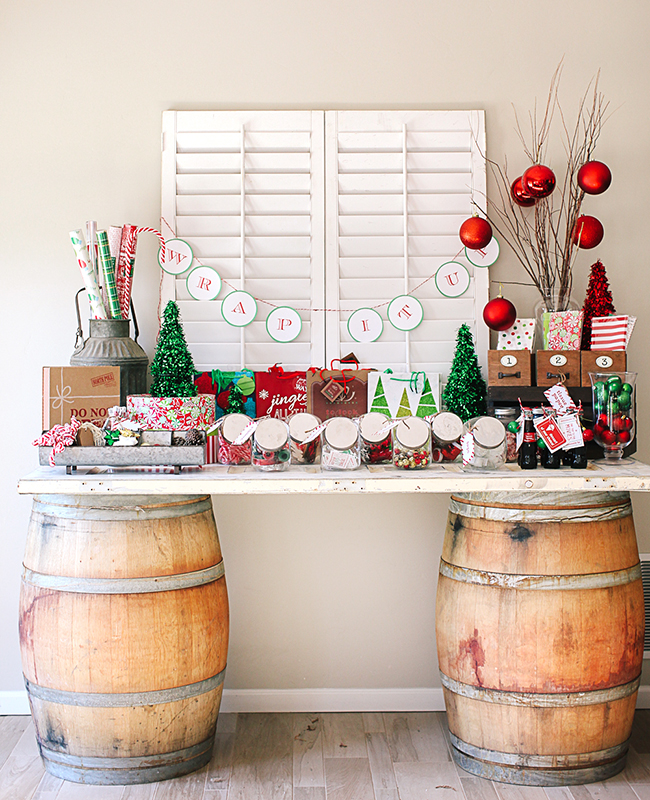 I wanted my gift wrapping party decor to look a bit like Santa's Workshop. I made a makeshift table using two old wine barrels and an old door. I love that it looks rustic and as if perhaps some small elves made a work space for themselves.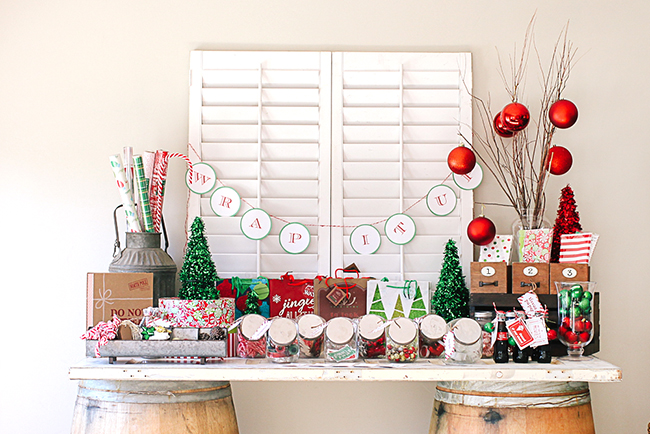 The wrapping station might actually stay up all year long, since I love it so much! I used printables for the "Wrap It Up" sign and to help organize all of the wrapping essentials.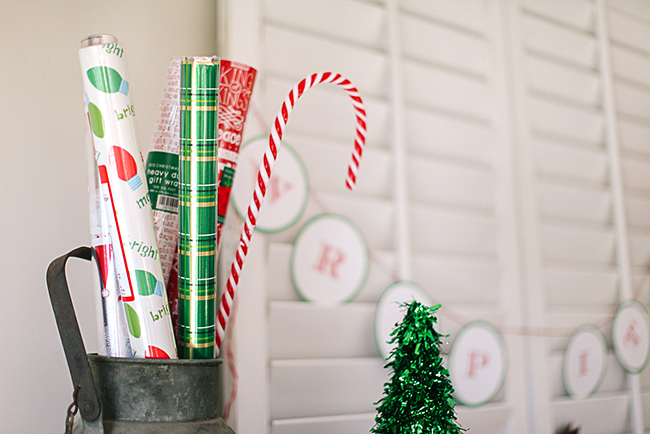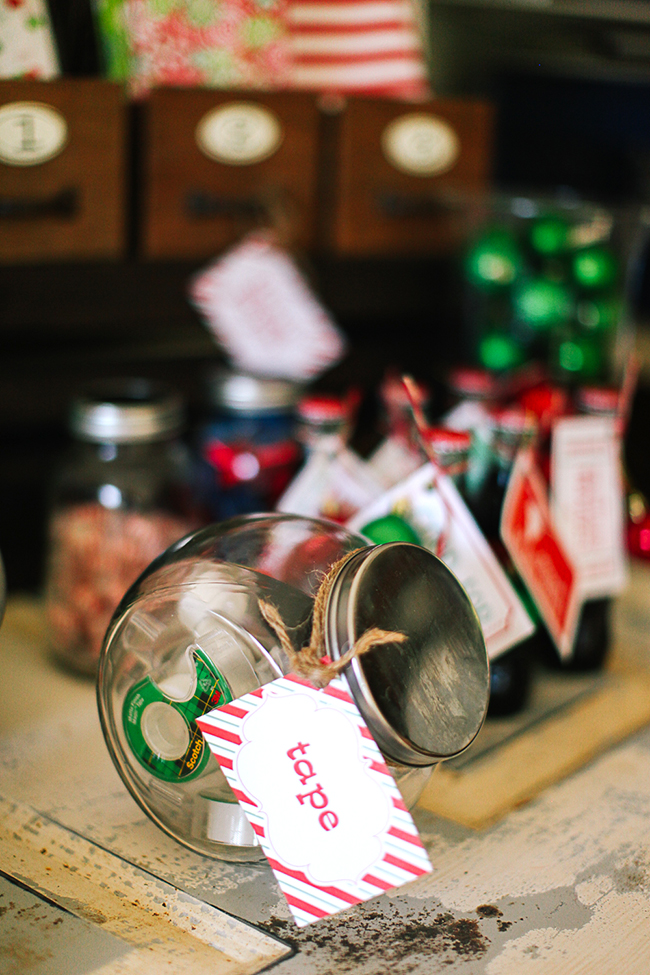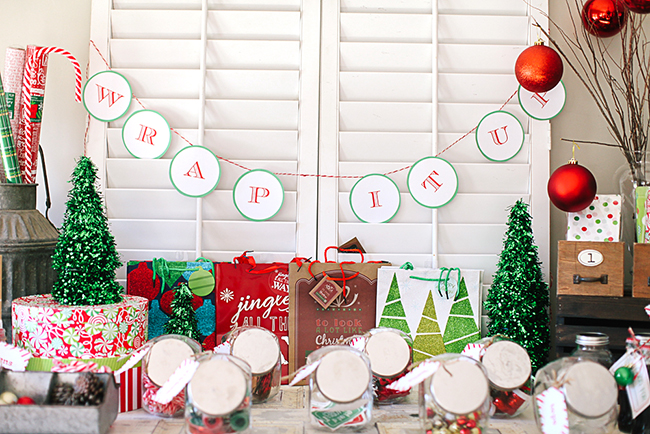 Wrapping presents can actually be so much fun when you are doing it with others! I am a firm believer that the present seems more special if it comes beautifully wrapped.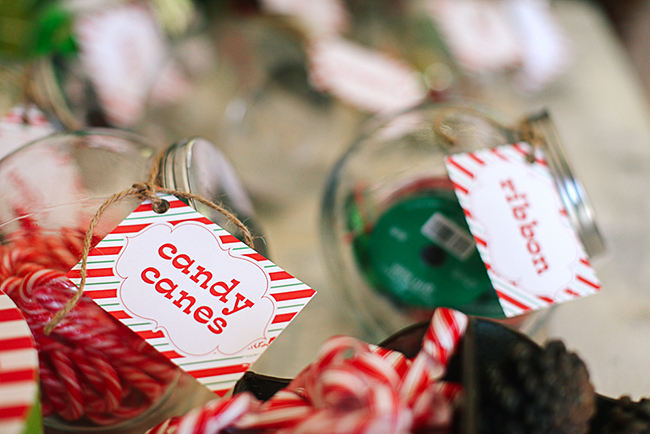 Packaging is everything! I stocked up on wrapping paper, pens and pencils, and tape, and then I got some "extras" to jazz up the plain packages.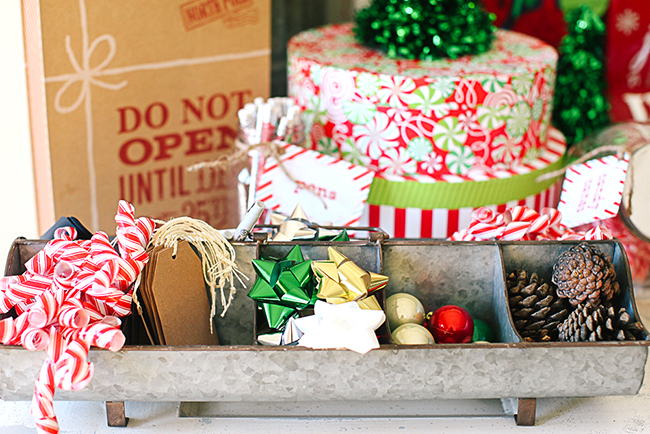 Candy canes, bells, small ornaments, and pencils are some of my favorite things to add to packages. Make sure you get lots of different ribbon so your guests can adorn however they like. Twine, wire ribbon, and basic stick on fluffy bows are always great options.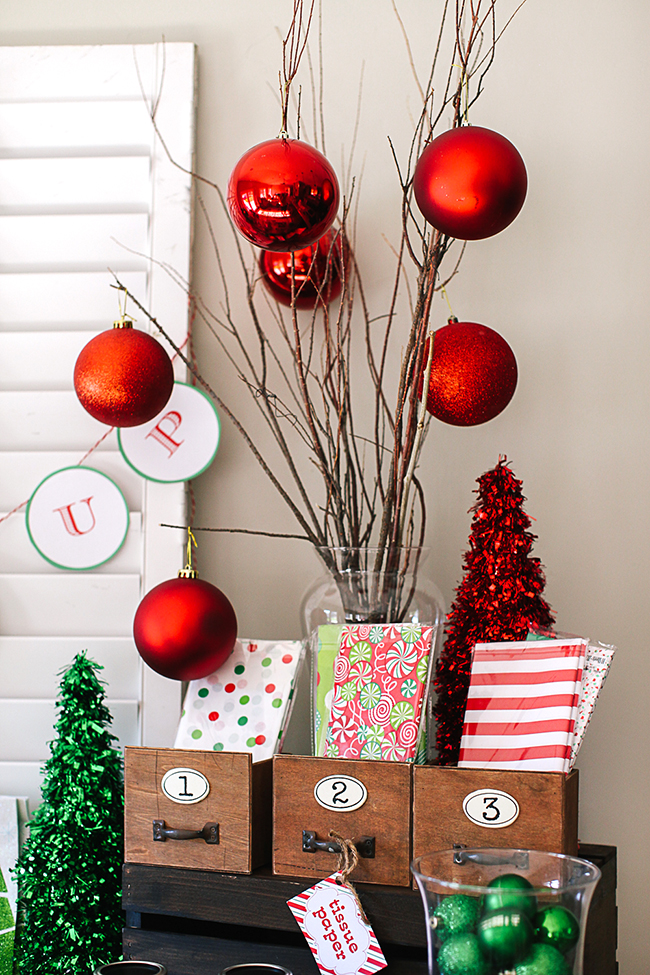 The hit of the party will for sure be these darling gift coupons.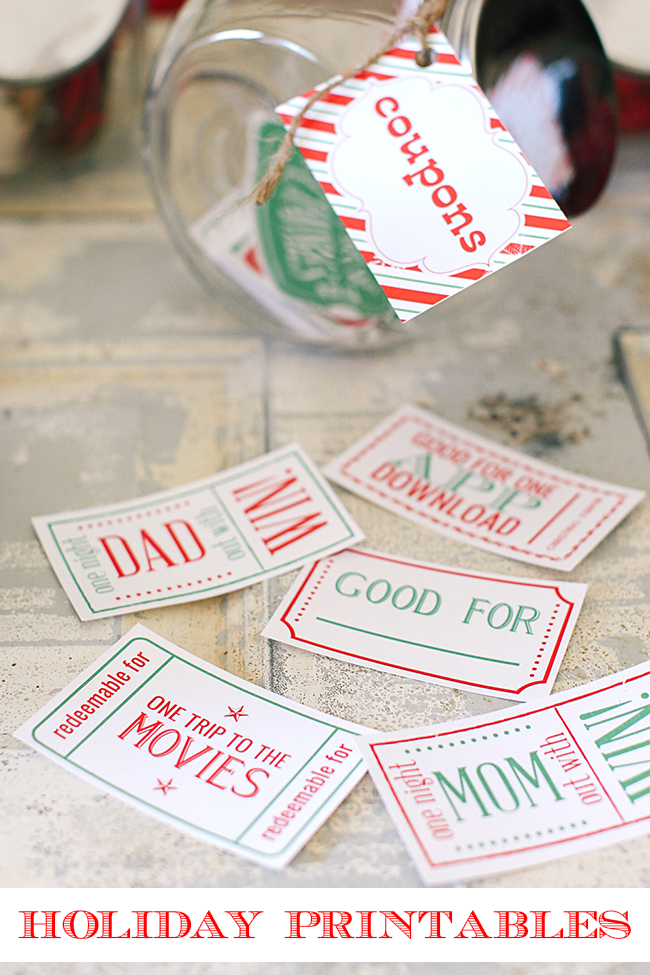 The best part is, the coupons can be used several ways — from stocking stuffers and gift tags on your presents, to little gifts from from the Elf on The Shelf or even attached to something cute for your Secret Santa.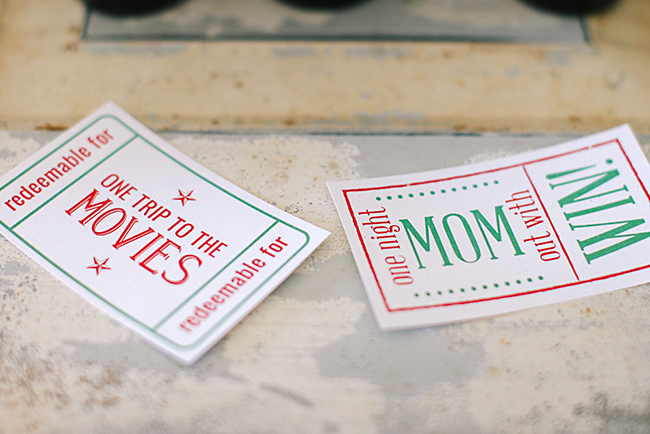 I love that these are gifts that can be given that do not take up any space in the house! My house is jam packed full of toys during the holidays, and these are meaningful gifts that do not take up any space. It will be so fun to watch my kids redeem their coupons for a date with myself or my husband!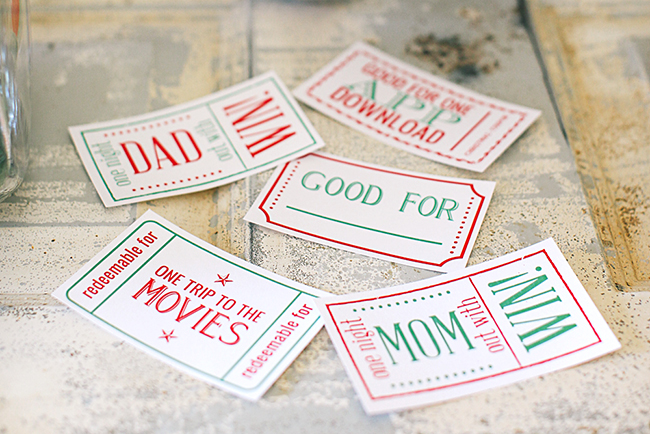 We even have a blank coupon in our printable pack you can fill in with your own idea. Perhaps you could gift your neighbor one month of mowing their lawn! The possibilities are endless.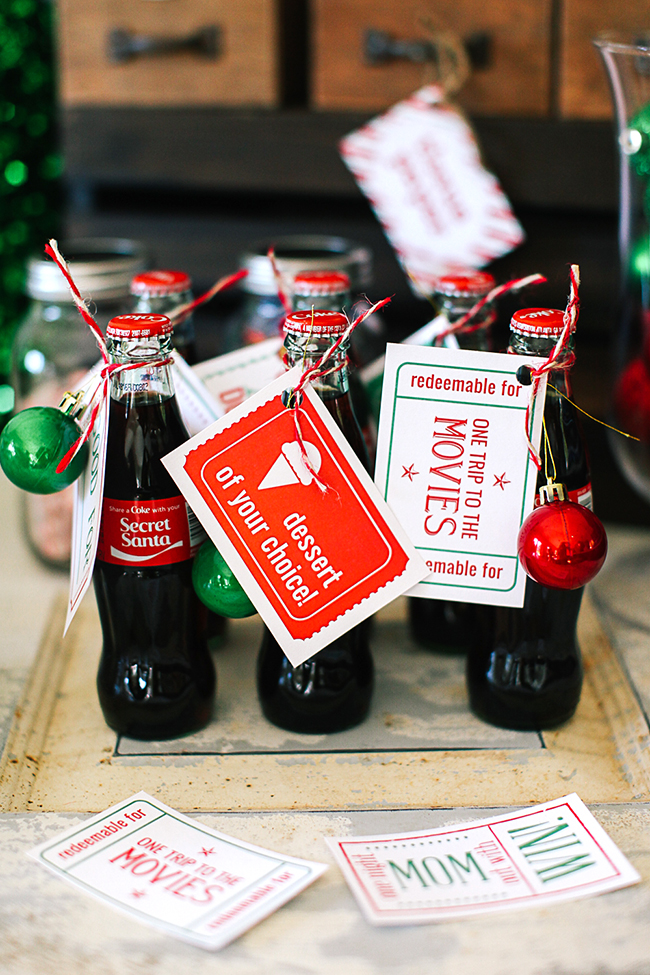 I found cute glass Christmas Coke bottles that were perfect to attach a little flair and coupon to for a secret Santa gift.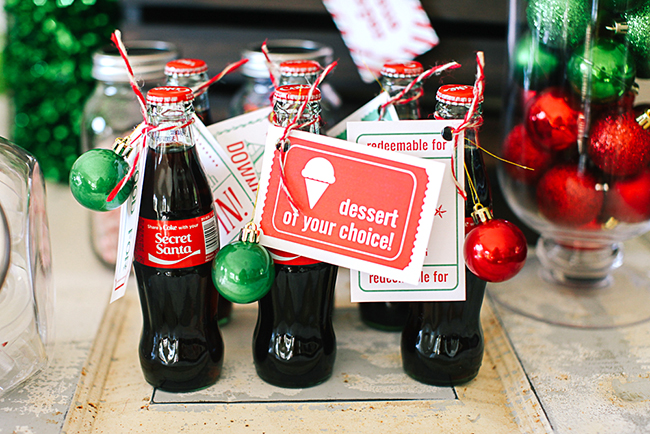 I also want to help all my Mom friends out this year, so I'm sending them home with cute printables to make the Christmas season even more fun! Each Mom will get to take home a Letter from Santa, A Letter to Santa template, and a Certificate of Excellence from Santa. I can not wait to hear about their kids' reactions when they get these cute goodies!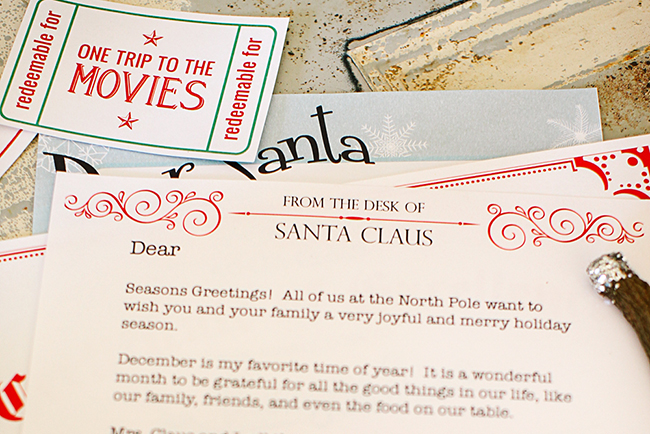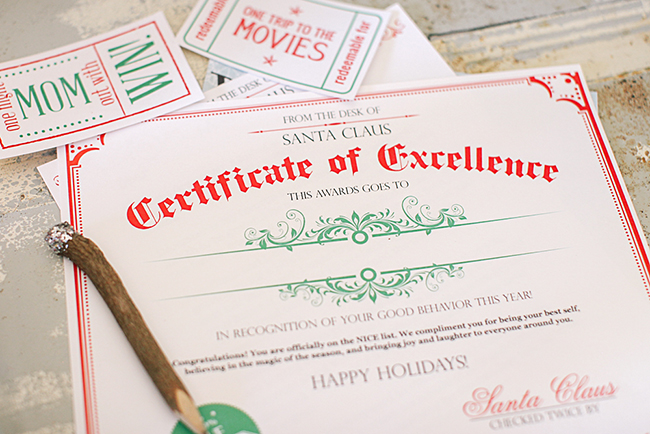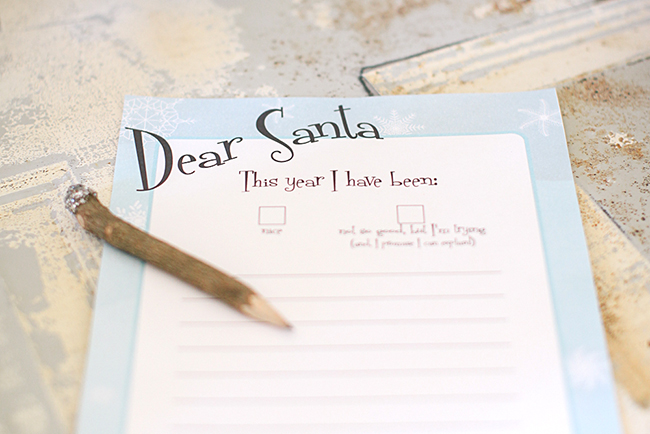 Wrap it up with your friends this Christmas, and be happy you have your wrapping done early and amazing company while you do it! Time flies when you are with good friends. Serve cookies and delicious frozen hot chocolate, and you will feel like you are in the North Pole!
For more printable fun, be sure to check out all of the holiday printables featured in this post.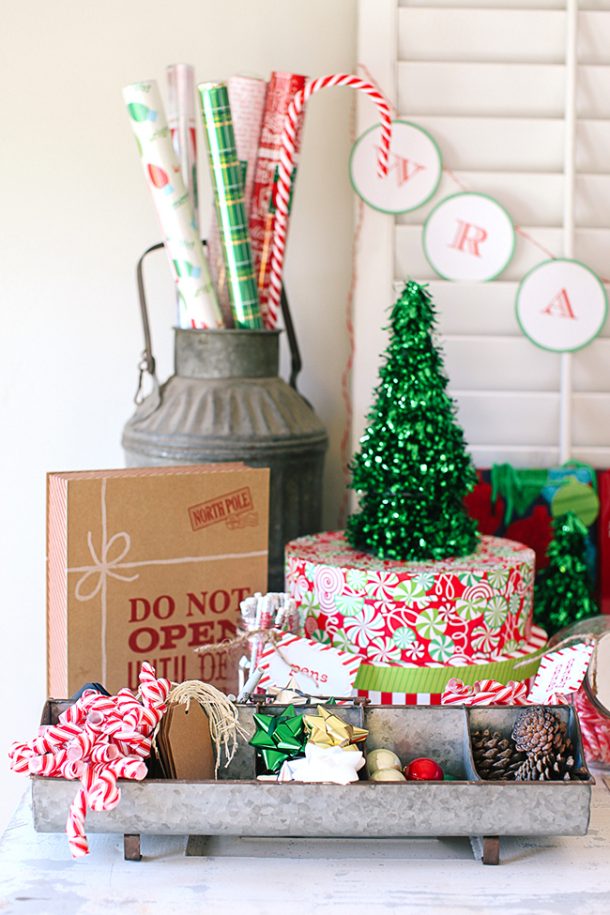 Have fun wrapping it up!