This post may contain affiliate links which may give us a commission at no additional cost to you. As an Amazon Associate we earn from qualifying purchases.
October is right around the corner, and with that comes goblins and ghouls, witches and ghosts, and Halloween! I get more excited for Halloween each year, because to me it really is the kick off to the fabulous holiday season up ahead. There is so much to celebrate, and so much to do, I hardly know where to begin when planning our Halloween fun.
Halloween Fun: Haunted Halloween Party Ideas
Each year I make a list of things to do with the kids to get them feeling the spooky season, and I never have enough time to complete them all. But this year I turned list into a party, and you are going to love these Halloween party ideas! Our Halloween party features Spooky Chex Mix (which my son named Ghost Monster Munch), Haunted Halloween Punch, Frog's Breath Slime, and the cutest Spider Web Sugar Cookies ever. Not to mention the most adorable free printables you have ever seen! Everything about this party is totally kid-friendly and sure to get your whole family feeling super ready for the spooky season ahead!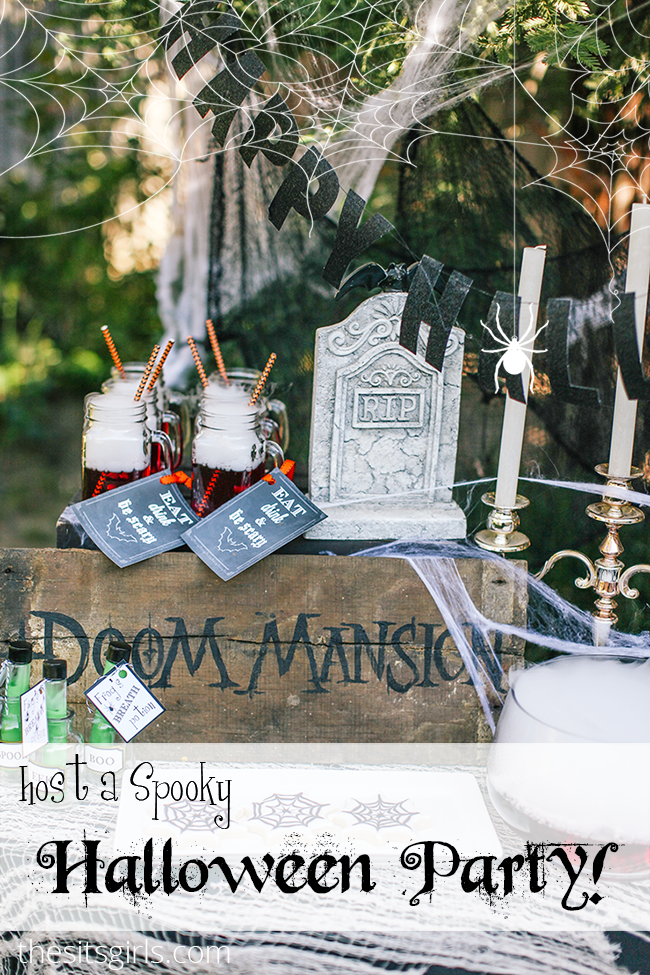 Halloween Party Decor
Spiderwebs and creepy clothes are an absolute must for a Halloween Party. They instantly add a eerie feel, without a lot of cost. I love having them draped everywhere outside, because the dramatic element is so easy to achieve. I also love mixing textures. It adds richness and a layered element to mundane everyday items. I used my dining room table candelabras, and wove some spider webs around them to give them a creepy haunted mansion feel. The old cloth draped over the black tablecloth makes it seem worn in, and as if it was found in an old house somewhere.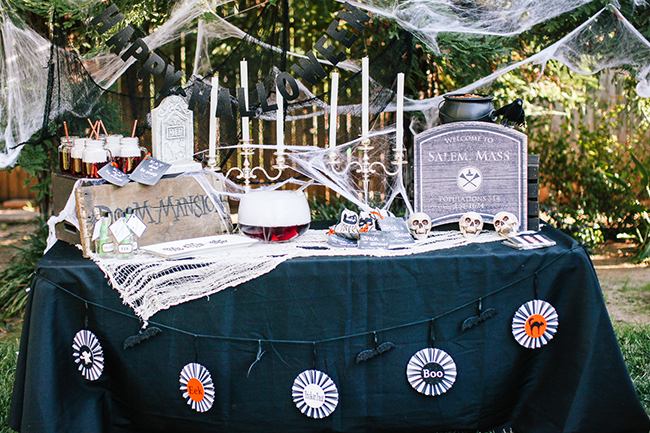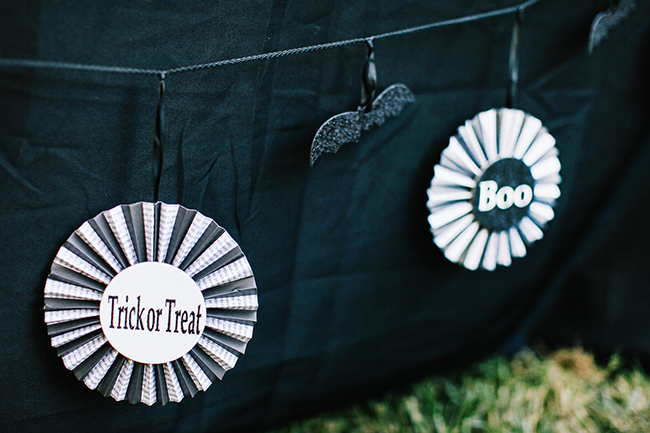 This adorable rustic Doom Mansion sign was handmade for me awhile back by a good friend. She specializes in handmade signs, and whipped this thing up no problem. However you could easily make your one with a black paint pen, and an old piece of wood. The creepier the handwriting the better.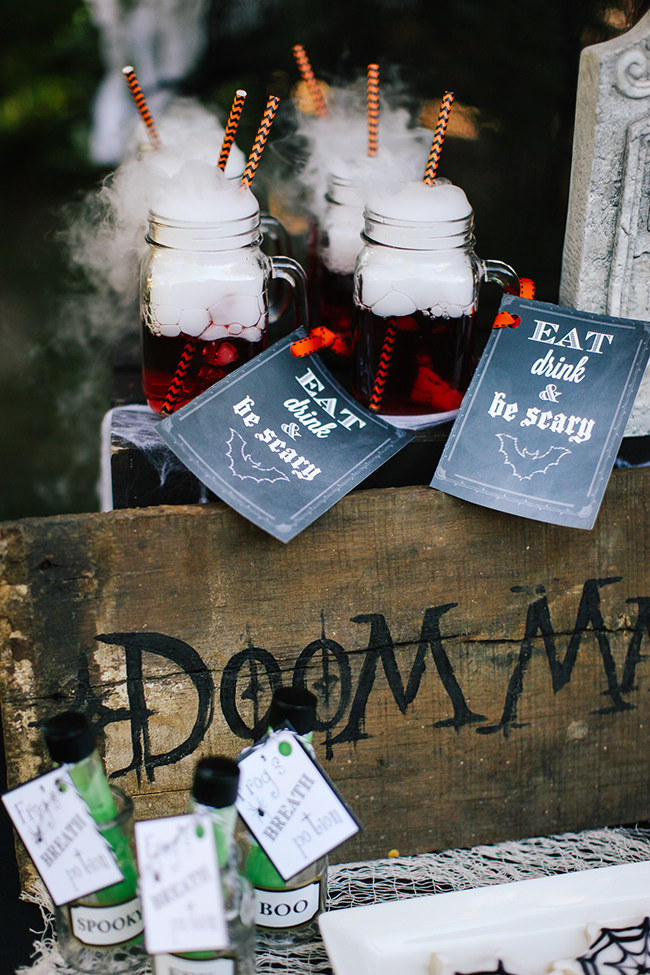 My son loves to mix up "science projects" in the kitchen.  So I enlisted him for the Frog's Breath Slime we made for the favors for the kiddos. He was utterly delighted, and super grossed out at the same time. The process is so easy to do, and also provides endless hours of playtime for little ones. I was prepared for a large mess, and honestly, there was hardly none, so that is another major bonus!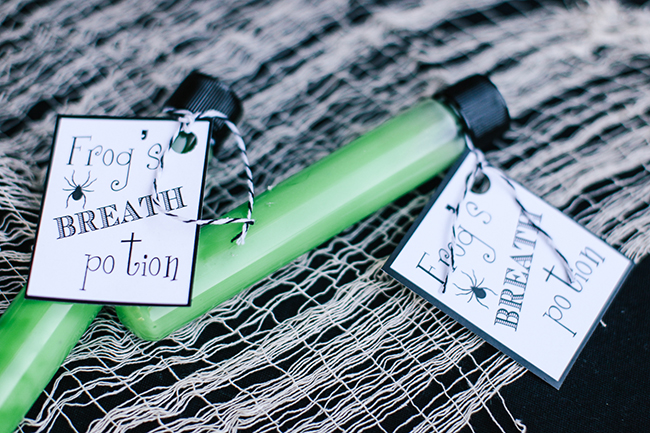 Halloween Party Food
My favorite part of a party is always the food. Especially, during Halloween, because it means there will be some amazingly delicious sweets there. This party was no exception. Halloween is an excuse to think outside the box and do something a little more creative in the kitchen. If whatever you are making ends up a disaster, you can play it off as something meant to be grotesque, so why not experiment a little! The little guests at this Haunted Mansion Party were served Spooky Chex Mix, Haunted Halloween Punch, and the coolest Spider Web Sugar Cookies.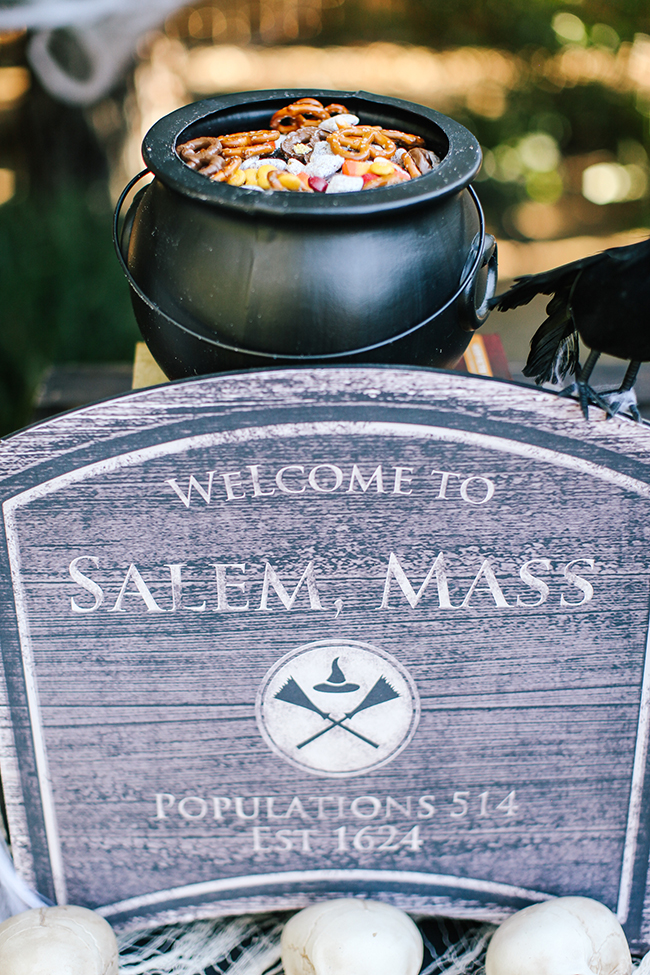 The chex mix was delicious, and a mixture of different candies, snacks, and treats!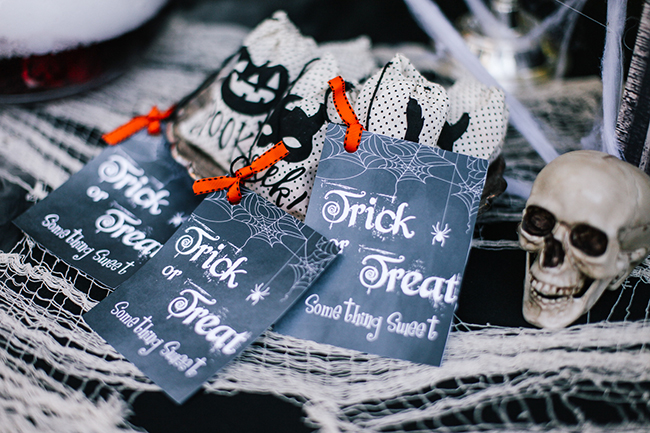 The punch was an instant smash hit. I actually forgot how fun Dry Ice is to work with! It takes everything to the next level. I must say, I also enjoyed it, and delighted in the nostalgia of the spooky effect!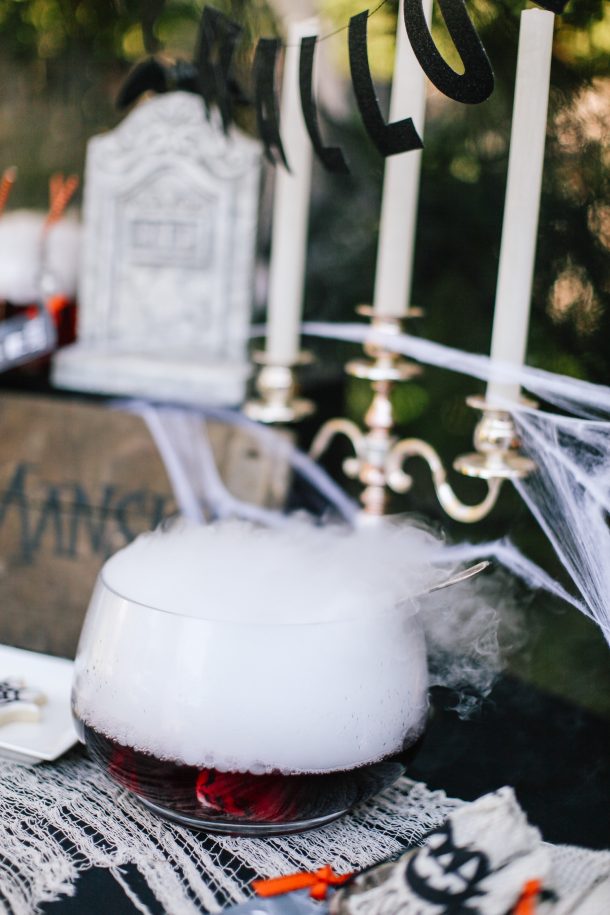 The spiderweb cookies, have become a favorite of mine to make for Halloween. I normally make a huge batch, and we give them to our neighbors. They look much harder to make than they are, and the technique to create the spiderweb design is pretty easy if you have the right tools! Check out my post next week for an awesome tutorial that will help you WOW all your friends and family with these cute Halloween treats!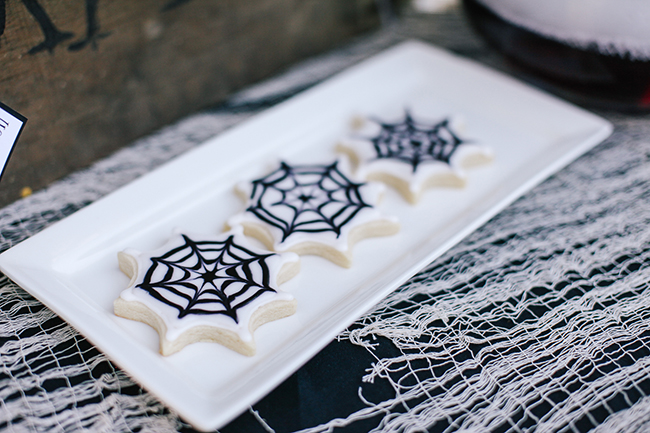 Use these awesome free printables to help dress up your Halloween bash. You can even print them, and use them for Halloween parties at school or work for adults! They will pretty much please any crowd, and did we mention they are FREE?!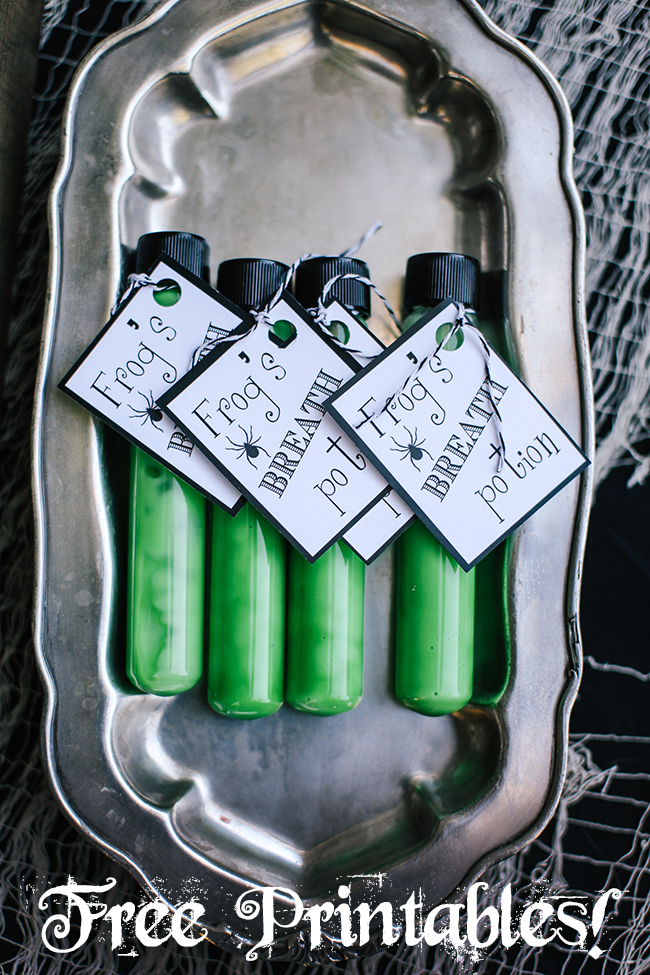 What Halloween fun do you have planned this year?
If you need more Halloween ideas, be sure to check out all of our Halloween posts: