This post may contain affiliate links which may give us a commission at no additional cost to you. As an Amazon Associate we earn from qualifying purchases.
The Fourth of July, the loveliest of holidays! Hot summer days, classic American food, good friends, and of course fireworks! The beauty of a 4th of July party is that it is such a classic hometown party, that you really can decorate however feels right to you! There is so much you can do with Red, white, and blue! I have so many July 4th party ideas I'm excited to share with you! This is one of my favorite holidays for easy party ideas.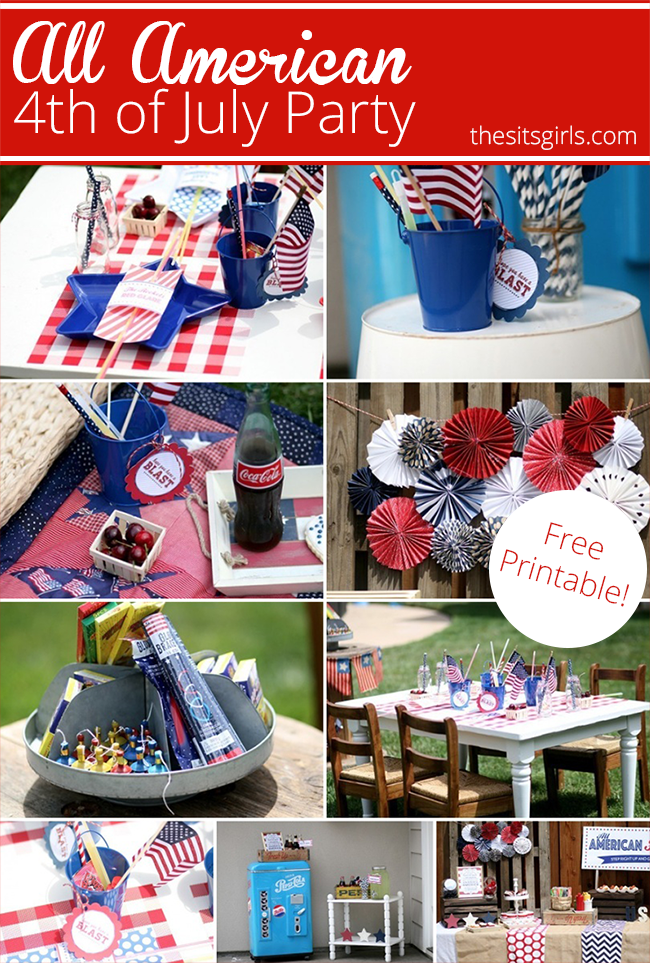 July 4th Party Ideas
Now that I am a mother, holidays are all about the little ones. The fourth of July is so exciting for kids – hot dogs, sweet summer treats, and then top the night off with fireworks! My 4th of July party this year, is centered on the little ones.
July 4th Party Kids Table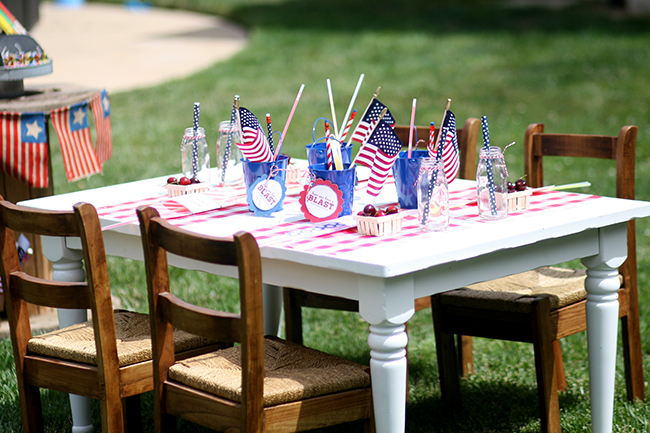 I created a table just right for the kids; I normally am so focused on adult table, that the kids' stuff gets pushed to the side.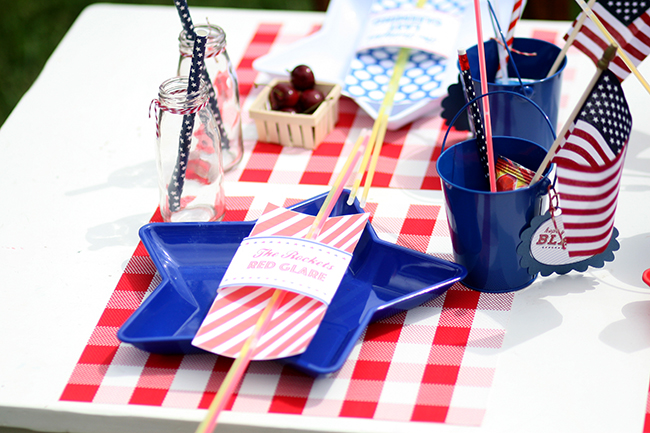 At the kids table I made them each their own setting with a star plate.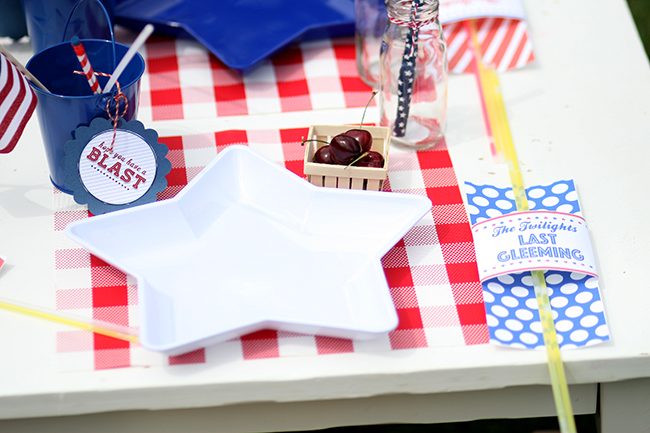 I put the glowsticks in holders that I printed.
(You can get free copies of the printables here!)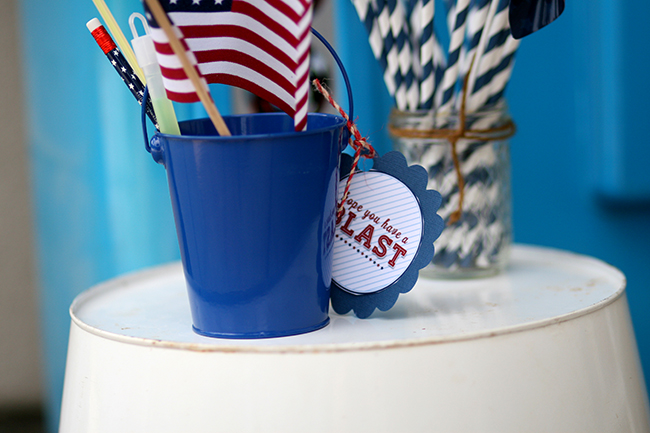 The treat buckets had ring pops, glow sticks, a flag, bubbles, and a pencil. They were decorated with a little tag that said, "I hope you had a blast"!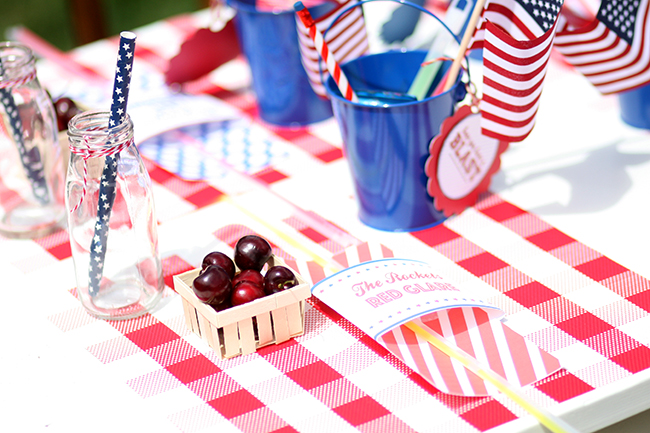 I set little baskets of cherries at each setting, and a vintage milk bottle for them to refuel with lemonade at the drink stand. I love to repurpose old things we have lying around the house.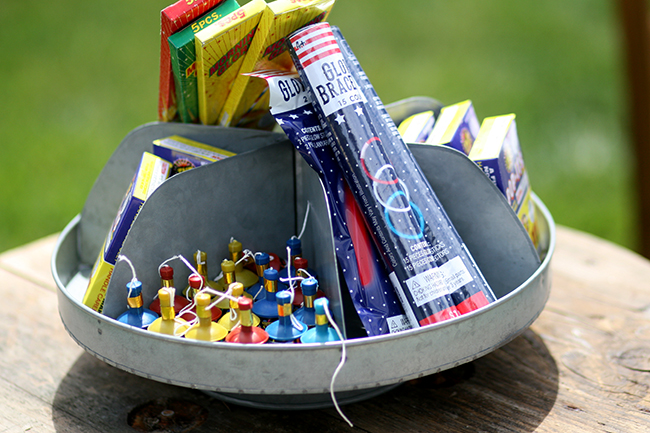 We remodeled last year, and I snagged an electrical spool before the dump truck took everything away. I used this spool to create a fireworks station for the littles. Adult supervision was needed, but the plethora of supplies should keep them entertained for a while!
July 4th Party Food Station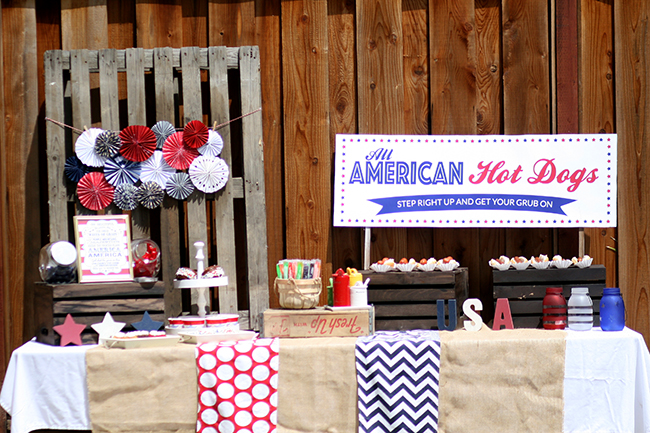 The food table was comprised of a cool summer sweets side and a hot dog stand. After all, what says 4th of July more than ice cream and hot dogs.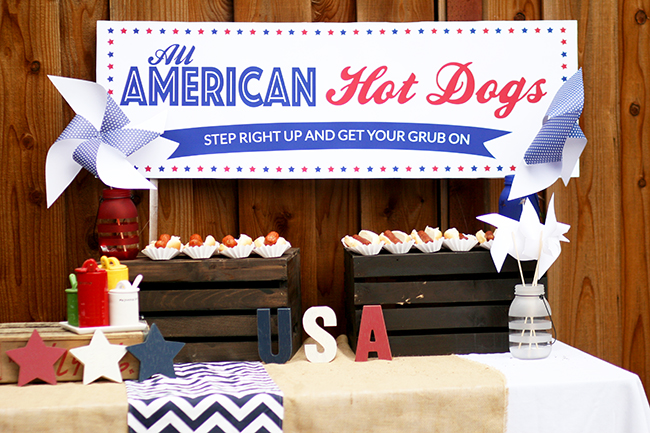 The hot dog stand had various types, and of course all the condiments.
July 4th Party Desserts
Dessert is always my favorite, so I made sure there were lots of desserts.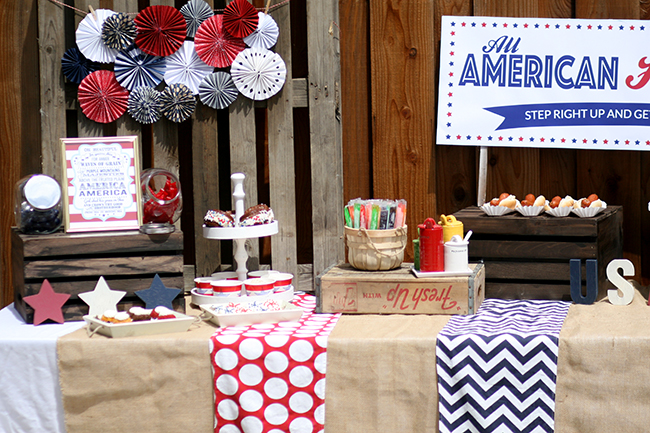 Ice cream sandwiches, ice cream cups, and otter pops were all on hand.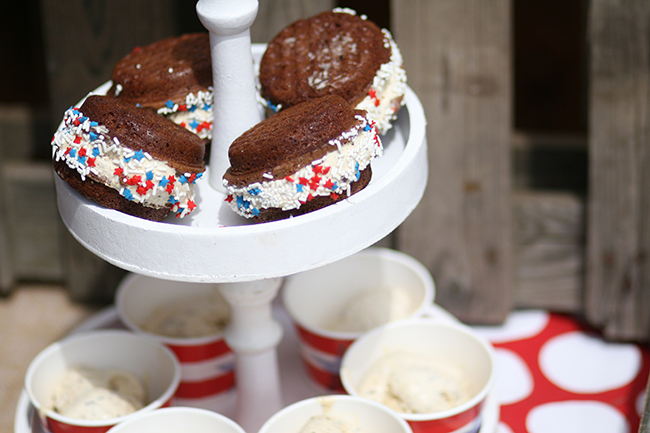 The baked goods were these delicious mini bundts and I whipped up some 4th of July sugar cookies as well.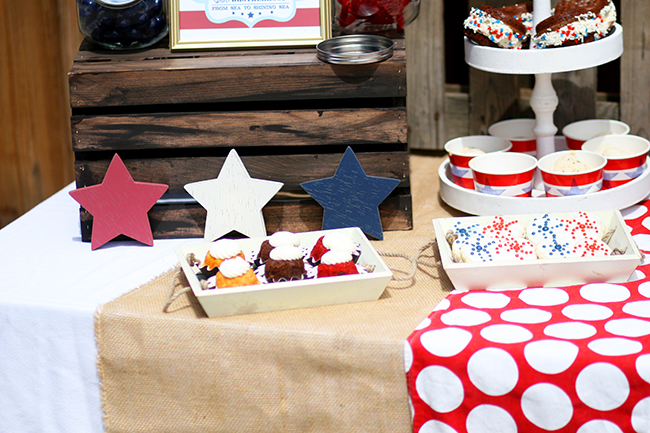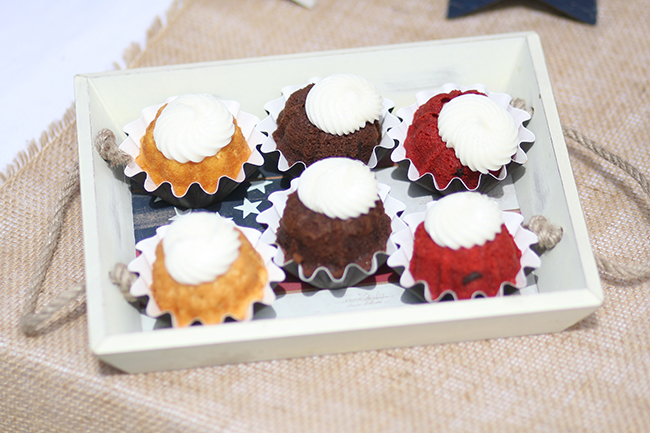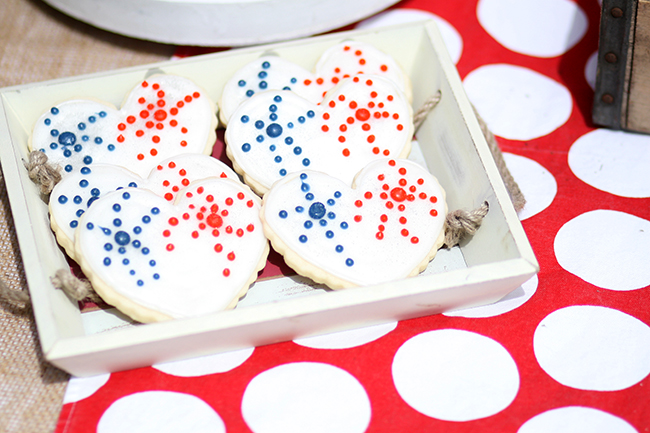 I even added some red licorice whips and blue candy to keep my color theme going!
July 4th Party Decorations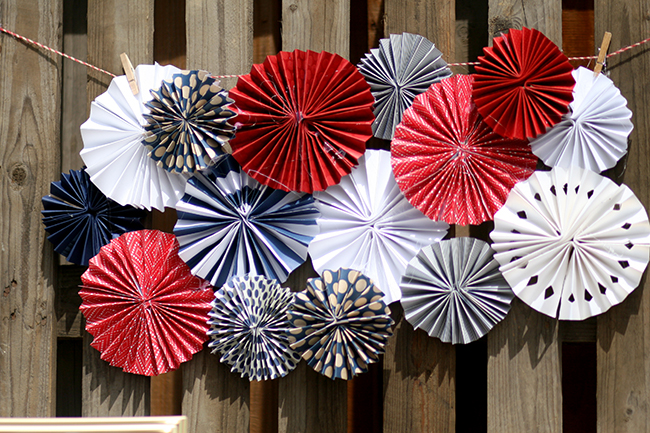 As a background I used a pallet we had, and made some paper fans to give it a vintage feel. (You can find the tutorial to make your own in my backyard summer party post!) I swear my backyard is not a junk yard! But those old crates were a perfect way to create different levels on my food station table.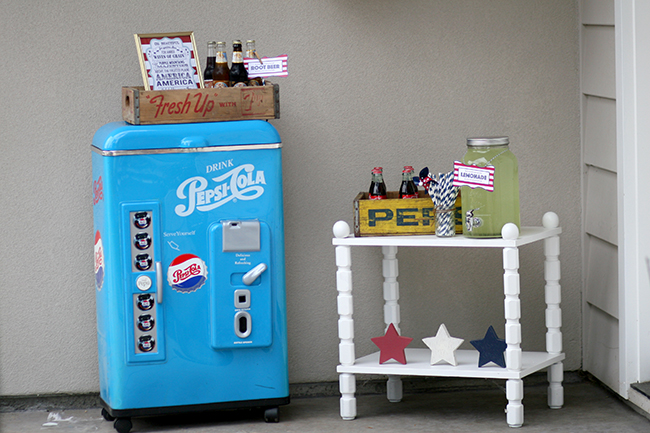 The drink station let people refuel with the classics, like glass coke bottles, rootbeer, and lemonade.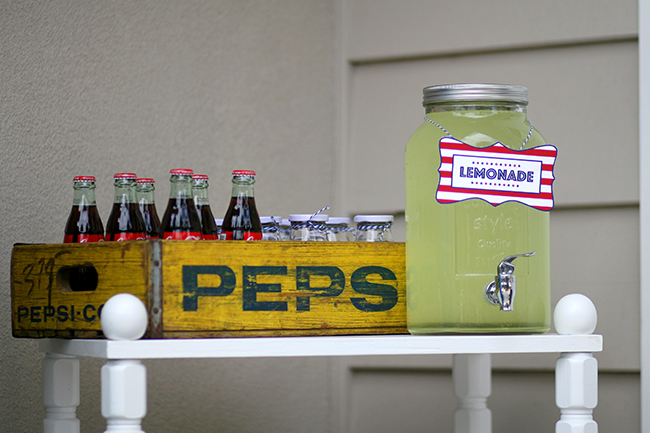 Sometimes you just need a soda, and personally I feel fancy when I drink it out of the glass bottles.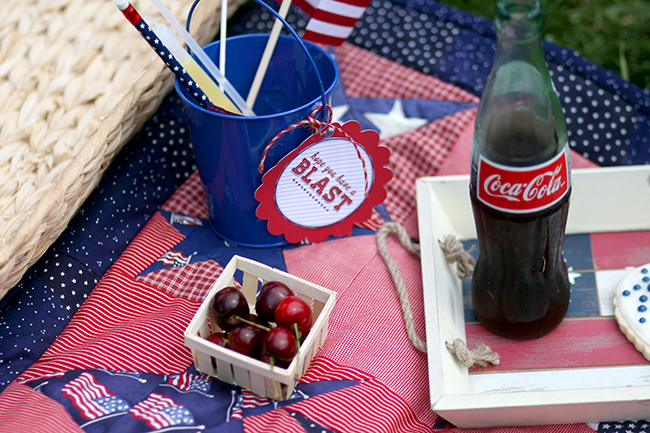 When I start planning a tablescape or set up for a party I like to get get my stuff from multiple places. Rummage the dollar bins at Target or do a few DIY projects to make your 4th party really feel complete. Create a kids table this year, and I promise your mommy friends will be so thankful.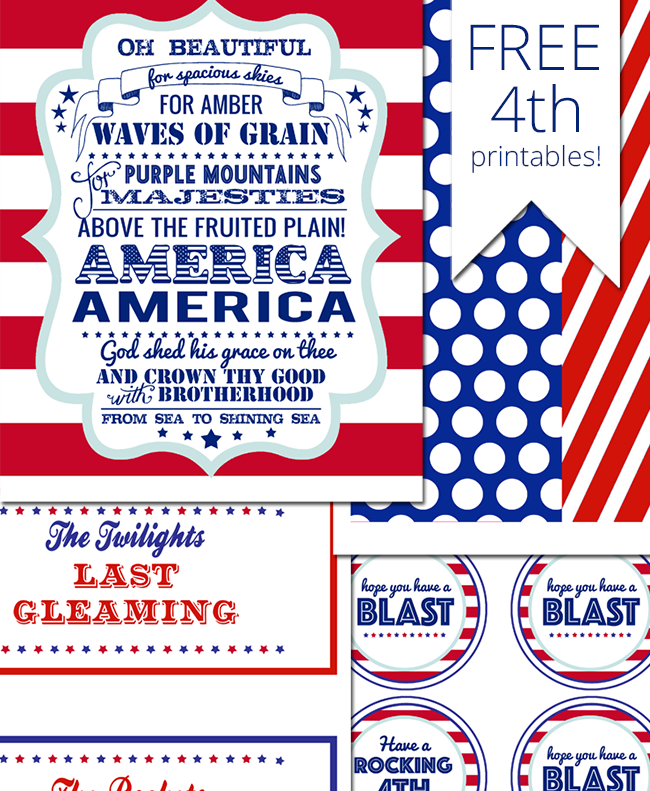 Top the party off with a water balloon fight, and then lay your quilts out, and settle in for some fireworks! That is the perfect end to a wonderful 4th of July.