This post may contain affiliate links which may give us a commission at no additional cost to you. As an Amazon Associate we earn from qualifying purchases.
Have you watched Mickey and the Roaster Racers? Disney Junior drove right into the winner's circle with this one. In the show, Mickey, Minnie, Donald, Goofy, and Daisy come together to form the ultimate racing team. It is an adventure packed show that is fun to watch and also teaches kids important lessons. To celebrate our love for all things Mickey Mouse, we hosted a colorful Mickey party for our sponsor, Disney Junior, to celebrate their Vroomtastic show, Mickey and the Roadster Racers!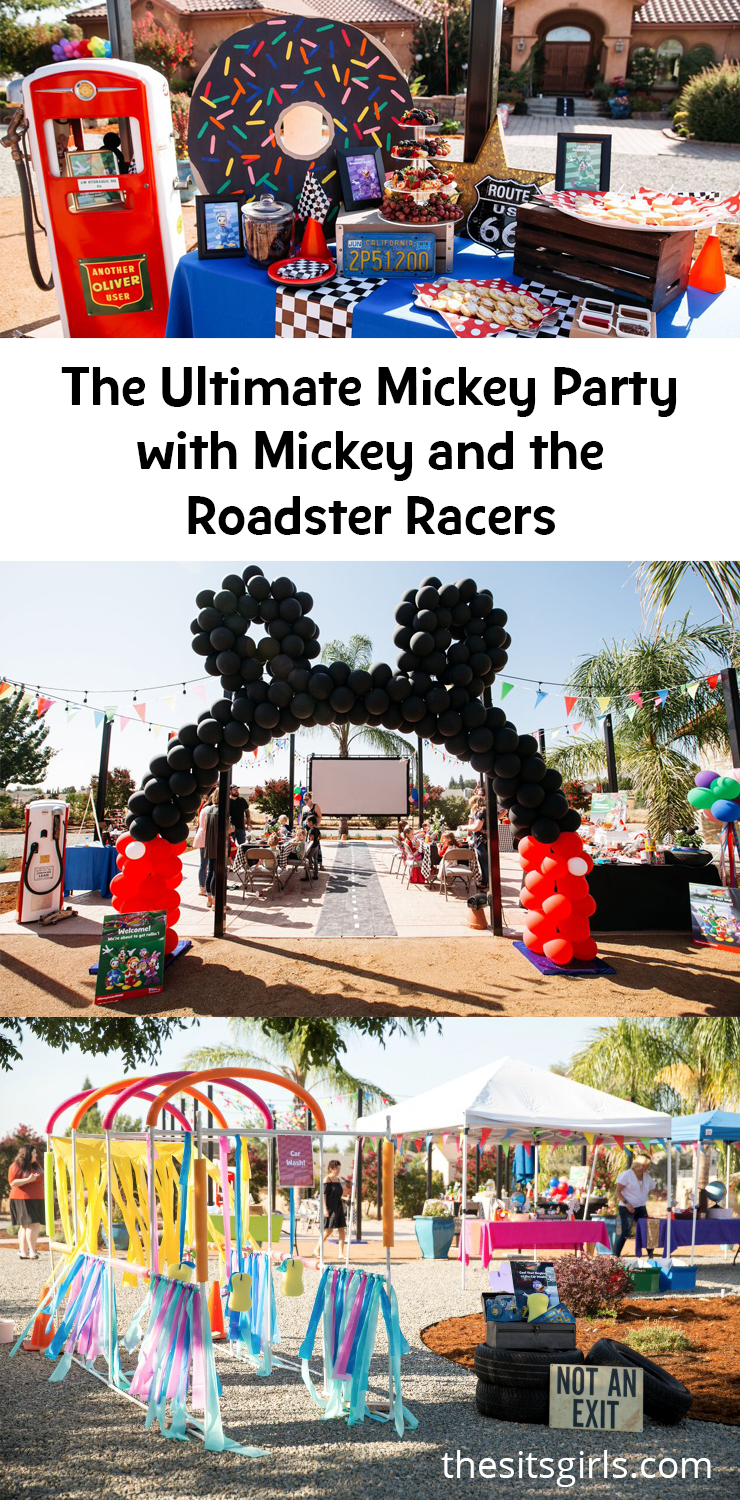 The Ultimate Mickey Party With Mickey And The Roadster Racers
In Mickey and the Roadster Racers, Mickey and his crew travel all over the globe helping others. We wanted to include elements of racing and travel for this Mickey and the Roadster Racers party. The natural start was to begin with the classic Mickey colors: red, yellow, white, and black. However, the Roadster Racers are much more than that! Each character has a race care with their own individual colors, and the characters have matching racing suits, too!
Mickey Party Race Car Decor
One of the best part about this Mickey party is the vintage car items we mixed into our party decor. This gas pump by one of our food tables was a hit — everyone wanted to take pictures with it — and old license plates are always a fun way to add vintage race car flair.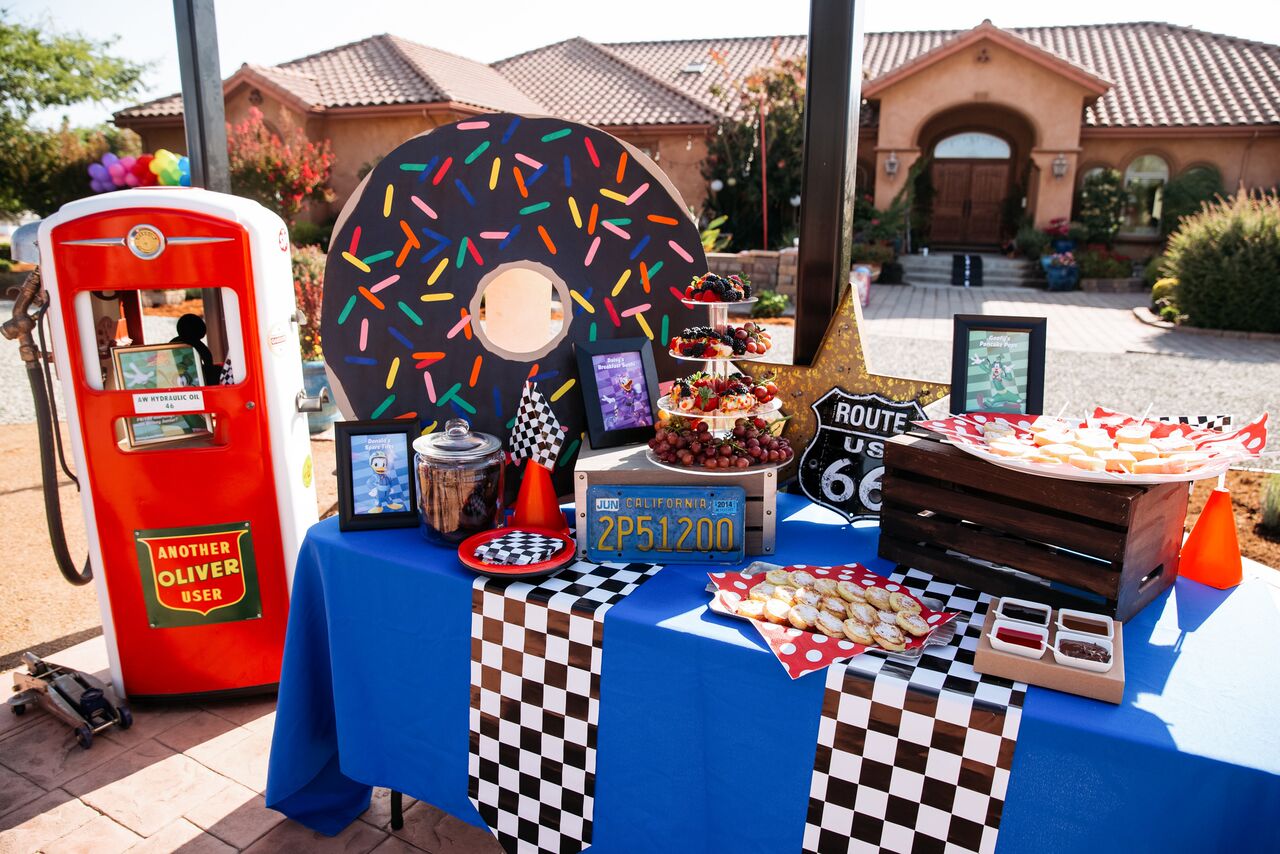 We got lucky and were able to snag some old tires! Who knew tires could be this cute? If you are looking for used tires, the dump is a good place to start. After all, one man's trash is another man's treasure!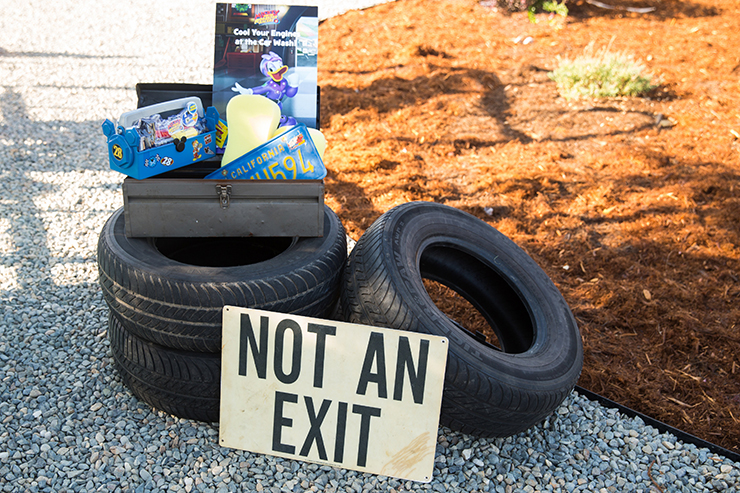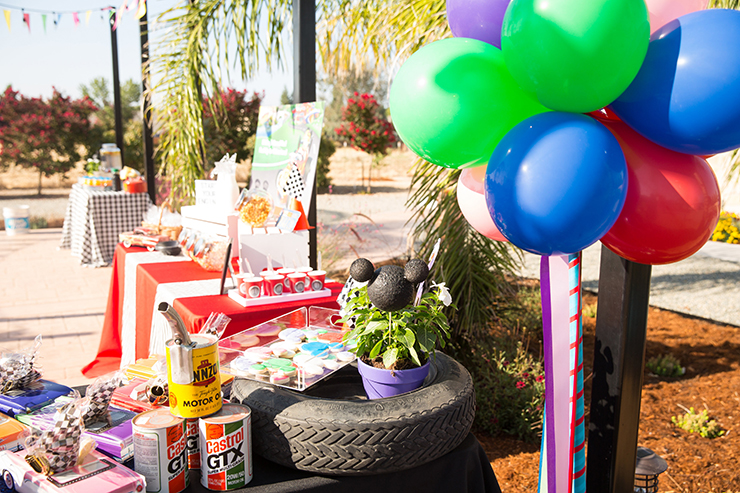 We placed the various elements all over the yard and combined them with something fun and Mickey-esque if you will.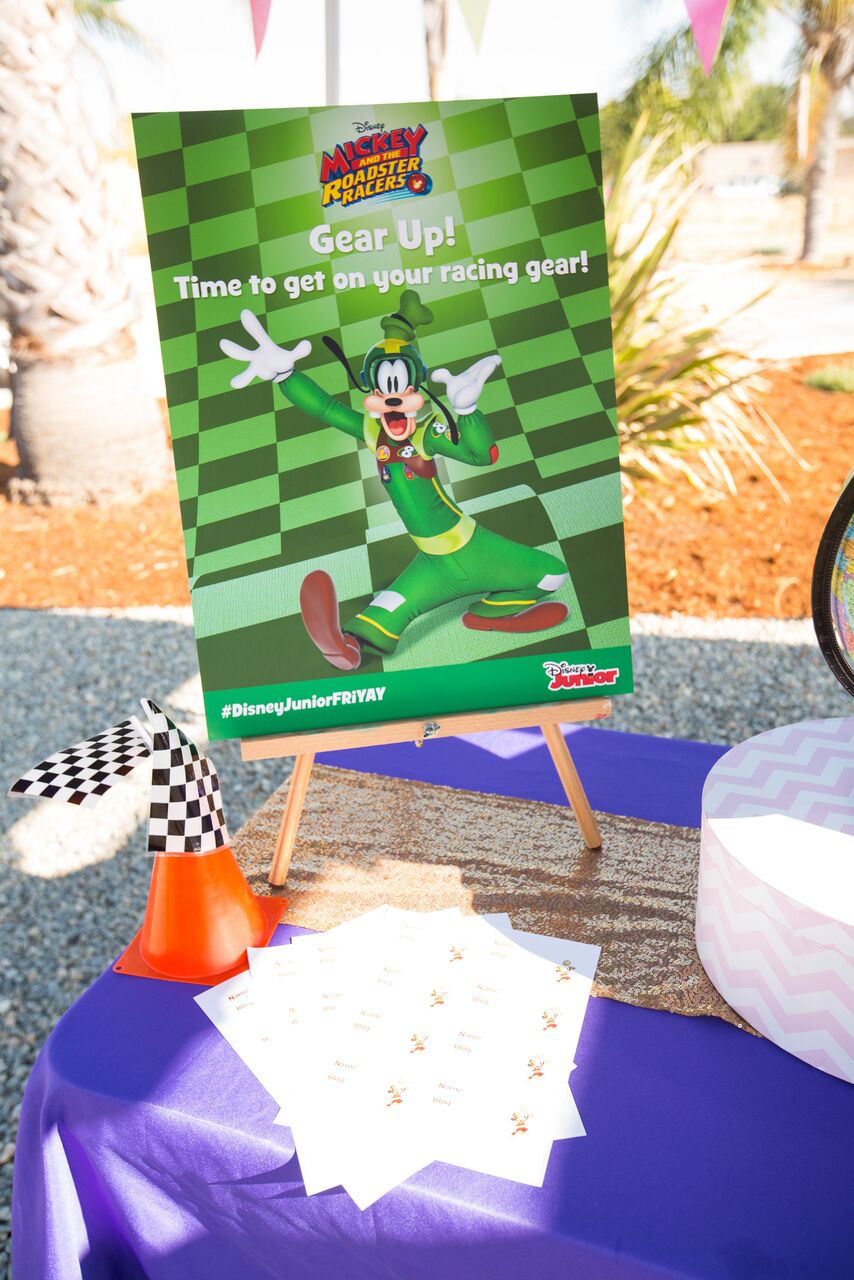 Pennant banners are another great way to add race car flair to your Mickey party. You can use classic black and white checkered flags, but we went all in with different colors to represent the character's racing colors from the show.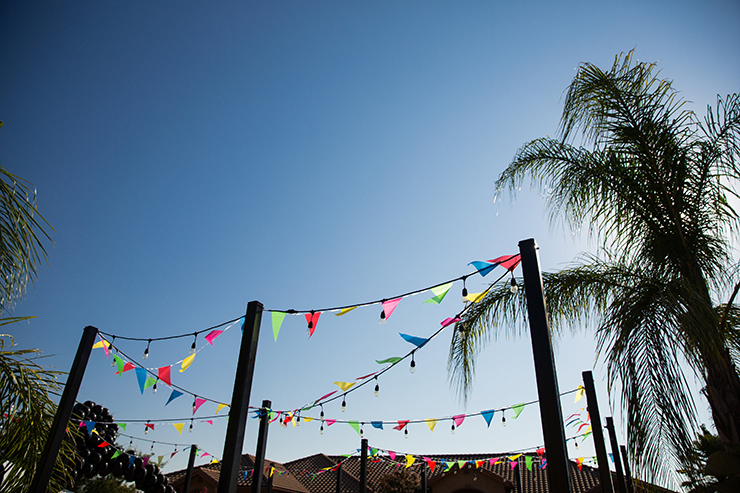 A super simple DIY was our homemade race track. We used black paper and white duct tape and placed it between the two dining tables. This went right between the Mickey balloon arch!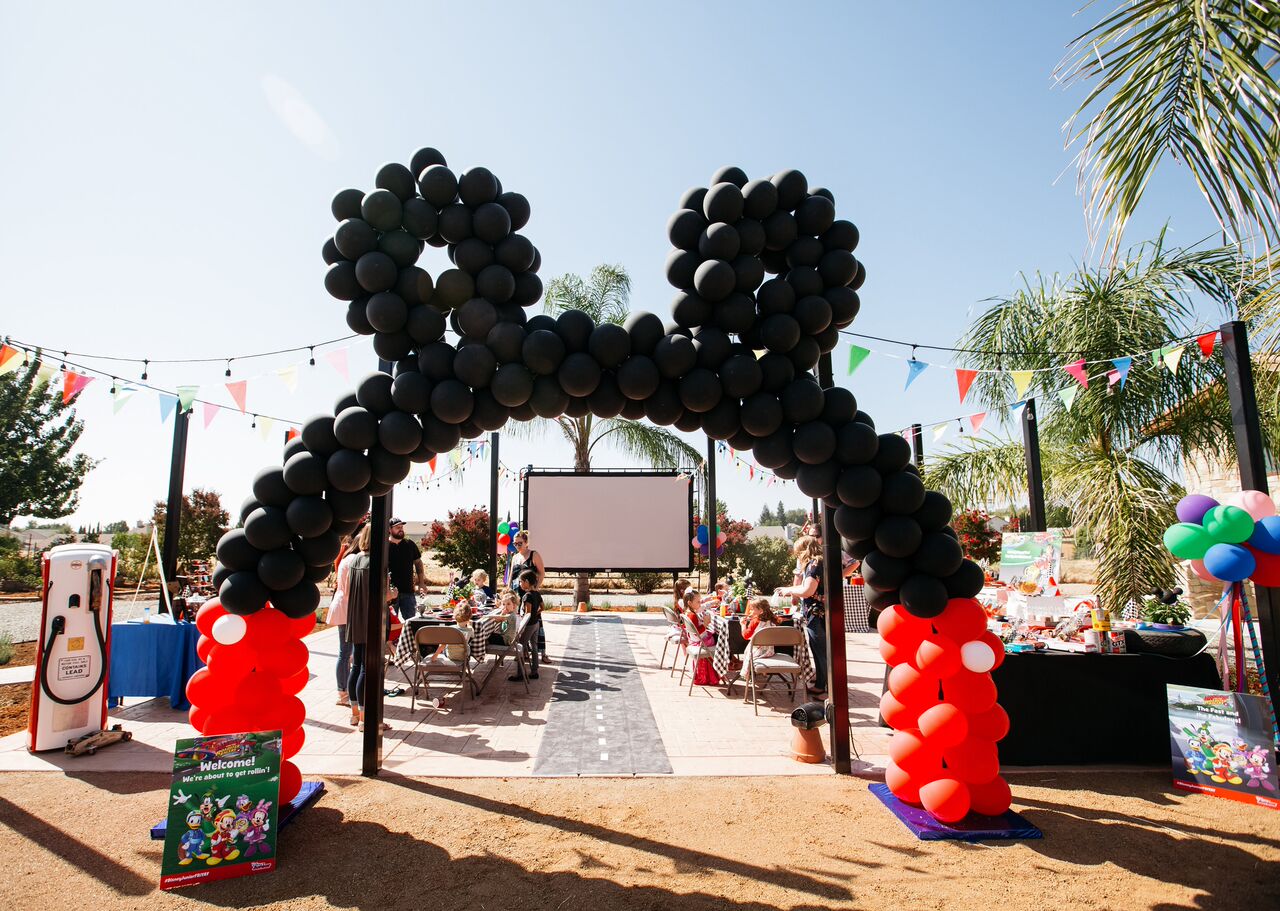 The kids dined at Roadster Racers themed tables. The centerpieces were potted plants sprayed to match each character. We crafted Mickey silhouettes out of foam balls, and spray painted them black. This added a touch of whimsy to the decor.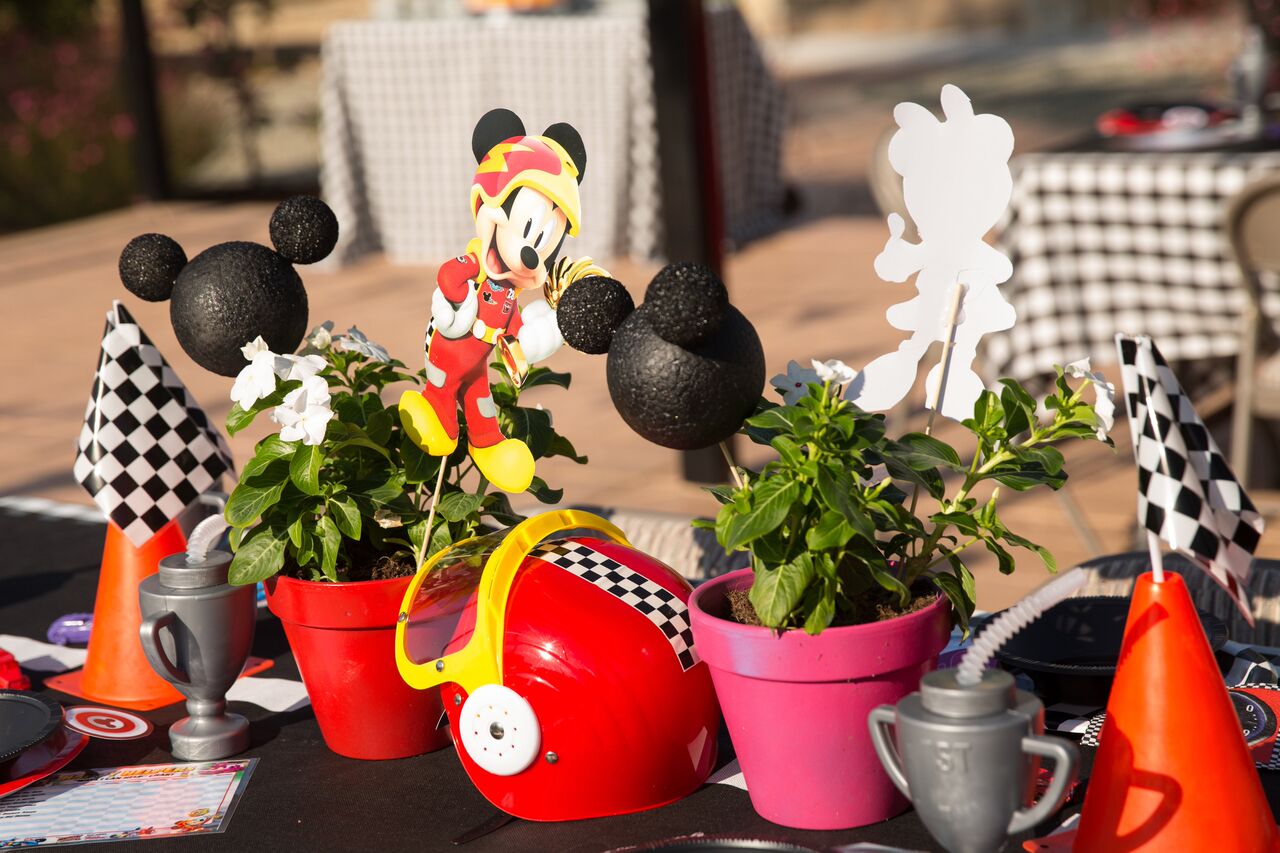 To finish the table decor, we added cones with race car flags, spray painted toy cars (to match Mickey and his pals), trophy water bottles, and DIY Mickey ear bowls, so kids could fill their bellies at our cereal bar!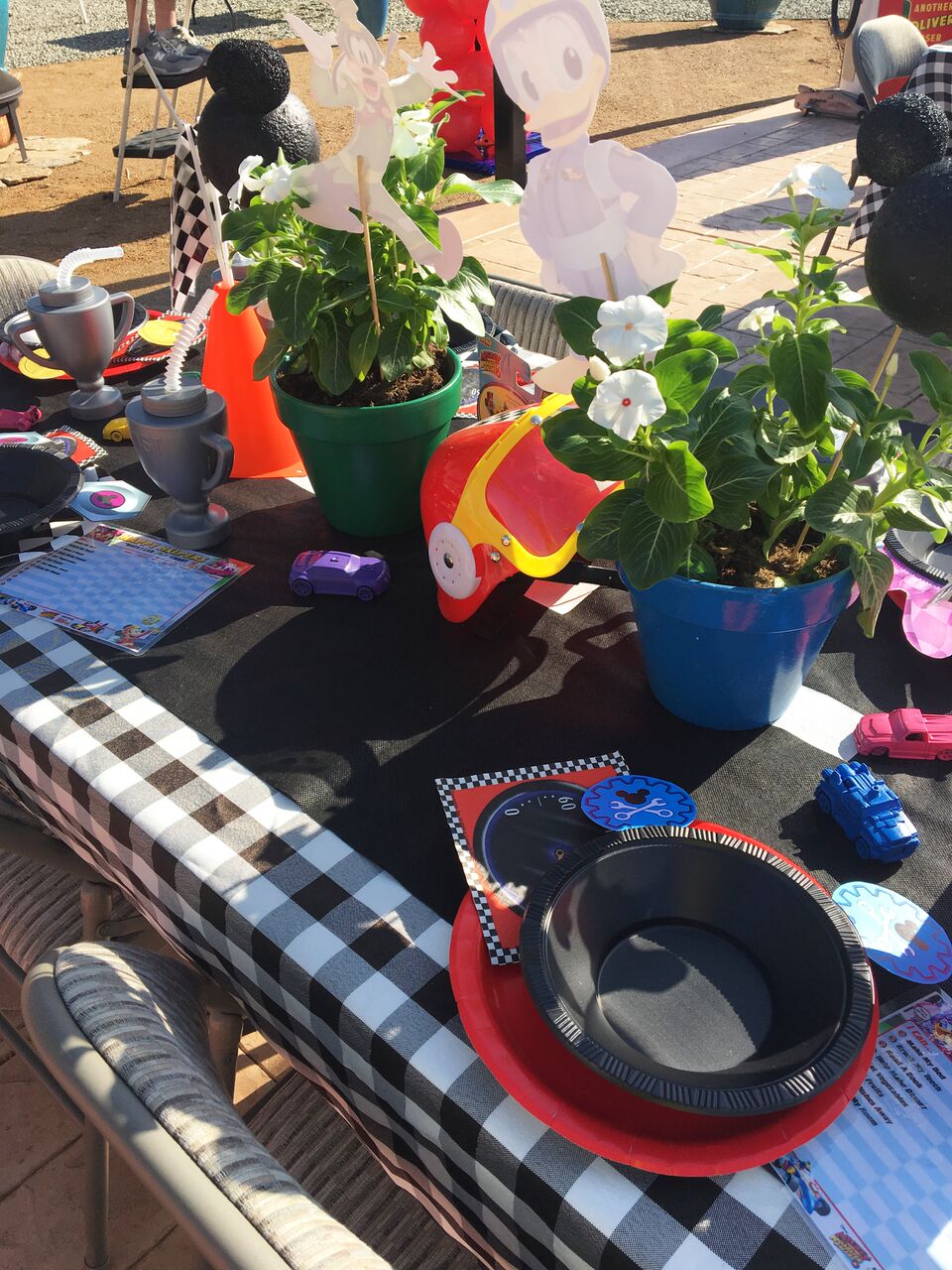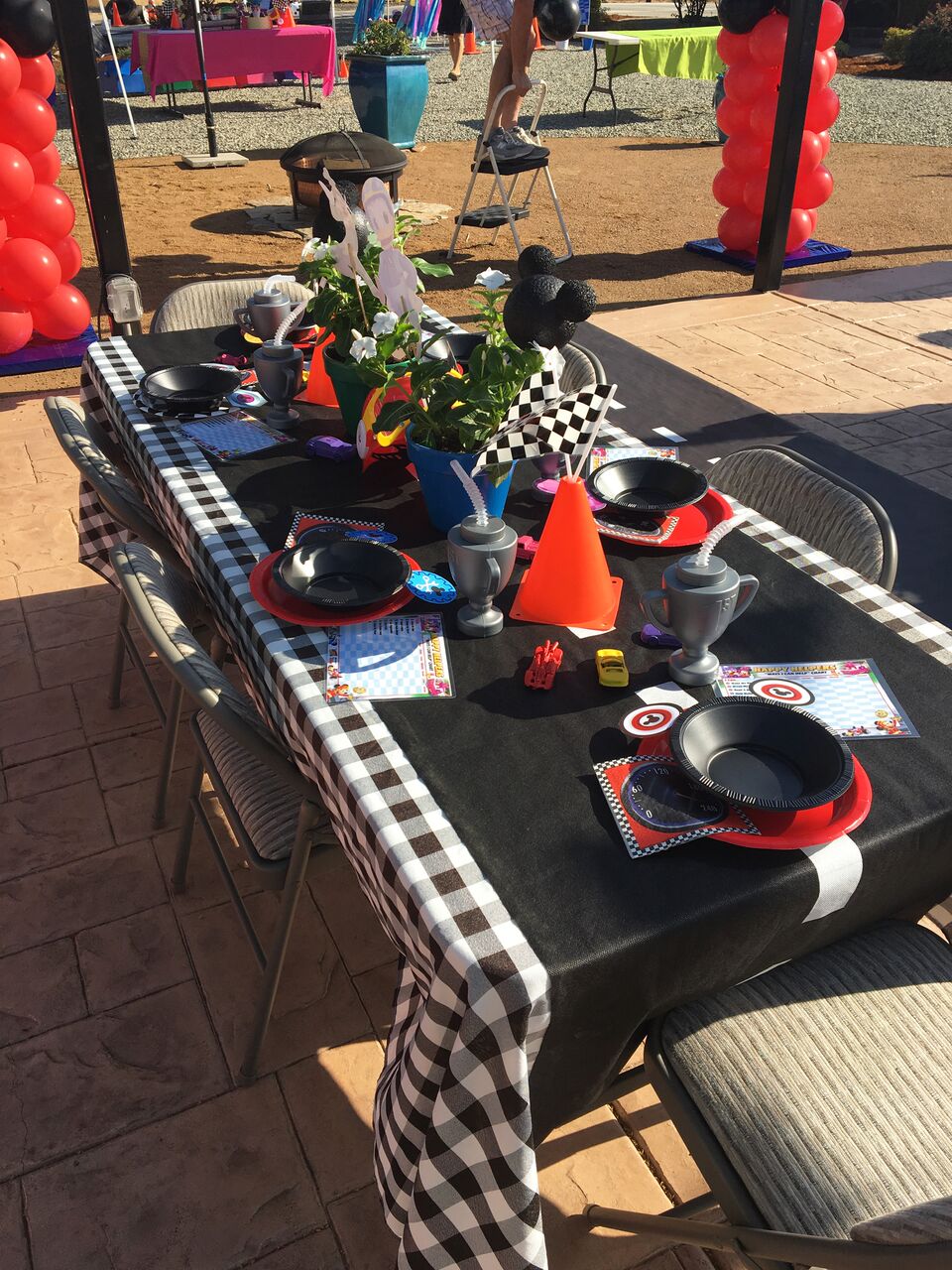 Mickey Party Food
We love serving party food that fits the theme of the event. Mickey and the Roadster Racers is part of the Disney Junior FRiYAY morning lineup, so we thought our little racers needed a cereal bar to help fuel their adventures! Everyone loves watching cartoons and eating cereal — it's a classic pairing. And a cereal bar is a special treat for people of all ages!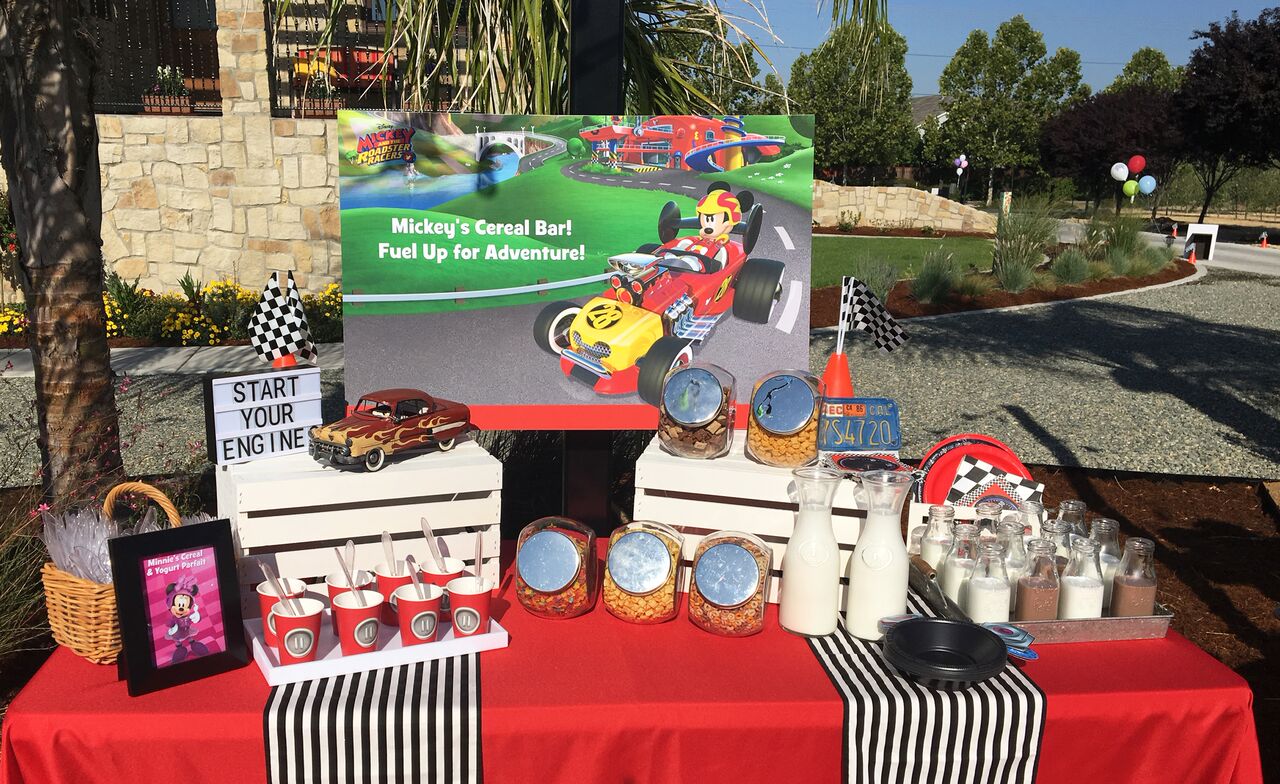 We served our milk in classic glass milk bottles, so little guests could pour or sip on their own! They also looked great with all of our other vintage items.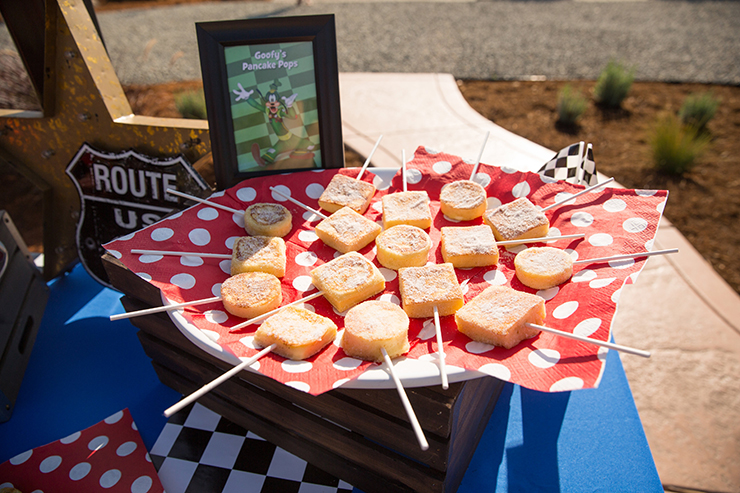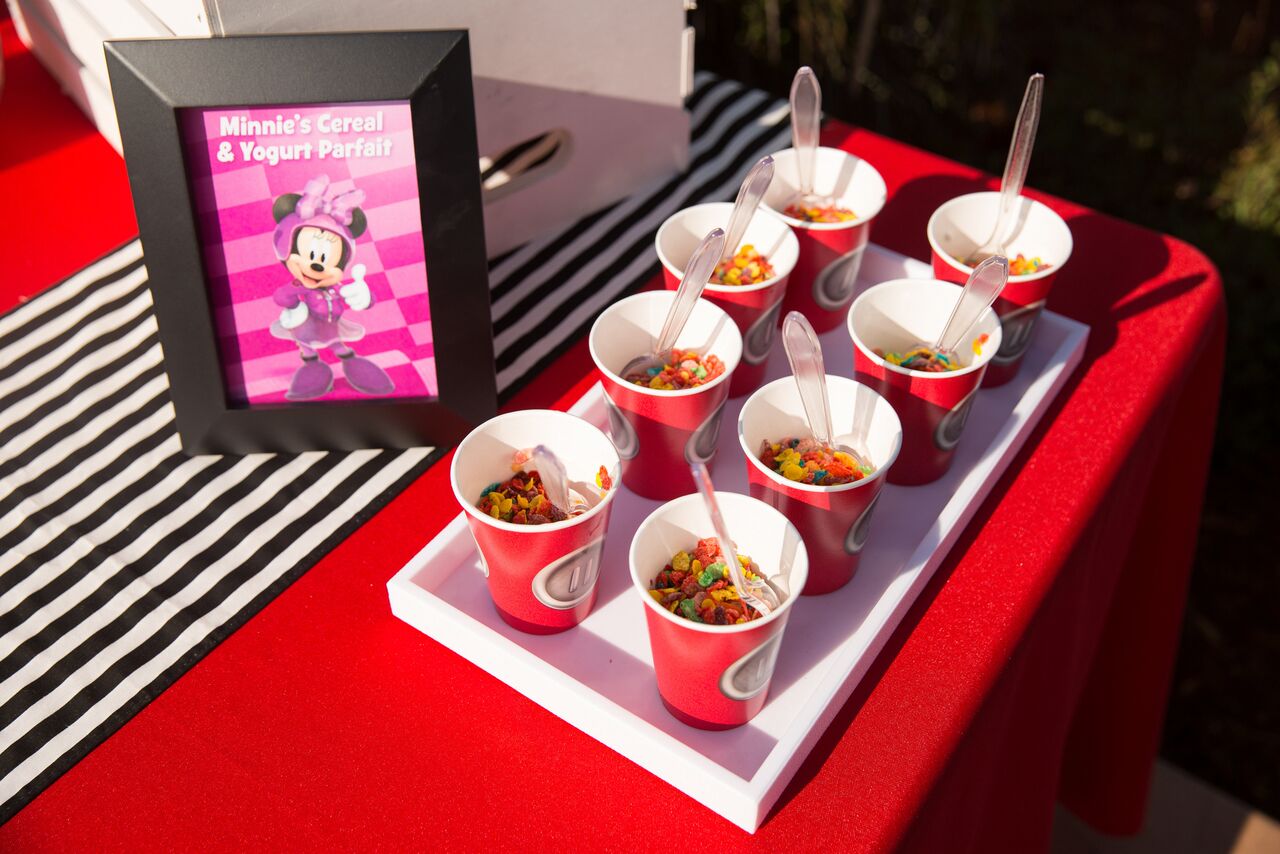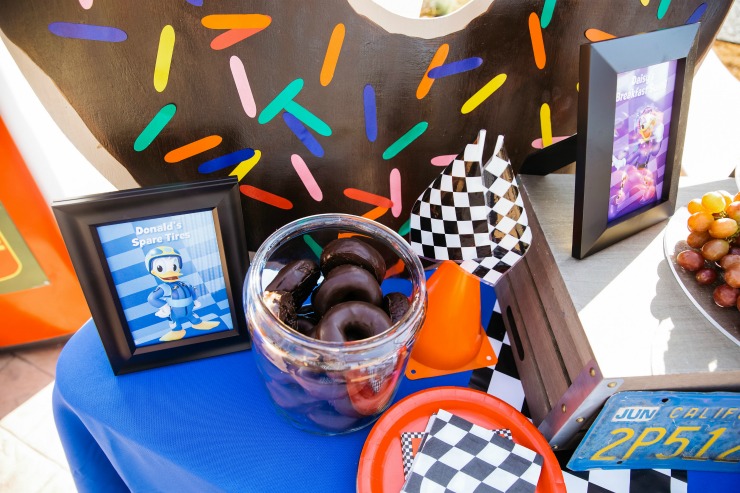 Sticking with the morning breakfast food theme, we also had Goofy's Pancake Pops, Minnie's Yogurt Parfaits, Donald's Spare Tires, and Daisy's Breakfast Sushi.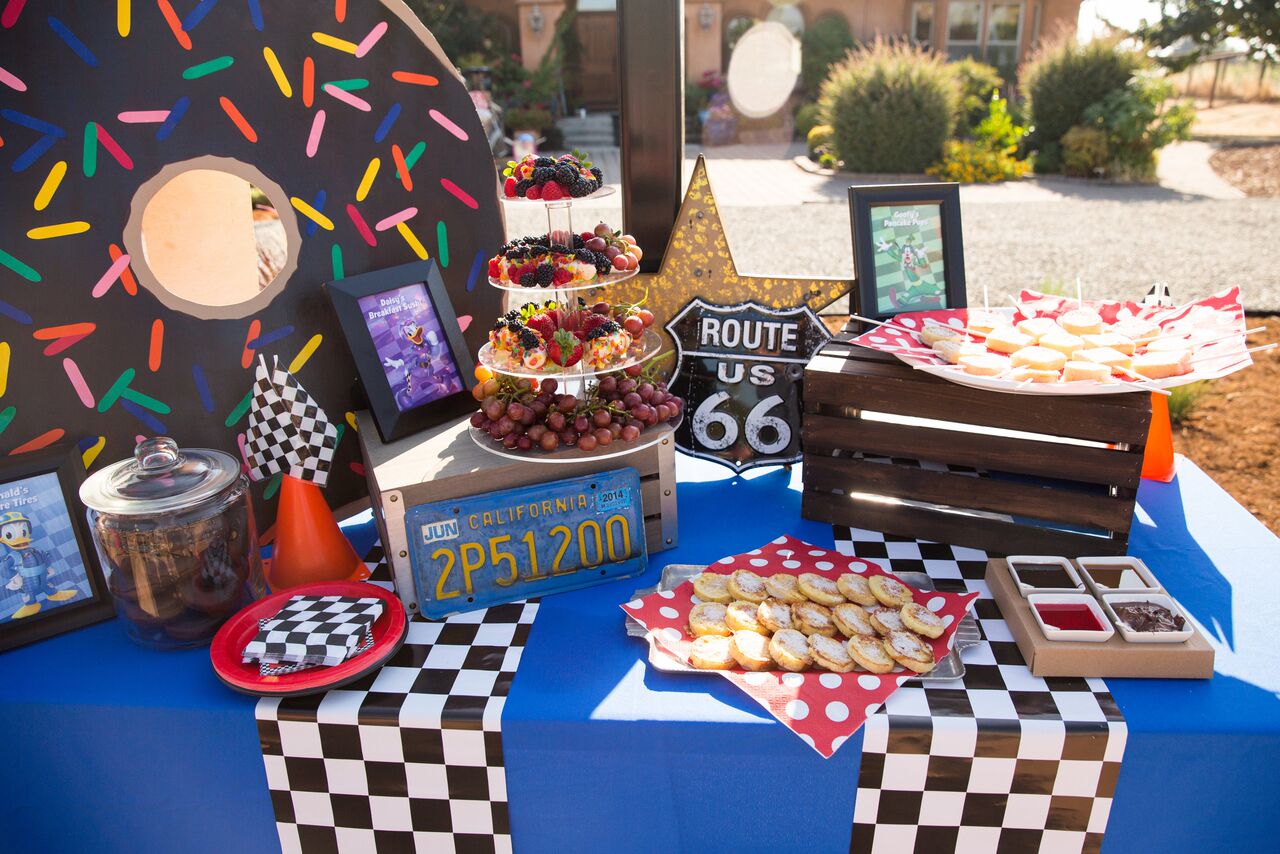 After the kids dined, they moved on to all the fun activities, and this might be the most amazing part of the party!
Mickey Party Activities
To get everyone in the racing theme, we organized the kids into racing teams, and gave them cute, matching shirts. We also had a pair of Mickey ears for everyone!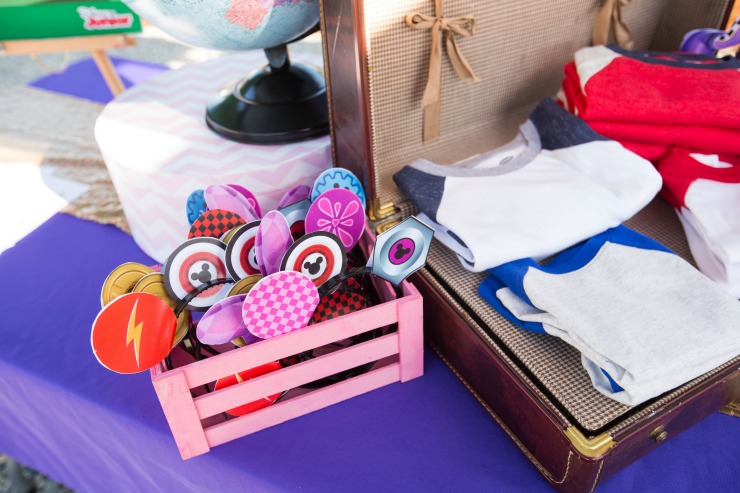 Then the kids lined up to play our Mickey Race Car Party Game. We were inspired by one of the Mickey games from the Disney Junior website, but we took it to the next level by making it life-sized!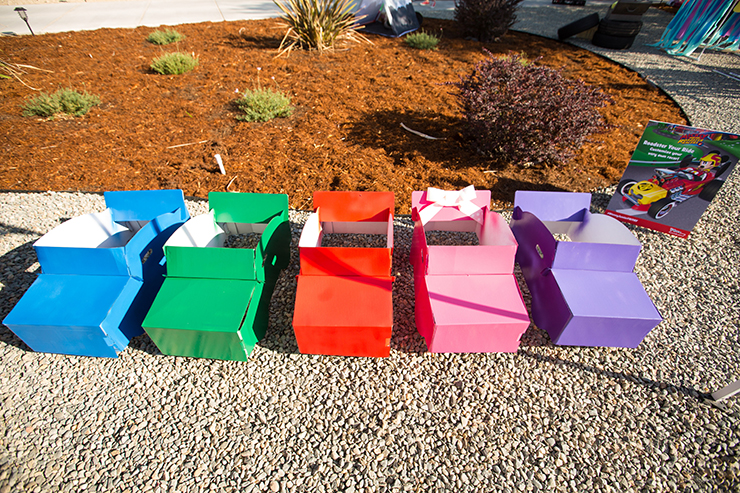 The first step was getting the kids help making the game pieces. They went to our Happy Helper's station, where they visited Minnie and Daisy to decorate their hot rods.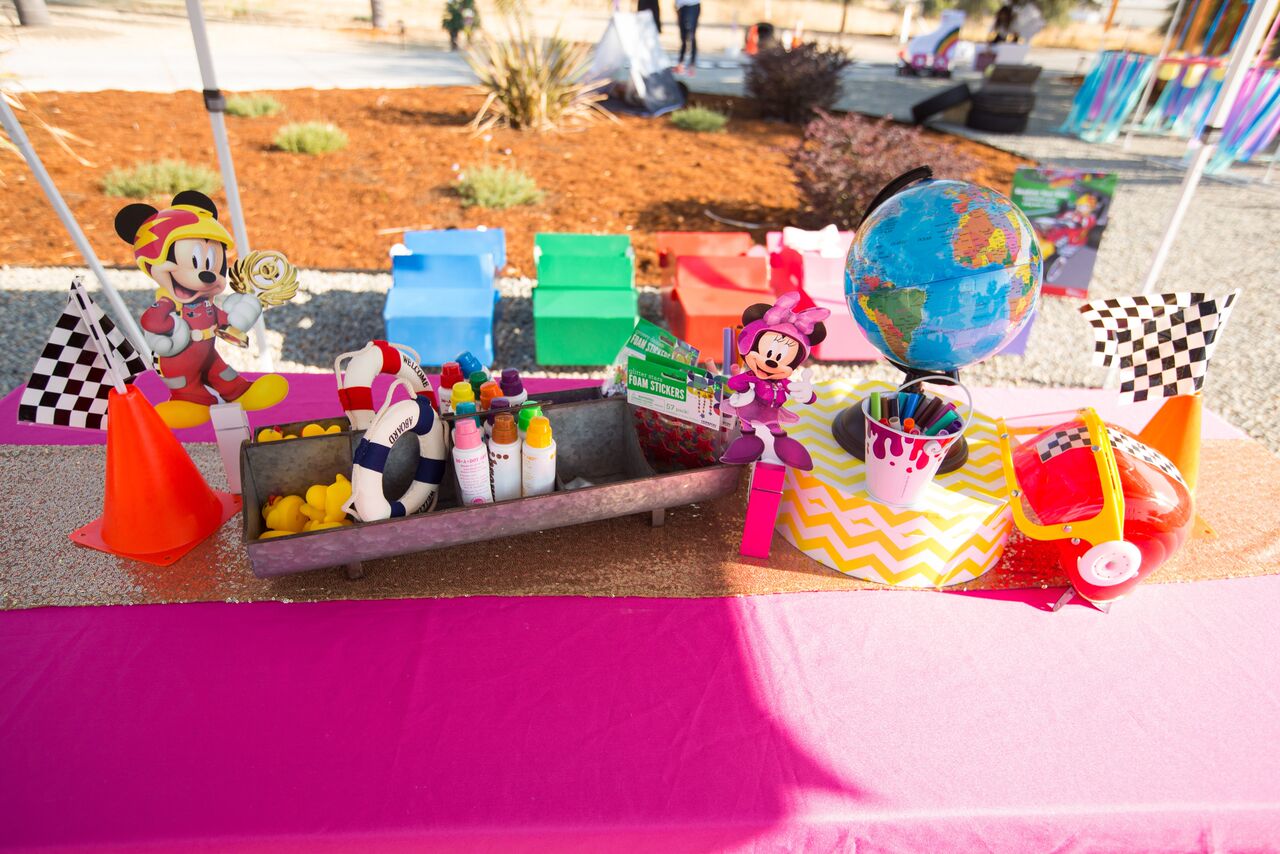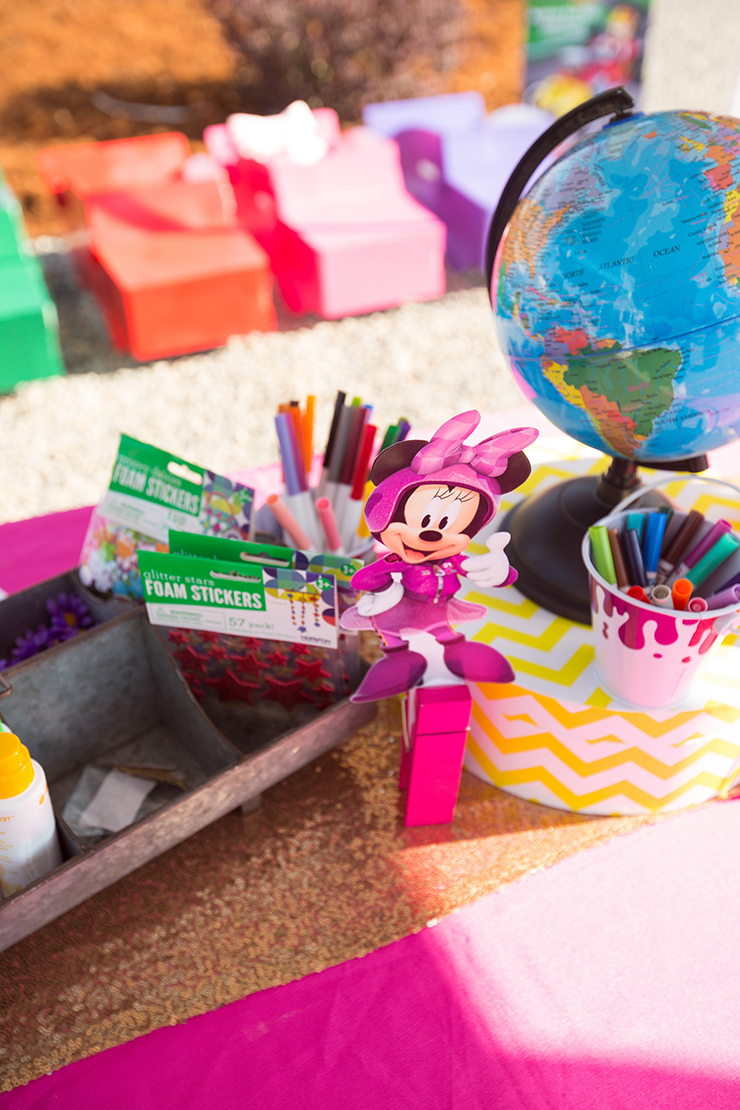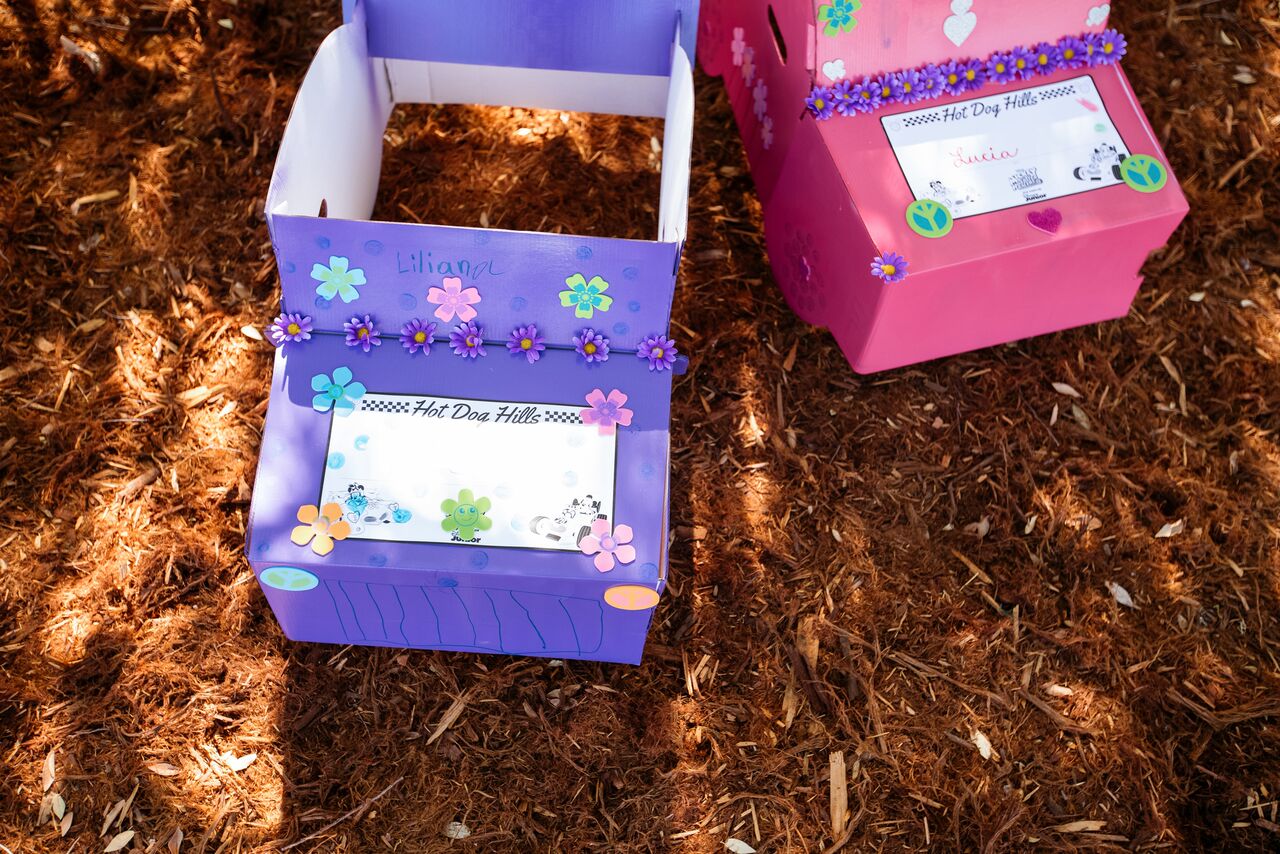 Then they climbed into their cars and participated in the game! Watch out for the Oil Spill!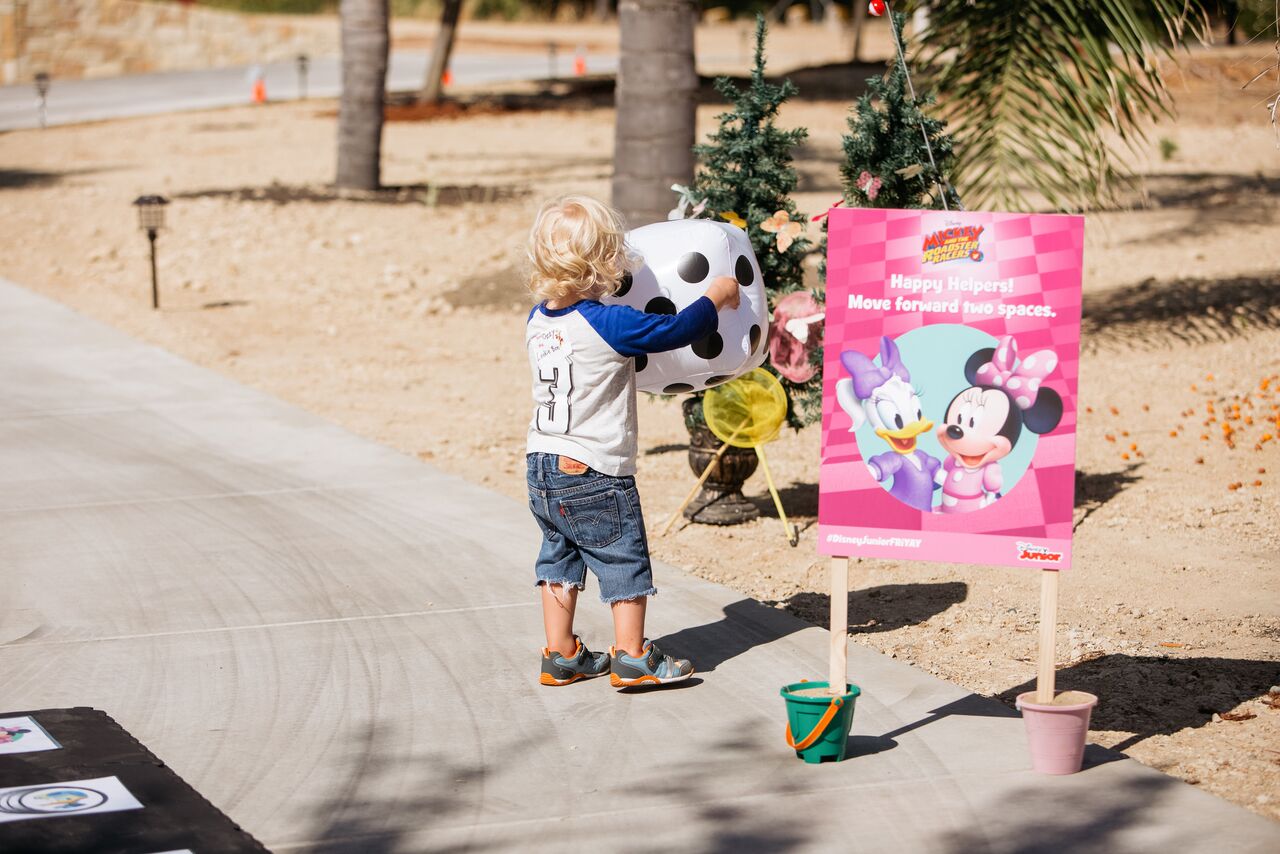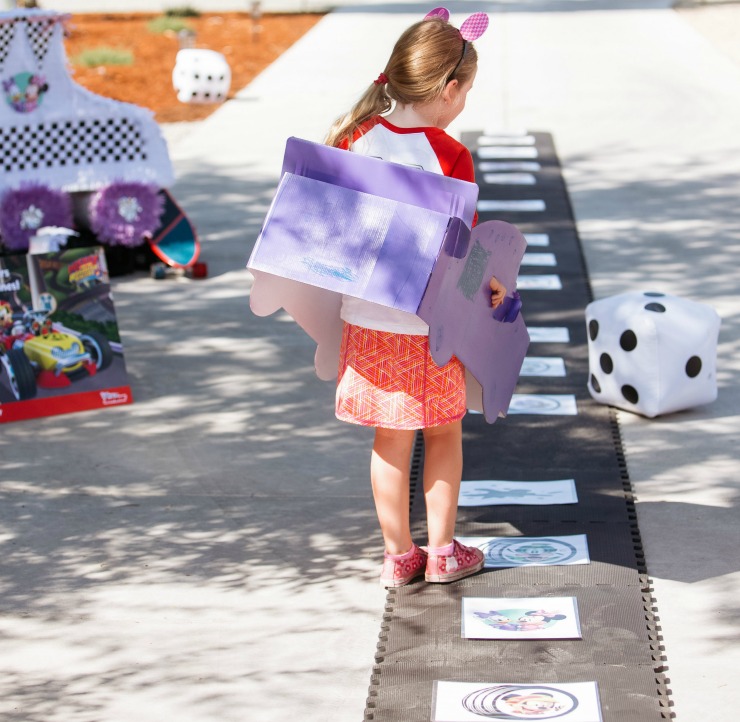 After the game we made sure to catch a picture of all our winners in our Roadster Racers trophy pedestal photo booth.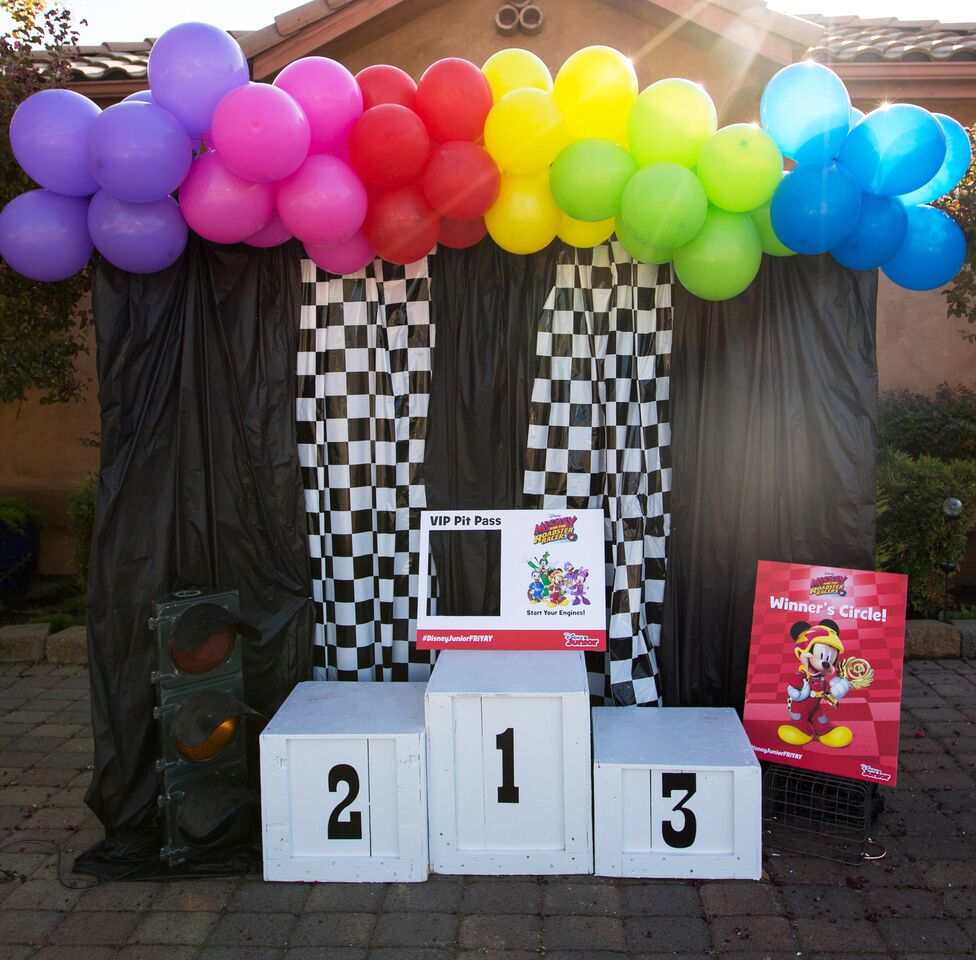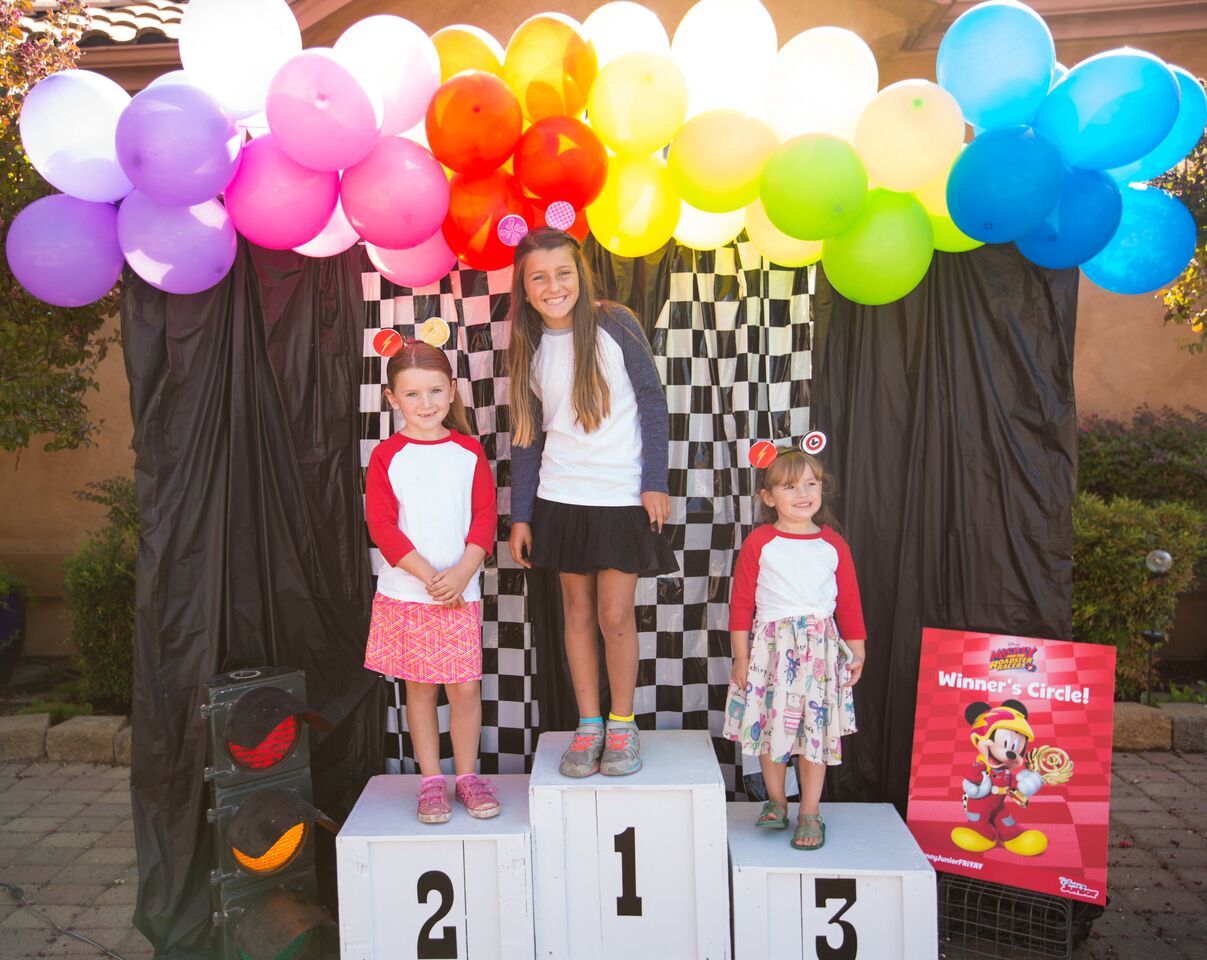 They also got to take pictures to make their very own pit pass. How cute is this!?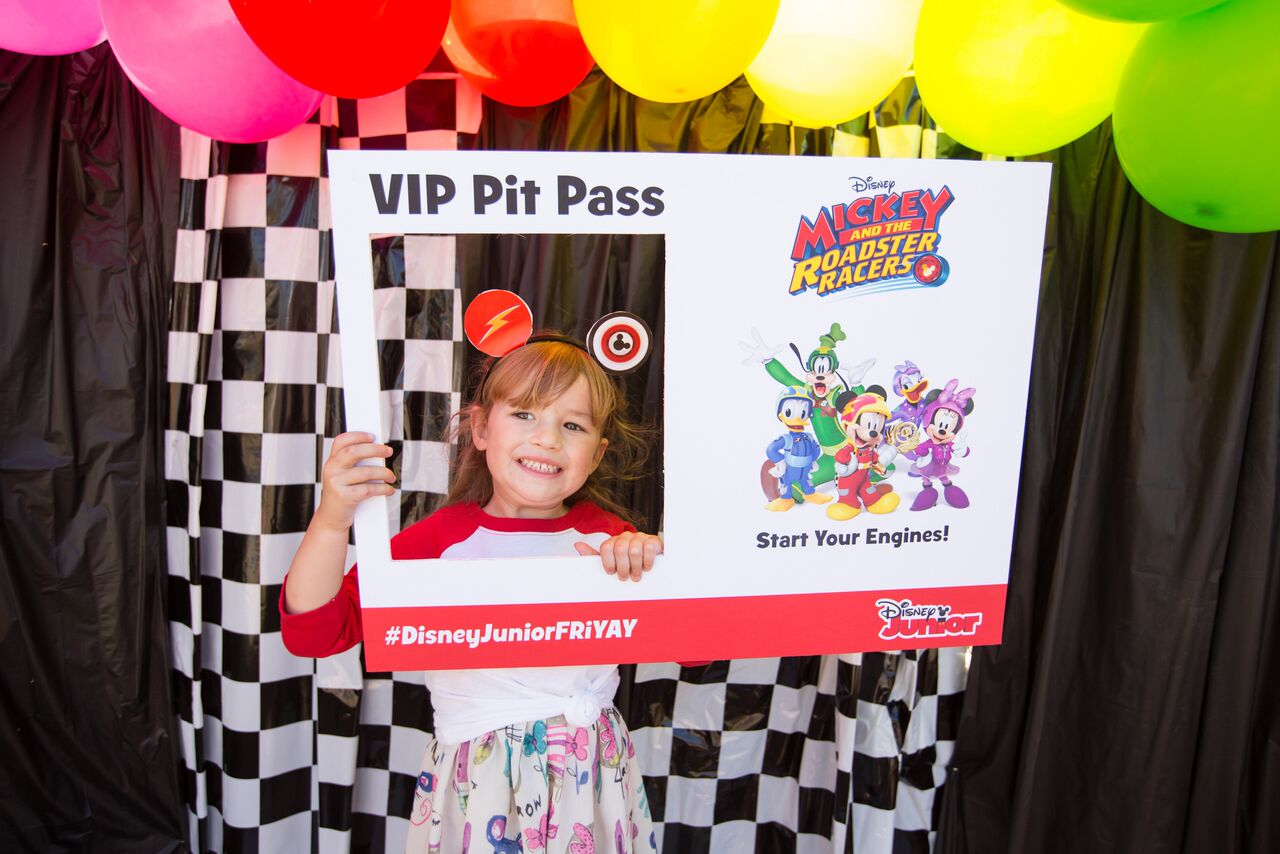 Race Car Party Car Wash
The highlight for the kids was our DIY PVC Pipe Car Wash Sprinkler.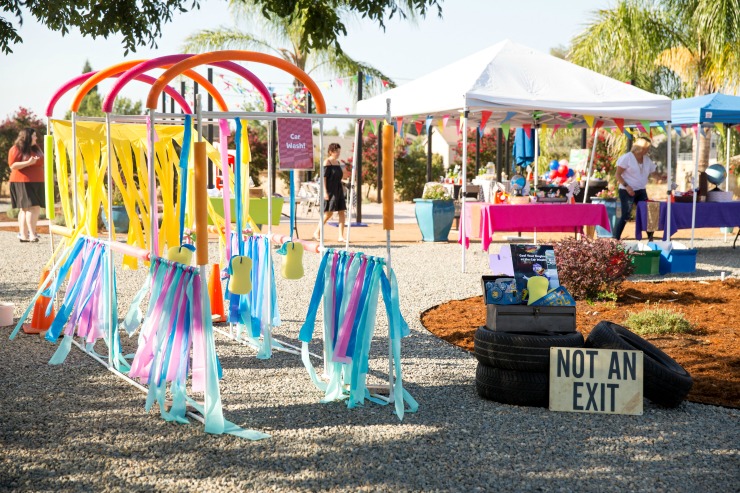 Every race car driver knows that keeping their car sparkling clean is an absolute necessity after a long day at the race track!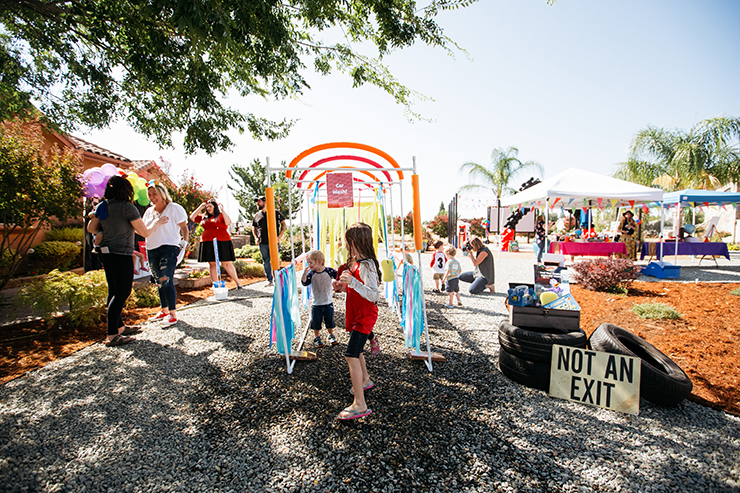 This was built entirely from PVC pipe. At the top, small holes were drilled so we could hook the hose up to the bottom and water would drip down from the top. We added plastic tablecloths, sponges, and pool noodles to totally trick it out!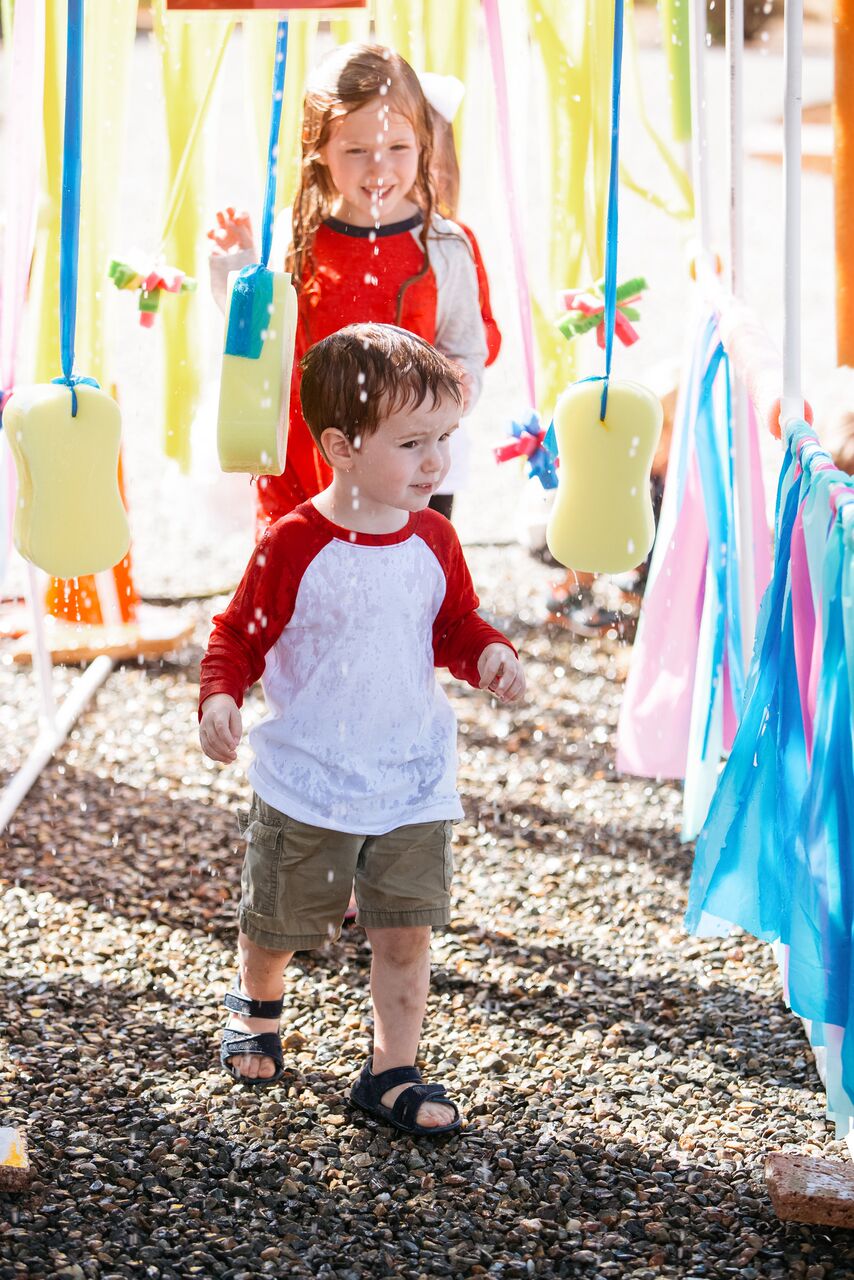 The kids loved running through the car wash, and it was a great way to beat the heat on a summer FRiYAY!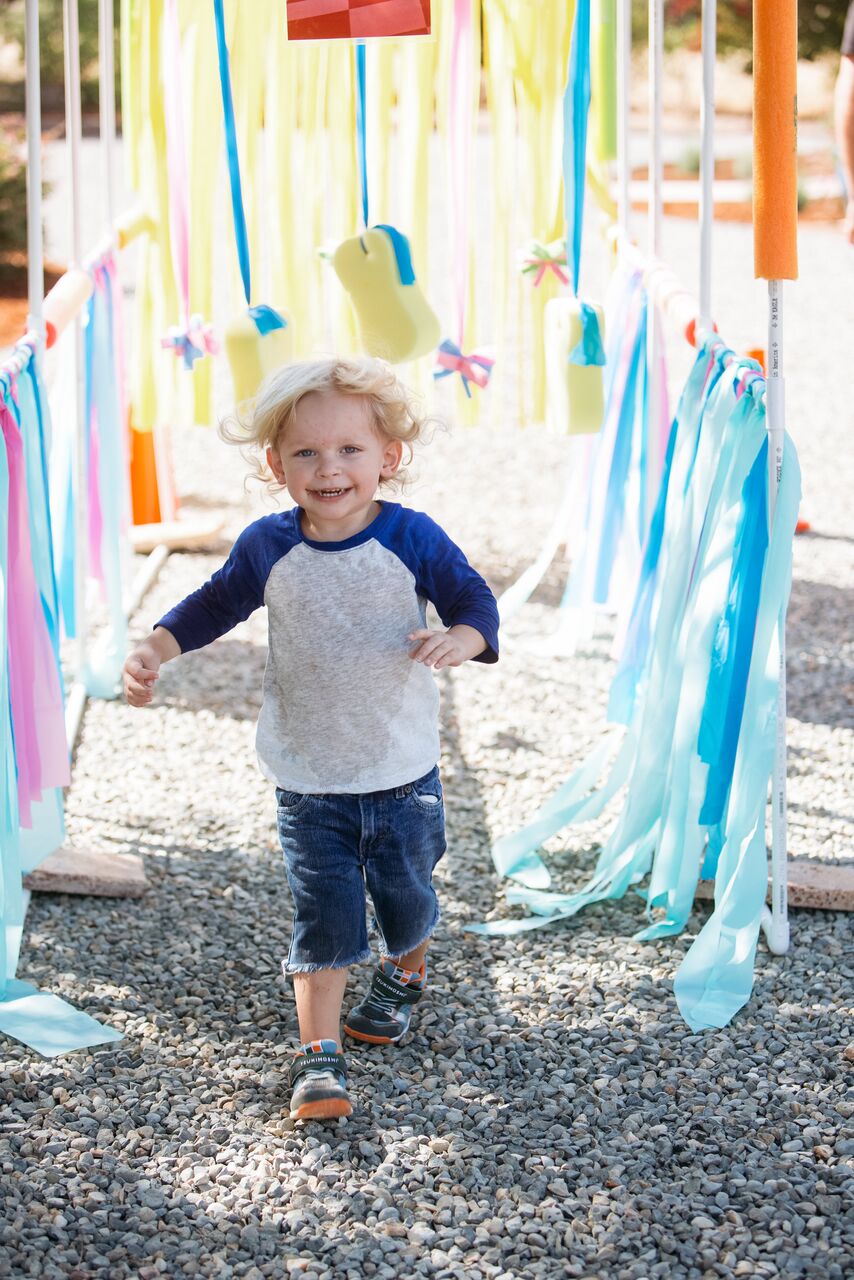 Before the kids left our Mickey party, they collected their prize packs. Each kid got a colorful Mickey cookie and trophy in a classic car!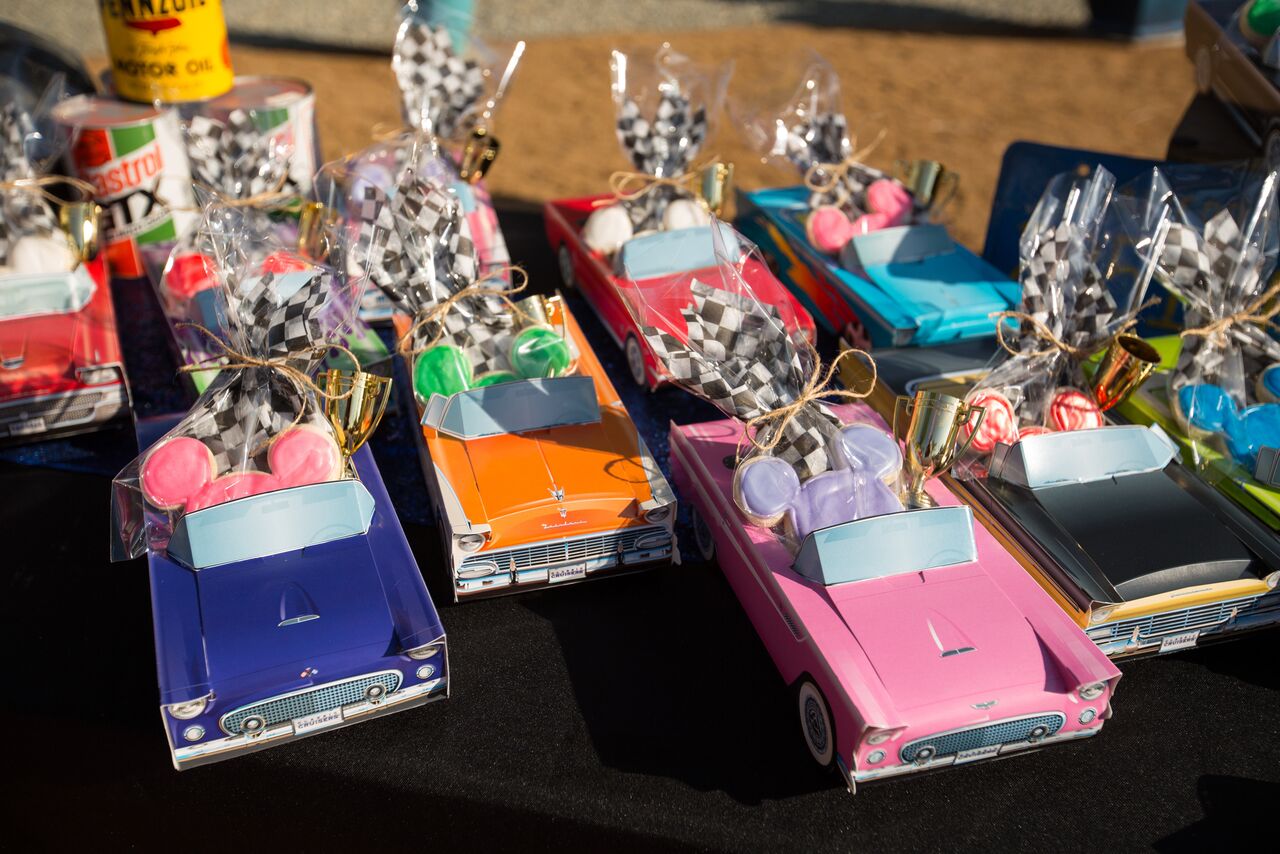 The best part of the party was seeing how excited all the kids were from the minute they walked into the party. Mickey is a timeless best friend, and it was fun to see the kids getting inspired by his new racing adventure! This Mickey and the Roadster Racers theme makes the perfect party for any kid who loves a good adventure and loves lending a helping hand!
Take a look behind the scenes at the set up of our Mickey and the Roadster Racers party. And if you are a Disney Junior Fan (aren't we all!?!) check out all of the fun we are having with Disney Junior FRiYAY this summer.