This post may contain affiliate links which may give us a commission at no additional cost to you. As an Amazon Associate we earn from qualifying purchases.
Birthday parties for little girls are something that I love. I think kids naturally view the world larger than life, so when creating a birthday party for a kid, you are required to go over the top! This past weekend I was in charge of some decorations for a party for Lili, Fran's, darling daughter who was turning 5. She and her cousin were doing a joint party/end of summer blow out, so the bigger the better was definitely the motto for their birthday! The girls chose the theme of My Little Pony Rainbow Dash for their big birthday bash.
Now, this was a theme I was not too familiar with, so it took a little extra research to come up with some ideas. However, in the end, everything came together, and our Rainbow Dash birthday party came to life! We even came up with some super cute My Little Pony Printables you can download for free at the end of this post.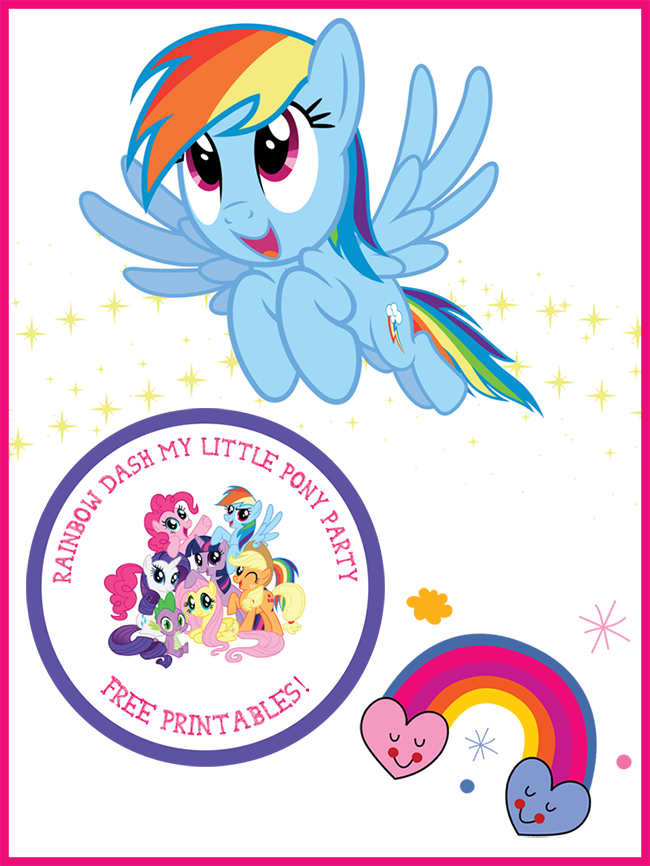 My Little Pony Rainbow Dash Birthday Party
Taking our cue from Rainbow Dash, the premise for the decorations in this party was to focus on the colors of the rainbow. These decorations could be used again to throw an awesome rainbow themed party, or anything else under the sun with that sort of theme. My favorite table was the favor table.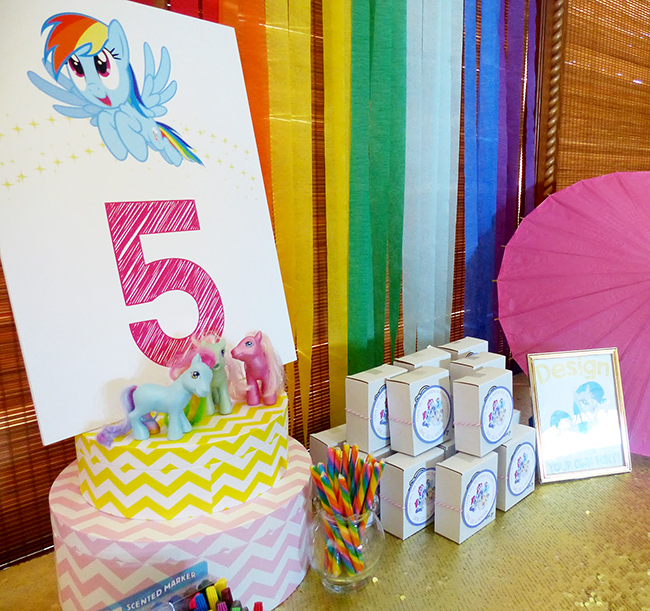 This was decorated with a gold sequin table cloth (which I have been dying to use), and a rainbow paper stream backdrop. The paper fans and paper lanterns were attached at the top to give it a 3D effect. The key to doing this was using command hooks– you can buy ones that are specially formulated to hold balloons or paper lanterns, so these worked perfectly! We used chevron print hat boxes, that can be used to store things in after the party, and a super cute paper parasol to give it a whimsical feeling. Of course we had to feature the number 5 in there, and Rainbow Dash!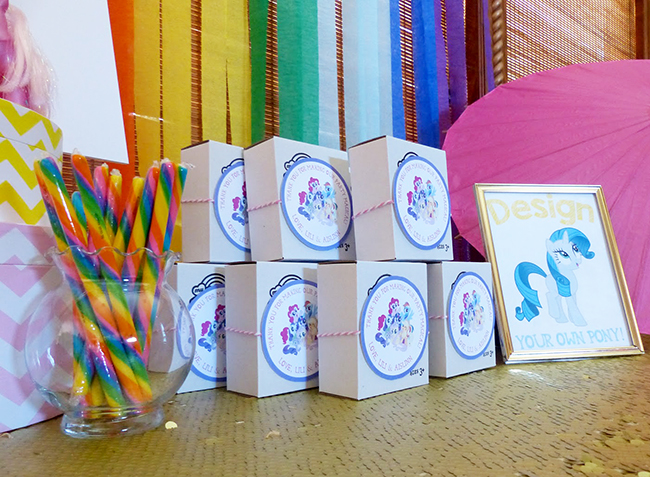 The favors were my ultimate favorite. I'm going to share an affiliate link here, because you have to see these favors for yourself. These cute little boxes contain a paint your own My Little Pony that each child could color or paint themselves. In my personal opinion, it is brilliant! The kids loved creating their own pony, and each pony came with its own brush, so they could groom it after the party.
Another cute activity was a large white barn the kids could decorate. It wasn't totally My Little Pony themed, but all ponies need a home, right? It was big enough for the kids to play and hide in, and they were thrilled that they could design it exactly how they liked it.
Food & Entertainment
Californians have the benefit of having a long summer, however for us residing in Northern California, it can also be a hot one, too! Yes, it is September, and we are probably still going to have days in the 100s. Because of this, we naturally did an ice cream bar!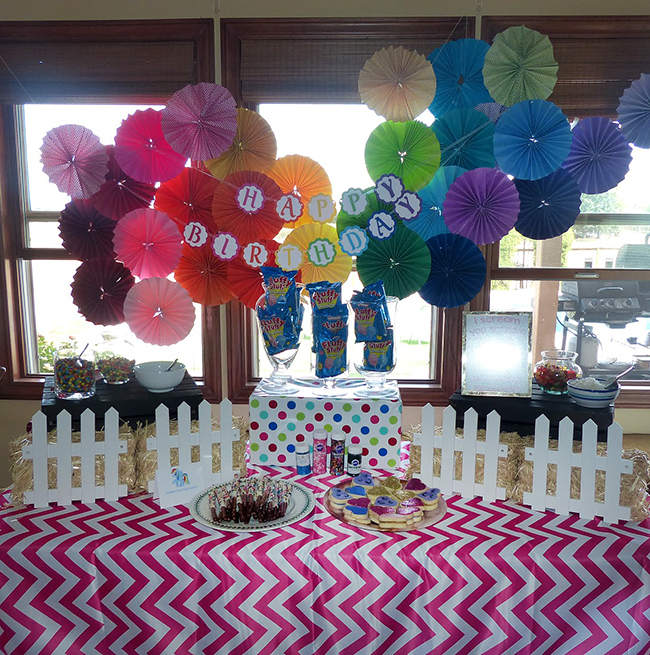 Various toppings were provided so the kids could go crazy making their own creations.  The table was also adorned with adorable glitter heart sugar cookies that matched some of the printables, and of course Rainbow Dash white chocolate pretzel wands. Cotton candy was served to resemble clouds, and was a great treat for kids to open up as the evening progressed.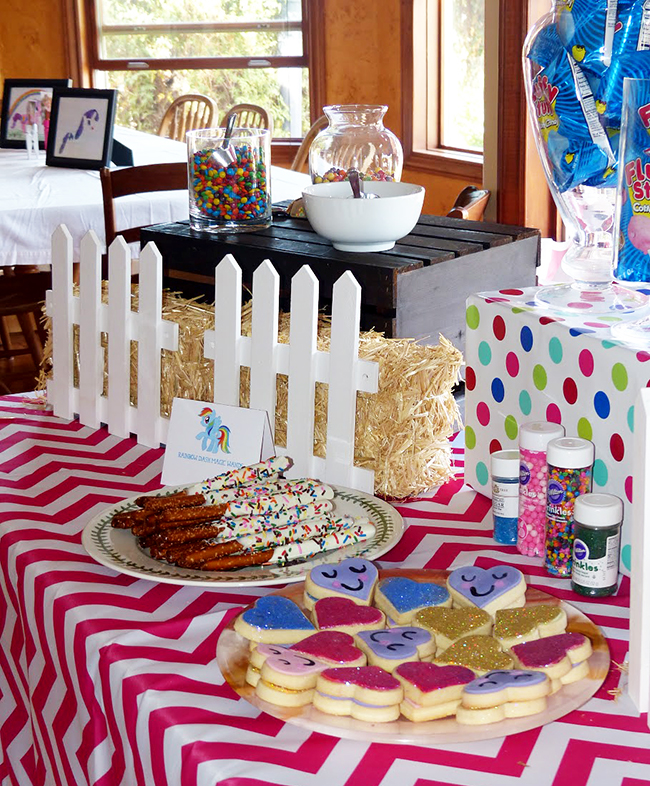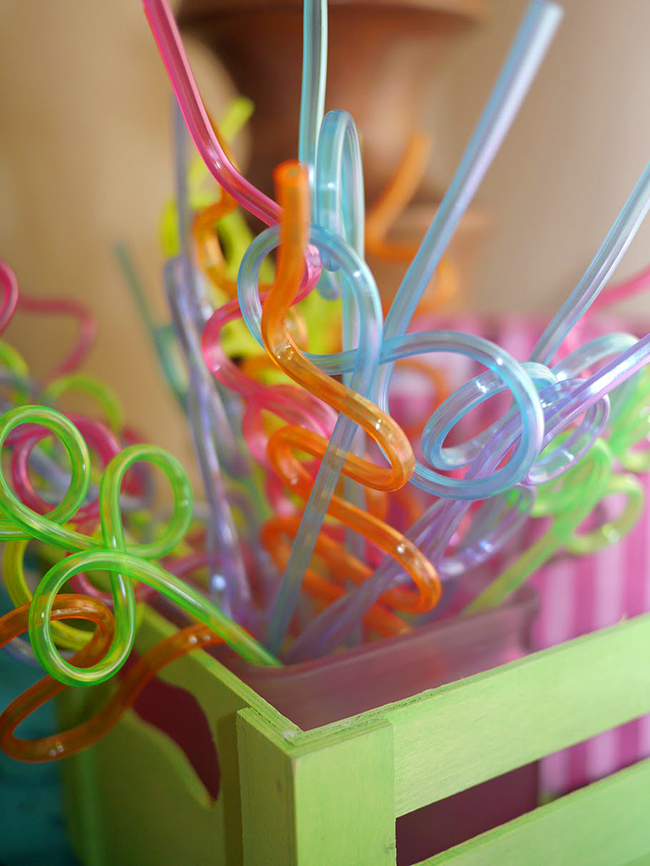 The guests were delighted to dine at a cowgirl rainbow inspired dining table.  The centerpieces were made of dumdum lollipop bouquets, beautiful flowers, and some adorable hay bales.
Did I mention how many awesome activities there were for the kids? Besides the Decorate Your Own Pony, there were pony rides, swimming, and a huge water balloon area. We also set up a station where kids could get there own Cutie Mark. A rustic pallet was adored with different My Little Pony temporary tattoos, and kids were free to explore their creative side!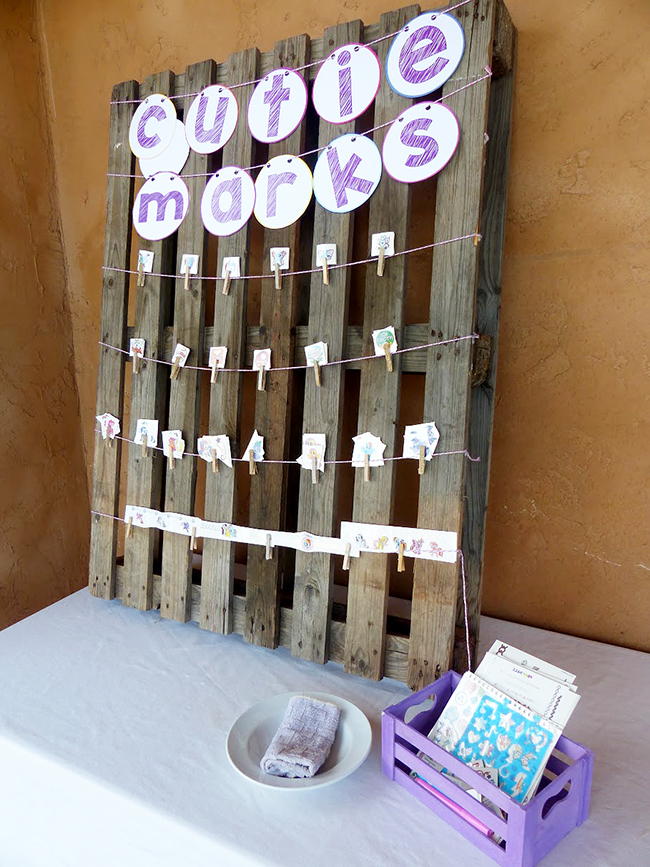 Overall the party was a huge success. Kids and parents alike had a fabulous time, and stayed well in to the night. The birthday girls seemed to be over the moon, or should I say over the rainbow!
It was so fun to mix all the bright colors, and pony accents to put together a perfect My Little Pony party. With the help of these fabulous printables you can do the same thing!