This post may contain affiliate links which may give us a commission at no additional cost to you. As an Amazon Associate we earn from qualifying purchases.
It is time again for one of my favorite events… the Olympics! Whenever the Olympics rolls around I get super patriotic and semi-obsessed. I love researching the sports and feeling like I, too, am competing. However, let's be honest I am nowhere near close to ever being at the level of athleticism to compete. This year I decided to throw an amazing Olympic Party to get all the kids excited for the Summer Games. We had a day filled with fun games, delicious themed treats, and gold medals!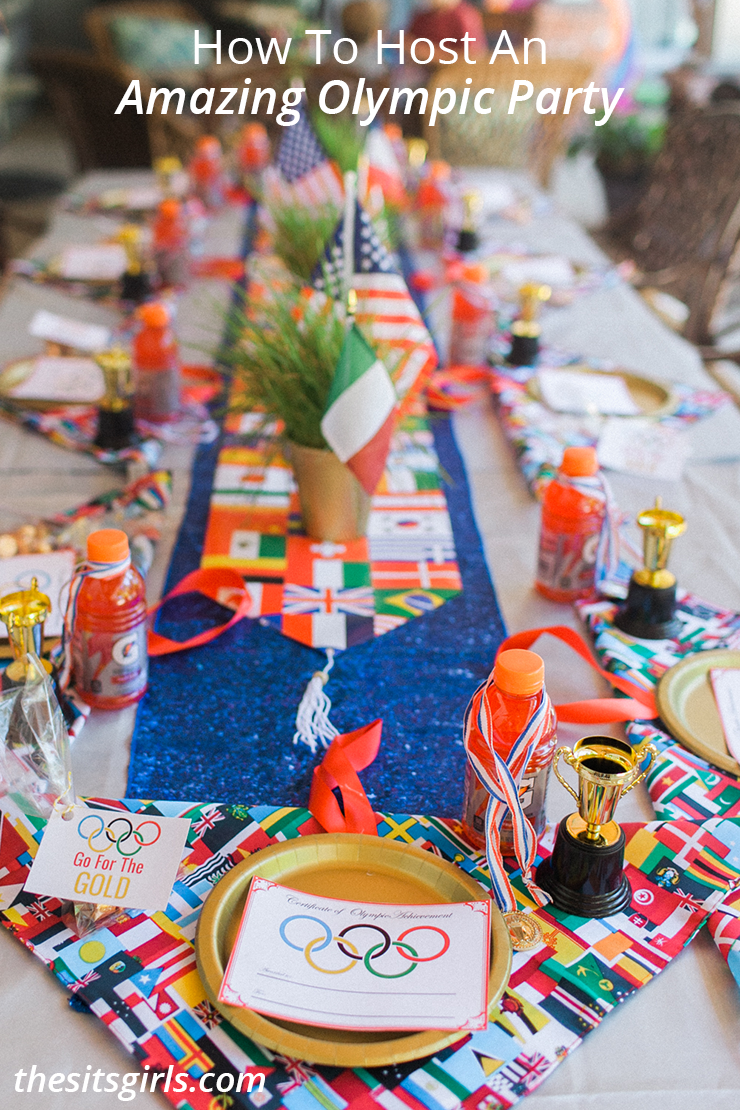 How To Host An Amazing Olympic Party
From decor to food and games, take a look at our Olympic Party and find everything you need to throw an amazing party of your own. Don't forget to grab the free printables at the end of the post! Note: this post contains affiliate links which may give us a commission at no additional cost to you.
Olympic Party Decor
To me the Olympics are about uniting all the different countries together. I love watching competitors from other countries compete and achieve amazing things.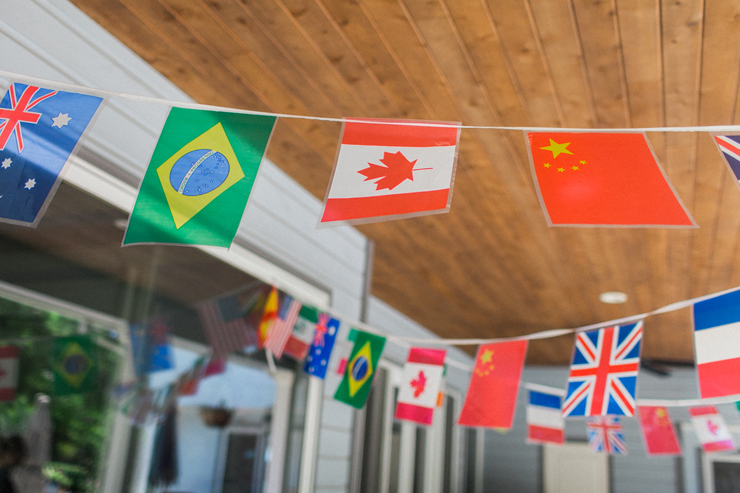 For this party I really wanted to bring an element of global unity to the decor. Of course, I went heavy with the United States pride, but I think it is fun to let the kid's experience a bit other cultures. I hung garlands of various flags above the dining table and had signs of famous cities at the door!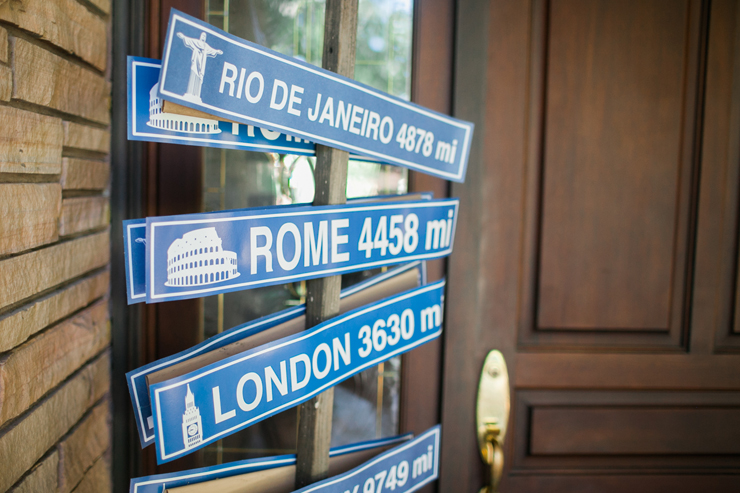 This sign is super easy to make. I cut rectangles out of a thin piece of wood and nailed them to a wooden post that we anchored in a planter (you could also use cardboard if you don't want to cut the wood pieces). Finally, I glued these travel street sign cutouts to the wood pieces. Easy peasy!
When our "Olympic Athletes" entered the party we also had a welcome sign and some cute world balloons!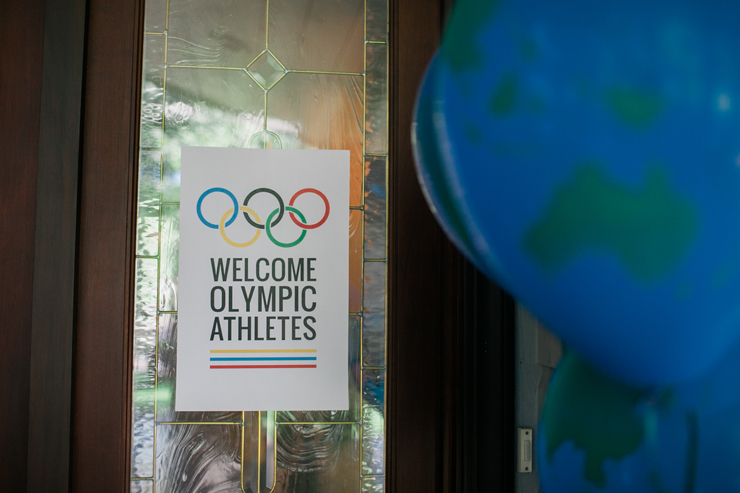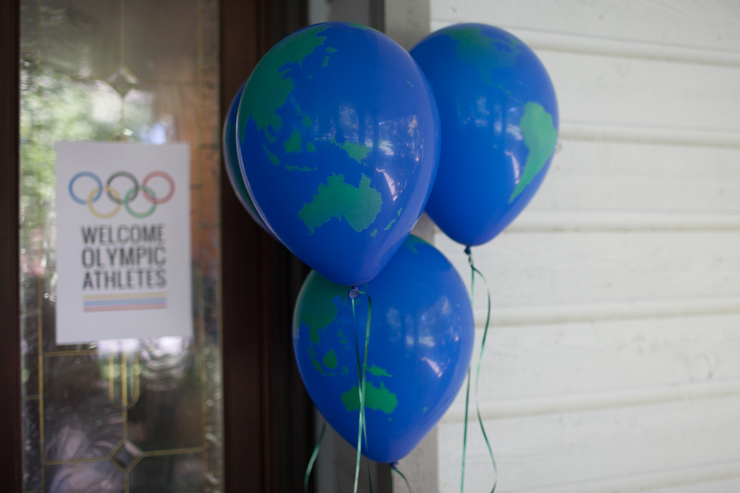 Next, they proceed to the "Athlete Registration" table where they checked in and got their "luggage" for carrying treats around at the candy bar!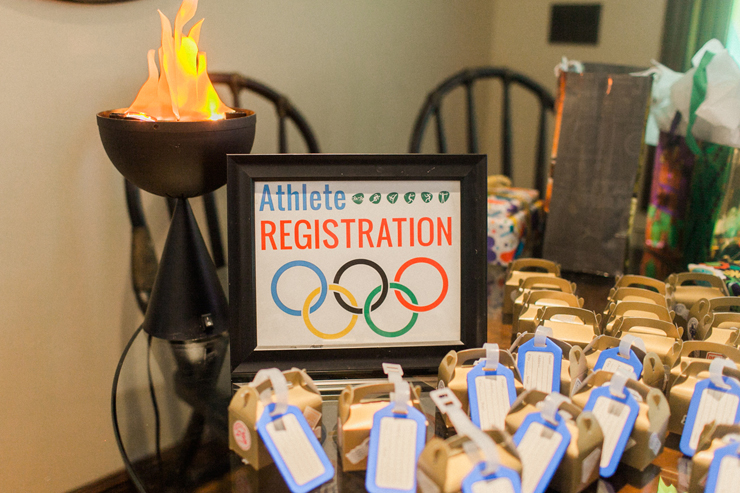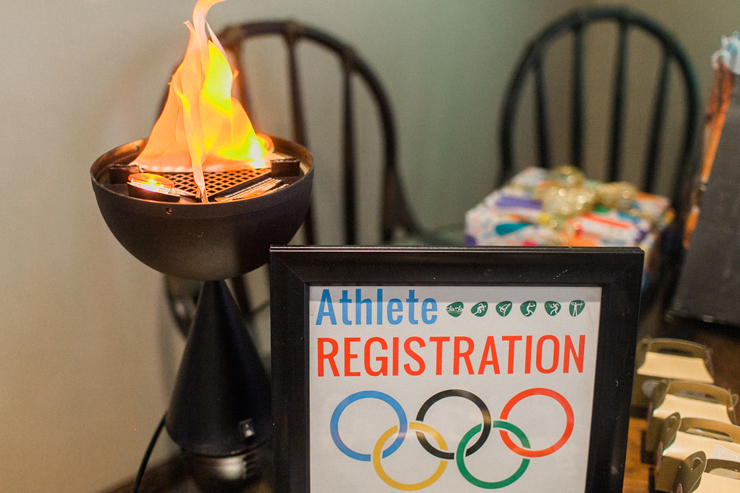 We set up a photo booth to capture their "Athlete I.D." photos! Making your own photo booth is easy — I had Olympic party props and used an American flag as the background!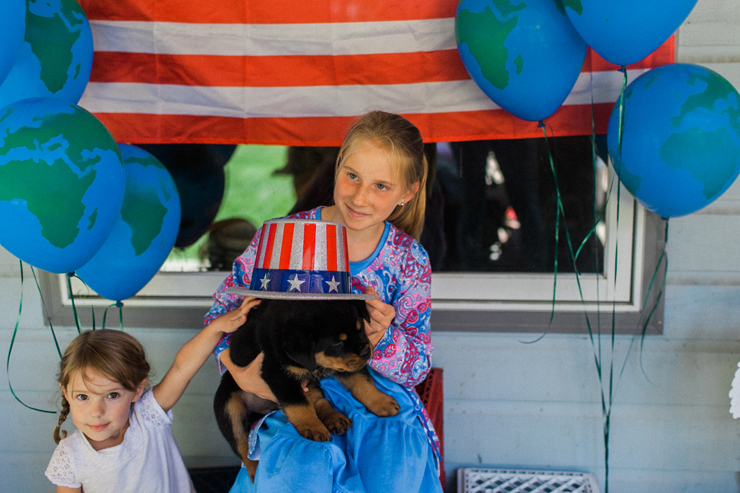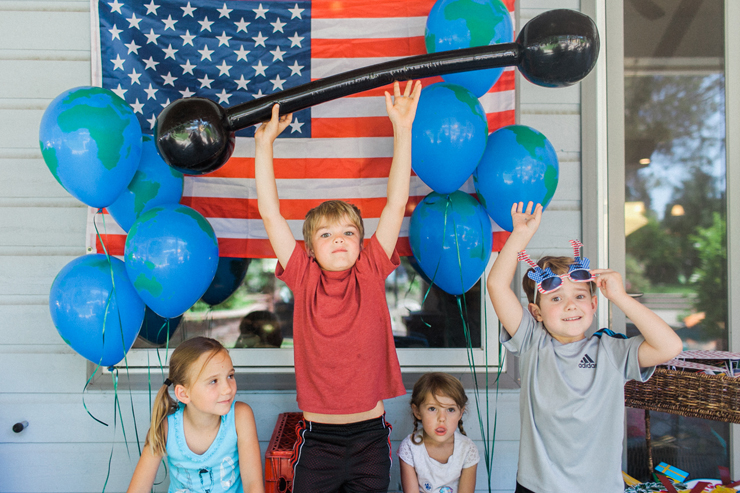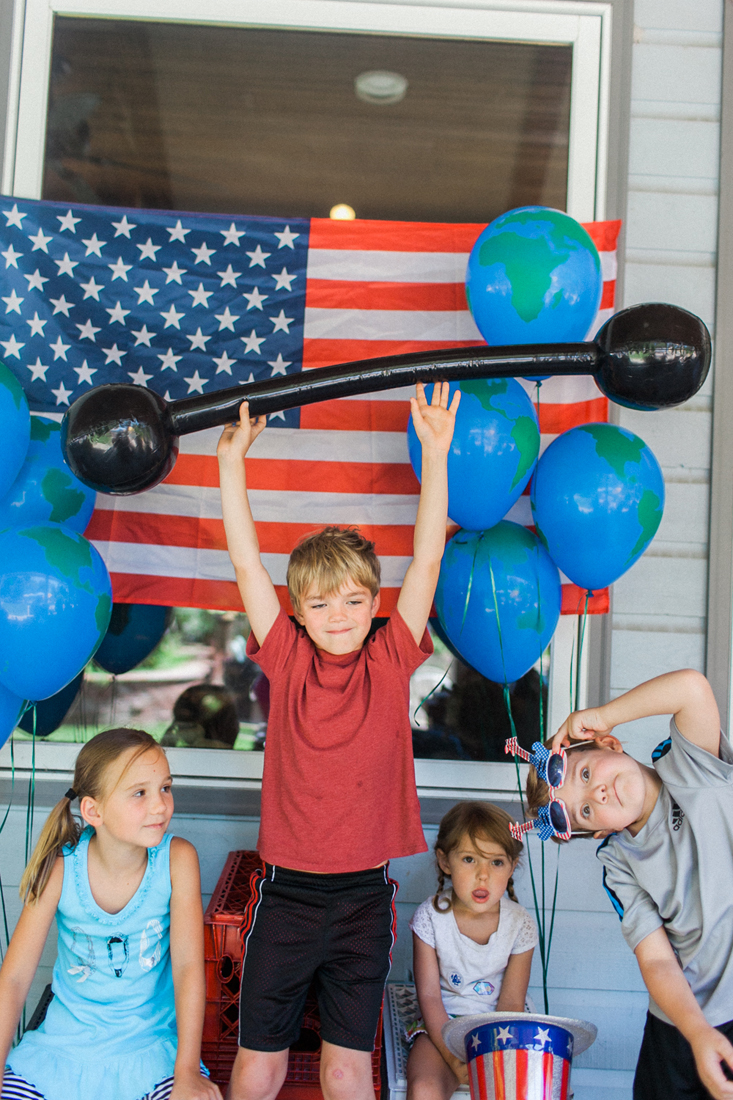 The kids loved using different props and getting silly for their photos!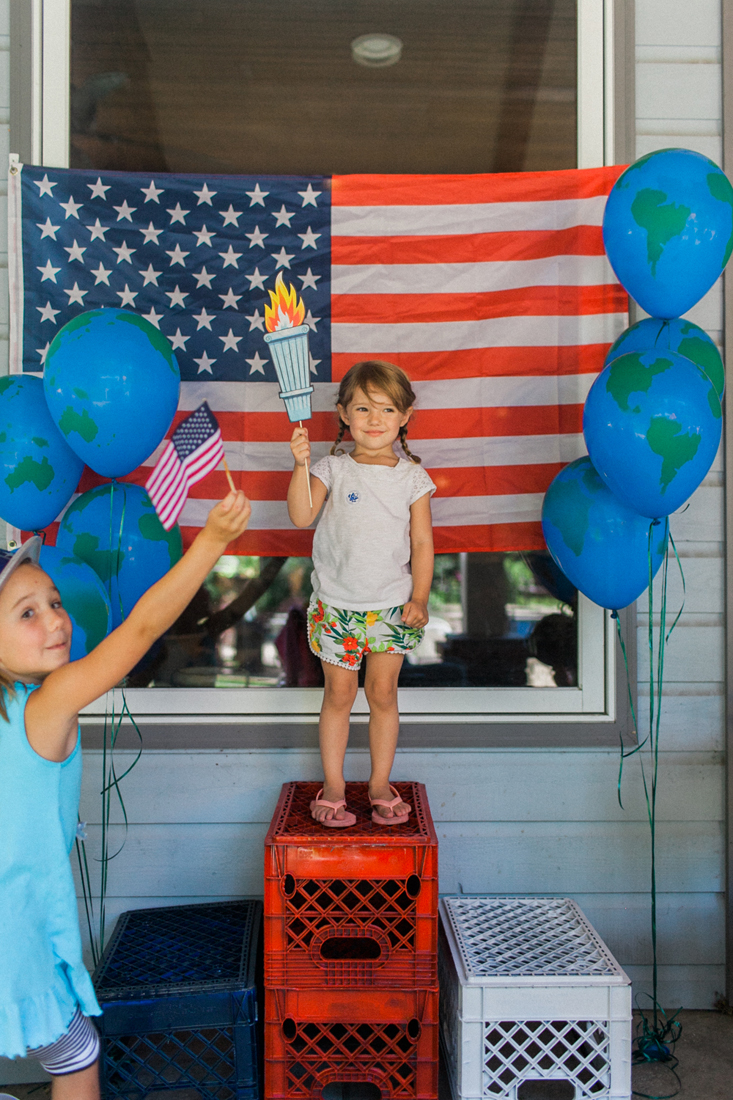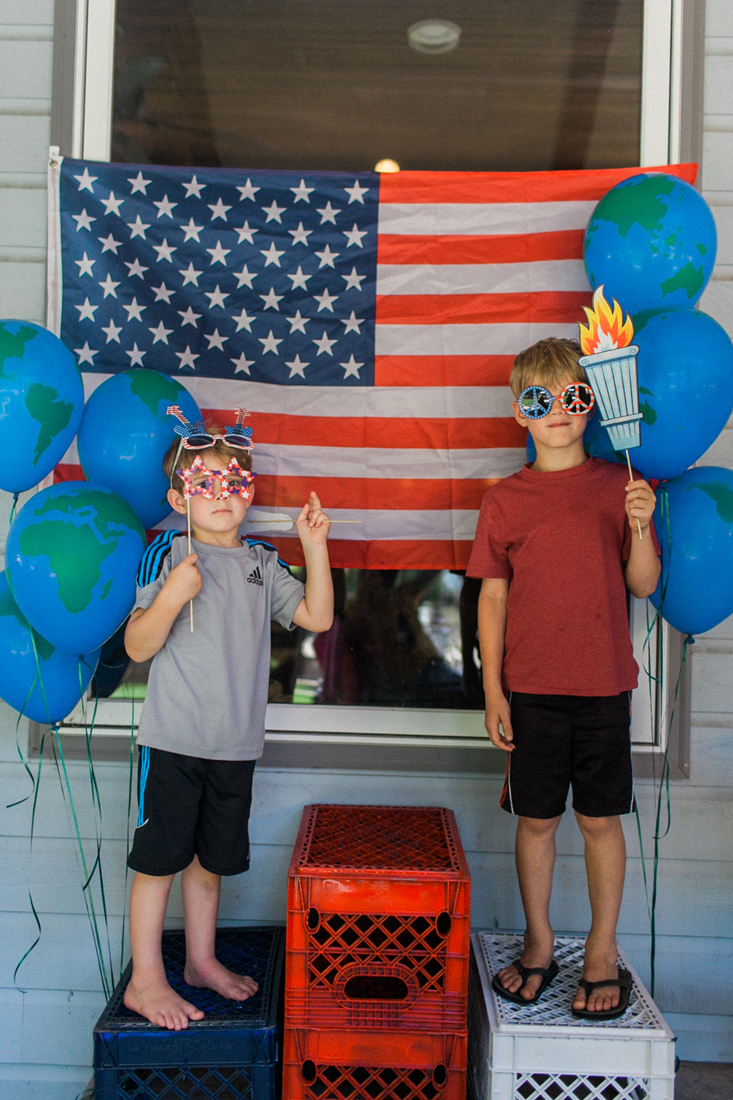 The Athlete's Table was decked out with tons of different countries' flags, gold medals, and some darling printables!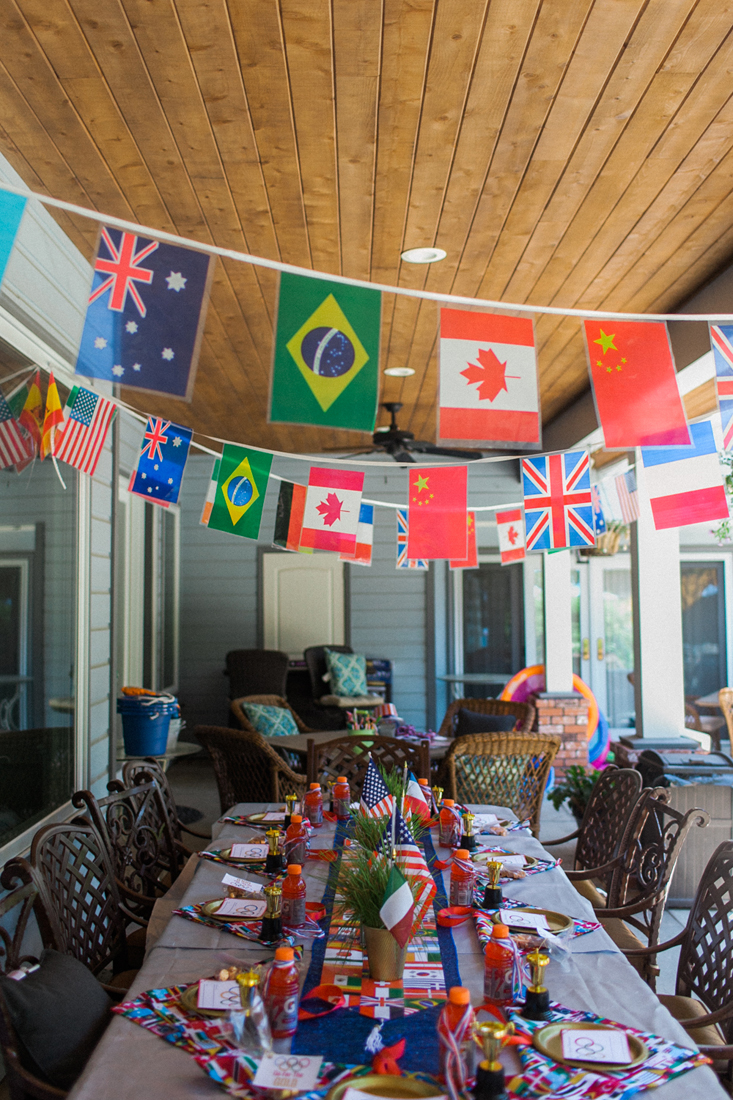 I had fun decorating the dining table. I used Wheat Grass plants with various flags from around the world as my centerpieces.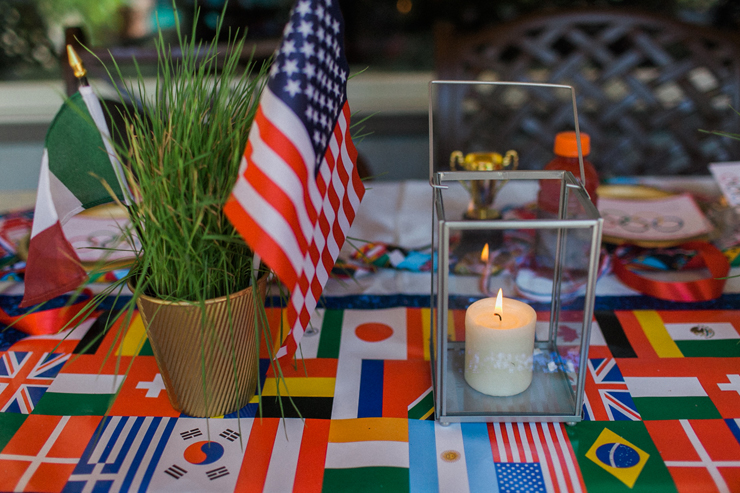 A silver table cloth made the perfect base when layered with a blue sequin runner and a paper flag runner on top. The place mats were actually bandannas that I folded. It worked perfectly because the kids could tie them around their heads when they competed in our games! I glued some red ribbon on the end of gold paper plates to make them into gold medal plates.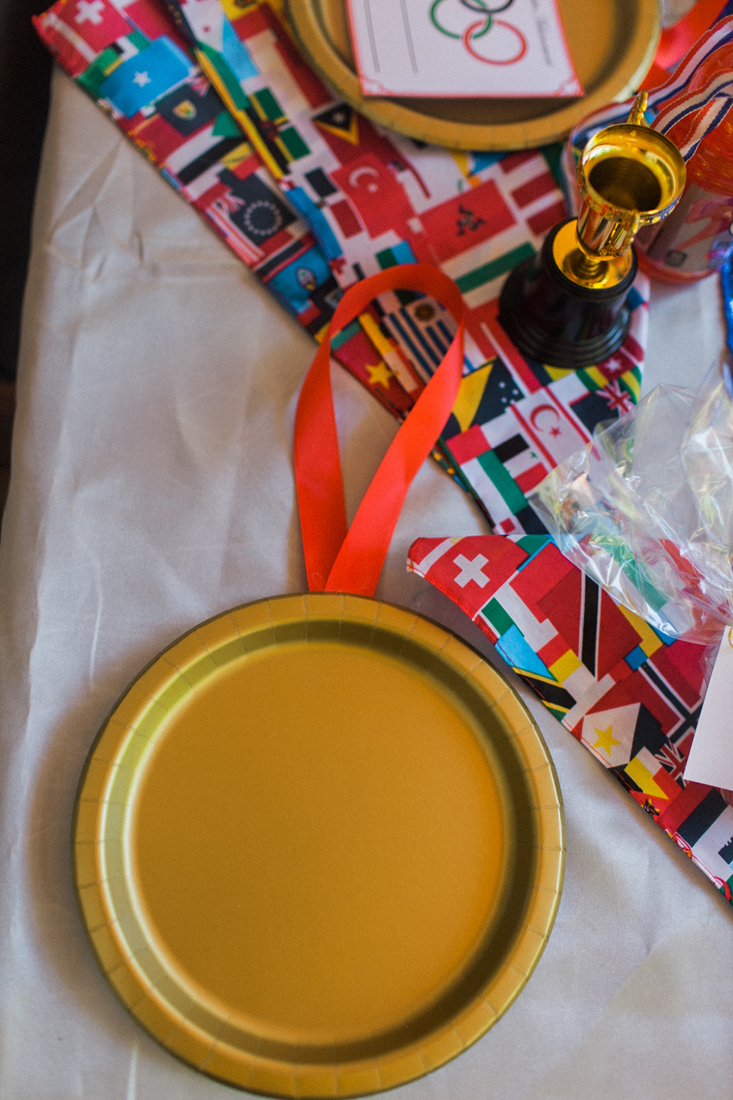 Of course our little athletes had to have some Gatorade to drink to keep them fueled for the games! Another huge hit were these cute little mini trophies! Every kid got one regardless win or lose!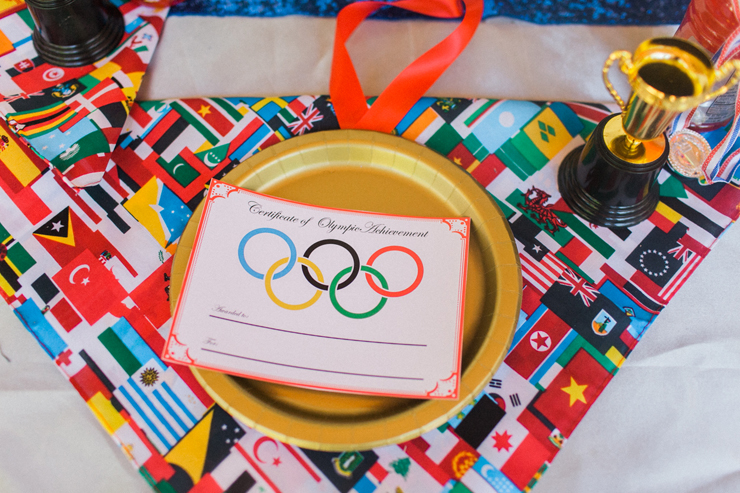 The kids each got a certificate of achievement for competing in the games and had cute little bags of "gold" to munch on while they waited!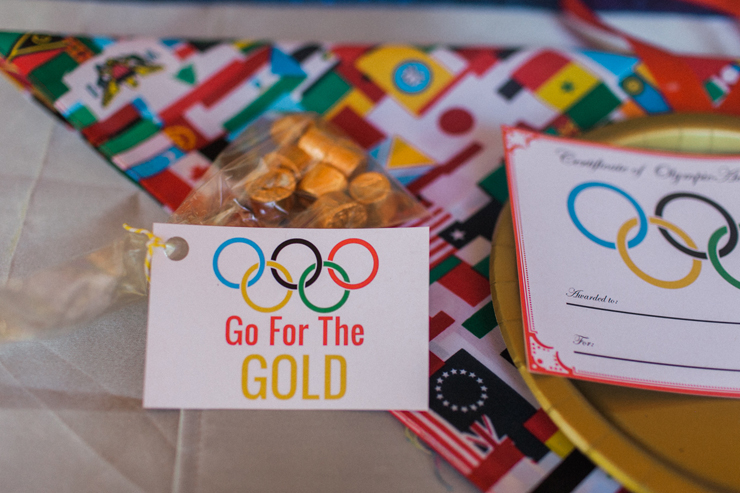 Olympic Party Food
The kids were treated to an Olympic themed dessert table.The back drop of the food table was an American Flag and a Brazilian Flag since that is where the Olympics will take place this summer! I had a candy bar with a candy for each color of the Olympic rings, and I even made my own tissue paper torches.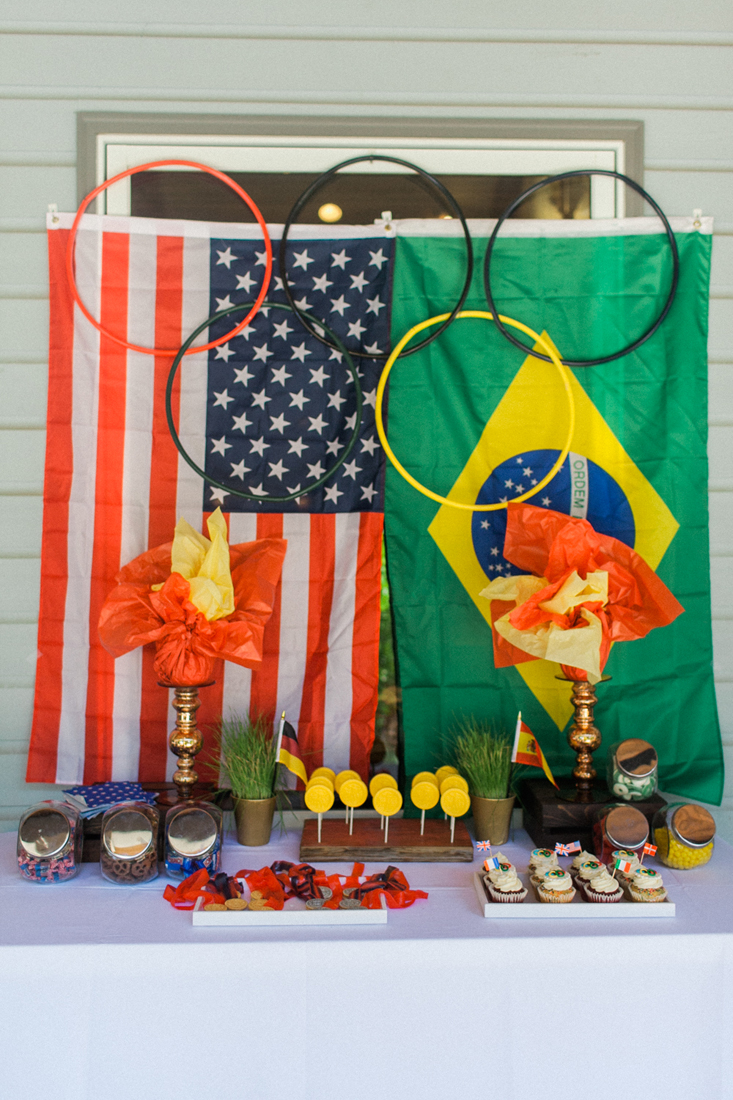 My favorite part of the food table was my DIY Olympic rings. I made them using hula hoops. I sprayed the hula hoops and then attached them together with screws! They were so light and perfect to hang using command hooks. You can make your own Olympic rings with 5 hula hoops and some spray paint!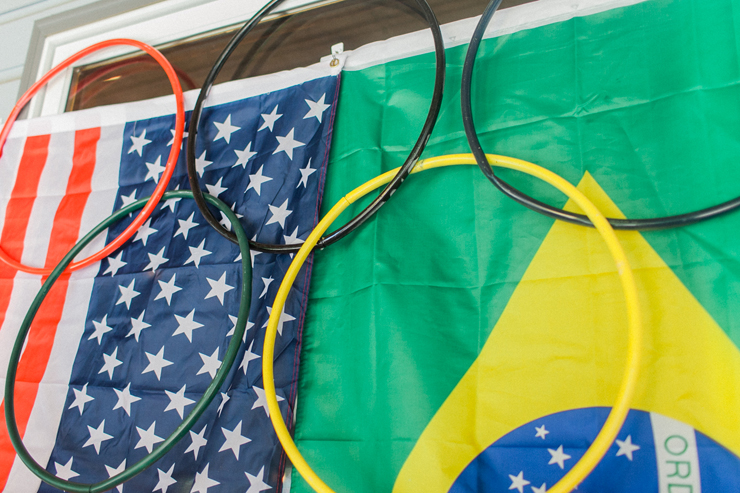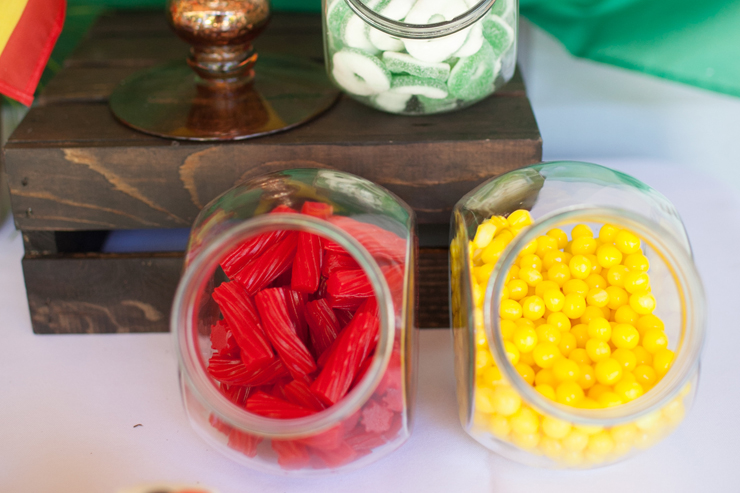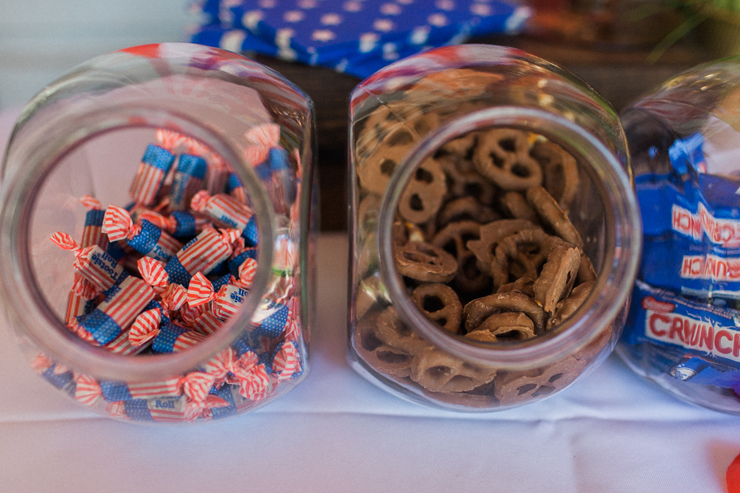 Of course we served our Silver and Gold Medal Cookies! The kids loved them, and wore them around their necks before they ate them.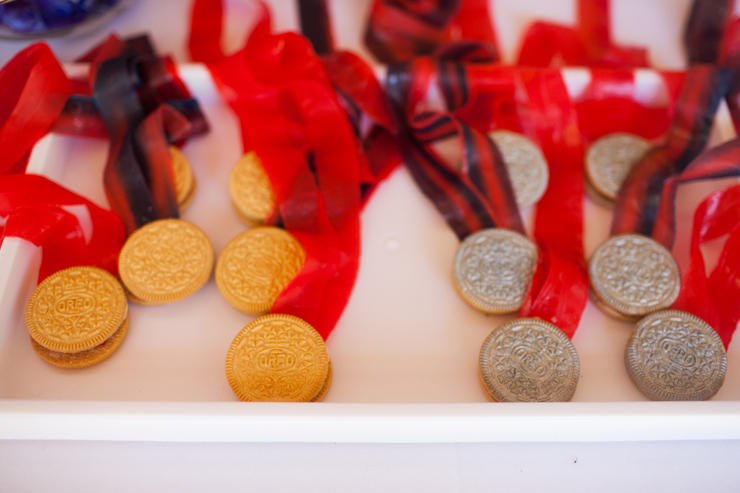 My favorite treat to make was the Olympic Chocolate Lollipops. These turned out amazing, and looked super professional! You can make them, too, with this Olympic Mold and some Chocolate Candy Melts.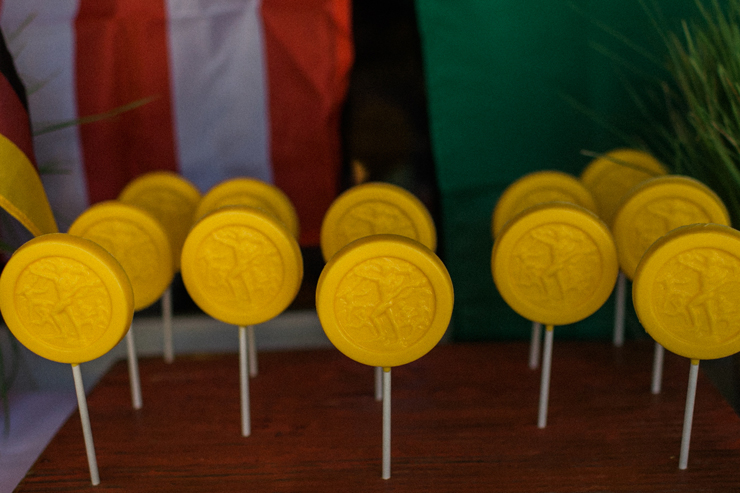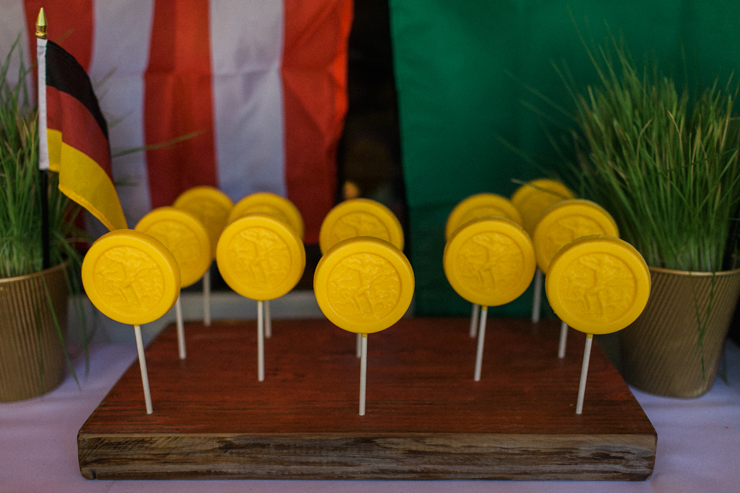 We also had some super cute cupcakes. Half had fondant Olympic rings and the other half had flag toothpicks.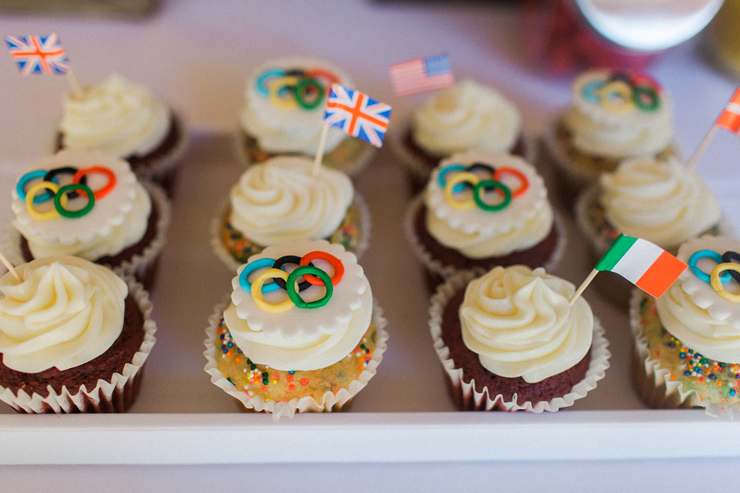 Olympic Party Games
For activities we played 3 Olympic-inspired games and then had an area where kids could decorate their own medal.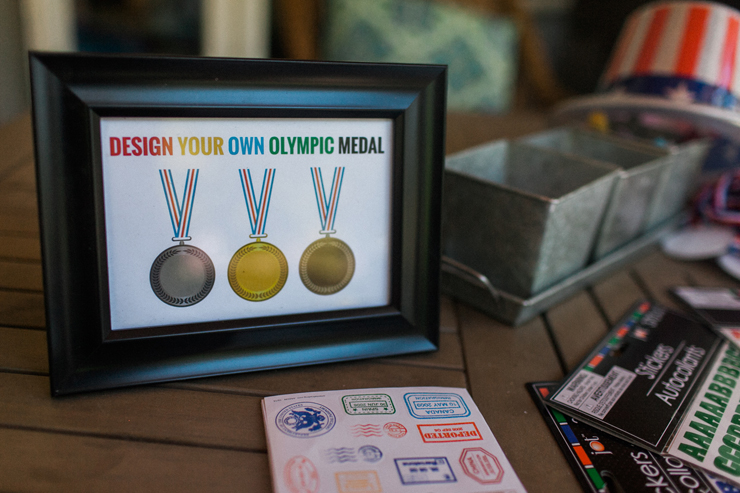 We had stickers, pencils, jewels, glue, and beads for them to craft whatever kind of medal they wanted to make.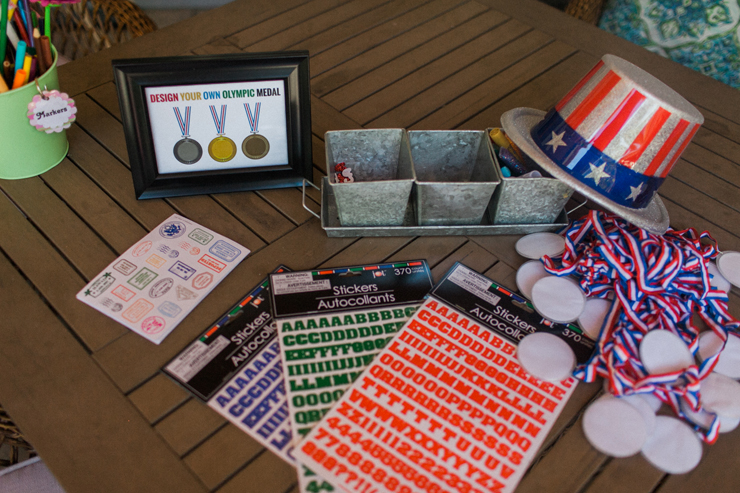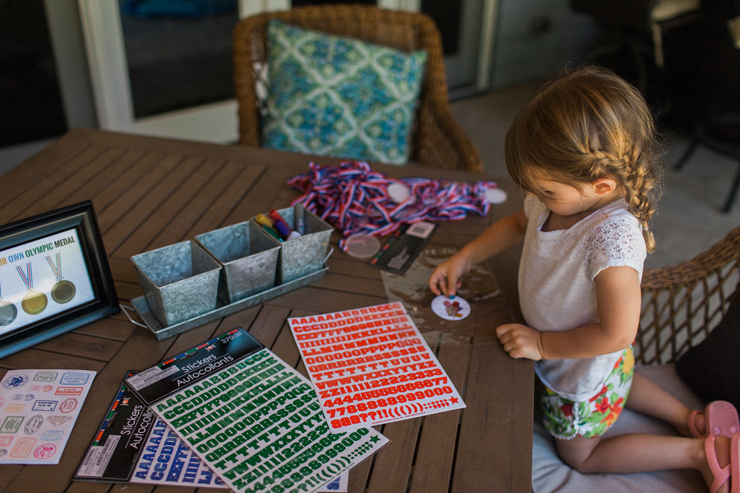 For the games we played Pool Noodle Hurdle, Shaving Cream Cheese Puff Toss, and Holey Bucket Race.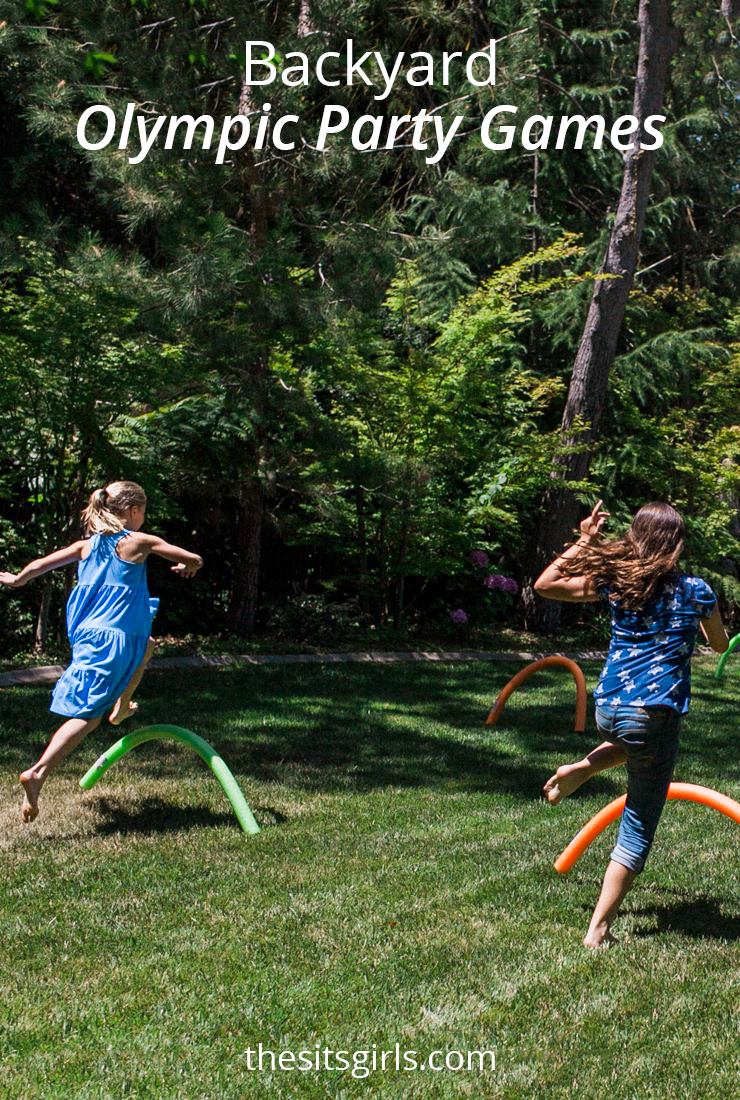 You can see all of our backyard Olympic Party Games here!
I have to say the Shaving Cream game was absolutely hilarious, and great for kids of all ages!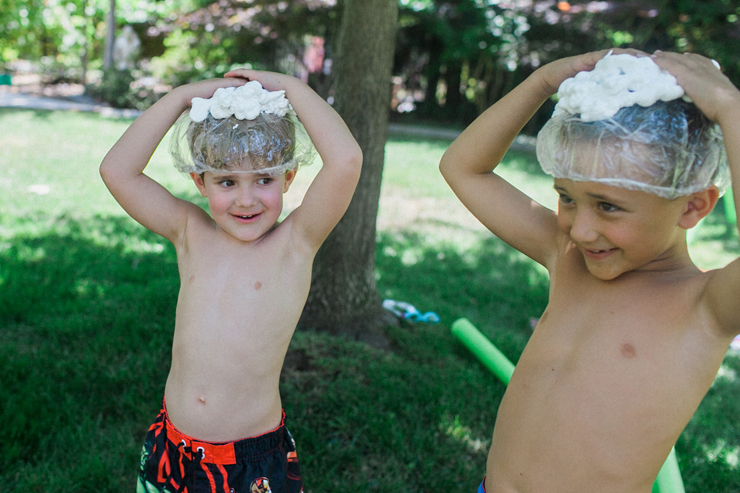 The basic idea is that the kids have to try to catch as many Cheese Puffs as they can on their head with in a certain amount of time. The last game we played was a relay race using a bucket with holes. This was the perfect activity on a day with over 100 degree heat!
Overall the party was a smashing success. The best part was seeing the kids so excited for the upcoming Olympics!

Why not celebrate the Olympics with an Olympic Party this year! Your kids, and you, will love it!