This post may contain affiliate links which may give us a commission at no additional cost to you. As an Amazon Associate we earn from qualifying purchases.
Holidays mean food in our household. And, not just any meal, a feast fit for a king. I love to try new recipes, and some that I wouldn't necessarily serve for an everyday family dinner. If you are serving extra fancy food, of course you must have an extra fancy table to go with it! I love the holidays, because it is an excuse to over-decorate the table, and eat a meal how I always envision myself eating. Instead, most nights I end up rushing through my food, so I can help the kids finish eating theirs. Here is a fun inspiration for how to set the perfect Thanksgiving table.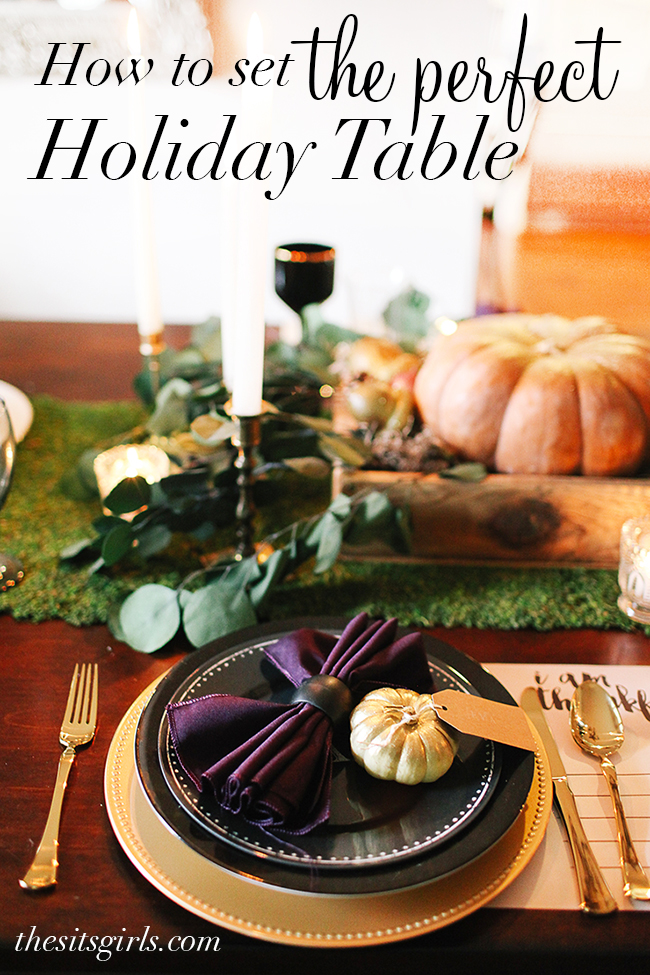 Thanksgiving Table Decor Ideas
This year I decided to switch it up and do something a little different for my Thanksgiving table. My normal go-to is to decorate using pumpkins and corn, red and oranges, and some candles. Don't get me wrong, I am not knocking this style of decorating, I just felt like I needed a bit of a change. I also got these amazing black and gold wine goblets 6 months ago, and have yet to use them. So they were the muse for my tablescape.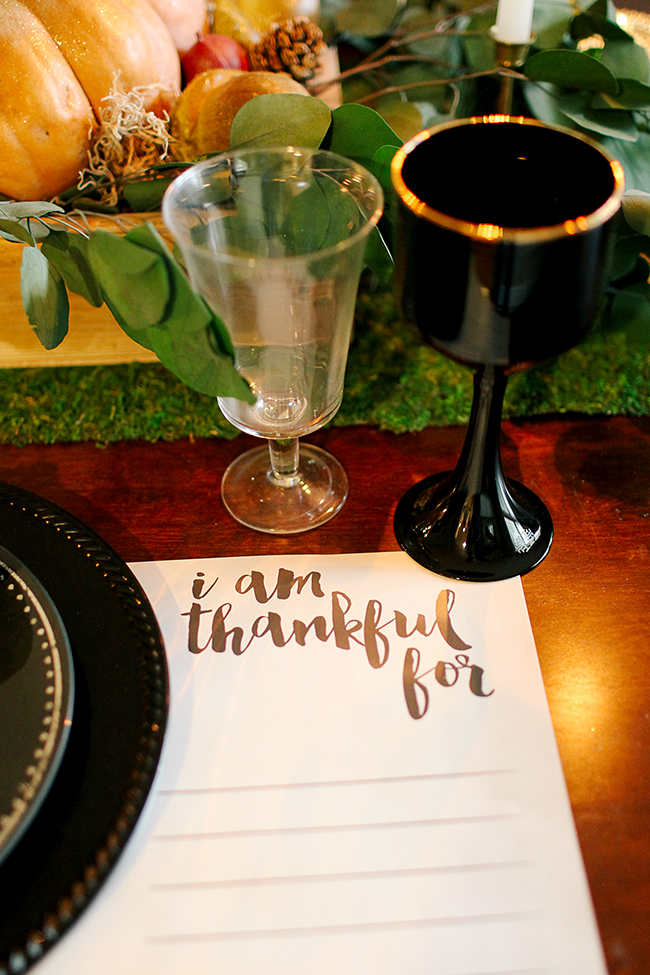 I also am a sucker for matching. I naturally tend to like everything to be uniform and perfectly matched. A trick I have learned over time is that often the most beautiful designs are not always perfectly matched. I decided to test my theory and mix and match my plates and chargers. I chose a basic color scheme of deep eggplant purple, black, gold, and natural elements, and built from there.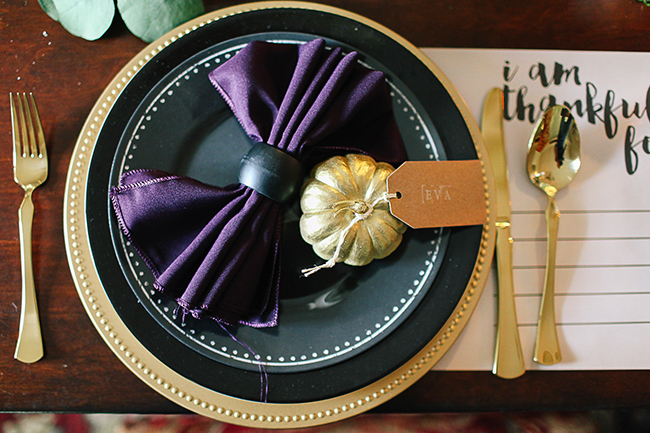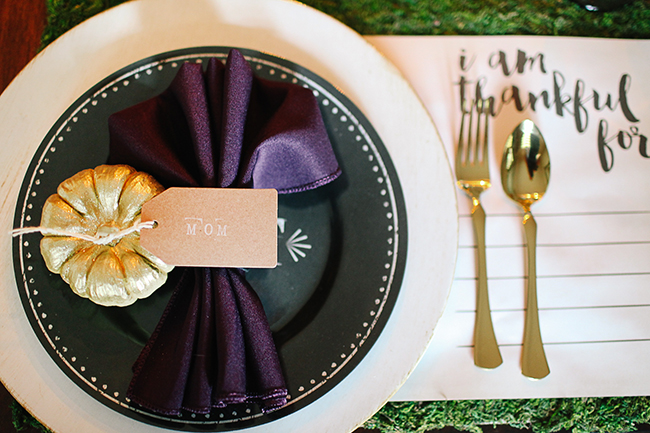 I mixed cream chargers, gold chargers, and black chargers to create a deep romantic table, but I kept all the napkins the same for a cohesive element. Make sure you do not go overboard with mixing and matching, or it will become too messy.
I am also in love with these printable placemats. The whimsical writing is the perfect addition to the romantic tablescape. For placecards I decided to use mini white pumpkins and spray just the tops with gold spray paint. The name cards are cardstock tags that I stamped with white ink.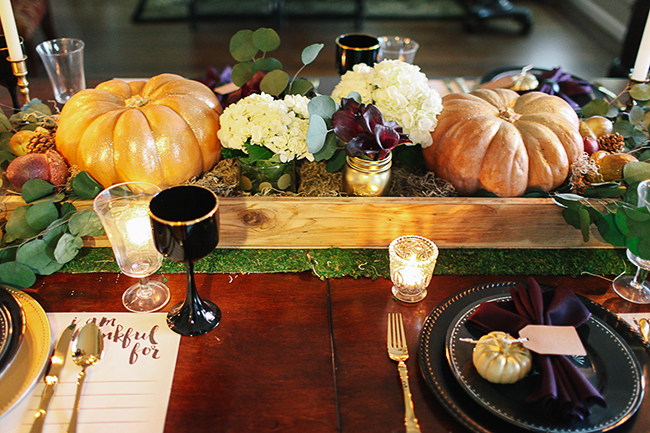 My centerpiece for the Thanksgiving table was a combination of pumpkins, flowers, and branches. A good friend build this box for me to enclose everything, and then sanded it down to make it more rustic.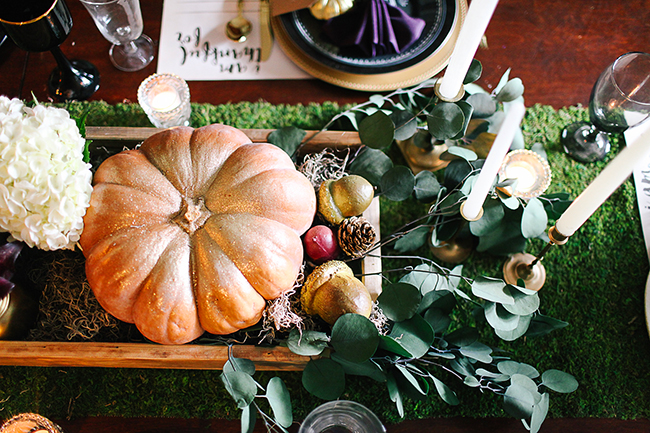 For the spray paint I used a gold glitter spray rather than a solid spray. I am not going to lie, but they look way more expensive and impressive than they are. I mean, it took minimal effort for an awesome effect! I mixed in some moss, faux acorns (which I also sprayed with gold glitter), and pinecones to give it a natural look.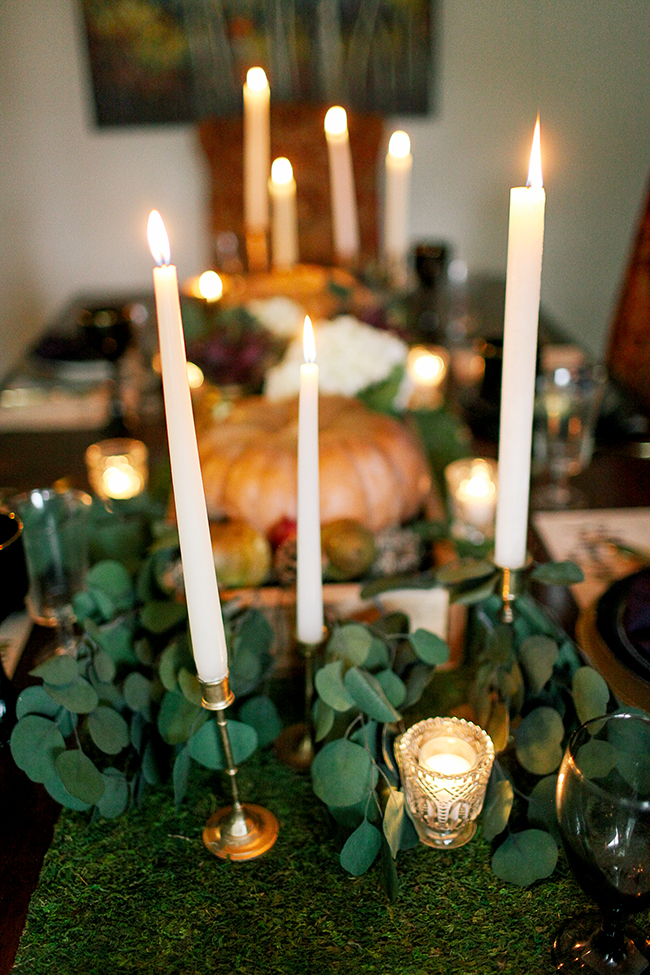 Candlelight is one of my favorite things to add to a table. My darling friend had these amazing gold candlestick holders which she lent me, and I might never give them back. The varying height, color, and shape are a perfect fit with the rest of my mix and match table.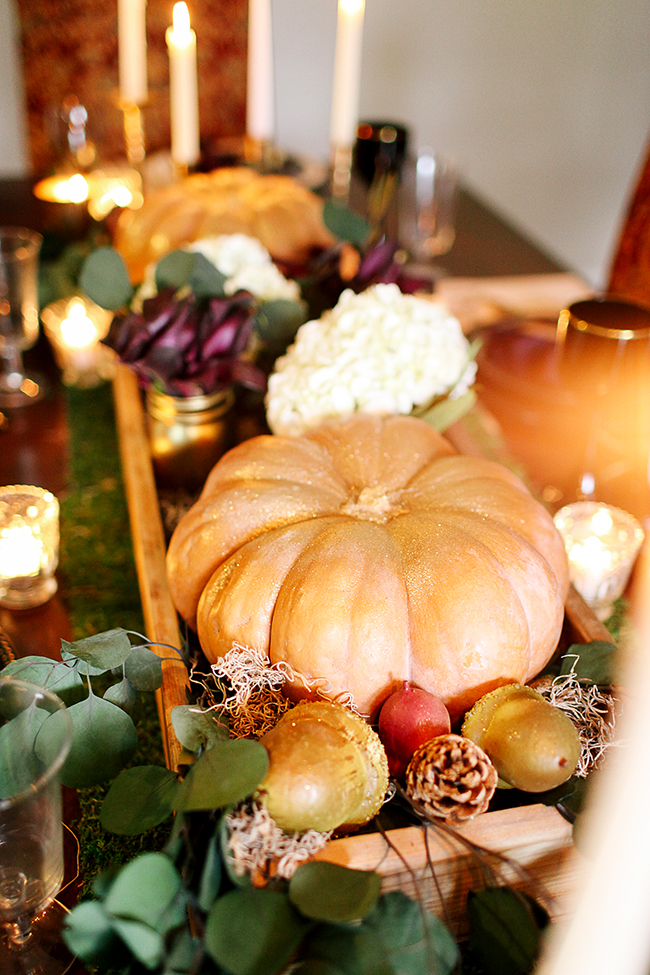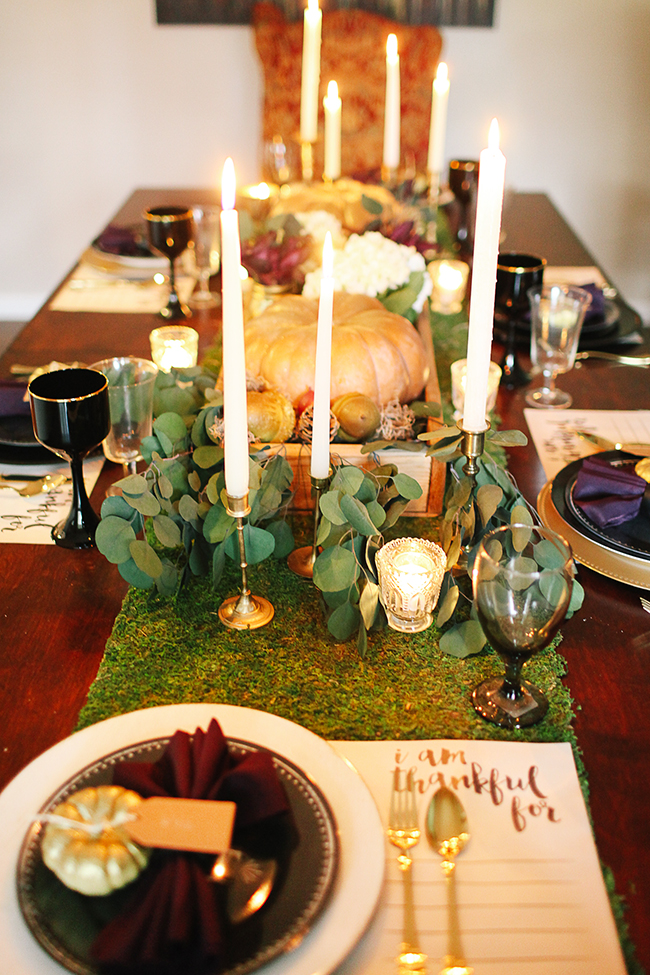 The moss table runner is by far one of the best investments I have ever made. I have been able to use it over and over again. I love using a table runner as opposed to a whole tablecloth, especially if you have a great wood table!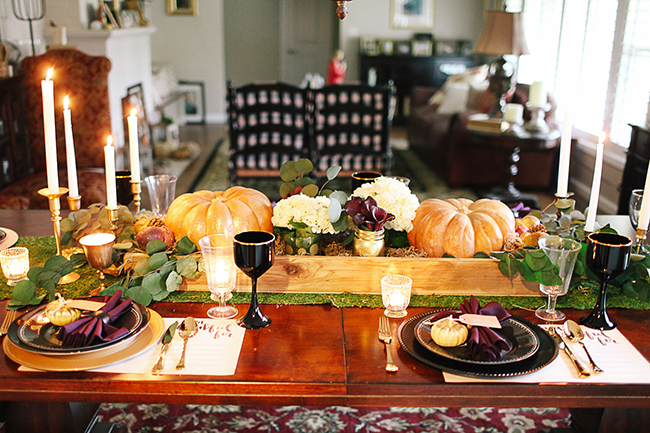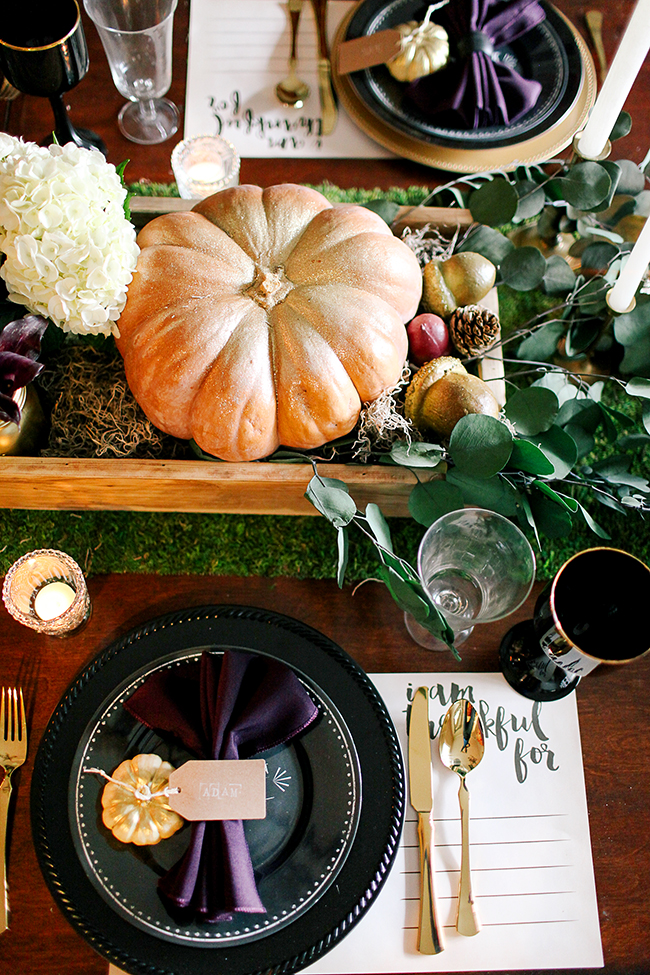 Thanksgiving Table for Kids
Don't count the kids out at Thanksgiving! Make sure the kids have a fun place to sit and eat, too. If they are entertained, they will give you a little more peace and quiet, and you might actually be able to sit and enjoy your meal! These darling printable Thanksgiving placemats are the answer. They even have a checklist of what the children have eaten. Have them check off their items as they eat, and show you their completed list when they are finished!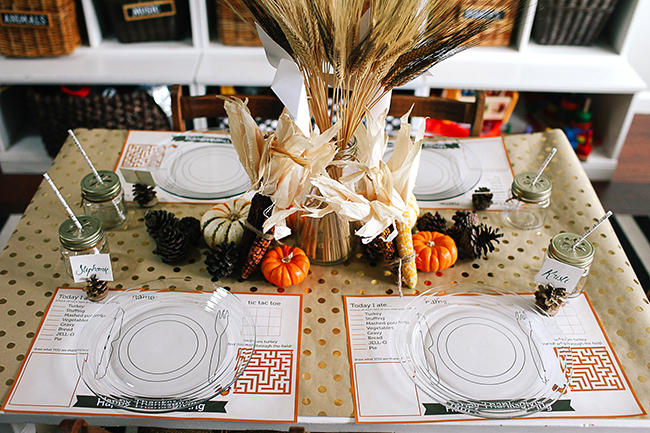 For a "tablecloth" I used gold polka dot wrapping paper. It is the perfect thing to use for a kid's table because you just roll it up and throw it away when you are done! Let's be honest… kids are messy!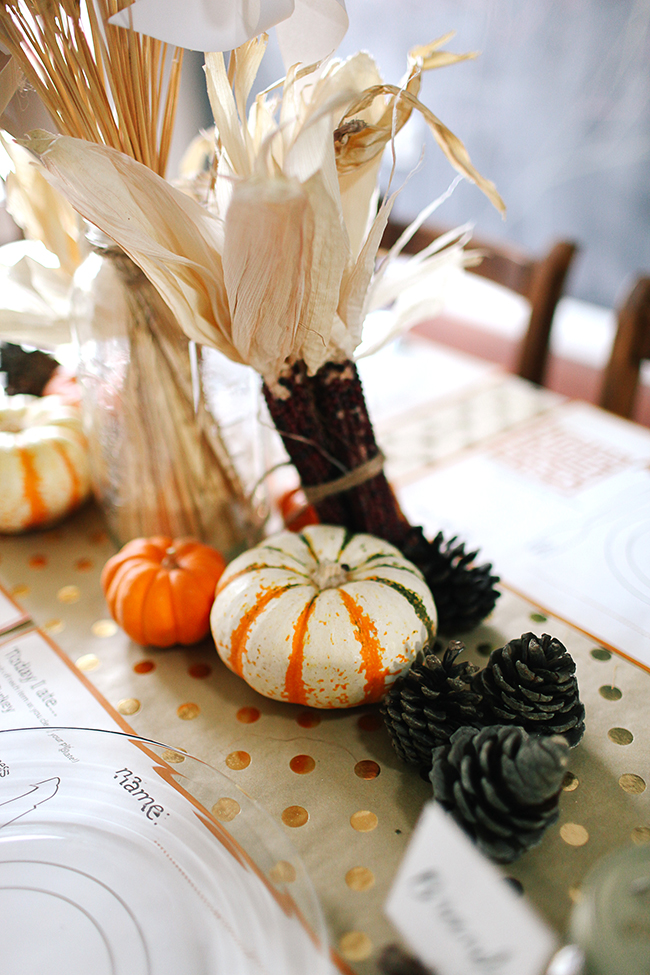 To decorate the kids Thanksgiving table, I went with a more traditional Thanksgiving look. I used pinecones, oranges, golds, and corn to create a fun atmosphere. The wheat centerpiece came from my Thanksgiving mantle, and was the perfect addition!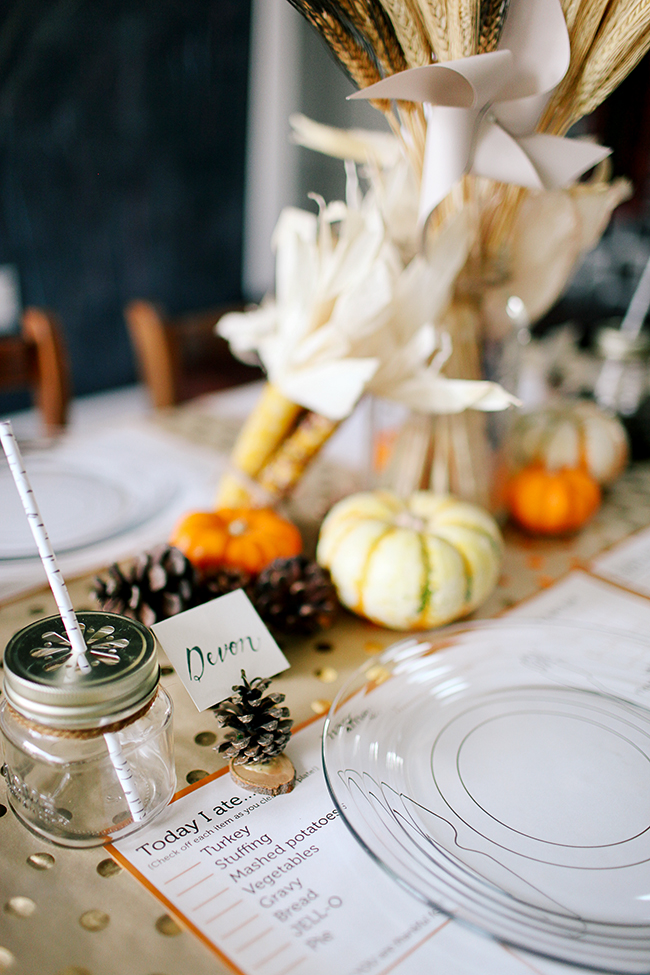 I made the kid's placecards out of pinecones, and glued a base on them to keep them steady.  See how cute the food checklist is?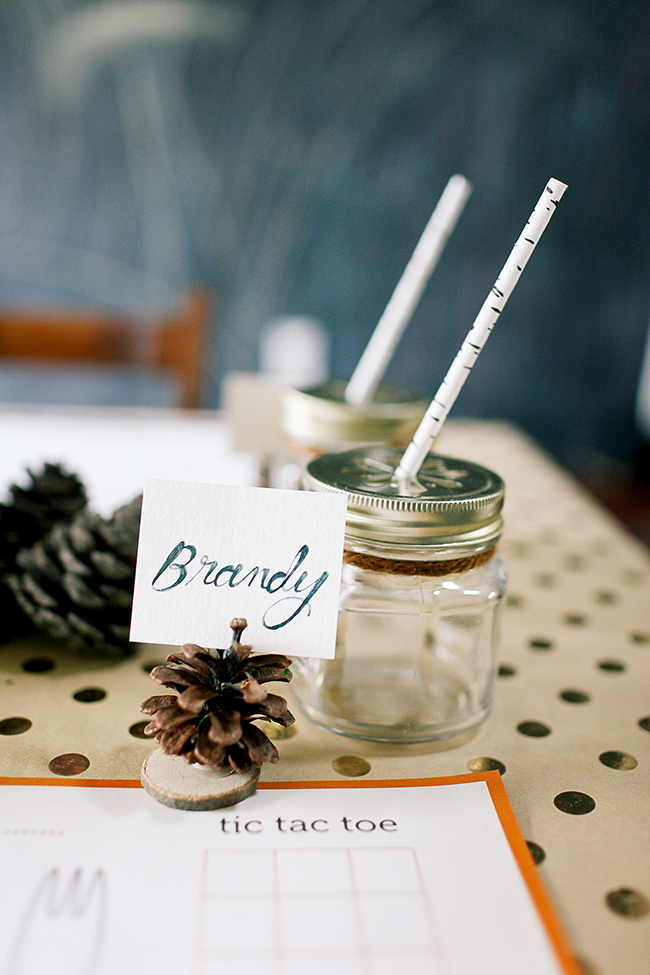 Let the kid's play tic tac toe and sip Sparking Cider out of these cute mason jars!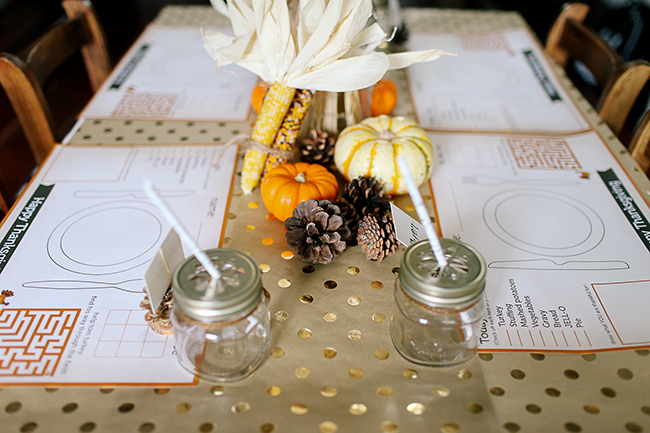 Whatever your holiday plans entail, do not forget that the best part of the party is always family. Create something special and memorable for your guests, and it will make your Thanksgiving even more amazing.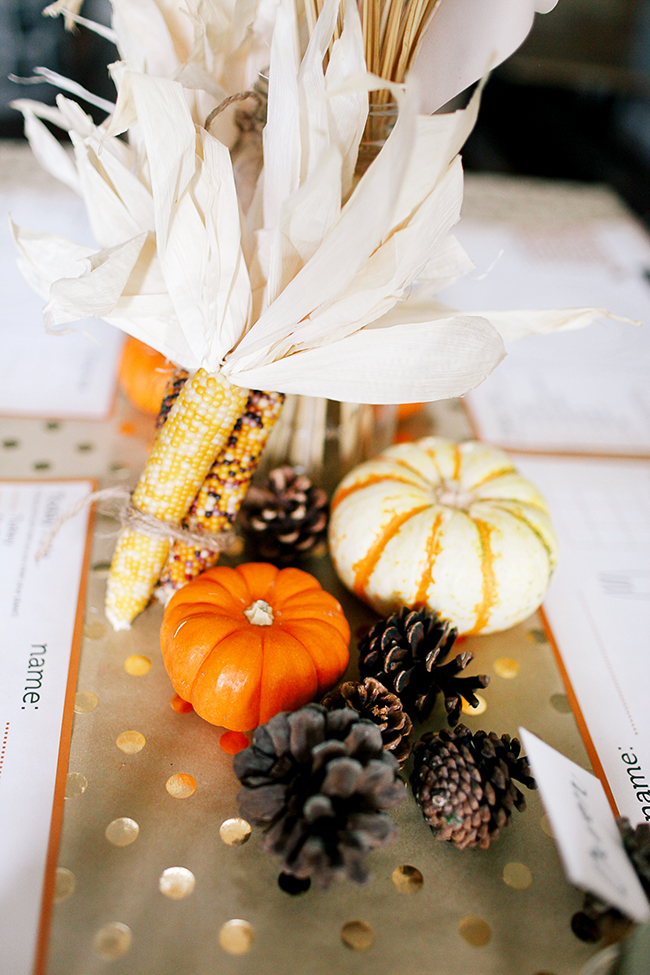 It's Leftover Time!
Our favorite part about Thanksgiving is always the leftovers. Make sure there are no discrepancies in whose bag is whose this year.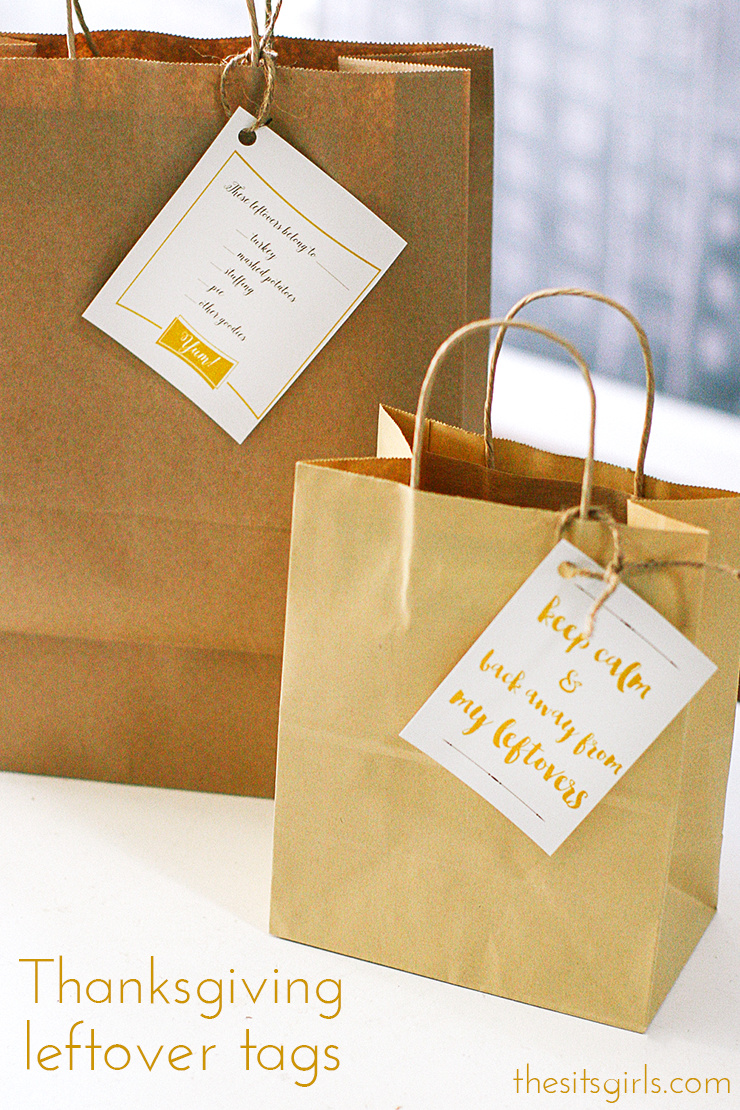 We don't want old Aunt Gertrude to steal your extra stuffing and pie. So save the day with these cute tags!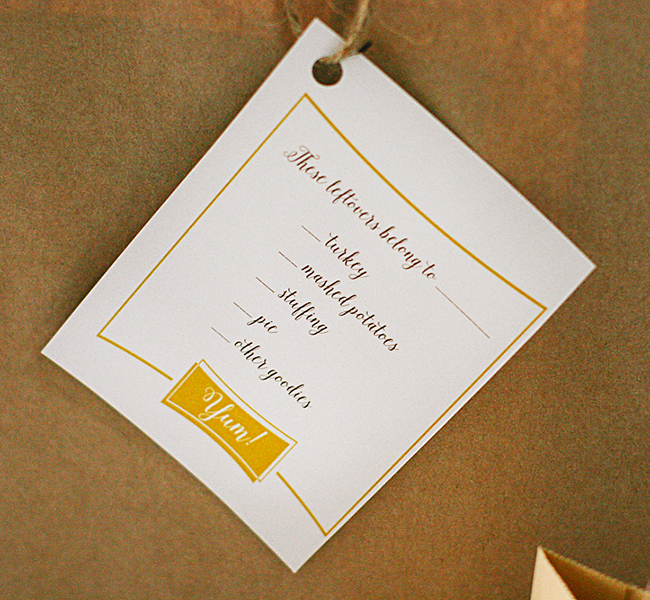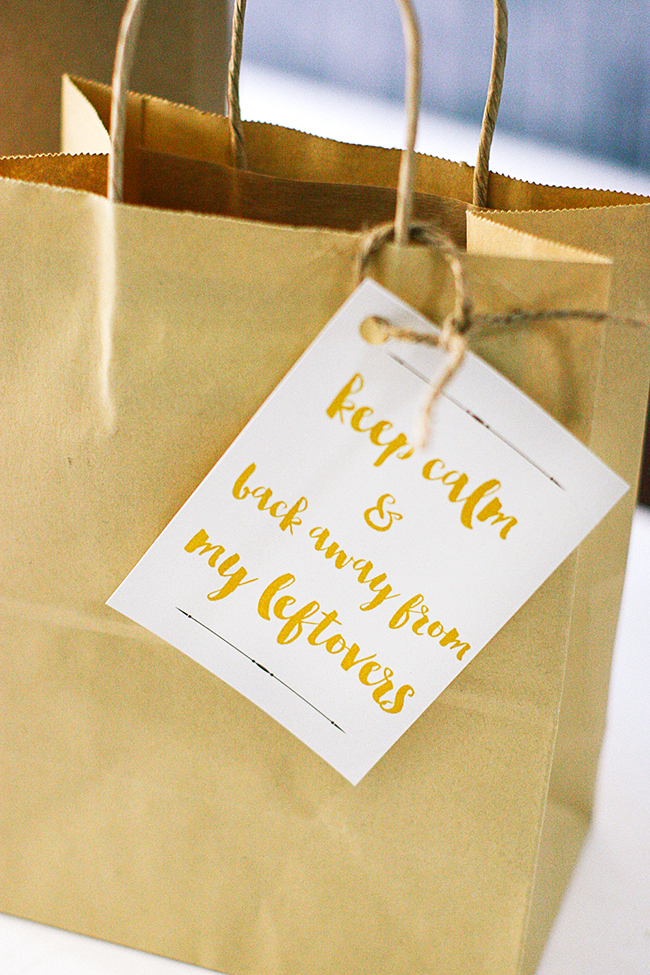 And, don't forget to wear your pants with a stretchy waistband! We know we will!
Bon Appetit!