This post may contain affiliate links which may give us a commission at no additional cost to you. As an Amazon Associate we earn from qualifying purchases.
Hey party lovers!  It's Jessica, and I'm very excited to share some of my best ideas to plan a great party! I've created, designed, thrown, hosted, a gazillion parties, (Ok, not really, but a lot)… and the beautiful thing about it is, all parties are the same, on some level. Whether you are throwing a kids birthday party, a graduation celebration, or a baby shower for your best friend… if you keep in mind these easy party ideas, you'll plan a great party.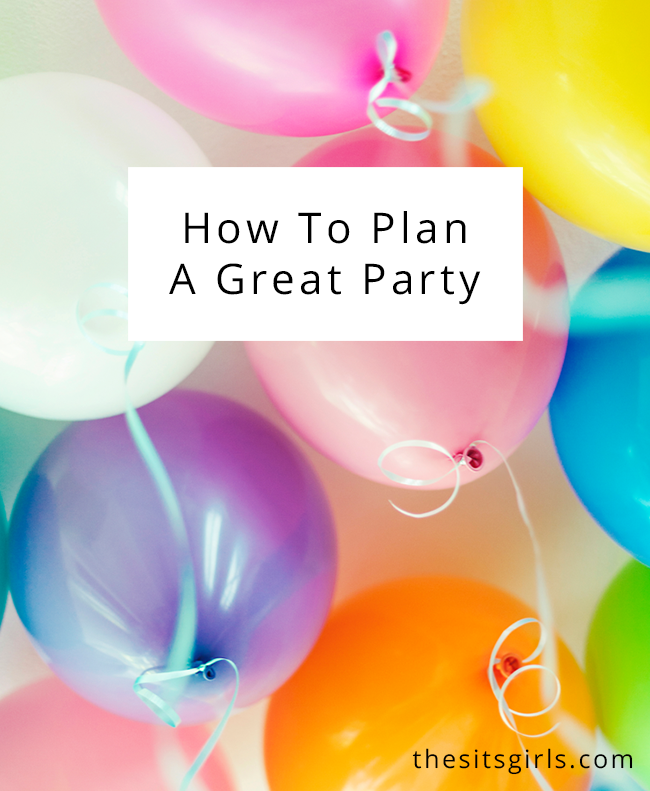 How to Plan a Great Party
Great Timing
I think a lot of people always hold the standard, Saturday or Sunday afternoon party. When I'm planning a party, I tend to think outside of the box. What time of year is it? Does it get dark early? Is there a big local event going on that weekend that people may want to go to instead? Try to plan your party on a day/at a time, that you think most people would be able to come. I also try to keep in mind the schedules of others. Of course, there will always be someone that can't attend, but holding a party on a Friday evening, may work better for most. They're already out and about, and the adults may be ready for a cocktail after a long day at the office, and since some may have plans to go away that weekend, hanging around for a party on a Saturday afternoon, could put a kink in their plans, resulting in not being able to come.
Keep it Simple
I know my followers from Fantabulosity are probably laughing at me right now. By looking at some of the parties I have thrown, it doesn't look like I kept it too simple, but really, I have. I've found shortcuts that can really save time, trouble, and labor on party day.
Find someone to make the food and deliver it. A lot of restaurants will deliver with a minimum order. You just saved time in the kitchen AND saved time from having to go pick it up.
Use printables. Printables are sold EVERYWHERE online, and you can even find really cute free ones out there! Using printables, can really add "decoration," to your party without hardly any work from you!
Do everything you can before party day. There's nothing worse than throwing a party, and not being able to enjoy it. Don't plan activities that require your full attention during the party. You'll go to bed at night, exhausted, asking yourself, "Who all was even here tonight?"
Create a checklist
I ALWAYS make a checklist for my parties. When your mind is swarming with to-do's, you're sure to forget something.  It may be something as major as forgetting to pick up the birthday cake at the bakery before they closed, or forgetting that you made the jello salad and it sat in the refrigerator the whole time everyone was eating. You can never be too detailed. P.S. I'm currently working on creating a master party checklist for my eClub VIP's over on my blog. Sign up over there to get in on the freebie.
Pick a Fabulous Theme
I'll be honest. I waste most of my party planning time, thinking of a "theme." But it's the most important part of my party planning process. Why? Because if I'm not excited about the theme of the party, I won't be excited to plan the stinkin' party. So make sure it's something that is "easy," to color coordinate, and fun for you to shop for and brainstorm over.
I could go ON AND ON with tips & tricks of how to plan a great party.  Good news is… I DO go on and on with tricks of how to plan a great party!! I'd love it if you wanted to come check out the parties that I have thrown in the past on my blog. And if you live in Utah, make sure you come to the Pinner's Conference, November 6th & 7th, 2015 to my class on "Party Styling 101." I'd be head over heels in love with you for coming!
Want more great party ideas?
Check out all of our easy party ideas for a little inspiration!