This post may contain affiliate links which may give us a commission at no additional cost to you. As an Amazon Associate we earn from qualifying purchases.
The best party in the world is always a Baby Shower. If you had told me nine months ago I would be having a beautiful shower for a baby girl, I would have laughed and laughed. But life is crazy, and sometimes the most unexpected things happen. I had my dream baby shower last weekend in my own backyard. It was lovely, low-key and exactly what I wanted.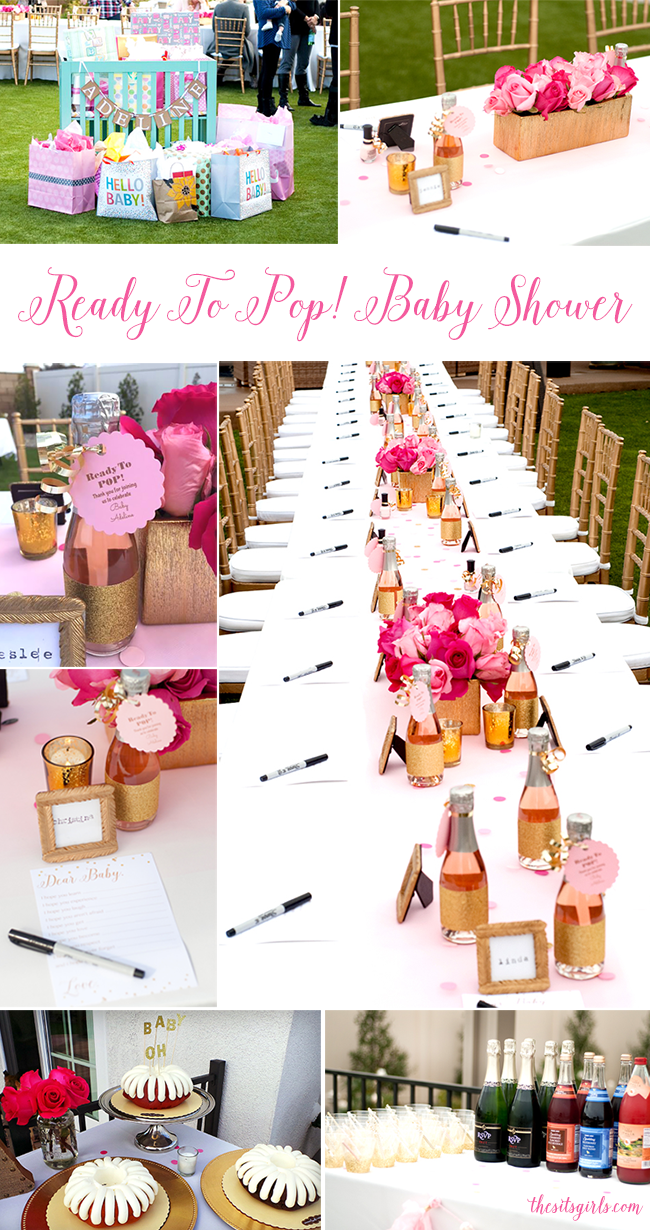 Ready to POP! Baby Shower
Bright flowers on crisp, white tablecloths gave the party a sleek look. I don't actually have this many tables and matching chairs sitting in my house at all times, so I rented the tables, chairs, and tablecloths.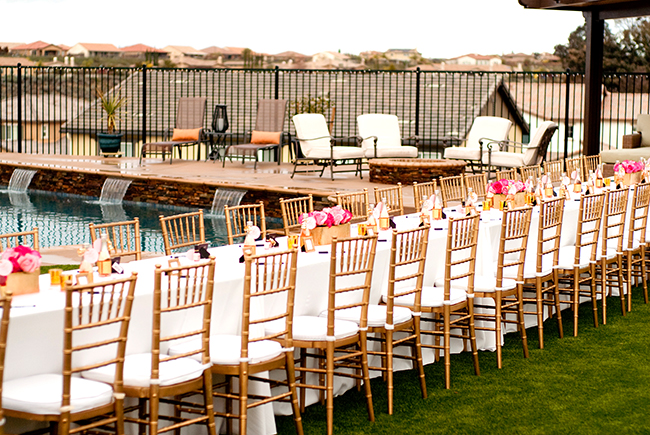 My splurge was upgrading the chairs and I'm so glad I did. It took the look from "pretty" to "glamorous".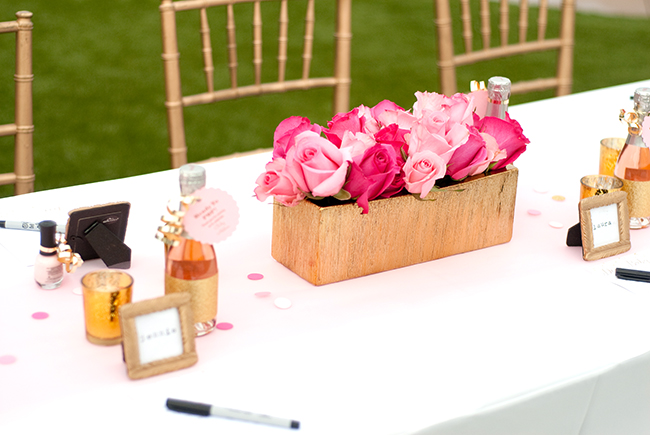 I knew I wanted fresh, pink roses, and a lot of them, but I was worried how to work out the logistics of having them delivered on the day of the party. I found the best deal ever. I ordered 100 fresh stems from Costco. They were delivered to my house 2 days before the party. I cut off the thorns, arranged them in cold water, and left them out at room temperature so the buds would bloom.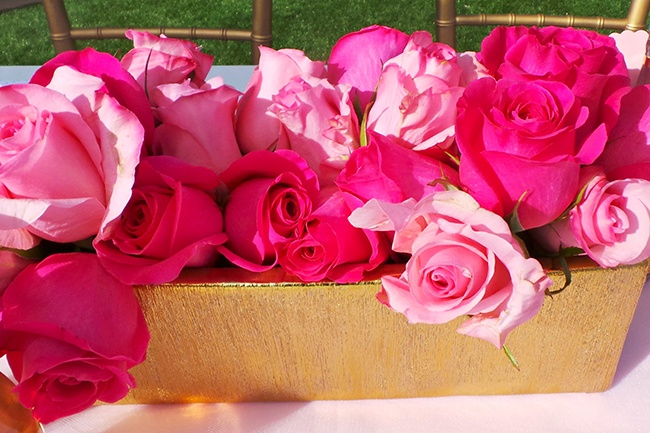 I was so nervous to do it this way, and then so relieved at how well it worked. 100 stems was $79.99, if you are planning on ordering a lot of fresh flowers for your party, they have amazing prices on bulk flowers (200 stems is an even better deal). As you can see, they were perfect on the day of the party, and a week later they are STILL beautiful.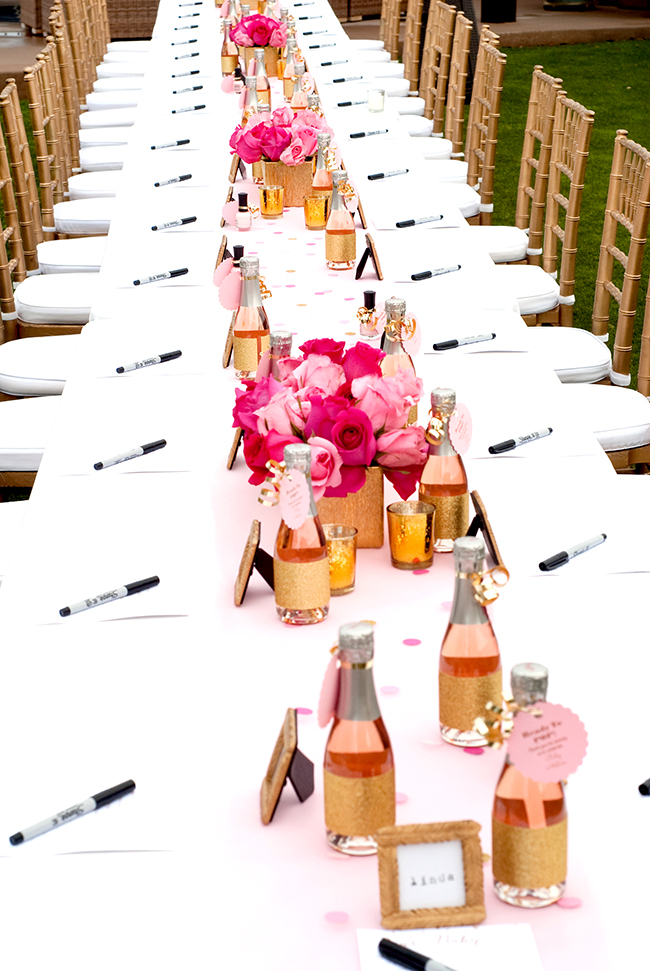 The "Dear Baby Letter" printables at every place setting were my favorite. It's so special to read the messages my friends wrote for Adeline, and I love that one day she and I can sit together and read all the sweet notes.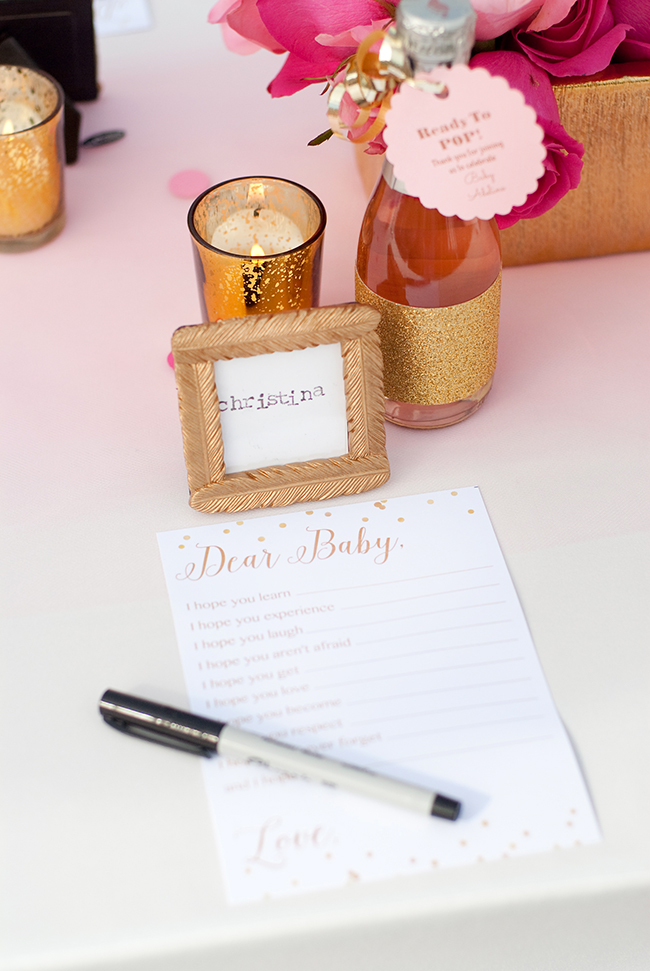 I bought these small place card frames at Party City. They look so cute with the names written in simple type. They have a lot of cute place card holders, and also have great prices on high-end plastic serviceware in gold and white, that was perfect for the party.
The mini bottles of champagne were Barefoot brand. The glitter on the champagne bottles is my biggest secret, though. It's actually glitter TAPE! To make sure the tape lays smooth on the bottle, only pull the adhesive off of the ends where you are attaching it. Super easy.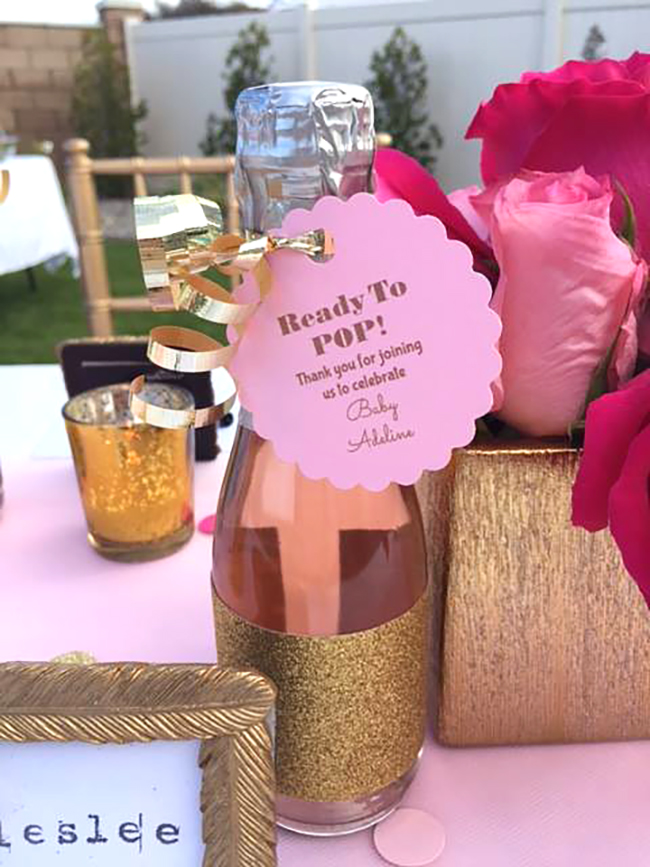 I also attached my "Ready to POP!" tags with a thank you for taking the time to help me prepare for and celebrate Adeline.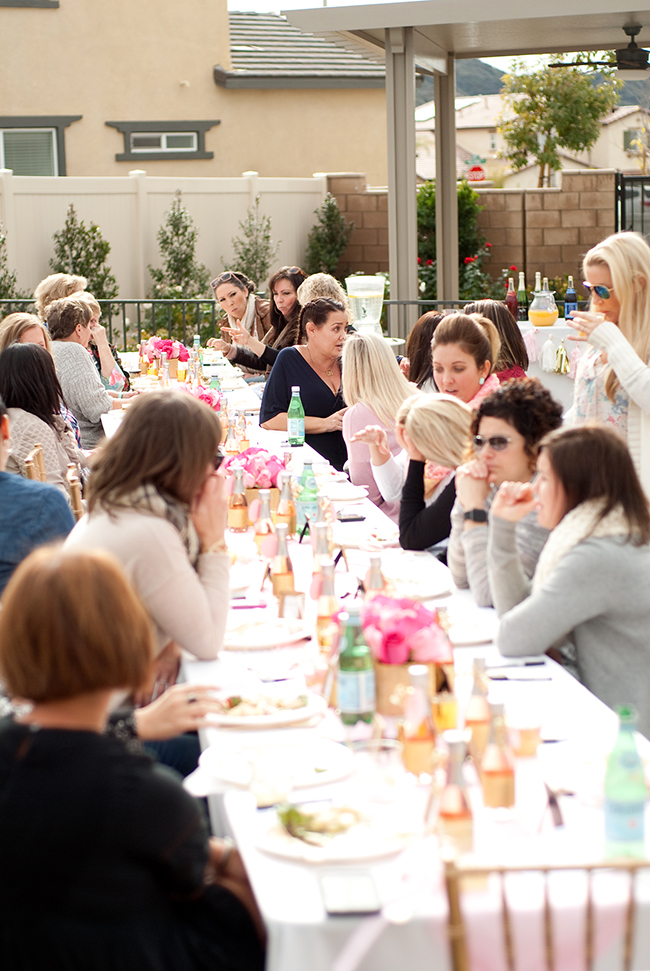 There was one more pop of color with our turquoise crib. I ordered the banner for the crib on Etsy. It fit perfectly.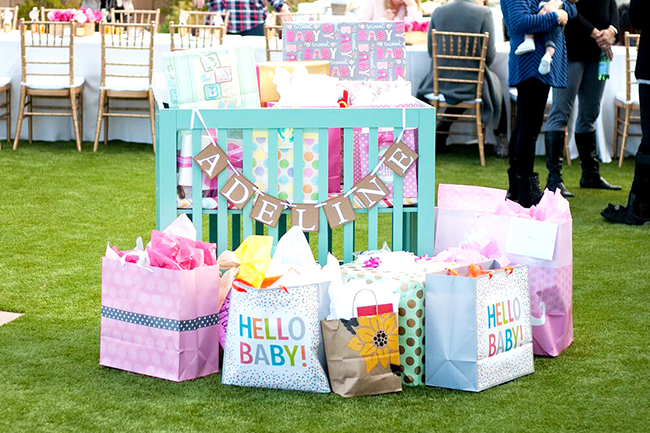 Aside from the cute individual bottles of champagne guests could quench their thirst at the well stocked mimosa bar. This is the perfect drink bar for a baby shower. Plus, take a look at the glitter on those cups! We followed the instructions from this blog post, and they came out perfect.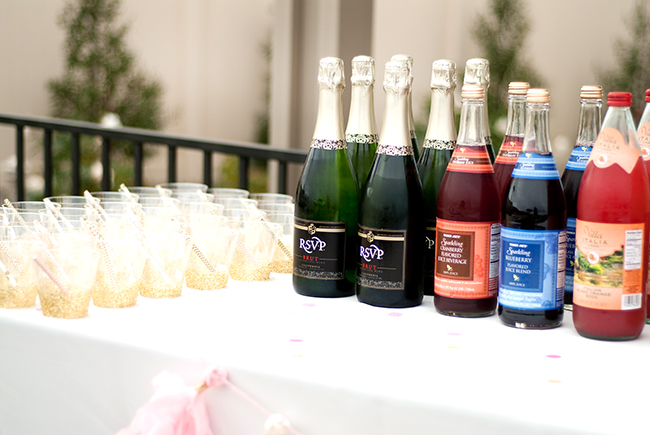 I love having a fun craft or a little entertainment at my parties. It's a great way to break the ice and get guests interacting and mingling. I had a headband station for people to create elastic headbands for baby Adeline to wear.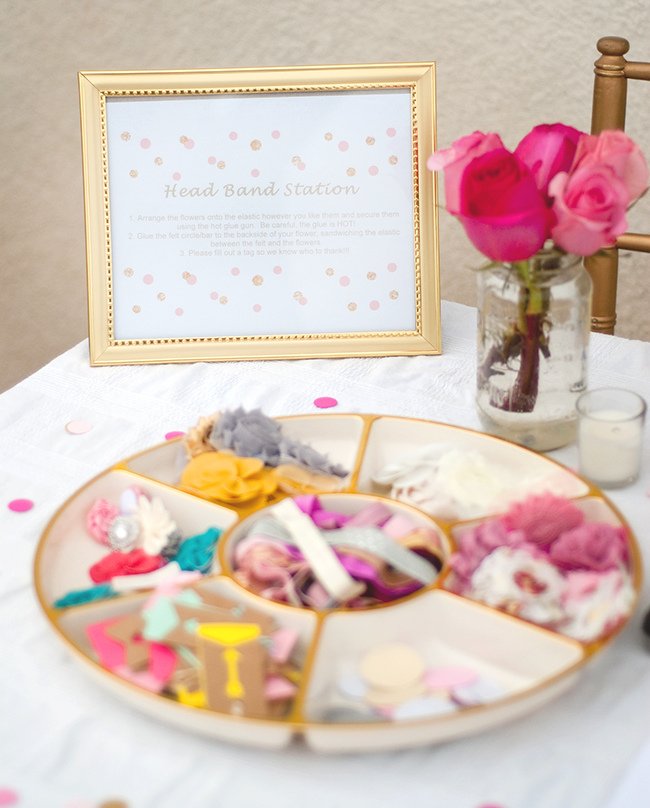 I was so excited to see all of their beautiful designs, and I'm even more excited to put them on Adeline. She will be most the most stylish baby!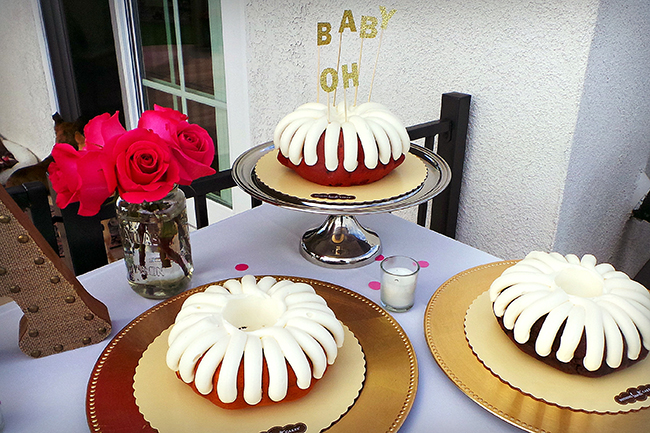 Every party needs an amazing array of desserts! We had three flavors of bundt cakes. Everybody came back for seconds. I love the sparkly Oh Baby cake topper – because cake toppers aren't just for weddings.
My amazing friends and family showered me and Adeline with love and REALLY cute baby clothes. I am so blessed to have such incredible support to help me prepare for her arrival.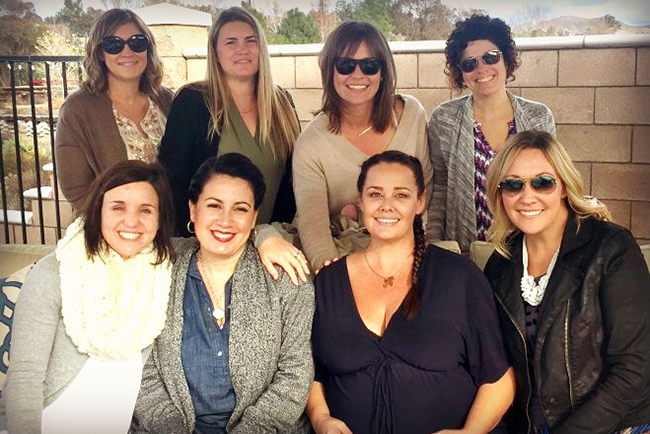 Overall, the day was perfection. Beautiful bright colors and equally amazing company was exactly what I needed to get ready to welcome Adeline.
Next step? Pushing out a baby!