This post may contain affiliate links which may give us a commission at no additional cost to you. As an Amazon Associate we earn from qualifying purchases.
Today I'm going to show you how to create a Strawberry Themed Party. Plus I'm giving you an easy strawberry cake recipe and some strawberry themed party decorations. Such an adorable theme for a little girl's birthday party!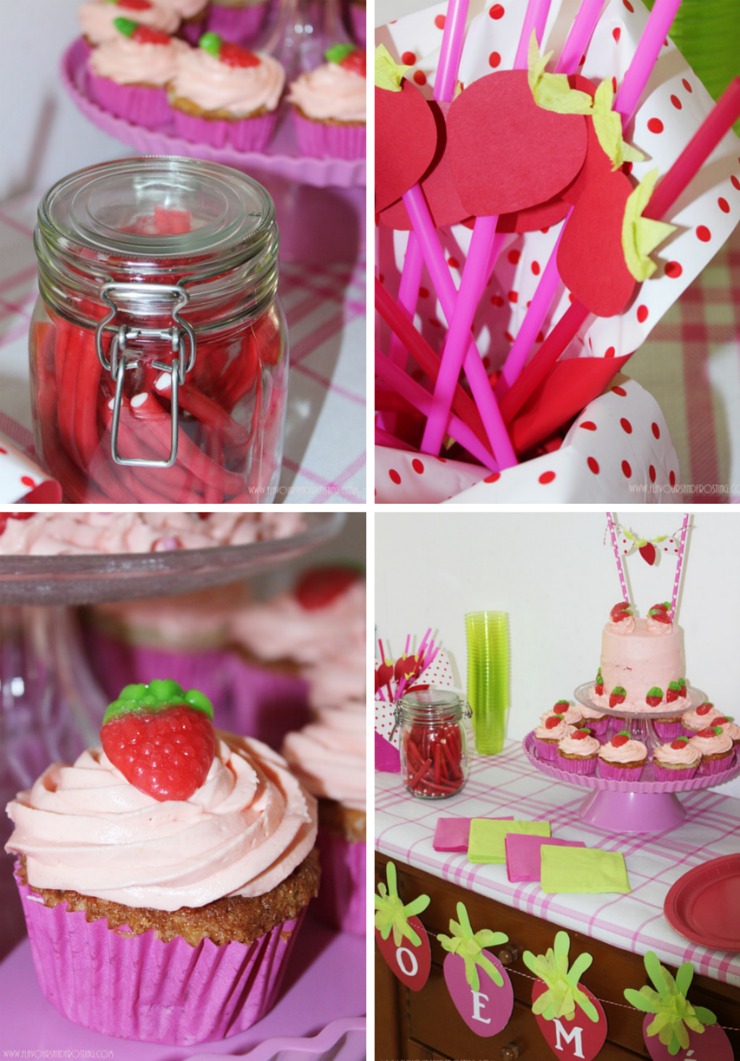 Strawberry Themed Party
These are the decorations I made for this party:
1. A big Strawberry Banner with the birthday girls name, which I hung at the front of the display.
2. A small Strawberry Cake Banner, which I used on top of #3 below.
3. A mini cake (3 levels) + cupcakes, made with an easy strawberry sponge cake recipe, filled and frosted with high quality strawberry preserve and french meringue buttercream, and decorated with strawberry gummies.
4. Cute straws decorated with strawberries.
5. Strawberry Balloons
Sadly, I did not get to take any photos of the strawberry balloons, but they were very easy to make. All you need is:
Good quality, red balloons (ideally blown up with helium)
Small, round, white stickers to stick all around the balloons
Use glue to stick green crowns (like the ones I used for the big banner below) on the top (wide part) of the balloons to resemble strawberries.
Tie string to the bottom part of the balloon (where you tie/fasten the balloon) so the kids can easily run around with them.
Party Tip: Use paper plates, napkins, cups, and table clothes within the color scheme of your party and don't be afraid to use different patterns, too. Fill glass jars with strawberry sweets or gummies.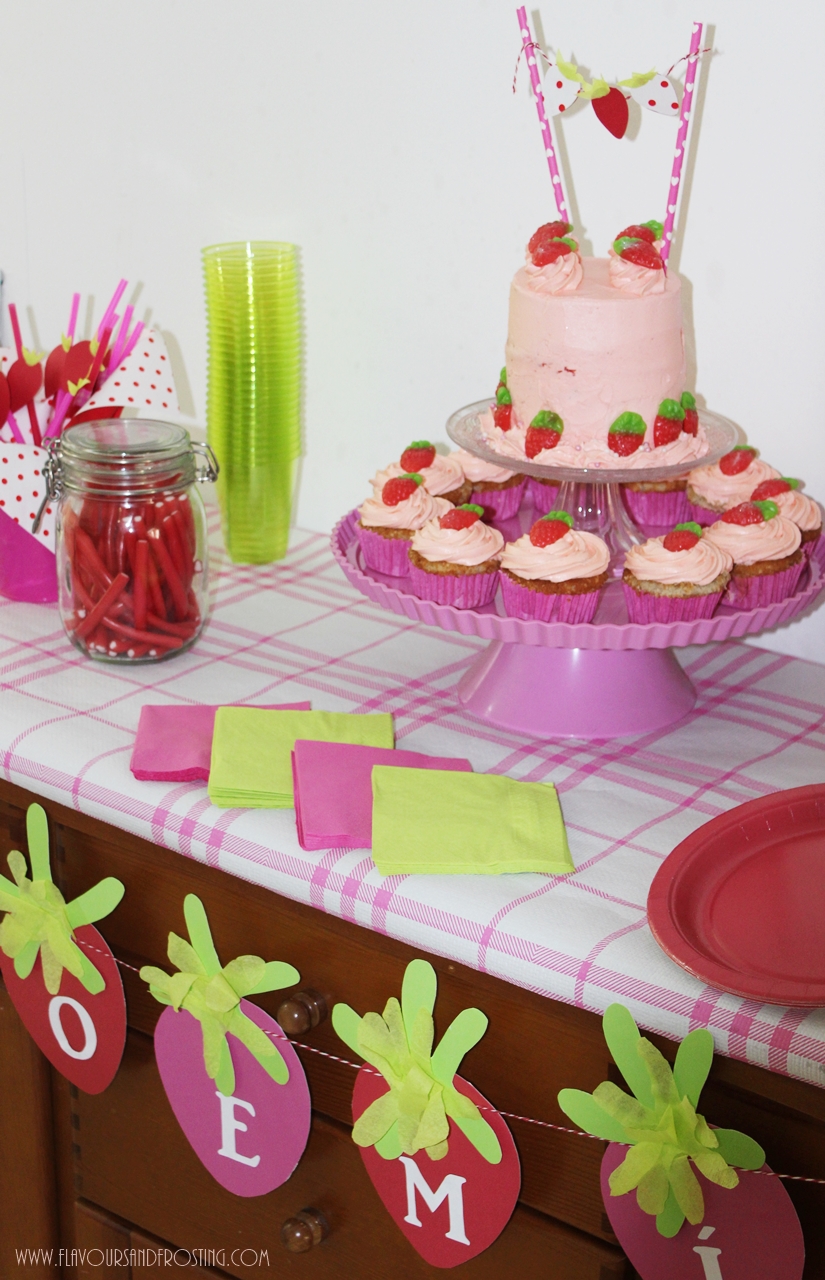 Strawberry Themed Banner
To make the Strawberry Themed Banner, you will need:
Red, bright pink, and green paper plates
Green paper napkins (try to match your green paper plates) or tissue paper
String (I used red and white bakers twine)
Cut out printed letters (I used white) of the birthday girl's name
Glue
Scissors
Staples
Tape (I used washi tape)
To make your banner:
1. Draw a strawberry shaped form on the back of your red and pink paper plates (focus on the centre circle and not the outer ring). Make sure you cut out enough strawberries for each letter of the birthday girls name (or whatever message you want to display) and alternate between red and pink. Now cut them out.
2. Draw the top of the strawberries (the crown) on the back of the green paper plates, as well as the green napkins or tissue paper. Cut them out, too.
3. Glue the crowns of the green napkins on top of the crowns of the green paper plates. Allow them to dry. This creates a 3D effect.
4. Staple the green crowns on top of the strawberries, making sure you leave enough space on the strawberries for your letters.
5. Glue your letters (once again, make sure you are alternating the colors) on your strawberries.
6. Cut a long string and use the stapled parts to hang your strawberries on the string. Make sure you thread it at the back of the green part and in the front of the red/pink part.
7. Use your washi tape to secure the string on your table or wall.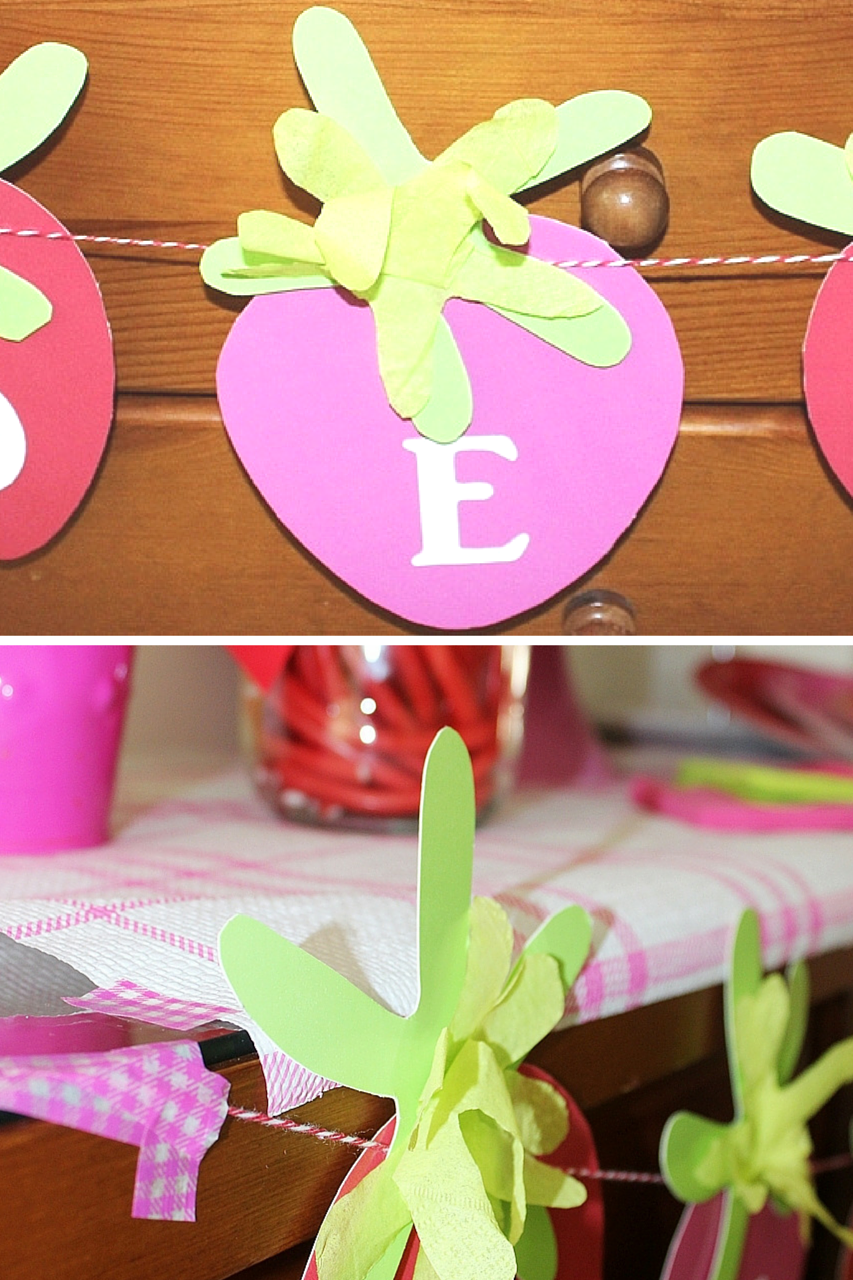 Strawberry Party Straws
To make the Strawberry Themed Party Straws, you will need:
Red and pink cardboard (you could also use the paper plate offcuts, which = frugal living!)
Green napkins or tissue paper
Tape (I used washi tape)
Scissors
Pink and red plastic straws (you could also use printed paper straws)
To make your straws:
1. Draw and cut out small strawberry shapes from your red and pink cardboard.
2. Draw and cut out small green crowns from your green napkins.
3. Stick the crowns to the top of your strawberries.
4. Use washi tape to secure the straws to the center back of your strawberries.
Tip: If you use a red strawberry, make sure to use a pink straw, because the color contrast is really pretty.
Mini Cake and Strawberry Cake Banner
I made a mini cake and topped it with a cute Strawberry Cake Banner, to make this I used:
2 x pink and white heart printed paper straws (you could also use wooden skewers)
Red and white bakers twine (any string will do)
3 x small strawberries, like the ones you made above for the straws (I only used 3, because I made a mini cake).

 

Instead of 3 solid colors, you could also add white and red polka dot strawberries
washi tape
scissors
To make your strawberry cake banner:
1. Cut your string to the size you need and stick the 3 strawberries to the center of the string. Secure it at the back with washi tape.
2. Tie the sides to the straws, making sure the centre part is not hanging too low. Cut off the excess string on both sides.
Strawberry Sponge Cake & Cupcake Recipe
Batter Ingredients:
2 cups white sugar
220g unsalted butter at room temperature
5 L eggs at room temperature
2 tsp vanilla extract
2 cups of sifted all purpose flour
2 tsp baking powder
1/4 tsp salt
1/3 cup strawberry juice/puree
Filling Ingredients:
1 cup good quality strawberry preserve (enough to fill the cakes and 1 teaspoon for each cupcake)
French Meringue Buttercream Ingredients:
Method
Batter:
1. Pre-heat your oven to 180ºC/360ºF
2. Prepare the 3 x 12 cm / 5 inch molds (I use melted butter and wax/parchment paper) and cupcake tray with liners
3. Cream the butter and sugar together until light and fluffy
4. Add the eggs 1 x 1 and then the vanilla extract
5. Slowly add the dry ingredients and lastly the juice/puree (don't over mix)
6. Bake the cupcakes for 18-22 minutes and the 3 mini cakes for 30-35 minutes
7. Allow to cool completely before decorating
To Assemble The Mini Cake:
1. Level your cakes with a serrated knife
2. Fill your cakes with the strawberry preserve and then top it off with the french meringue buttercream.
3. Allow it to set in the fridge between each level.
4. Now crumb coat your cake with the french meringue buttercream. Allow to set in the fridge again.
5. Frost the cake with the remainder of the french meringue buttercream and use a piping bag fitted with an open star nozzle (like a Wilton 1M tip) to pipe four swirls on the top of the cake, adding a strawberry gummy on top of each swirl. I also added edible glitter for sparkle!
To Assemble The Cupcakes:
1. Use an apple corer to remove some of the cupcake and fill it with the strawberry preserve.
2. Use a piping bag fitted with an open star nozzle (like a Wilton 1M tip) to frost your cupcakes with the French Meringue Buttercream.
3. Top each cupcake with a strawberry gummy and add edible glitter to each.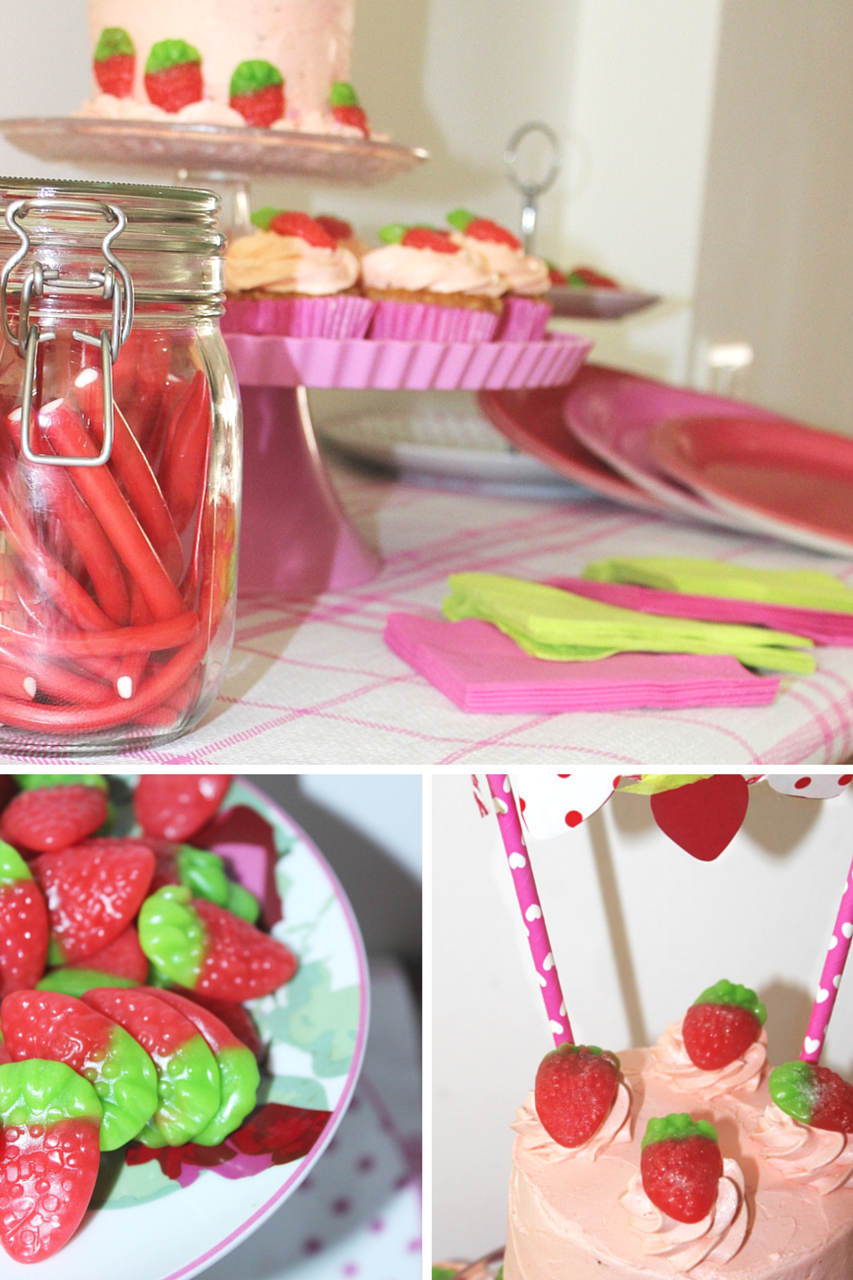 Party Planning Tips
1. To create your own themed birthday party ideas, start off by deciding on a theme. Then head over to Pinterest and create a board of the things you like that matches the theme you chose.
2. Make a list of things you need to buy for the party (ingredients, materials, and equipment). Believe me, you don't want to be stuck with last minute shopping.
3. Buy all the items on your list in advance (1 week before the time if possible).
4. Make sure you start with the decor at least 5 days before the actual date to allow yourself sufficient time to make the desserts and food for the party. I normally start with this 1 – 2 days before (depending on the recipes).
5. Decorate the party 2.5 – 3 hours before the party to ensure everything is ready when your guests arrive. This will allow you some time to "beautify" yourself, too.
6. Make sure your camera's battery is fully charged before the big day. The last thing you want is not to be able to take photos after all the hard work you have put in!
I hope you guys enjoyed this strawberry themed party post as much as I loved creating it.
Happy Party Planning!
Author Bio: Johlene
I'm Johlene, a South African living in Spain. I am a Child of God, wife to my "super sexy" Spanish husband, mother of two amazing kids, entrepreneur by heart, passionate baker, recipe developer, photographer, editor, and writer. On my blog, FLAVOURS and FROSTING, I post weekly dessert recipes, party diy ideas, baking tips, dessert photography tips, and more.