This post may contain affiliate links which may give us a commission at no additional cost to you. As an Amazon Associate we earn from qualifying purchases.
Let's talk about bringing the outside in! Each year our church holds an annual ladies luncheon, and groups of ladies team together to decorate a table! I look forward to it every year, because I love putting together creative tablescapes. My good friend Cheryl chose to do a summer garden party themed table, inspired by a Peter Rabbit birthday party I did awhile back. We collaborated items, and personally I think the table turned out darling! Plus, we got to enjoy our summer garden party inside with the air conditioning. That is a double win on the easy party ideas list.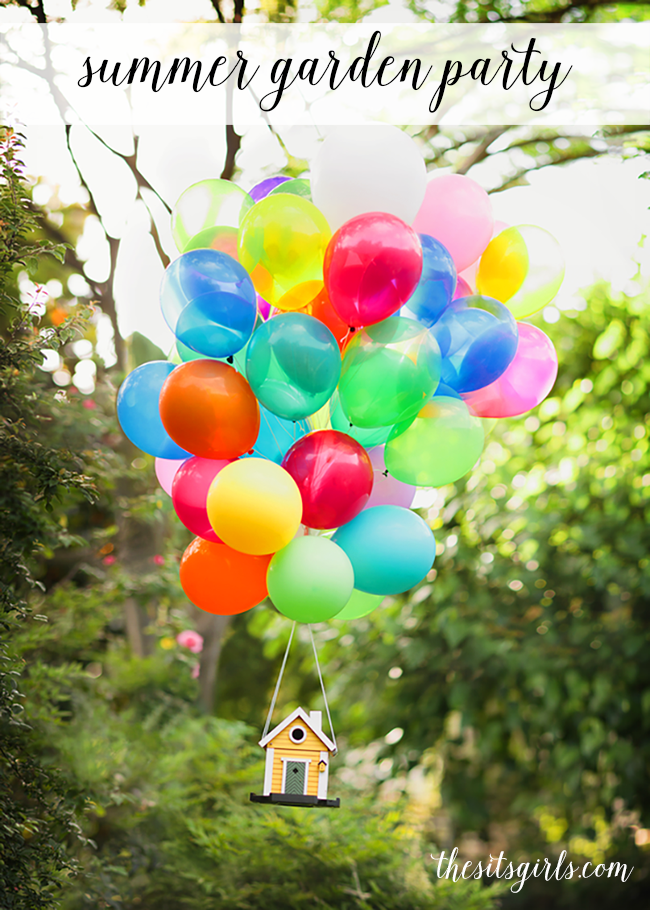 Summer Garden Party Decorations And Tablescape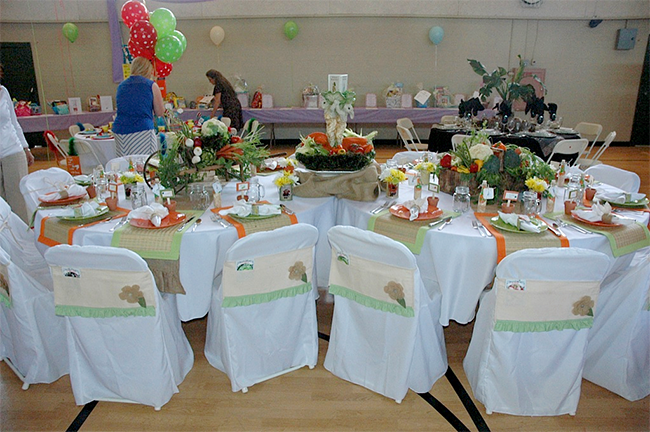 The best part about the table is the lush centerpieces! It really breaks the mold of using tradition flowers, and helps you think outside of the box! You can easily achieve a look like this with all the beautiful fresh produce in the summer season.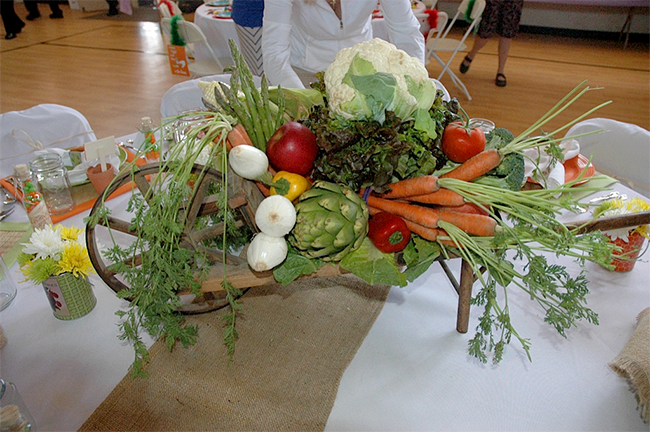 If you wanted, you could replace the vegetables with summer fruit, and then coordinate the plates to match!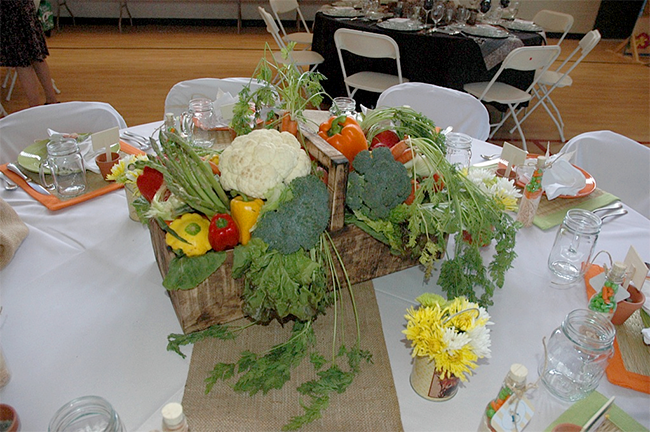 The best part is… drum roll please… the centerpieces can be eaten after! Which means you really get a bang for your buck!
I think the extra oomph for a table really comes with all the small details, and carrying theme throughout the food. For instance, on the back of the chairs there was a gardening apron hung with a packet of seeds sticking out.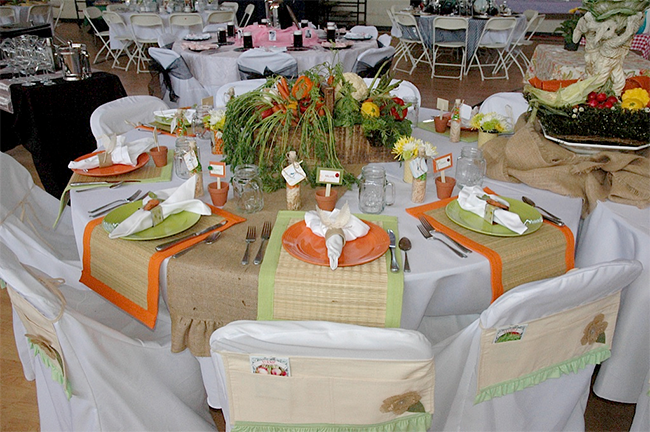 The cupcakes are another example of how to go above and beyond.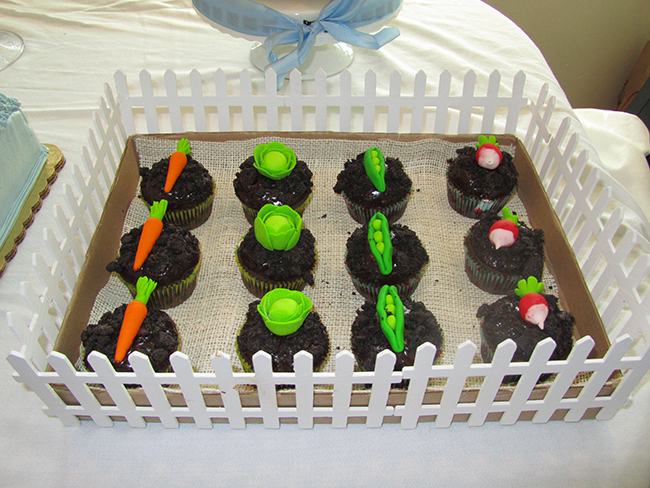 They are topped with crushed oreo, and then darling fondant vegetables.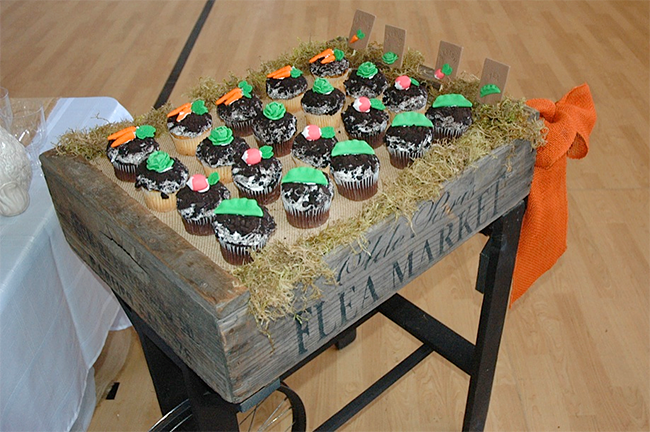 Don't be afraid to bring in larger pieces to set by the table. They can be functional, like the cart holding the cupcake box, or just for decoration like these giant carrots!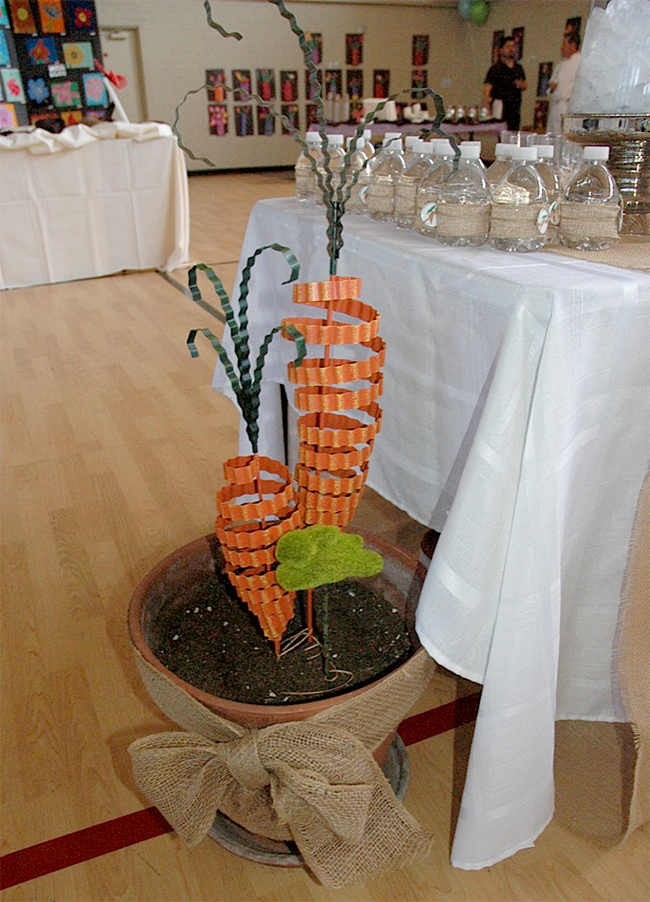 Place Settings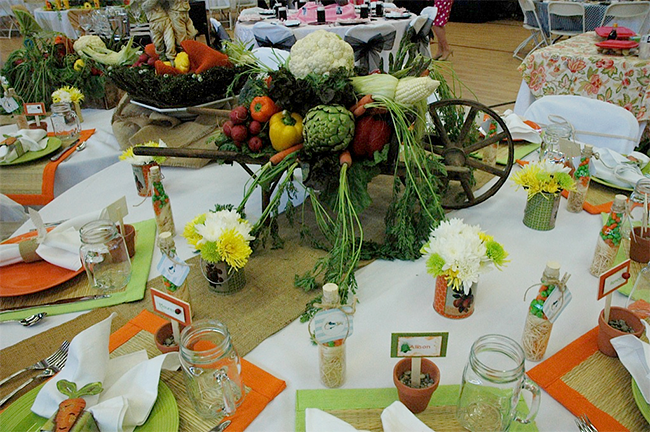 The place settings were comprised of straw place mats, mix and matched green and orange plates, and each lady had their own mini terra cotta pot with their name.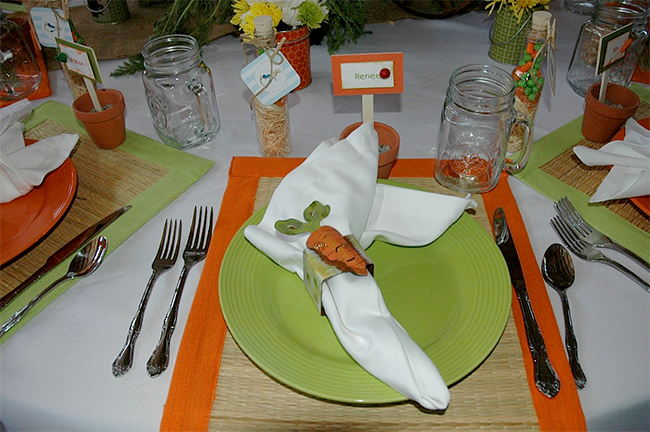 The personalization of things really makes the guests feel extra special. We used burlap runners down the tables, and mixed the burlap around to give it a rustic vibe.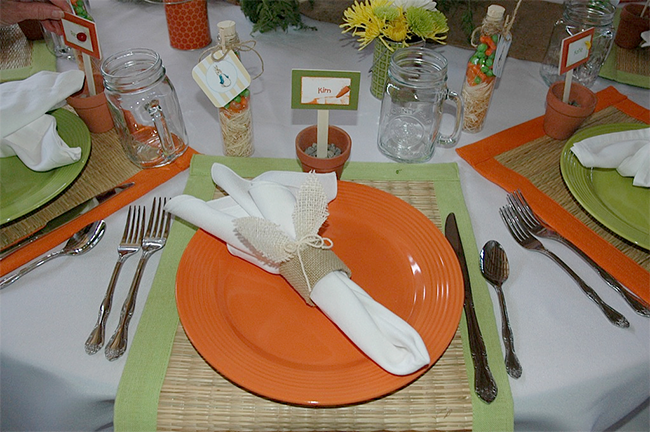 I love to mix different textures, because the three dimensional aspect really brings the table to life. Again, if you are wanting to invest in a few pieces for a party that you will be able to reuse I would recommend burlap table runners or table clothes. They are cheap, and can be used for a variety of themes. I buy mine off of saveoncrafts.com and have never been disappointed.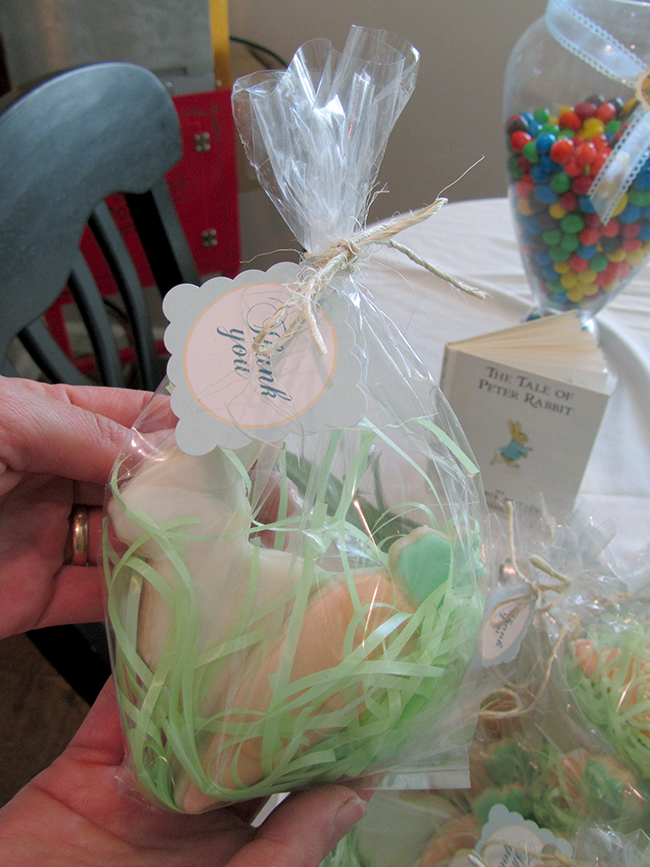 Take a look around outside, and see what in nature is speaking to you! If you have a cherry tree you could do a beautiful red and white table with a giant bowl full of cherries for a centerpiece. Or perhaps you have some corn growing, why not do a farm themed table! Think outside the box, and bring the outside in, summer is the perfect time for that!