This post may contain affiliate links which may give us a commission at no additional cost to you. As an Amazon Associate we earn from qualifying purchases.
My obsession with superhero things has been intensified lately. I think I love the idea of having a super powerful alter ego. I also swoon over little boys dressed in superhero costumes. It is just the cutest thing to see them so wide eyed and open to the world of imagination, and the idea that they can be anything they want. So, when a good friend told me she was throwing a superhero party for her little guys, I jumped at the chance to help. I didn't have to think hard to come up with super hero party ideas, because there are so many easy party ideas that work well with the superhero theme.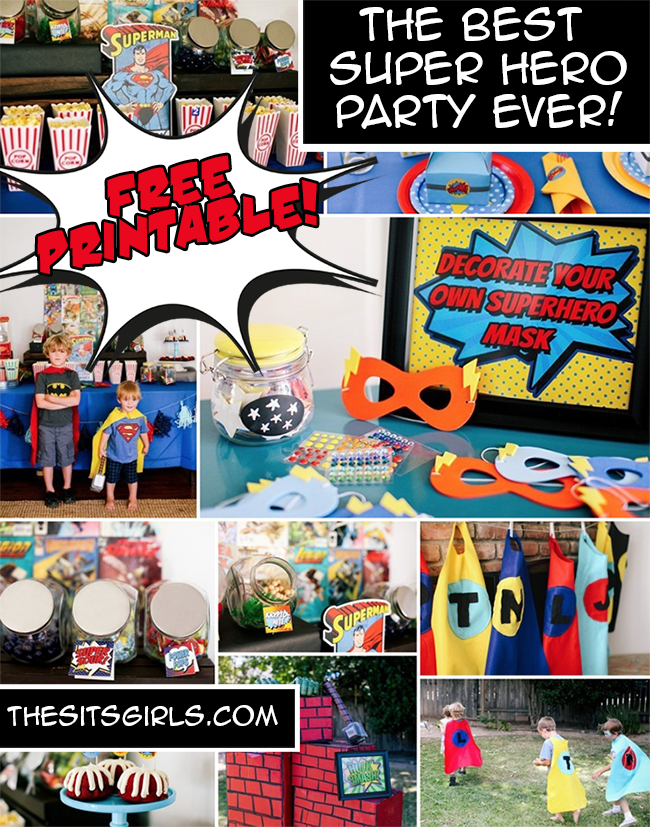 Super Hero Party Ideas
For a super hero party, I love the idea of mixing patterns. It is all about graphic black and white with big pops of red, blue, green, and yellow. The brighter the better, it is fun to go overboard sometimes, and a superhero party is the perfect theme to break out of the mold.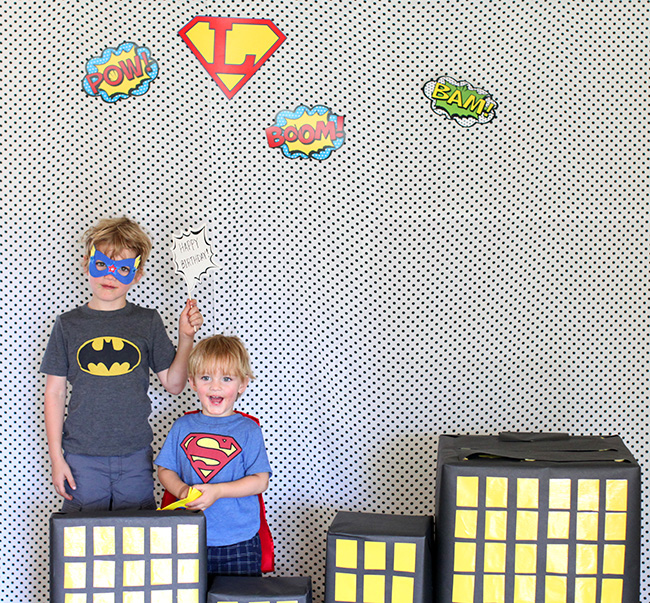 At the entrance to the party my friend created a beautiful backdrop for a photo booth. Her husband built it out of pvc pipe, and she draped the cutest black and white polka dot fabric. She also covered boxes in black paper, and used yellow duct tape to make little building for our superheroes to protect in the photos.
Super Hero Party Food Bar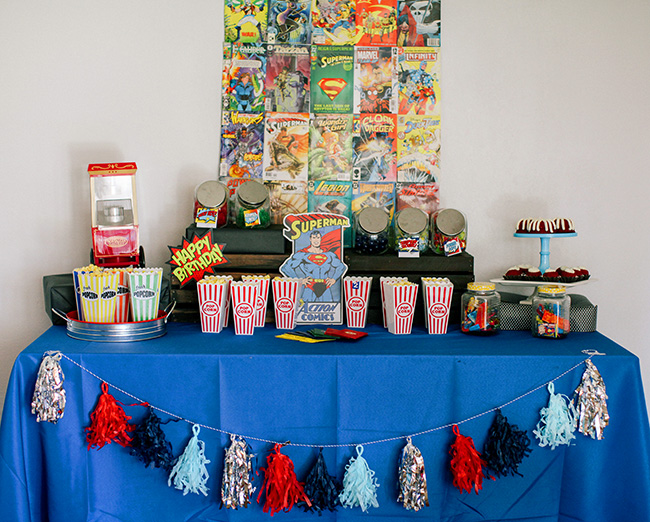 We did a dessert table with a little candy bar and popcorn.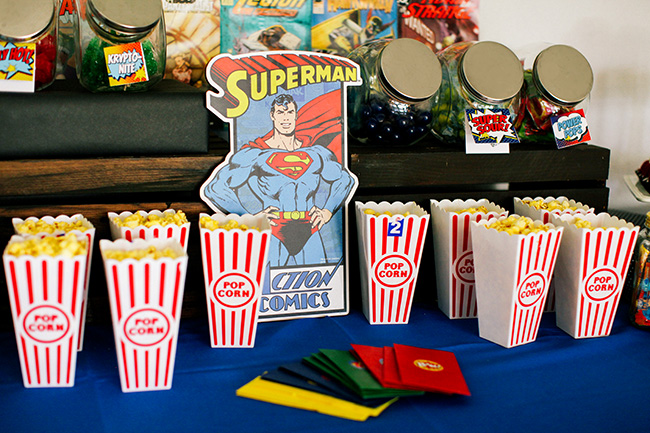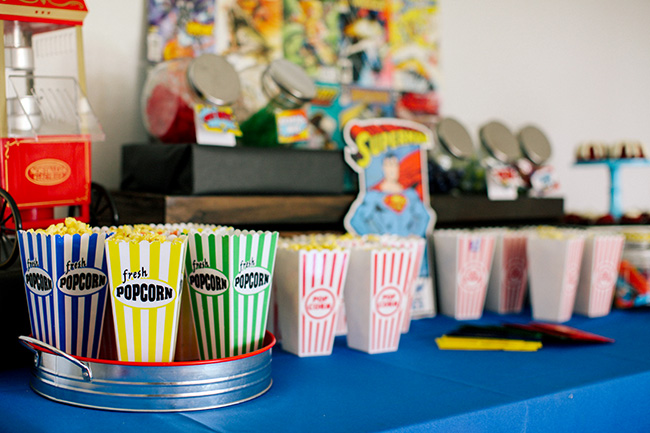 The candy we chose were cinnamon bears for the "Holy Hot", Lemonheads "Super Sour", green rock candy lollipops for "Kryptonite", and ring pops.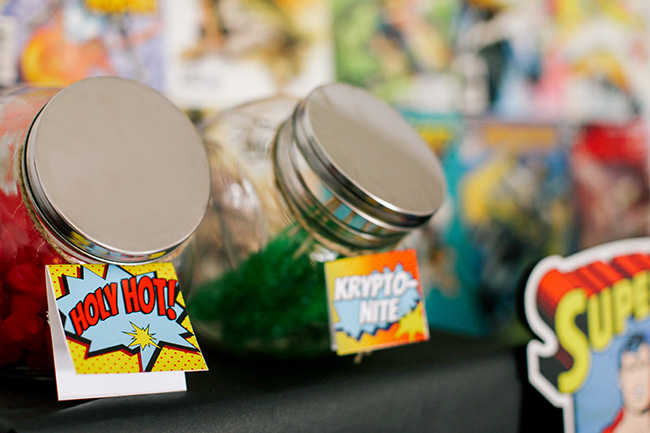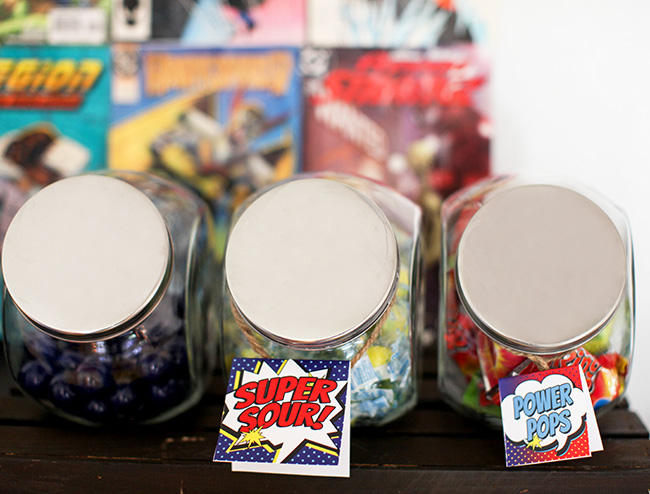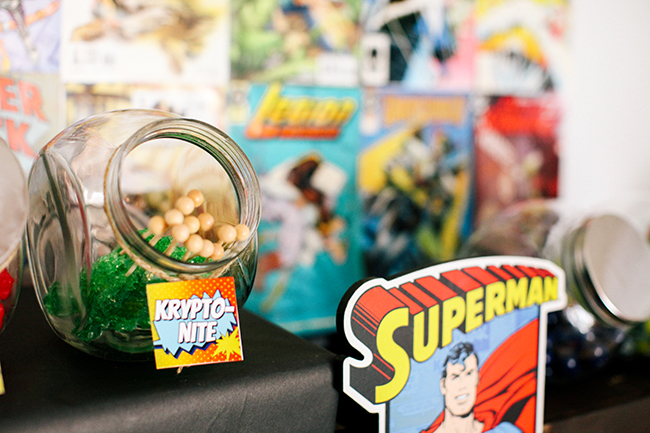 The birthday boy's sister stated that the ring pops reminded her of the green lanterns power ring, so it worked perfectly!
Just like the candy, drinks can easily be given a super hero theme with the right sign! We had "Invisible Water" and green "Hulk Punch!"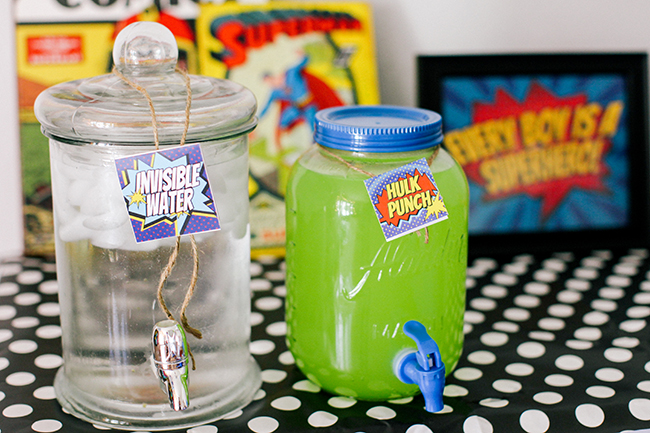 We also had a few homemade dessert options like mini bunt cakes and Thor's Hammer pretzel sticks.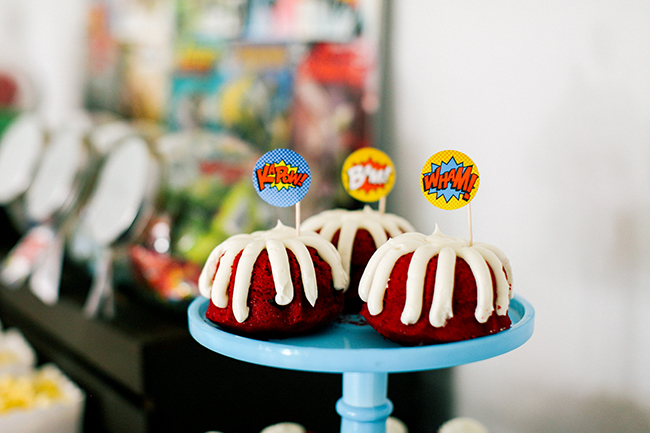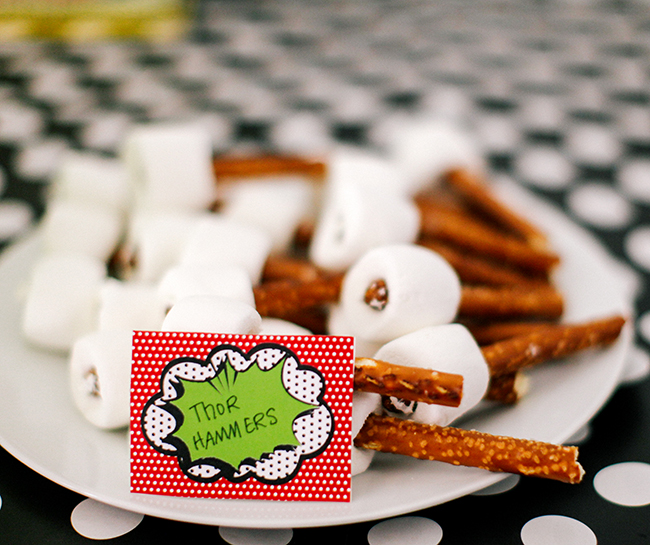 The backdrop for the sweets table was made using the front of comic book covers that I found in a huge bundle at TJMAXX.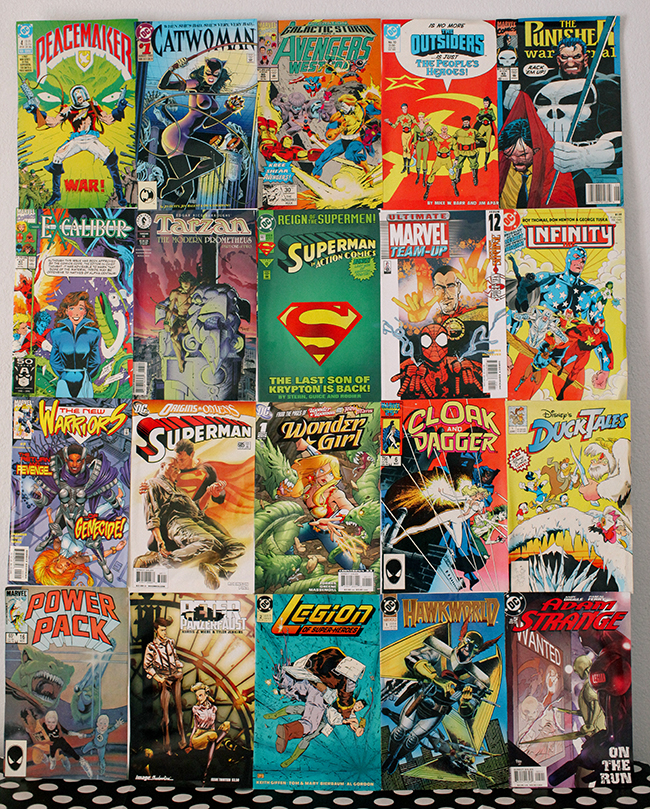 I just Mod podged them to a large poster board, and it fit perfectly in the space!
Super Hero Party Games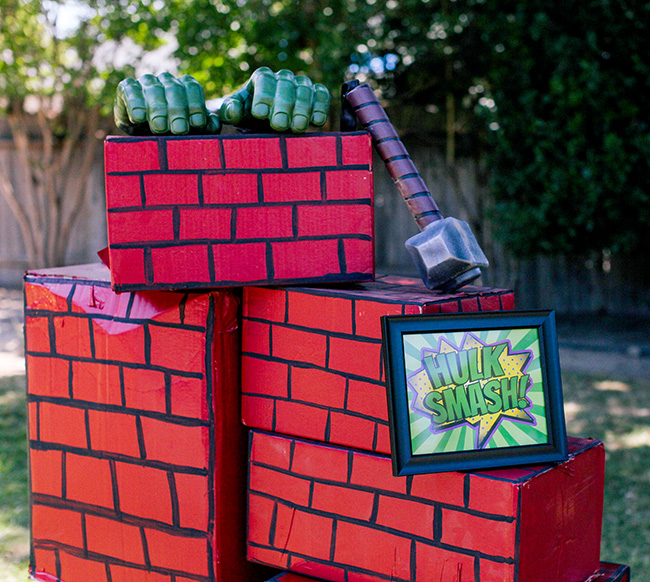 Of course a party isn't a party without games! We started with Hulk Smash. It was a fan favorite, because after all who doesn't love to smash some things up! The boxes are painted to look like bricks, and boys put on hulk hands, and went to town.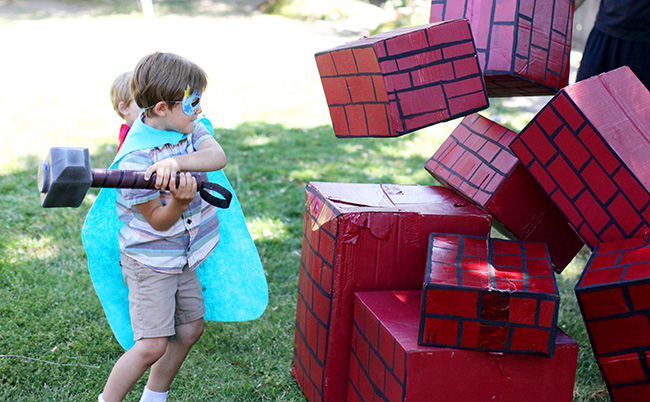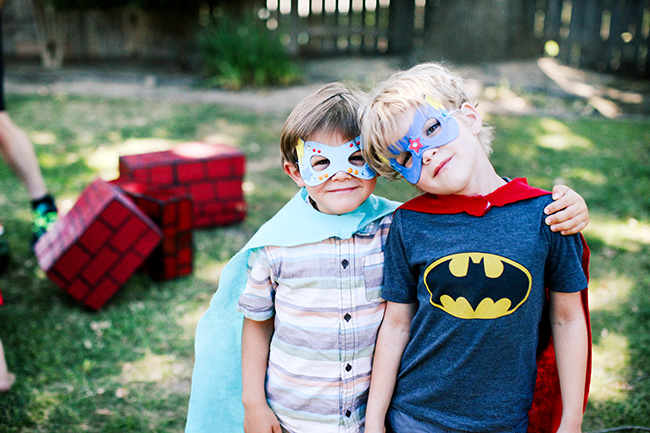 Super heroes need a mask, so we set up a decorate your own mask station for the kids.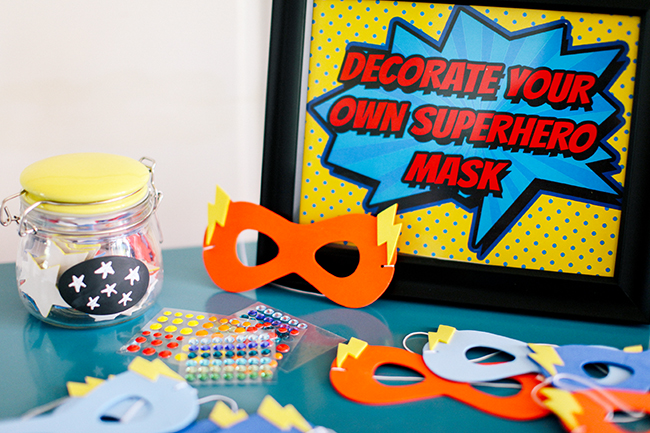 The fun and games didn't stop there, we also had "Spidey String" for the kids to use.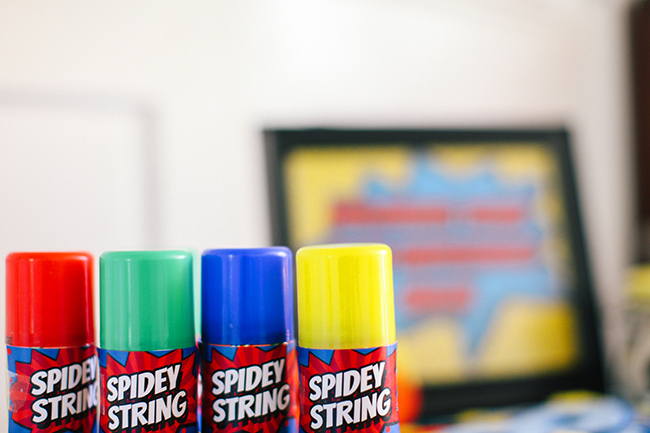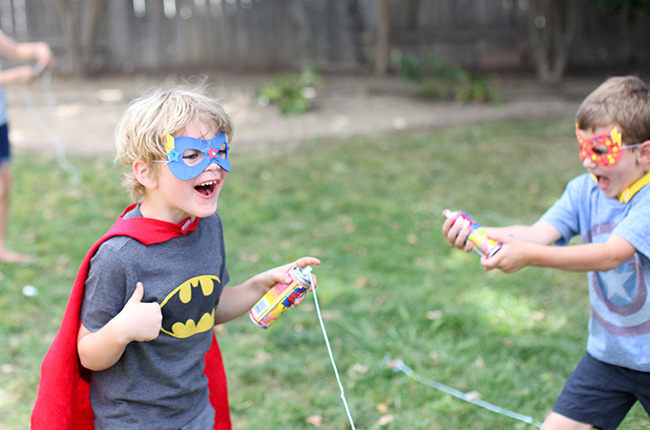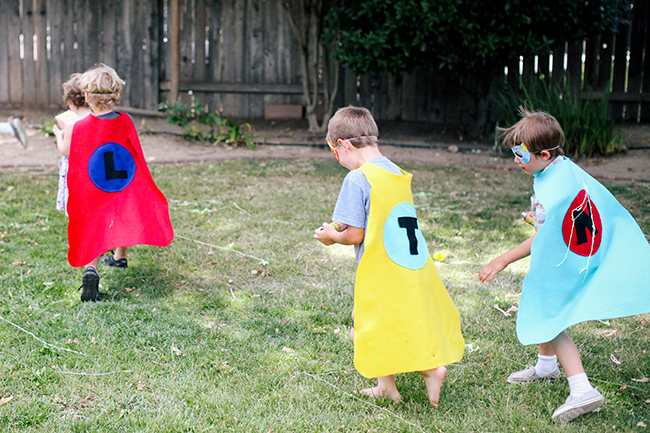 We made felt capes with each boys' initial on them – they were the perfect addition to the super hero masks.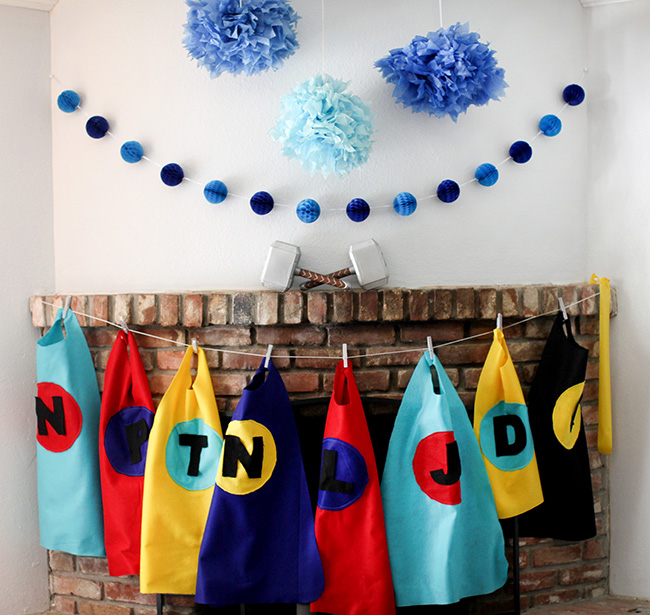 The capes were sewed, but if you are not keen on using a sewing machine, you can use a hot glue gun to add the initials to the back of the capes.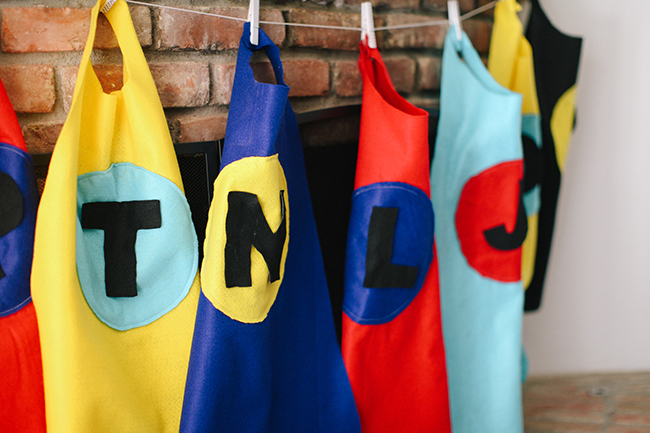 After all that work our little superheroes were super hungry, so they made their way to their own little dining table. This was one of my favorite spots, because it was so simple and cute.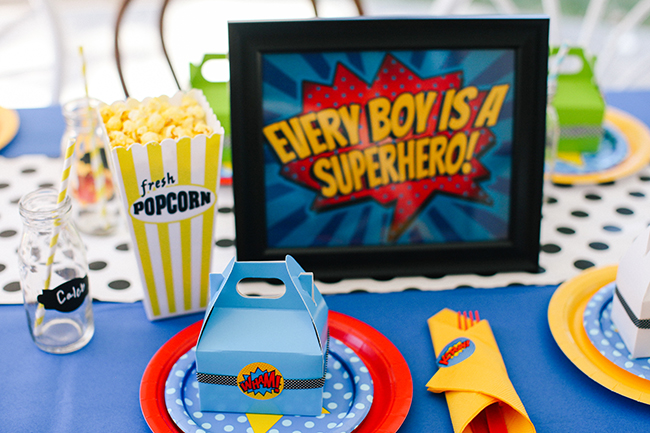 Ready to have your own Super Hero Party?
As I have said numerous times… I reuse pretty much ALL of my decorations. So when buying things I always think, can I reuse this? With 4th of July parties right around the corner, summer is the perfect time for a superhero soirée. The red, blue, and white decorations can be used again.