This post may contain affiliate links which may give us a commission at no additional cost to you. As an Amazon Associate we earn from qualifying purchases.
Summer is one of the best times for parties. The bright colors and long summer nights practically beg for a get together. I have yet to throw a huge summer soiree, but my girlfriends recently threw one for me! I was the recipient of a super fun surprise tropical party! The decor, food, and company were absolutely perfect. They mixed and matched colors, textures, and ideas to throw the perfect Hawaiian Bash!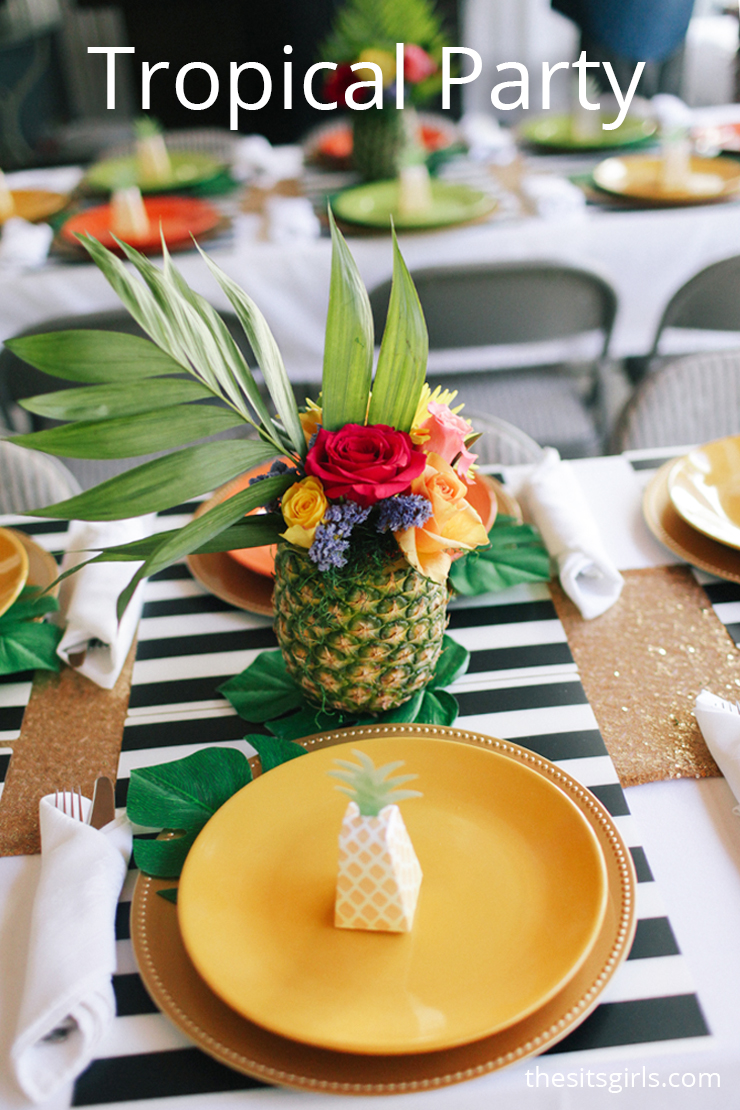 Tropical Party
My favorite thing about a tropical party is the vibrant colors! I loved how they used various textures to make fabulous, festive flower arrangements! When you are planning your party, think about big palm leaves, vines, pineapples, and coconuts! Use whatever speaks to you and makes you feel like you are in a lush jungle.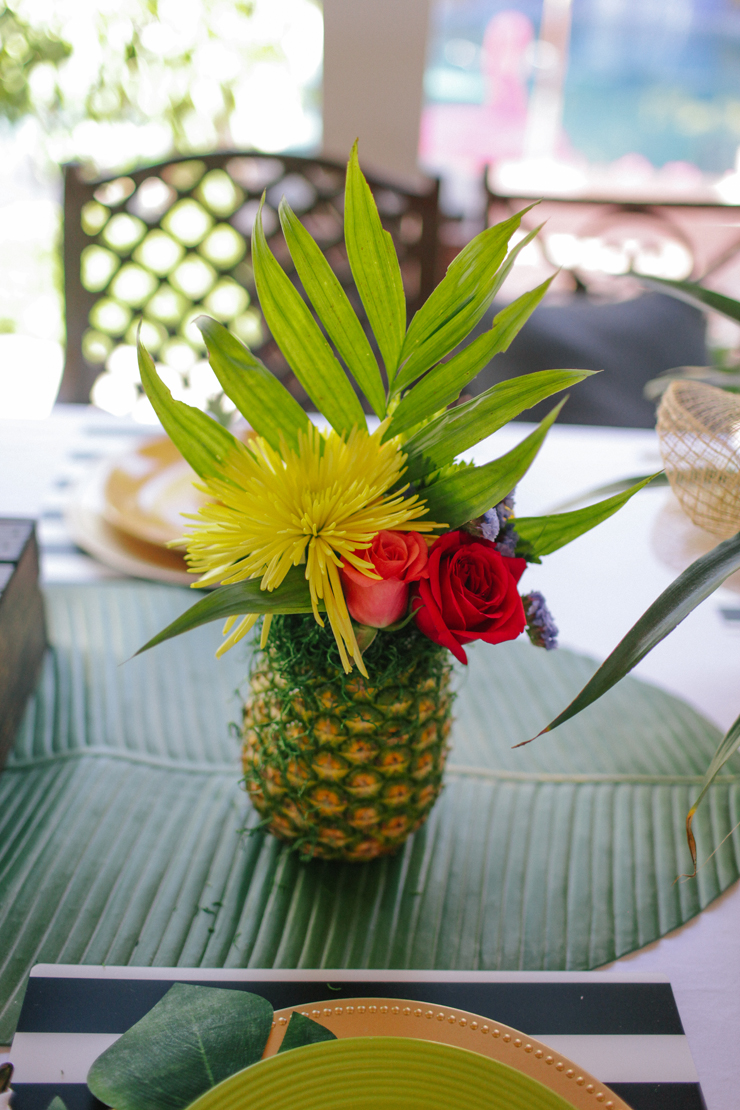 Pineapples actually make fantastic vases. Put flowers in your pineapples and accent them with tropical leaves.
Tip: To make sure the water stays in the pineapple, cut a water bottle and put it in the center.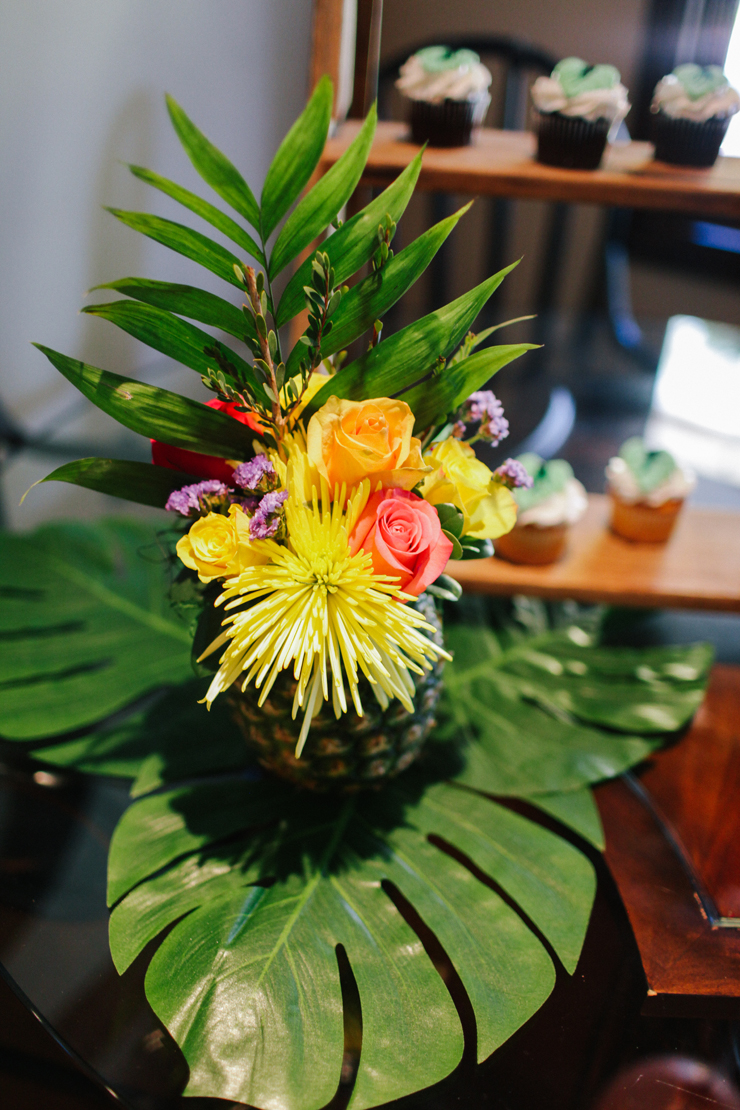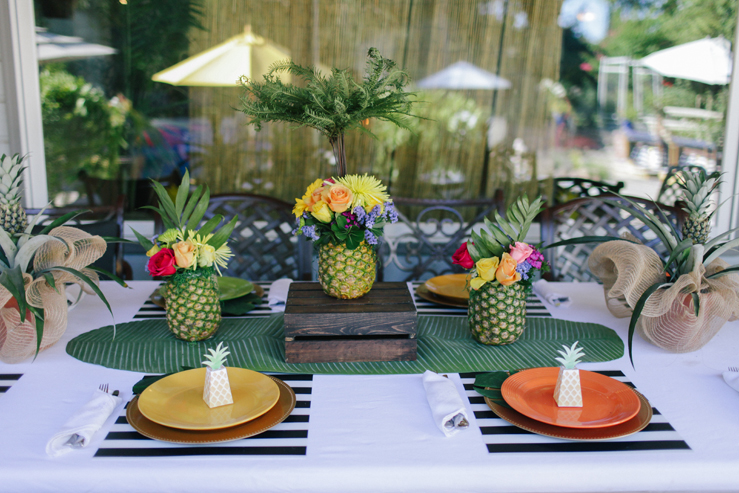 The tropical leaves add a lot of drama. You can find palm leaves and palm plants at pretty much any garden store.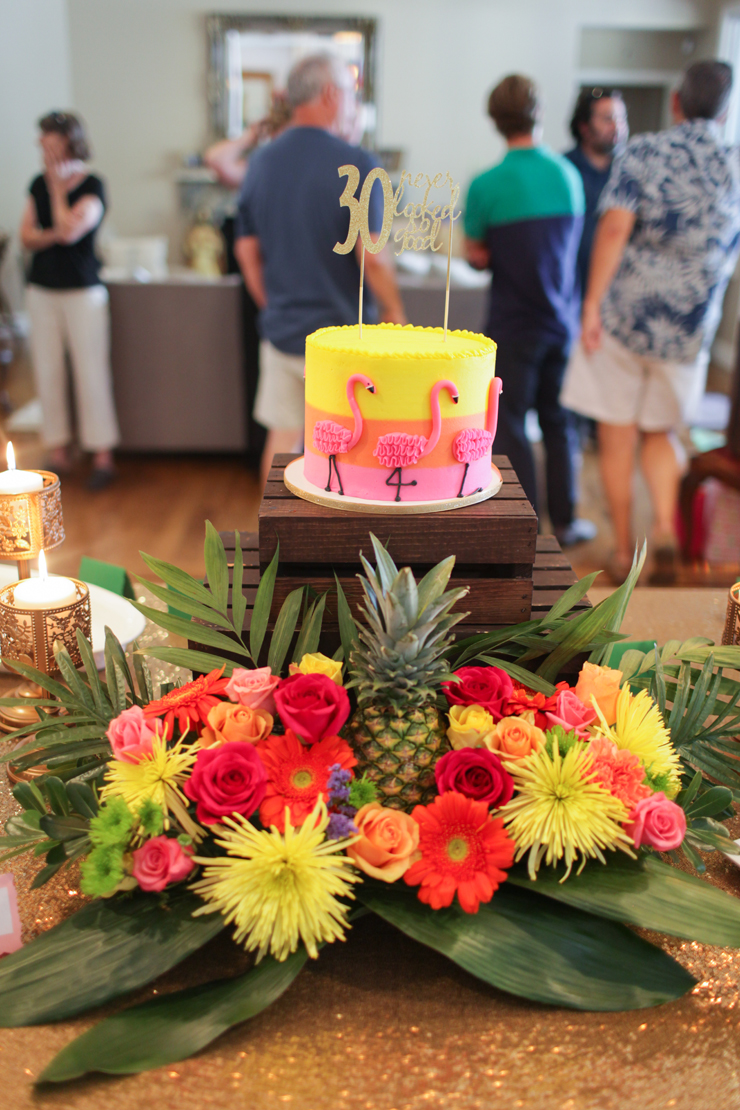 Tropical Party Food
Good food at a party is a must. The goodies at my surprise party all went with the tropical theme. There was key lime pie, flamingo sugar cookies, donuts made to look like pineapples, pineapple chocolate suckers, macaroons, and much more. Let's just say, the guests did not leave hungry!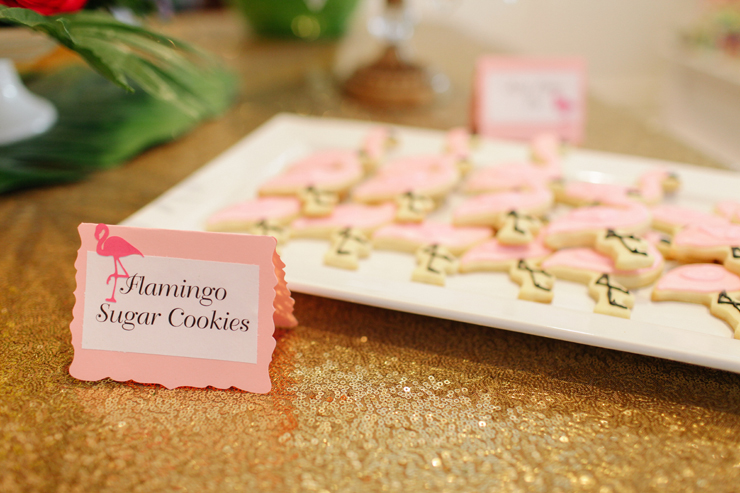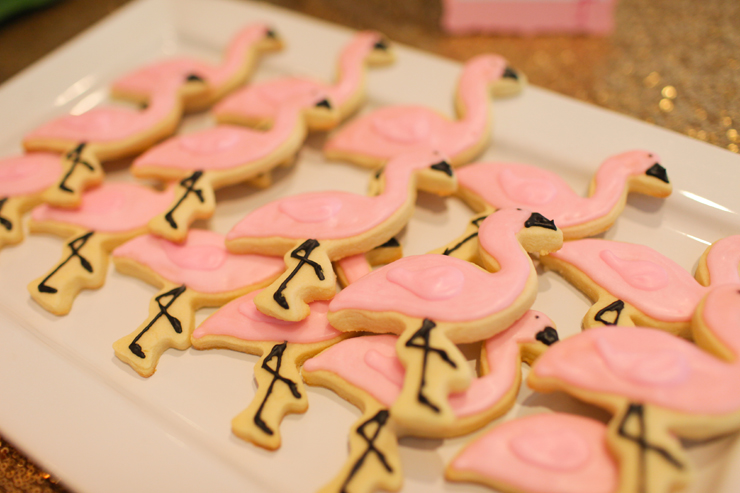 The chocolate suckers were so cute and perfectly festive, all it takes is a mold and some green and yellow candy melts!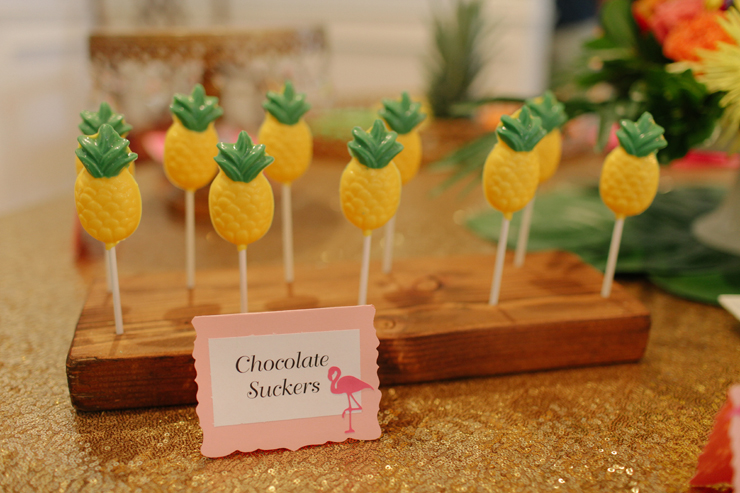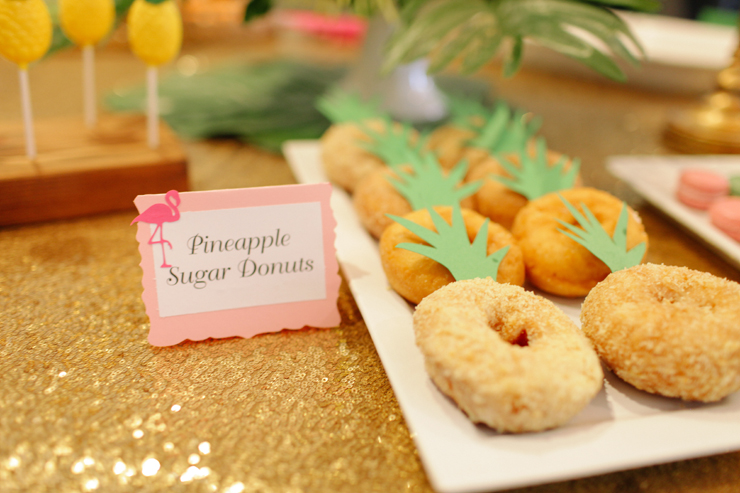 A plate full of doughnuts can easily be made to look like pineapples!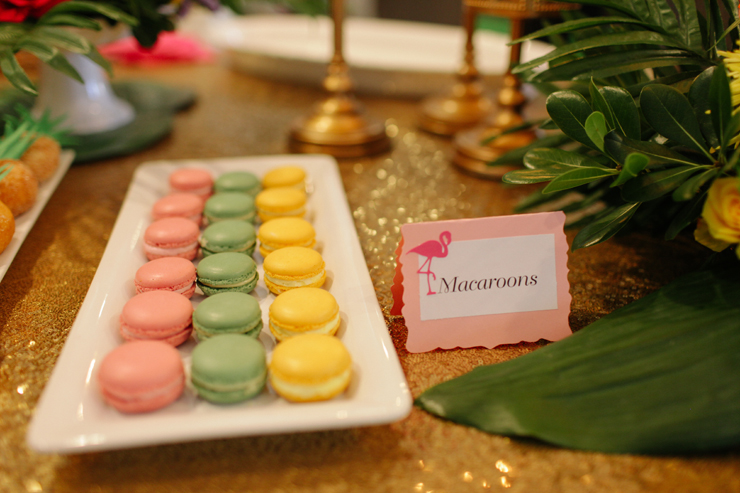 My absolute favorite food item was the cake! It was so colorful and fit the theme perfectly!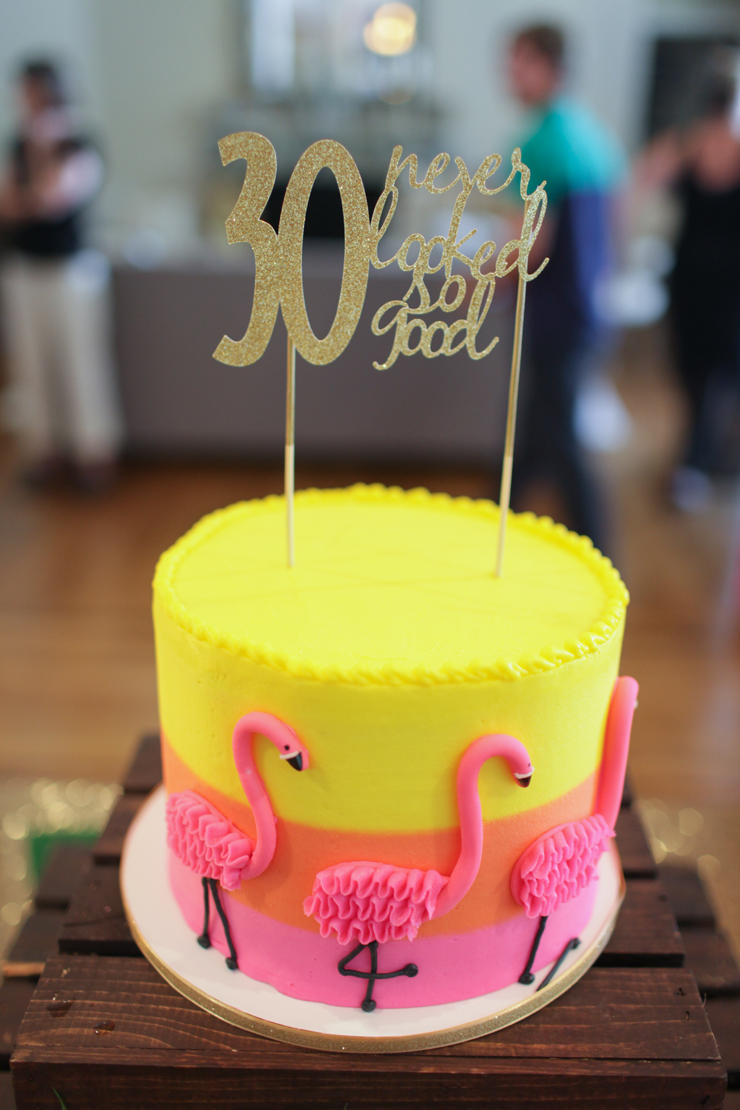 The matching cupcakes were also well received. A simple palm leaf motif is the perfect accent. Sometimes simple is the way to go.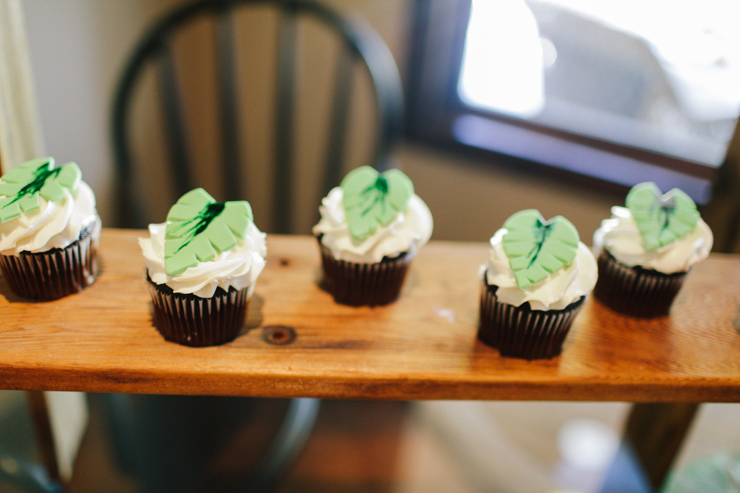 Tropical Party Tablescape
I am lucky enough to have a friend who is an amazing artist. She is always my go-to for party signs. She created a beautiful, festive Mojito Bar sign as well as a fun "Let's Flamingle" framed chalkboard sign!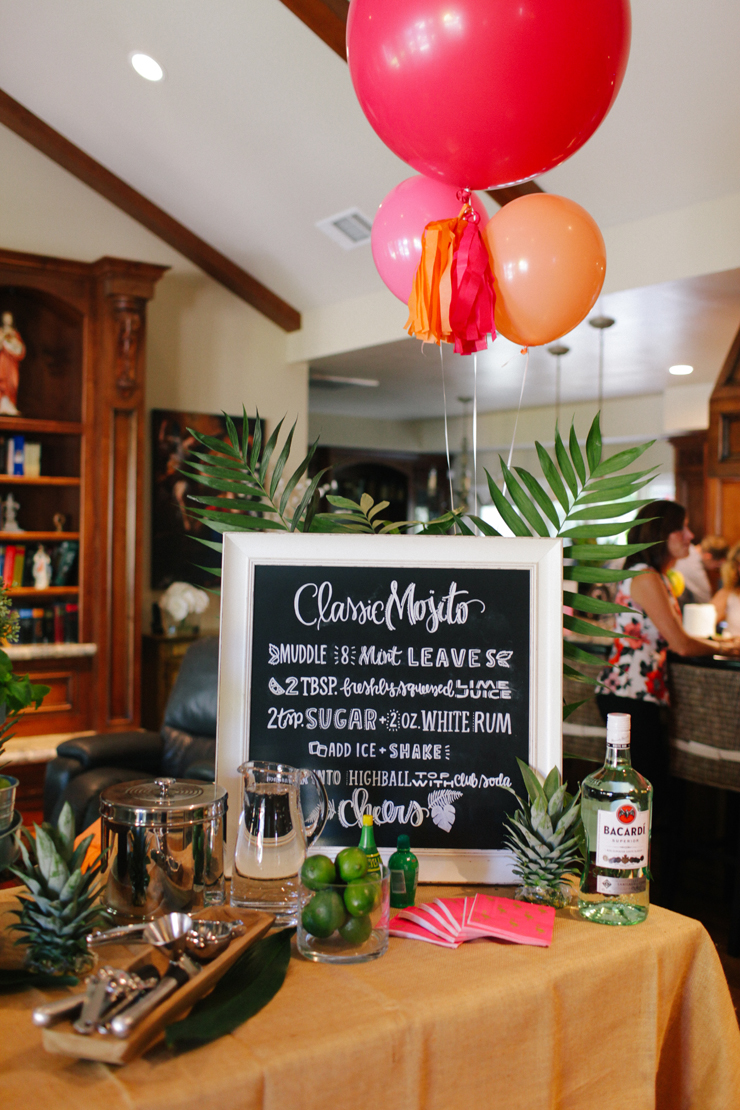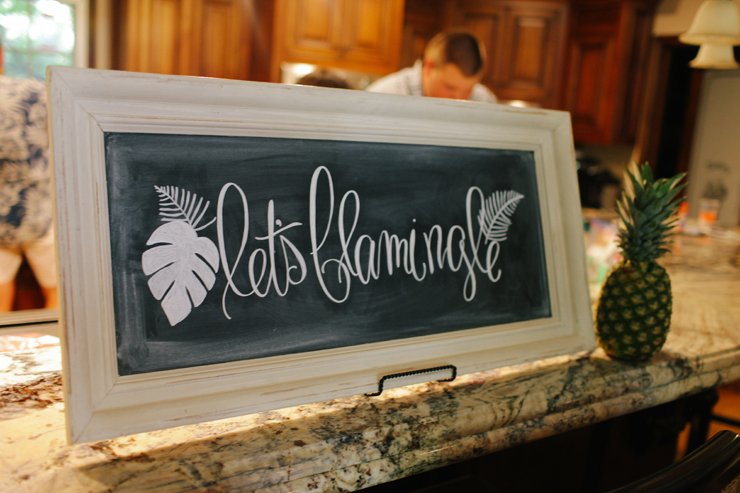 Guests took their treats and food to the backyard and dined in a tropical paradise. I loved the combination of the bold black and white place mats with the laid back look of all the tropical decor. Three different colored plates were used, but they all lived in the same color family, so they worked perfectly!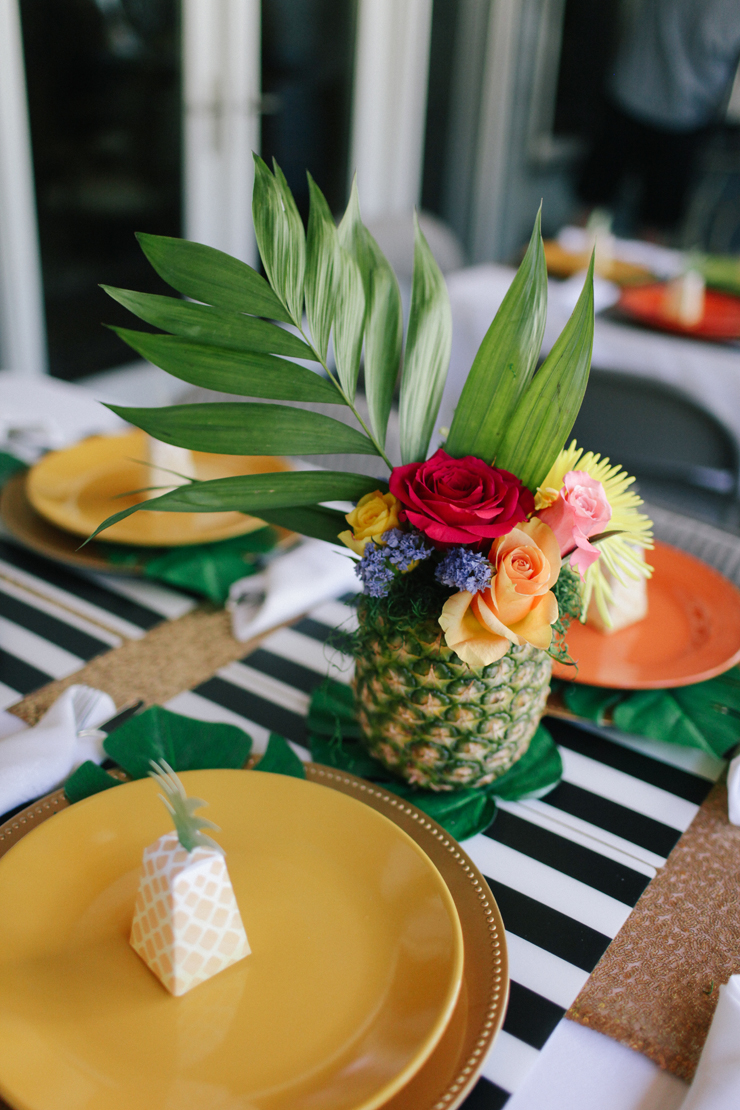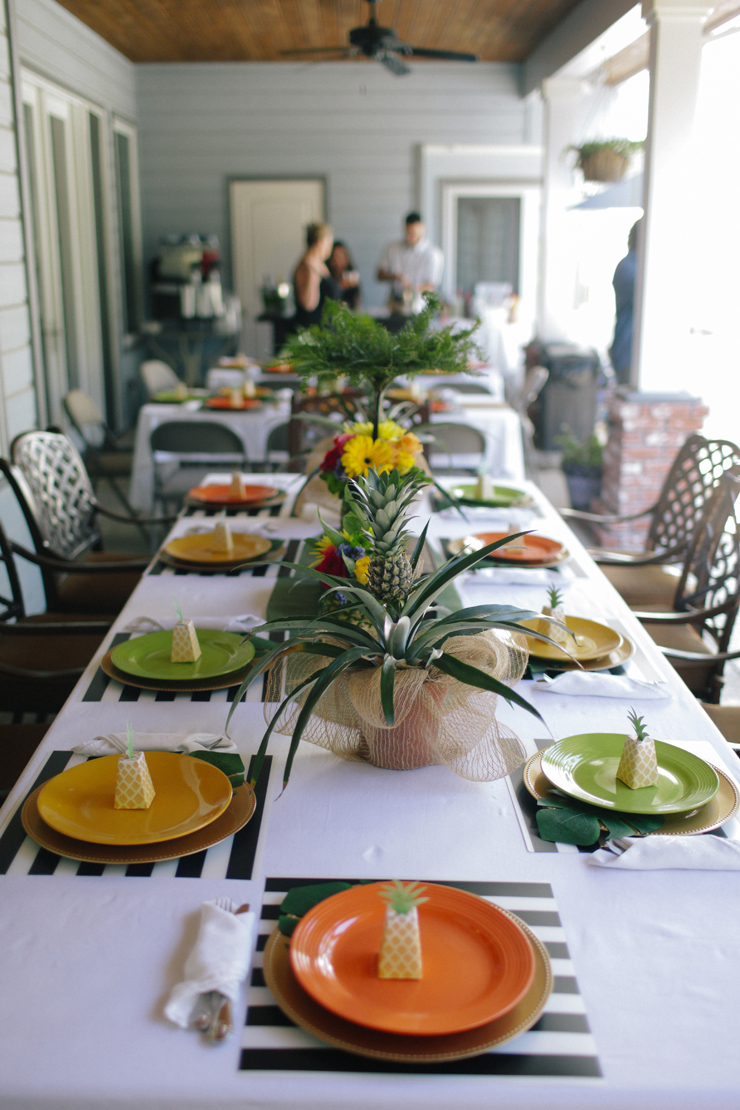 Another great touch to the party was the picture display. My friends paired another amazing custom sign with a bamboo backdrop. It was a great way to add personalized fun to the party.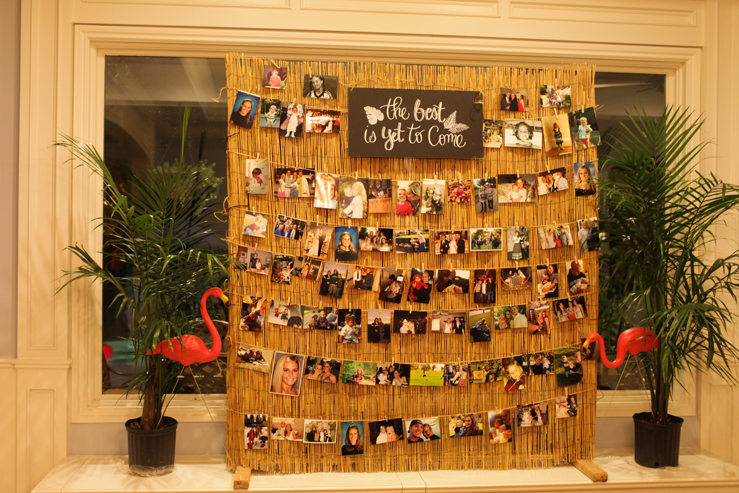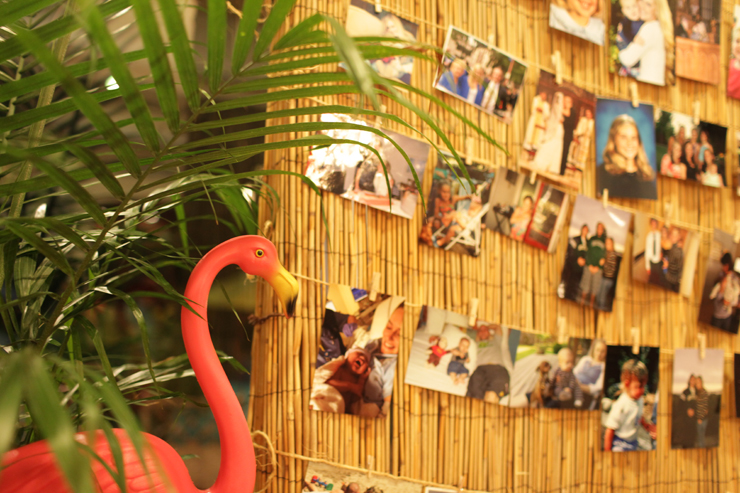 Lush flowers and fun pink flamingos were all around to create a fun atmosphere. Add in a margarita machine, and you have an instant party!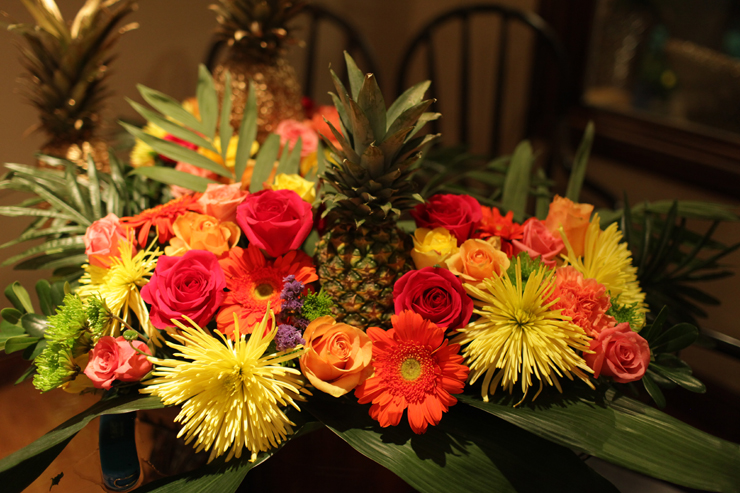 Tip: For an extra glitzy idea… spray paint a few pineapples gold!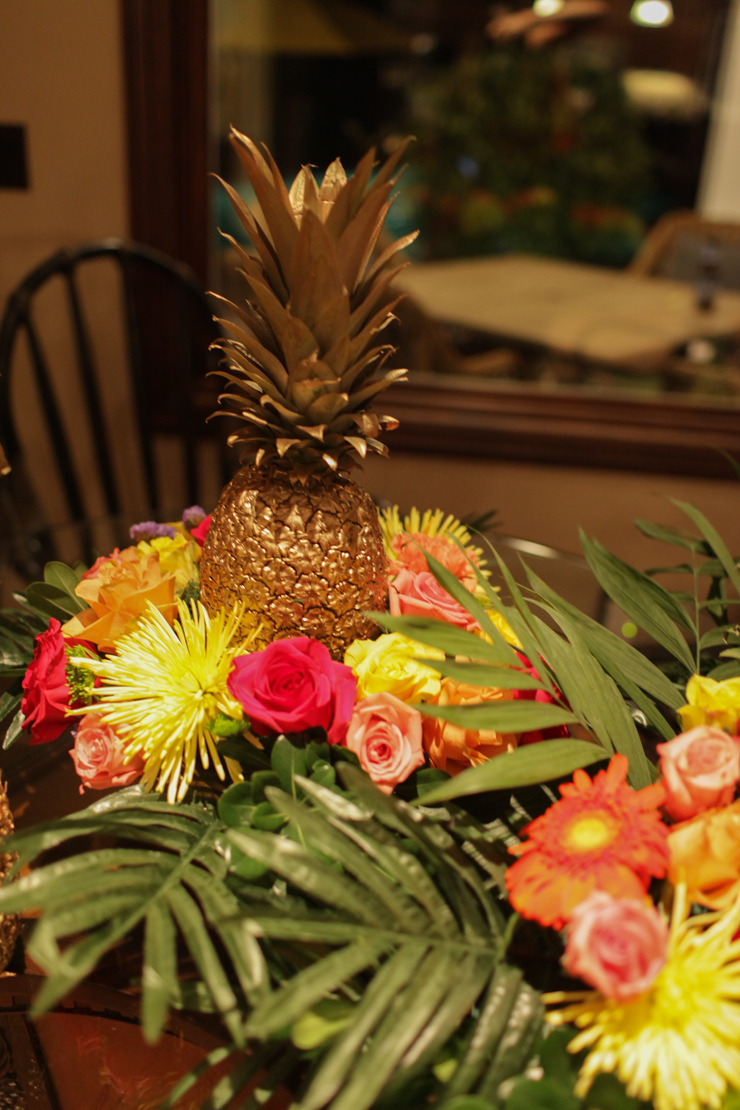 You can never go wrong with gold foil balloons. They add a huge impact without spending a lot of cash! Put them at the entrance table and let guests get in the mood for a good party!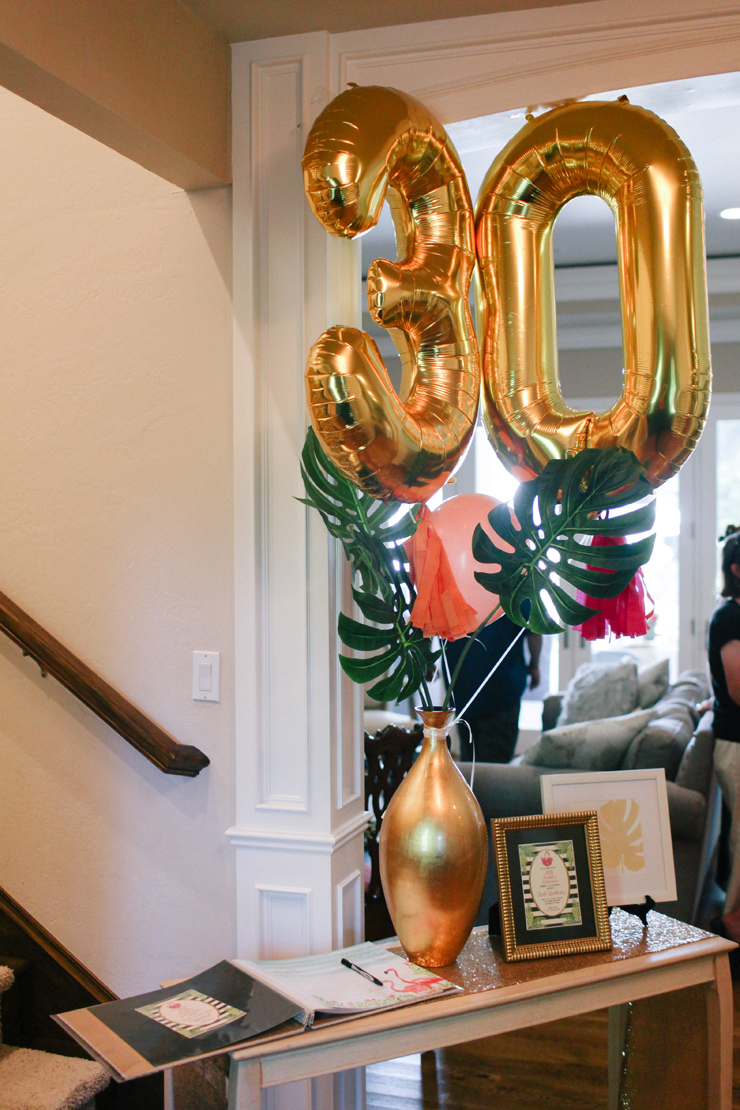 Your tropical party should be fun, bright, and most of all, relaxed.
Guests should feel like they are free to lounge around and enjoy delicious drinks and treats.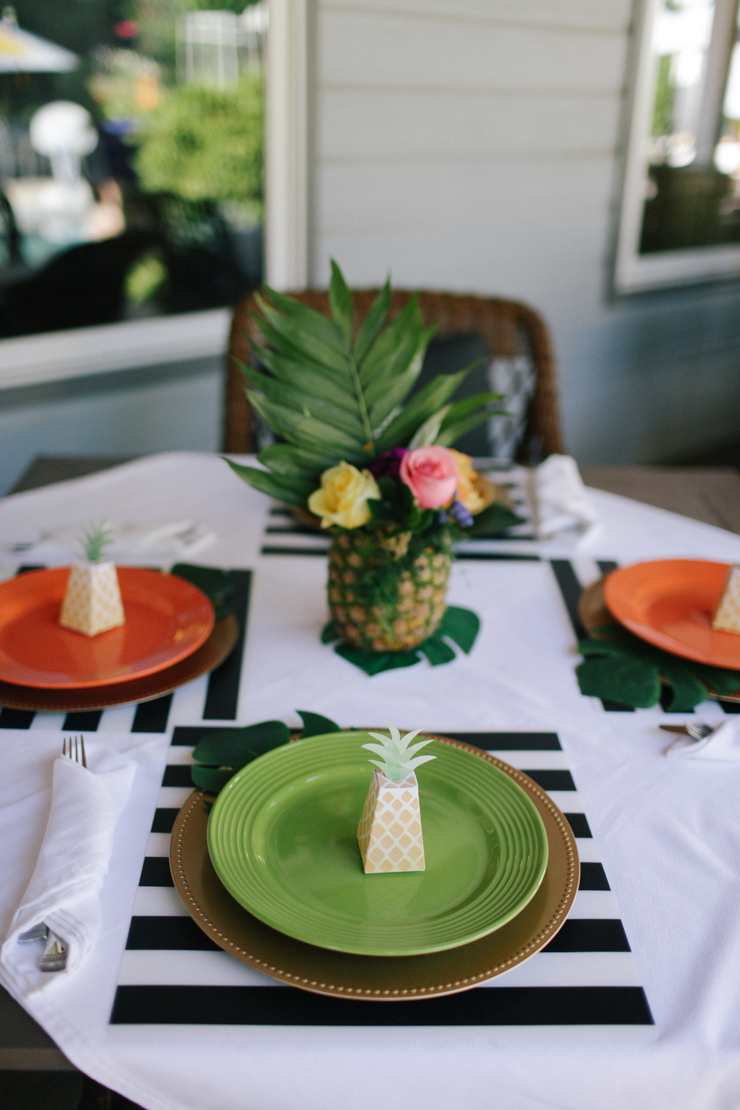 With these fun party ideas, you are ready to throw the perfect tropical party!