This post may contain affiliate links which may give us a commission at no additional cost to you. As an Amazon Associate we earn from qualifying purchases.
I was seeing #YOLO all over Instagram and twitter, and I literally spent the better part of a day trying to figure out what it meant, and thinking, "Wow I guess I really am old and uncool." It hadn't hit me that I am no longer up to date with the cool lingo. I guess having a few kids will do that to you! If you are still wondering what it means, the term YOLO means "You only live once", so basically an unfancy way to say Carpe Diem! Around that same time, my niece's 12th birthday was coming up, and I had no idea what to do! She wanted to swim and have an end to summer feel to her party, but she also wanted a "cool party for her friends."  As I sat thinking about easy party ideas for teens and almost-teens, it hit me — A YOLO party would be perfect. It was fun for the kids and earned me some "cool aunt" points, too!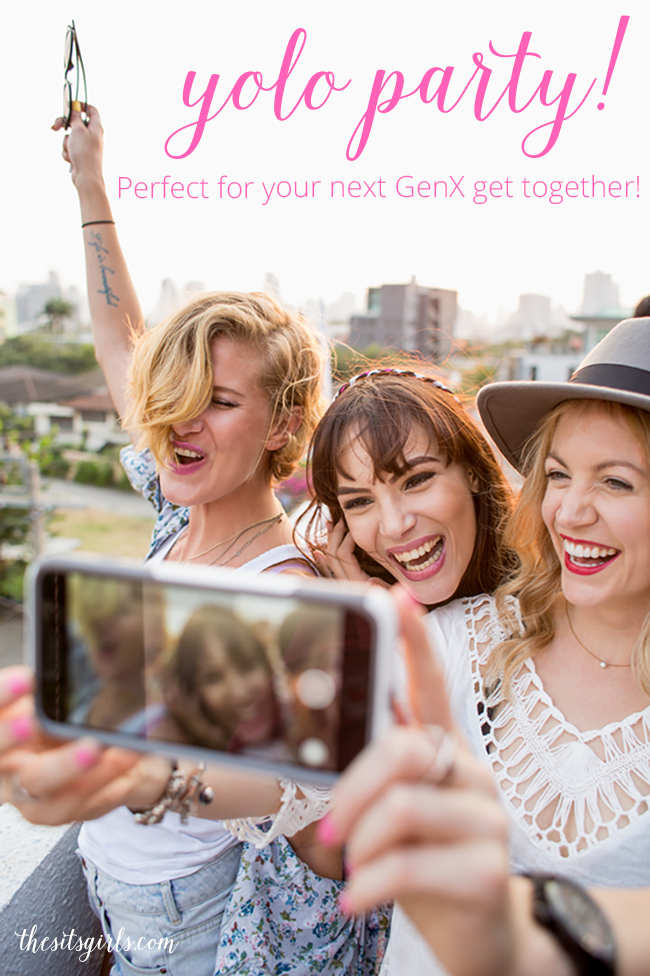 YOLO Party Ideas For Teens
The décor for this party was meant to be a little kitschy and funny. For a tween girl I think bright colors, and a little more out of the box, is the perfect way to lighten up the mood.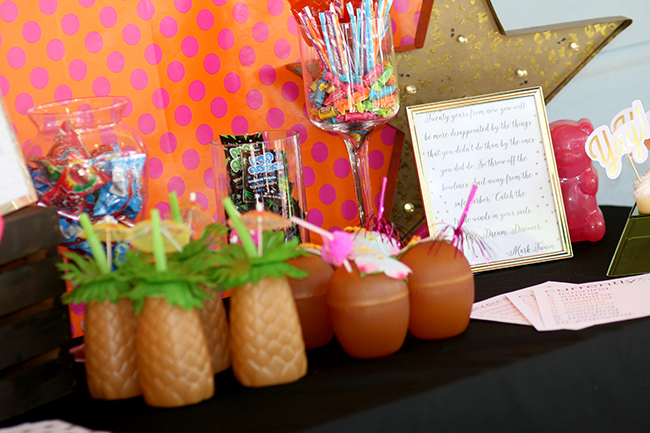 I combined a lot of hot pinks, oranges, purples, and any other color I could get my hands on. My favorite element was this cute little garden gnome that said LOL, the girls just about died when they saw him.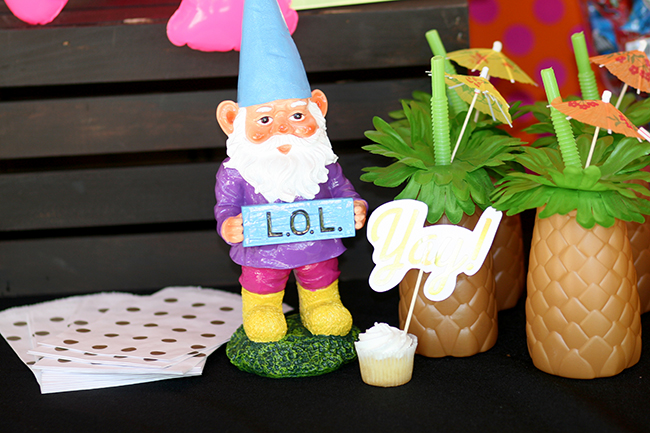 He has since found an everlasting home in my niece's bedroom. So I would say I scored with that. They also loved these darling printables.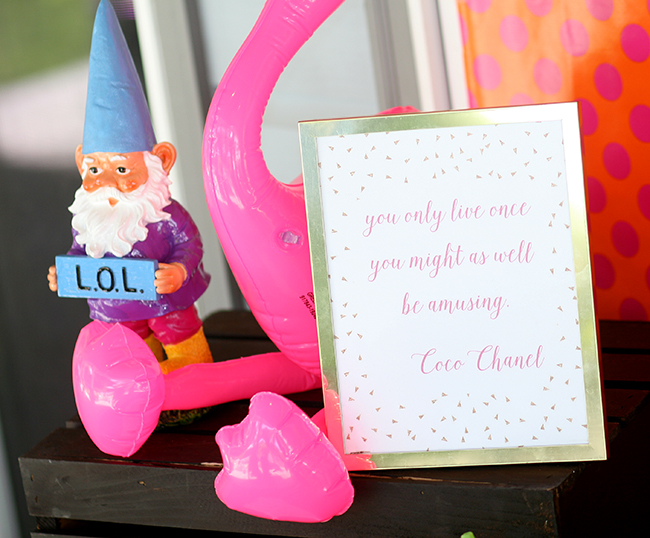 I think the two quotes are from two pretty interesting and amazing people, so the tweenies can find some good inspiration on their quest to rule the world.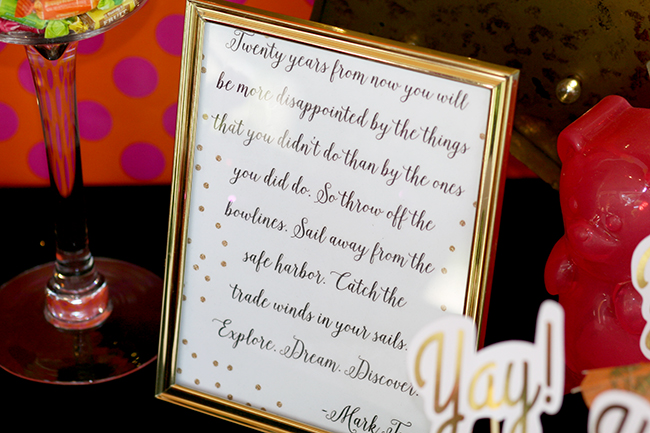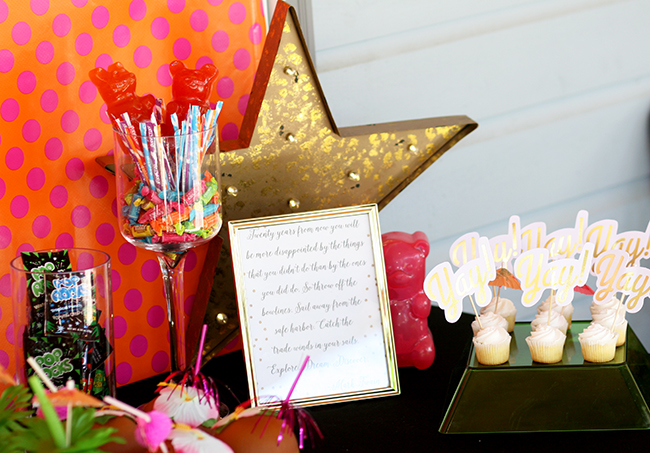 The best part is, you can frame them, and then hang them in their room after the party.
YOLO Party Food & Drinks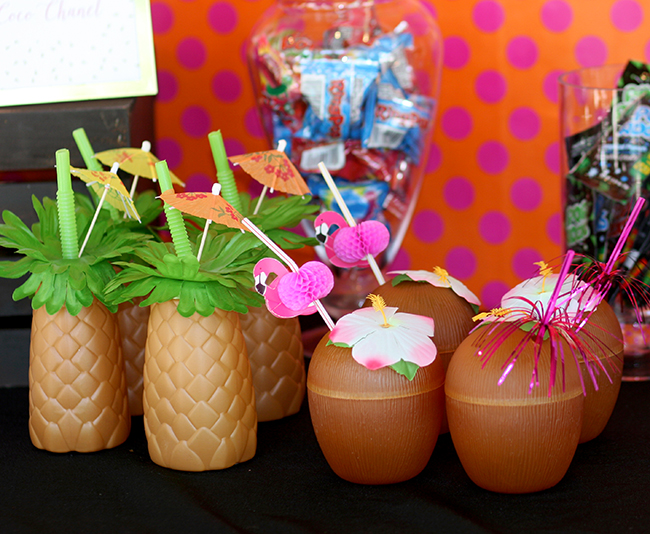 The drink holders were such a hit, and made the girls feel like they were in a fancy poolside resort.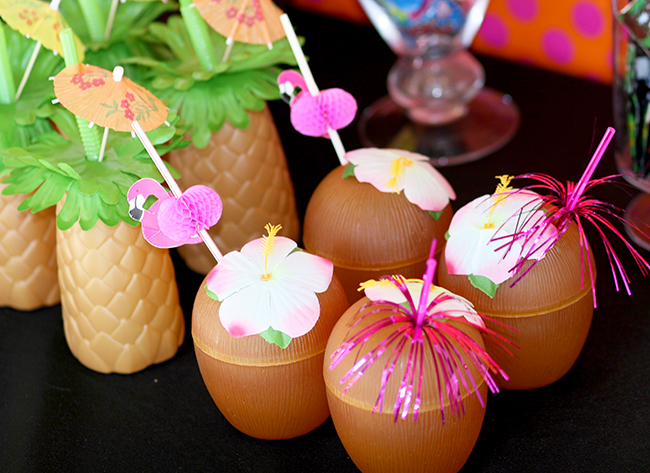 Each one got to take one home with them, as a sweet little reminder of the fun day.
For the candy bar I tried to do candy that I thought was super cool when I was younger. I remember thinking pop rocks and pixie sticks were awesome, so I knew the girls would think it was a treat. I will say, the jaw dropper was the giant gummy bears on a stick, they couldn't believe that they were real. And, I couldn't believe that they actually ate them all!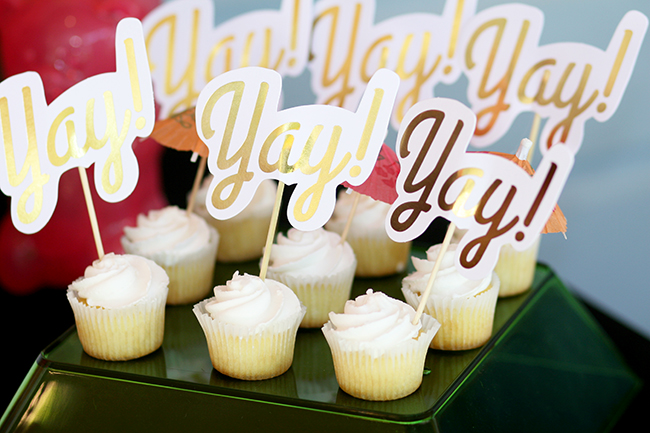 The mini cupcakes were adored with the cutest, "YAY" signs, and were the perfect two bite treat. I have decided that mini cupcakes are my new favorite thing for a party. I feel that people actually end up eating the mini cupcakes more than they do a regular sized cupcake. So from now on, my motto is, mini cupcakes till I die.
After the girls consumed enough sugar, they filled out this cute printable that was all about everything they were currently doing.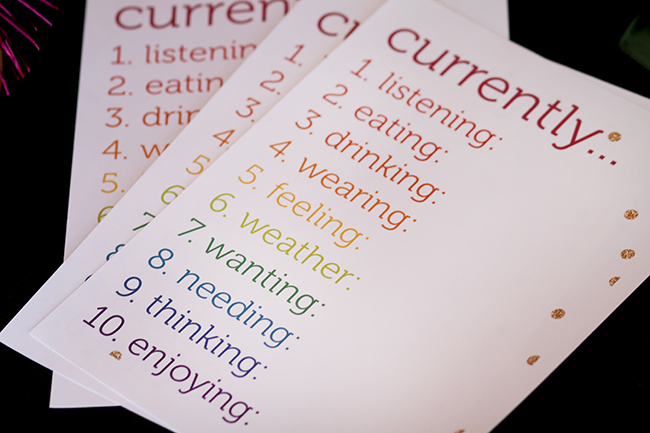 They got to show their parents when they picked them up, and to be honest, this might have been the best printable idea ever. The parents were thrilled at the chance to learn a little bit more about what was going on in their tweenies head. They got to know about what the girls were currently feeling, liking, listening to etc. It was the perfect thing to spark conversation.
Want to use these printables in your own YOLO party, or just share them with your favorite tween or teen?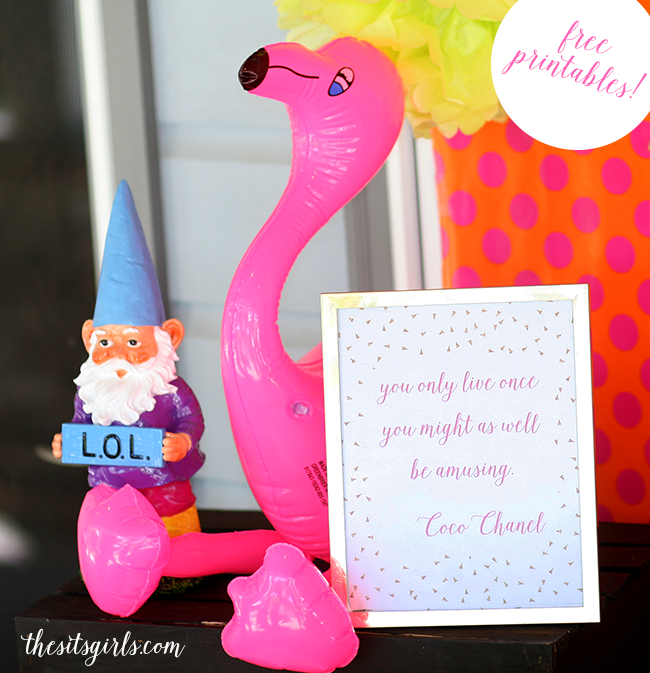 One thing is for certain… navigating the tween and teen years can be hard, however now you know that throwing them a birthday party can be very easy.
After all… #YOLO!