This post may contain affiliate links which may give us a commission at no additional cost to you. As an Amazon Associate we earn from qualifying purchases.
Research shows that in 2022, 1.5 trillion photos will be taken, and 91% will be via users' smartphones (Rise Above Research). That is a lot of pictures, meaning we need the best of the best when keeping our photos safe and secure. And as someone who takes at least ten images a day, here are the six best photo apps you need on your phone for storing, editing, sharing, and of course, creating images – because your photos deserve to be seen by all and not just on a screen!
Six Best Photo Apps for Your Smartphone
I use all six of these photo apps regularly!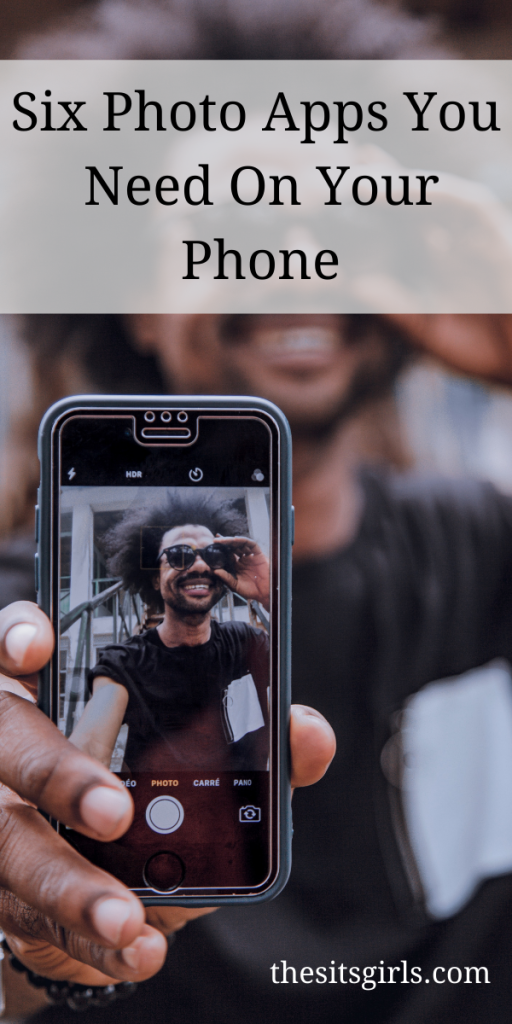 BEST APP FOR STORING YOUR PHOTOS
There are a variety of apps you can use when it comes to storing photos. However, the one I use the most is Google Photos. It connects to my Gmail account, and I found that the app is a bit more user-friendly than other storage apps.
Some of the features that I love are the recent and yearly highlights! I always look forward to taking a trip down memory lane and seeing what I was doing that week 5+ years ago! I also like storing my photos in another location besides apple photos; it gives me that sense of security knowing that if something happens to my phone, at least my images are safe! 
BEST PHOTO APPS FOR EDITING YOUR PHOTOS
There are two apps that I use the most when it comes to editing my photos. A Color Story and TouchRetouch. 
A Color Story is my favorite, and you get a variety of filter packs (they do cost money per pack, but if you are an ACS+ member, you get them free) that fit everyone's aesthetic. As a personal preference, I don't overly edit my images. I typically adjust the brightness and contract, then throw on a filter to spice it up, depending on the vibe I'm going for. I recommend this app if you want filters and fun effects for your pictures! Also, if you are an ACS+ member, you have more editing options to take your photos to the next level if you choose to do so!
TouchRetouch is the app I use to remove objects, lines, and even blemishes with their removal tools. You can save a copy or apply those edits directly to the original image (I always recommend you keep a copy of the modifications!) This app is a bit of a learning curve, but editing your photos will be a breeze once you get the hang of it. 
BEST APPS FOR SHARING YOUR PHOTOS
When sharing your beautiful images with friends, I recommend VSCO and Dispo.
I'm sure everyone has heard of VSCO and that once popular "VSCO Girl" aesthetic vibe that was all the rage in 2019, but this app is more than that, it is geared toward those who are more creative with their photos and interested in taking their photography to the next level. The vibe is different on this app compared to Instagram, and to be honest, it is refreshing. You do have the option to edit your photos within this app (which is another excellent feature), but I just love sharing my photos with others on a more artistic level.
Dispo is a digital disposable camera! This app is a fun one that might take you back to the days of buying disposable cameras and waiting months to get the photos developed. However, with this app, you don't have to wait long. In less than 24 hours, you will see your developed photos with that disposable filter vibe! You can create private or public rolls to highlight a recent trip or a night out with friends. However, with this app, you cannot upload previous images, which is why this app is an excellent option for those looking for a different way to take pictures. While I was in NYC last summer, I used this app, and it is always fun to look back and see those quick snapshots while exploring the city! 
I'm going to give a shout-out to Instagram here, too! I know that the platform is all about Instagram Reels right now, and video is coming up more and more in my feed, but I still love sharing and seeing images on Instagram.
APPS TO HELP YOU CREATE ART WITH YOUR PHOTOS
Print Studio is the last app I recommend for those interested in easily creating art with their images. This app lets you create photo gifts and decor straight from your device. The options are endless; you can make prints, calendars, wall art + decor, photo books, and more! I've created a grid poster in the past using images from my Instagram, which is so much fun seeing your feed on your wall.
We are moving into a new apartment within the next month, and I cannot wait to start decorating the space using this app with our images! 
Did your favorite photo app make our list? Let me know if I missed any that you think I need to check out!
Keep Reading
Looking for more posts to help you improve your photography similar to this post on best photo apps? Here are a few posts that you'll find helpful: