This post may contain affiliate links which may give us a commission at no additional cost to you. As an Amazon Associate we earn from qualifying purchases.
It is that time of year again – when you bust out the sweaters and scarves and tear through your closet to find clothes that somewhat match. Yes, I mean Holiday Photo session season. Do you have your Christmas photo idea all picked out?
Of course, you want your card to look put together, and not like a ball of chaos. Family pictures can be a super stressful time, and it's not unusual to end up with more tears than smiles. My kids have done various shoots now with different themes, and I totally believe the success of the picture is determined by the environment in which you take them! This adorable DIY Christmas Tree Stand was the perfect set-up for a cute Christmas photo, and a fun afternoon for the kids.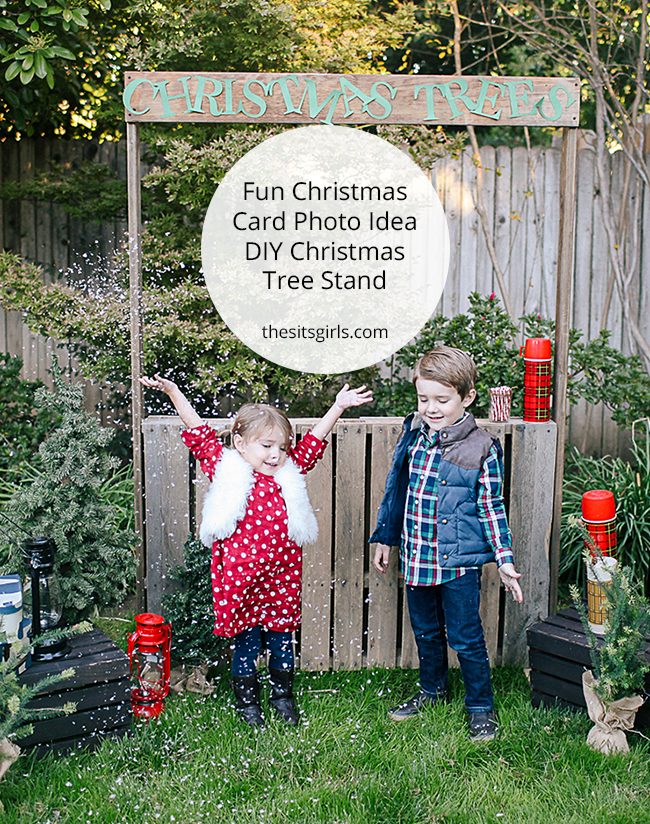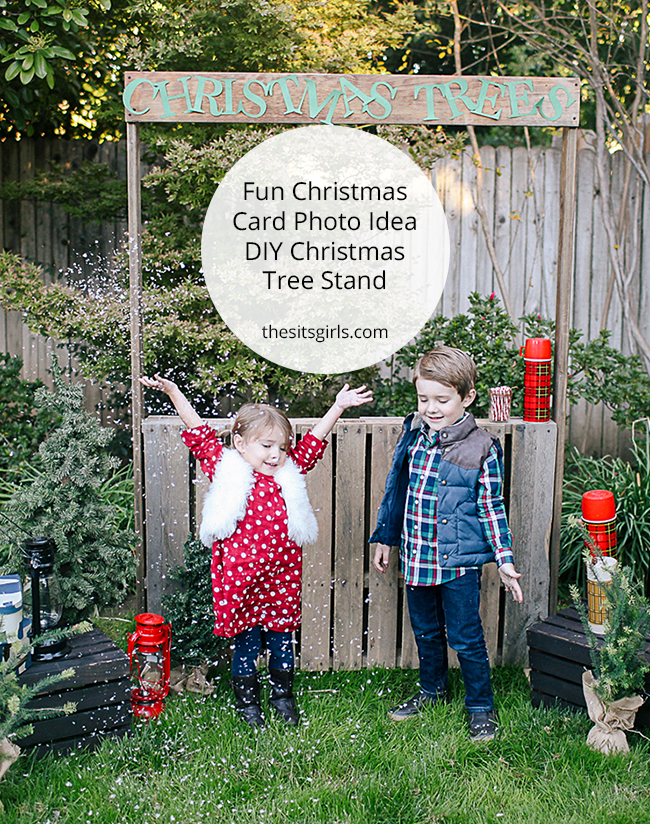 Christmas Photo Idea: DIY Christmas Tree Stand
I have an obsession with rustic forest themed parties and decor. I should probably move to the wild, because I think I would fit in perfectly decor wise.  That was my inspiration behind this shoot. A while back I amassed quite a pile of wood pallets.  I saw lots of DIY projects all over pinterest and thought I would try my hand at a few.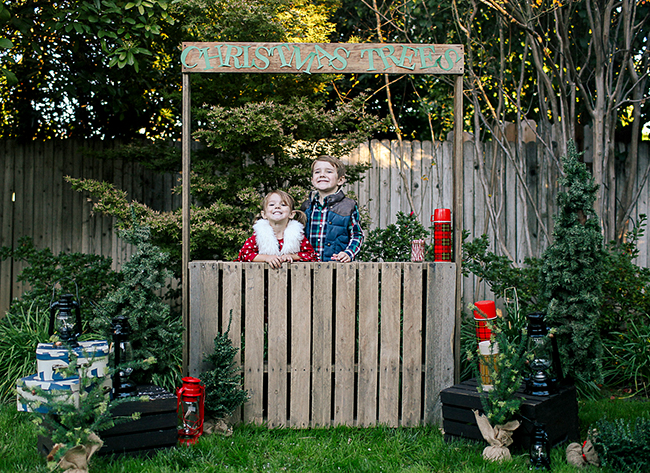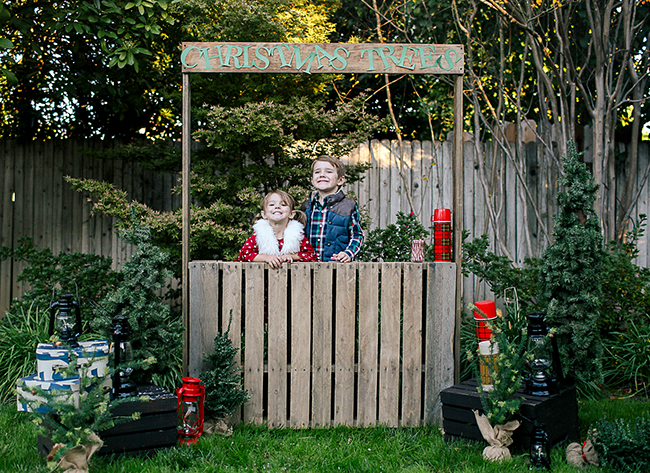 This stand is actually made almost entirely out of a pallet! Originally it had old paint and was covered in cobwebs. I sanded it down to give it a more vintage feel. I highly suggest buying an electric sander. Almost everyone that works with wood would second this. Sanding takes but a second, and it is a great way to smooth down old nails as well.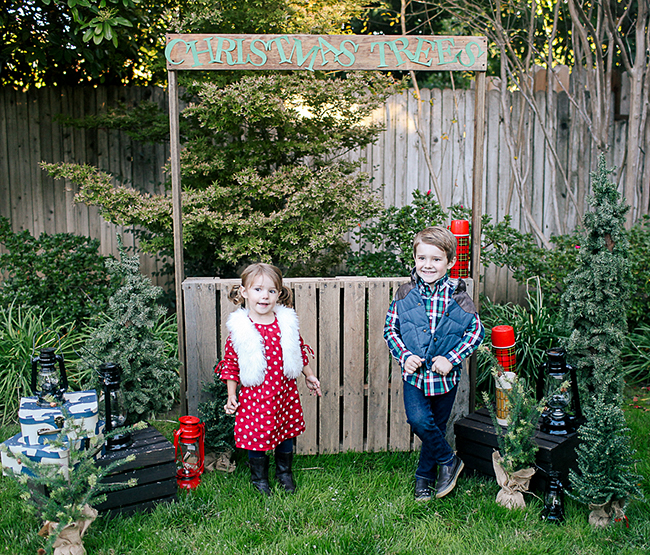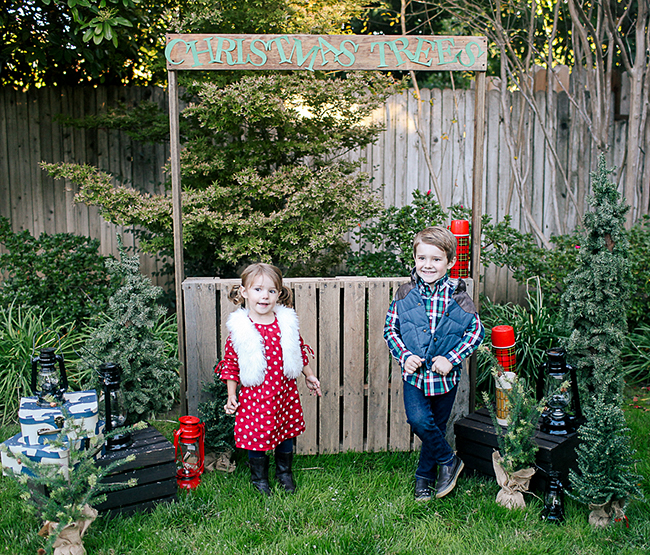 Once the pallet was sanded down, the next step was to build the "sign" part of the stand. For my sign, I used a 2×4 that was cut to the width of the pallet, and then sanded down. Two more 2x4s were then attached to the side to hold the sign up in the air. It is a super simple building project — even a novice wood worker can complete the task.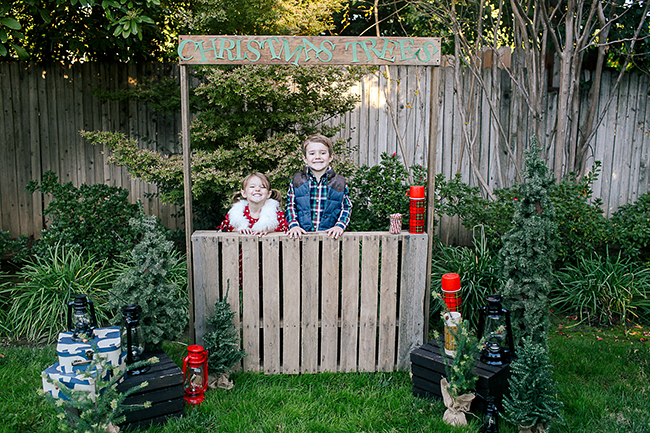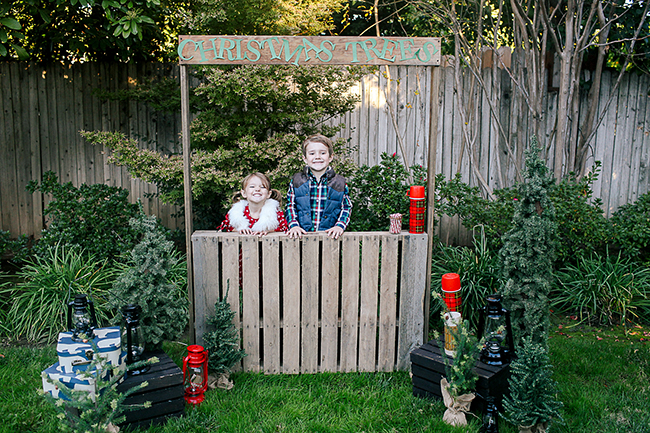 Because this stand was going to be used in a shoot with kids, the base needed to be really solid and stable. I connected two pieces at the bottom that stuck out about 2-3 feet on each side. Again, all this wood was sanded down to be smooth for the kids, and also give the Christmas Tree stand a more weathered look.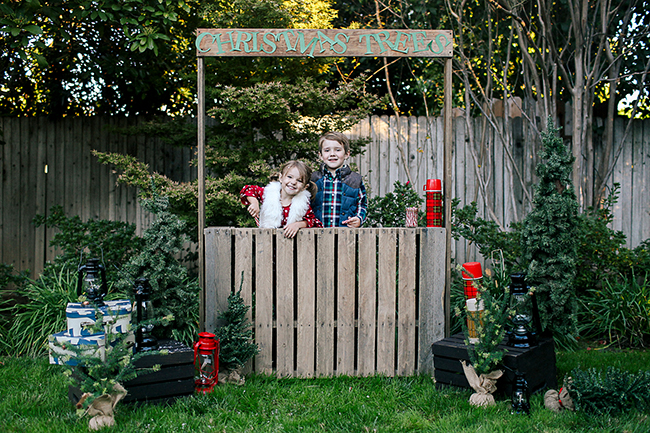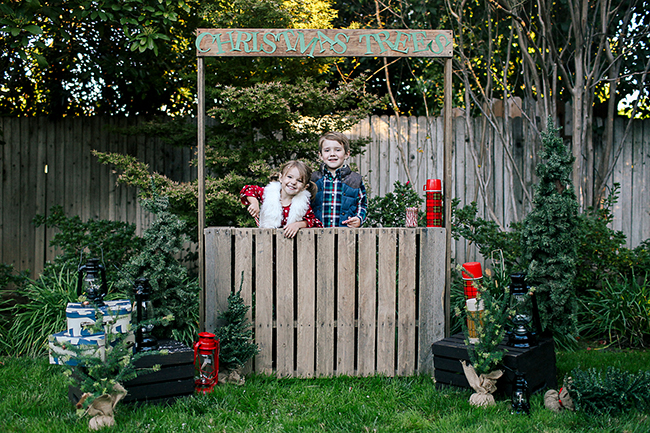 Figuring out how to do the "Christmas Trees" wording was a little bit of an issue. I knew I wanted the stand to be able to be used for other things in the summer like a fireworks stand or maybe even a cute Lemonade stand! I have also been dreaming of doing a Valentines day shoot, and this would make the perfect Kisses & Hugs booth, so I didn't want the wording to be permanent.
Originally, I was going to paint the words on, but I decided to use my Cricut machine to cut the letters out. I attached them crooked to make it appear more childlike.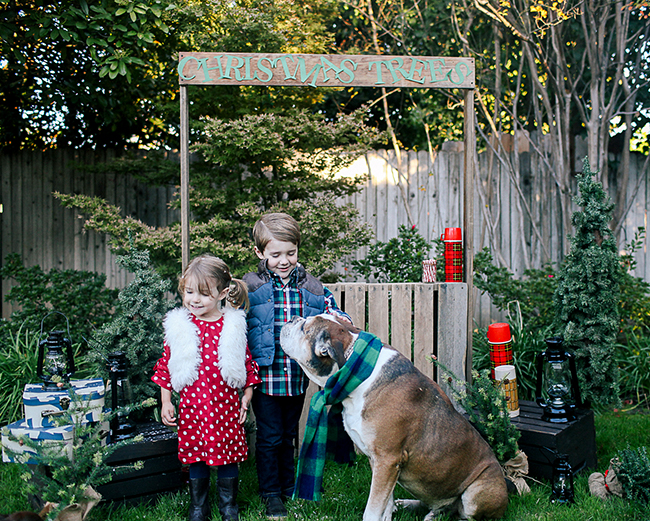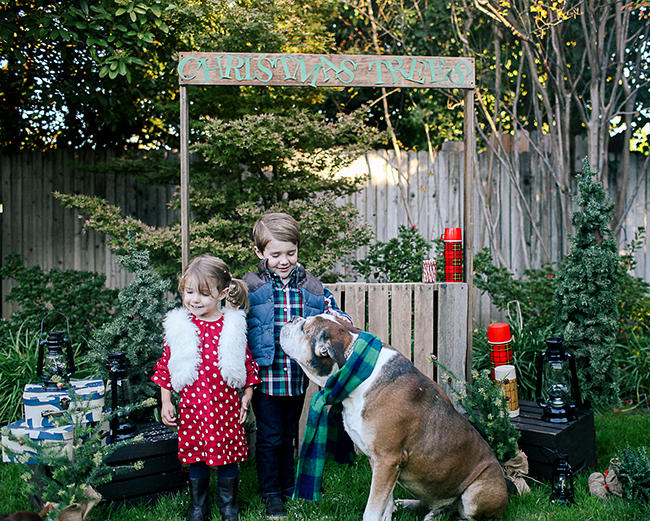 Styling this shoot was my absolute favorite part. I love plaid and patterns, especially around the holidays. So I dressed my little guy in plaid and a puffy vest, and my daughter in her polka dots and fur vest. I used extra fake trees I have around (you could use real mini trees too), and used my trusty old wooden crates. The lanterns and thermos were simply the icing on the cake. I also added our Bulldog with a scarf for some extra festive fun!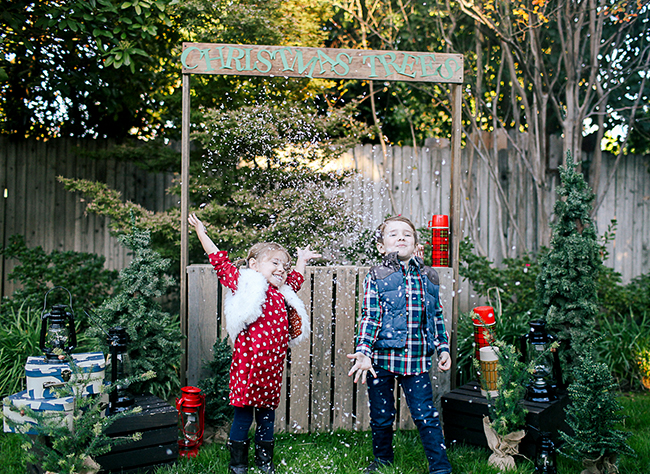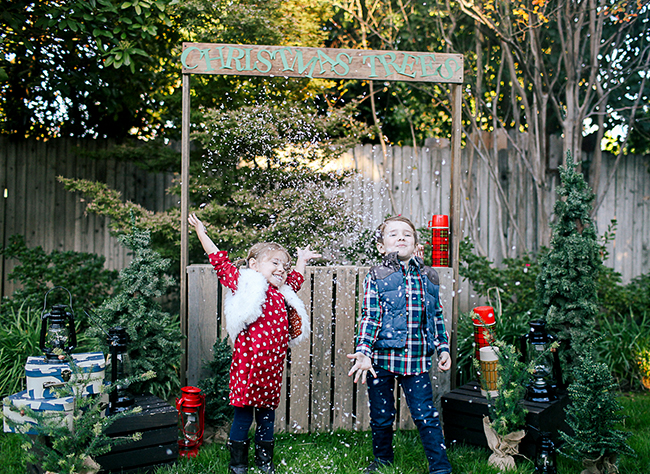 I also placed some old fashioned stick candy canes in a mason jar, and then the real fun started….the fake snow.
The fake snow was the highlight of the shoot. You can give it to your kids and let them throw and play around in it. It will transform any Christmas photo into a winder wonderland, and is guaranteed to get natural smiles from the little kids.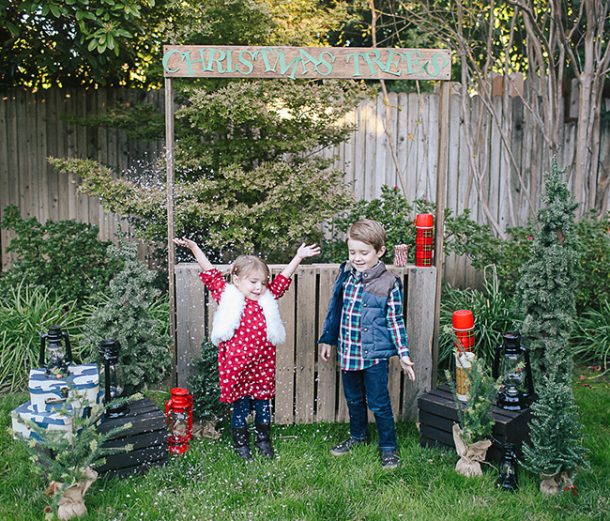 If you have not yet done your holiday photos, build this stand, and get on it!
Your friends and family will love the result, and you will win the prize of the coveted best Christmas Card Photo. It would also be super fun to have adults in the shoot, too, perhaps buying the trees from the little kids!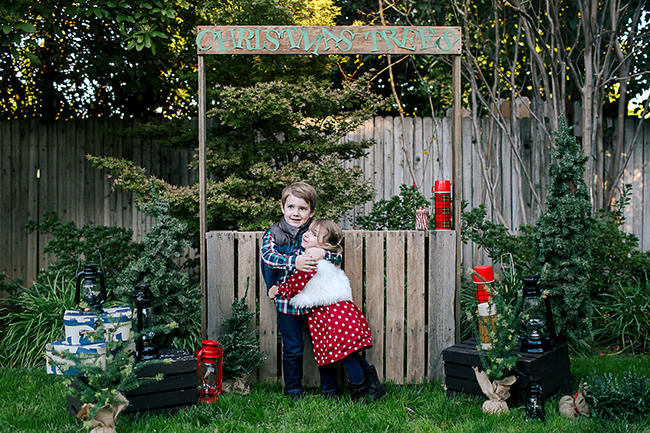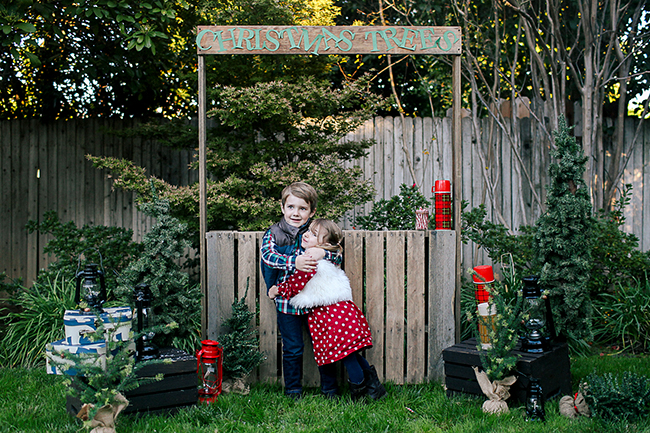 You can have so much fun styling the set for your Christmas photo, and really can set up anywhere. An empty field or perhaps an actual snowy winter wonderland would work perfectly! We shot our Christmas photo in my backyard.
What plans do you have for your Christmas Card Photos this year?