This post may contain affiliate links which may give us a commission at no additional cost to you. As an Amazon Associate we earn from qualifying purchases.
When I first started blogging, I didn't consider myself a food blogger. But, my blog has evolved, and today I definitely think it is my main niche. Food is my first passion, but only after starting my blog did I know photography would be a close second. With blogging, if you don't have good photos, I'm sorry to say you won't get as much traffic and attention for your recipes. I learned this the hard way, and now I'm sharing my food photography knowledge with you!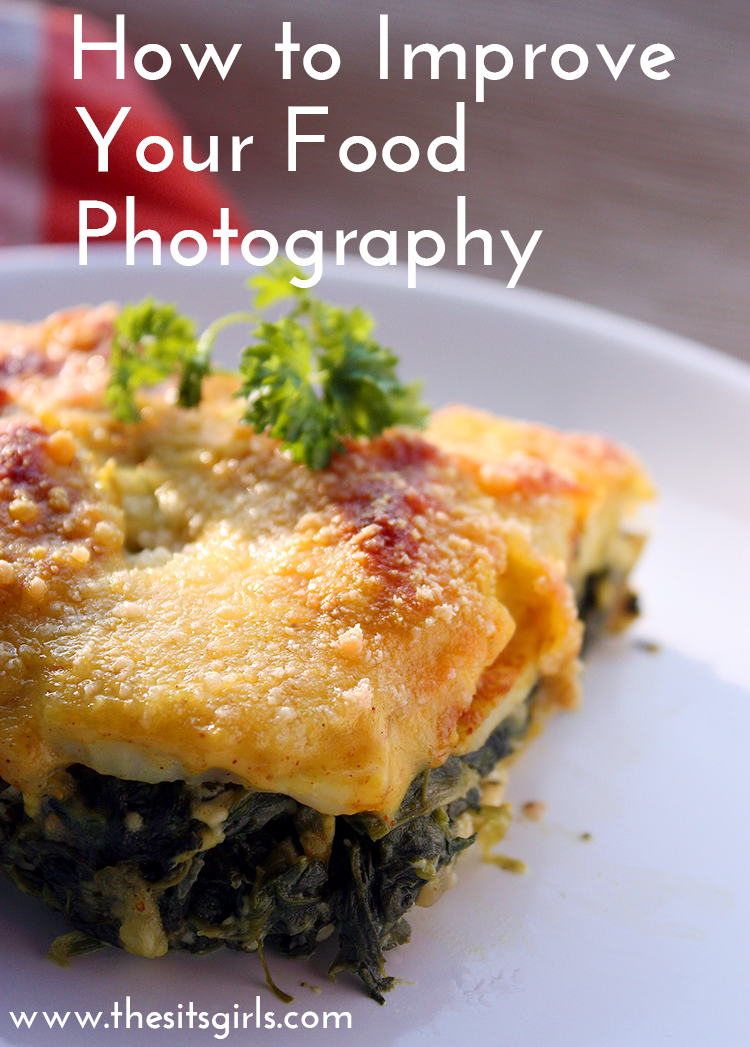 How To Improve Your Food Photography
Lighting
Lighting is a basic mistake many people make. For the best, brightest pictures you have to find the light in your home. I prefer on my back patio around 2-3pm. At this time the sun is not too harsh for me, but that might not be the case for you. One day, just experiment with an object, go around your home to find the best lighting. You'll be surprised at how dramatically your picture taking skills will change!
Use A Tripod
Using a tripod changed my blogging career, it was at that moment I knew I had finally found my groove. The main reason why your picture might be blurry is because your hands aren't steady! Using a tripod, set your camera so the timer goes off, I use a 2 second timer. That way, you hit the button, take your hand off the camera and there is absolutely no shaking. Now, it's time to play around with your camera settings, but that's a whole other article!
Plating and food styling.
It is so important to pay attention to your plating and food styling. Some food items are just easier to photo on their own like cupcakes. Cupcakes are so cute to begin with it's pretty hard to mess them up. But, how about a burger? With something like this, I always exaggerate the toppings, just a squirt of ketchup won't do. You have to build that baby:
Make sure you see every ingredient, and sometimes the messier the better with sauces! Also, never make your food look too perfect, perfect is intimidating and less likely that someone will click on your photo to go to your site for the recipe. Also, when styling your plates be aware of everything, especially the background. If taking picture inside your home, PLEASE make sure there isn't a mess in the background. Nothing distracts me more than your messy kitchen counters.
Experiment with angles and different shots.
One of my biggest pet peeves is seeing the same picture from slightly different angles but nothing has moved, it's basically just the same picture. Angles are extremely important and can change the entire feel of the picture, don't get me wrong. Here is an example of my personal favorite angle:
Individual Frozen Key Lime Pies
But, think of throwing in some action shots as well, pretend like you are cutting into your slice of pie or taking a bite out of your cupcake. These type of shots makes your post seem more "human", more real.
Edit your pictures!
If you don't listen to anything but one of these tips, please let it be this one. A little editing goes a long way and there are tons of free editing websites out there. My favorite effects are to add sharpness and clarity, brighten, and boost the colors. Try it, you won't be disappointed!
I hope you liked my tips on how to improve your food photography. And, I hope I haven't made you too hungry!
Do you have any additional tips on how you improved your food photography?
Keep Reading
Do you want more photography tips? Here are a few posts you'll find helpful: