This post may contain affiliate links which may give us a commission at no additional cost to you. As an Amazon Associate we earn from qualifying purchases.
It can be a challenge to take good photos if you do most of your blog photography at home. That's definitely the case for me! I have two very young children, and I seem to be domestically challenged, so keeping the house clean is a constant chore. What I've learned through parenting, and really through photography and blogging, is that you don't have to keep your house clean all the time! (However if you do, that is fantastic, and what's your secret?) You want to make sure that everything in your photos is there to tell your story, and not to distract from it. So what do you do?
You learn to first notice, and then hide clutter from your photos!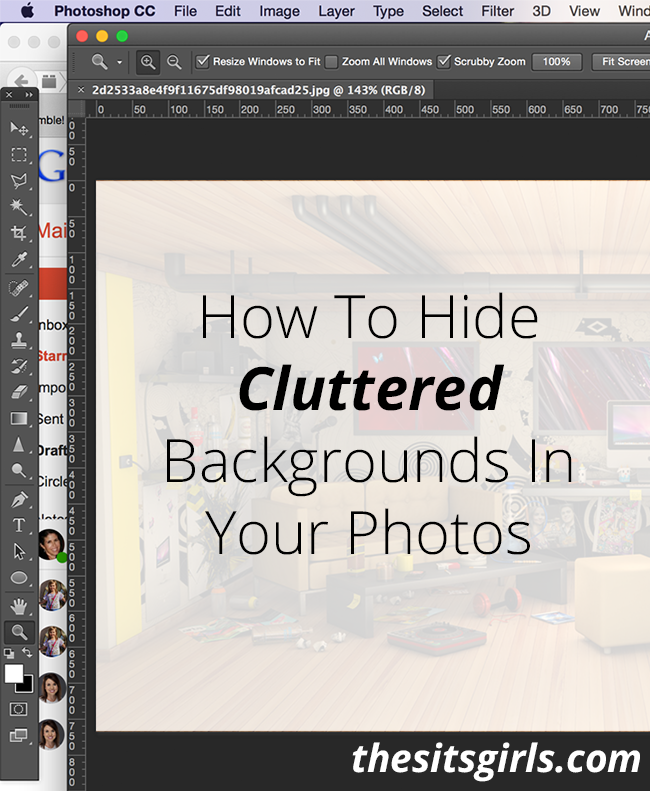 Hide Cluttered Backgrounds In Your Photos
If you know you're going to take a picture of your kids baking, doing a craft, playing in their room, or jumping off the couch, take five minutes to put all the clutter out of the frame of the photo. That's right – you don't even have to put it away!
Just get it out of the picture itself. Throw it in the hall, a closet, the bathroom, a bedroom, or anywhere that isn't in the photo. You'll be surprised at how removing a few simple distractions can really draw your readers in and help them see exactly what you want to see – rather than your dirty laundry sitting on a chair!
Want to see what a photo can look like if you don't move the clutter first?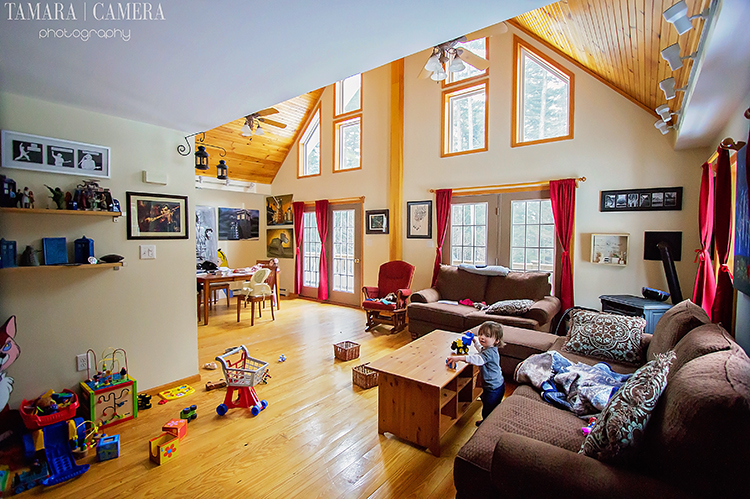 Amazing, isn't it? And I AM a real estate photographer, as well as a lifestyle family photographer. So I really do have to be thinking about when clutter tells a story, and when it just distracts and looks like a big, old mess! There are some instances in which I would let the clutter fly. In other instances, it's too distracting for me!
Since you now know to look for clutter and to hide it, if necessary, another practice I use is to choose a different angle. This was the same day, and only a few minutes after the original photo was taken, and I found an angle that hid all of the clutter from the other side of the room, but still told the story of what my son was up to.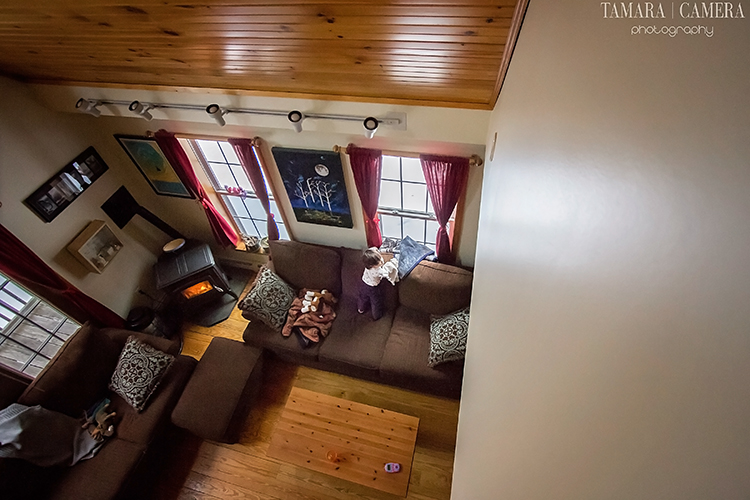 Then I found an even different way to hide clutter! Get in closer!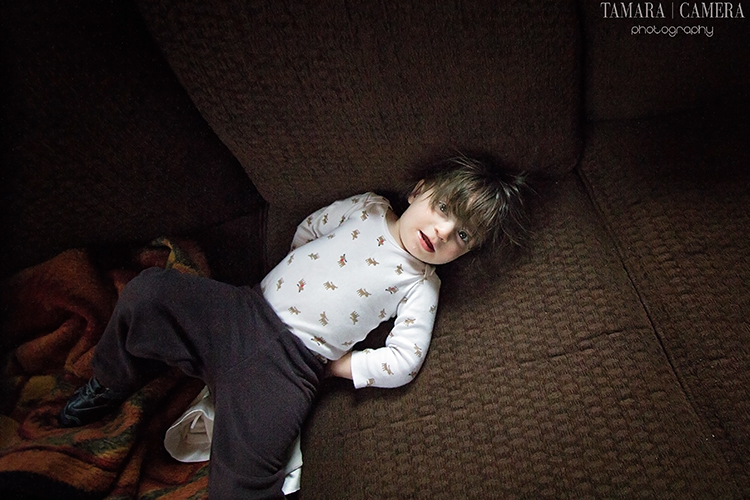 My daughter wanted in on the action and I found a way to photograph her, and still without too much clutter!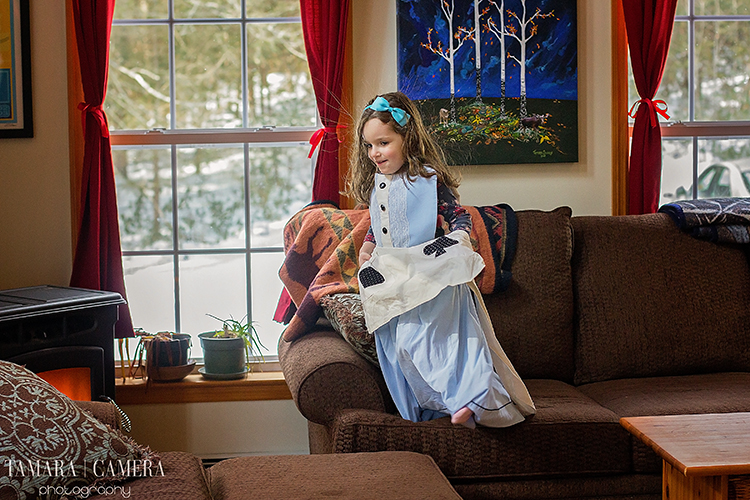 Our house is never totally neat, but I like to show at least some order in photos.
So what do you do if you have taken the photos already, and can't or don't have time to retake them, but there is distracting clutter in your photos? In those cases, you can turn to Photoshop or Lightroom to remove clutter with cloning tools, the healing brushes, patch tools or even more advanced tools.
If you would like to see more examples, check out one easy step to make your photos look professional and how to use Lightroom to remove distractions in photos. Courtney has a great video tutorial here for removing objects:
 You have to pick and choose how to tell your own story. In this photo, I enjoyed the more spontaneous nature of it, and I didn't even mind the clutter, but I decided that the water bottle distracted my eyes away from the rest: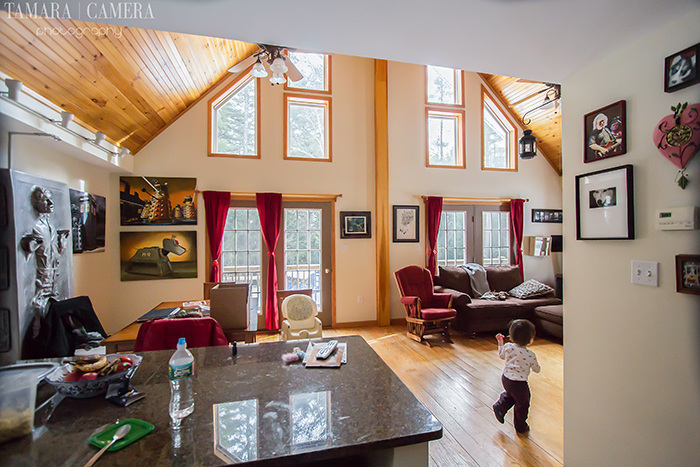 So I used the technique in Courtney's video to remove just the water bottle. It still shows our chaotic life, which is ok because this was a lifestyle shoot, but there was an element in there that was too distracting to tell my story!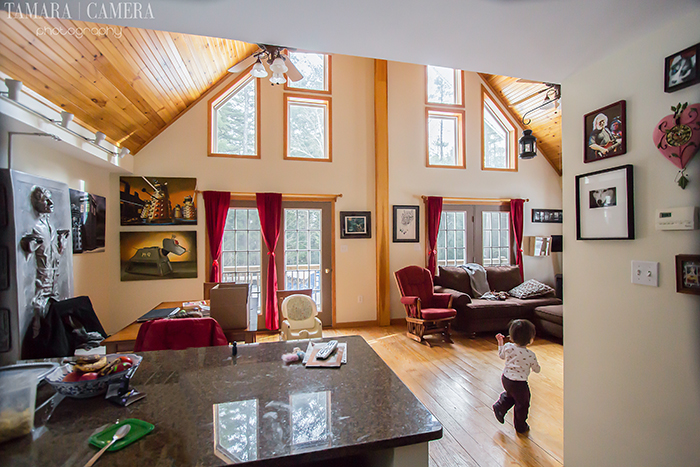 You make the rules with your own photography, but keep in mind what background elements will add to your photos, or take away from them. A good practice is to visit other blogs and other photos and see where your eyes wander when you look at a photo. Does your eye go directly to the intended subject, or are you finding other objects holding your attention?