This post may contain affiliate links which may give us a commission at no additional cost to you. As an Amazon Associate we earn from qualifying purchases.
Many of us like to use photos from our phones. Whether we use them in blog posts, share them on our Facebook pages, or tweet them out to our followers, sometimes our phones are our most commonly used cameras. With so many apps to look at, how do you know which one to use when you want to great a great iPhone photo collage?
This reader shares her favorite app!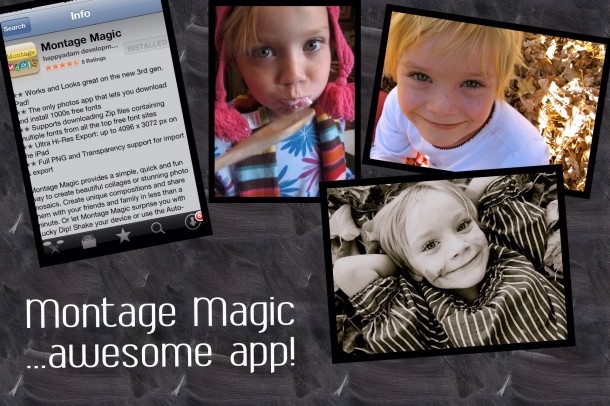 How to Create Fabulous iPhone Photo Collages
iPhone App Montage Magic is, in a word, …MAGICAL!
A tutorial…
Can you save in Hi-Res? YES!
Can you import fonts from the Internet? UNBELIEVABLY, YES!!!
Can you move stuff around and rotate and scale photos and text by dragging and tilting your finger position? YES!
Is there an in-app tutorial? YES!
Is it really, really easy to use? YES!
Will you show me how to use it? YES, YES, YES!
Read the Full Post Here: My Favorite iPhone Photo Collage App…In the Whole Wide World