This post may contain affiliate links which may give us a commission at no additional cost to you. As an Amazon Associate we earn from qualifying purchases.
Are you ready for round 2 of the How to Create a Printable Series? In case you missed part 1 you can read it here, where Jennifer from Pink When shows how to make printables using PicMonkey.
Today, Ashley from The Pinning Mama will be showing us how to make a printable using Microsoft Word. Printables go over great on Pinterest and can bring in a lot of traffic!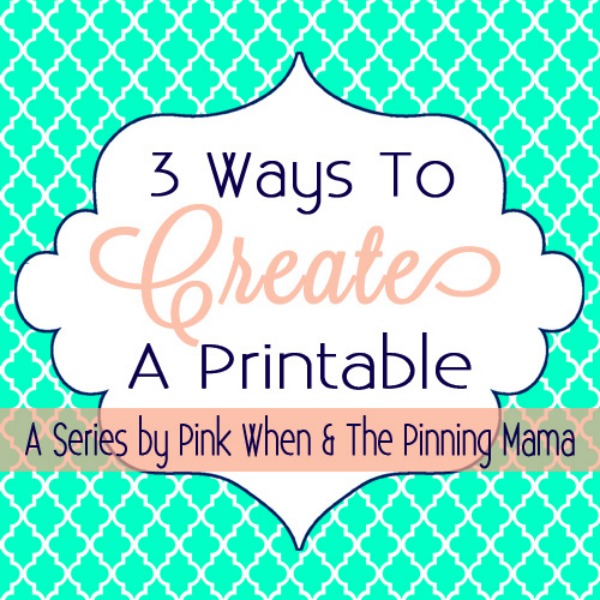 How to Make a Printable Using Microsoft Word
You know we love our free printables over here at The Pinning Mama, but we often have people asking how we did them. We've done a few printables and also some miscellaneous projects that require a little word editing, so we figured we'd let you all in on a little secret…don't tell anyone, but it's actually pretty easy to make your own printables! The hardest part is coming up with your own design in your head and actually placing fingers to the keyboard to get going. In this series of posts regarding creating your own printables, we will show you the how to's in Photoshop Elements (PSE), Pic Monkey and Microsoft Word.
If you are wanting to make a more detailed printable like the one below, you will need to use a program such as Photoshop Elements because you can manipulate graphics more. In this tutorial though I am going to show you how to make a printable using Microsoft Word. Most of you own Word, so instead of running out to buy a powerful editing program, get comfortable with what you already own!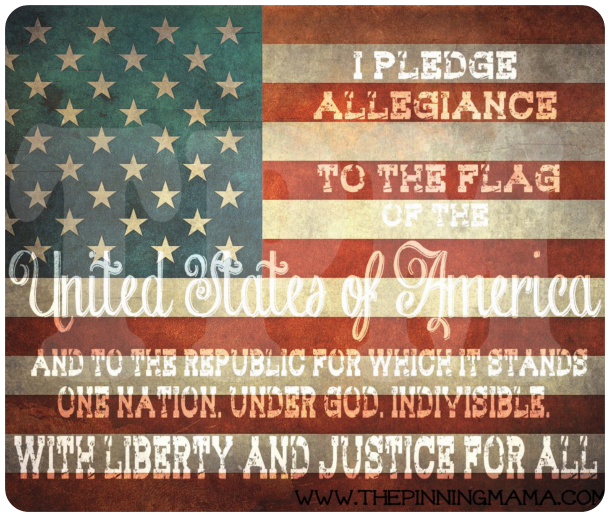 One of the things I am asked about a lot are cupcake toppers. They are versatile, can be personalized for any event, and you can do more than just put them on top of a cupcake (SURPRISE!) – you can use them as a straw topper by just using a piece of double sided tape and pressing onto a straw or tape one onto a piece of ribbon and wrap it around water bottles, napkins, buckets etc. Here are a couple images of cupcake toppers that you can definitely make with Microsoft Word. I am showing you quite a few different things, so bare with me and try to not get overwhelmed. I promise it isn't as overwhelming as allllll of my photos may make it seem. I was just so impressed by Word that I couldn't stop!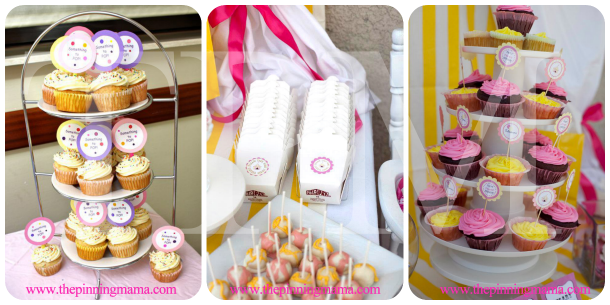 **For the following tutorial I am using Microsoft Word version 2008 for Mac. If you have a different version, your tools may look a little different from my screenshots. If you have any questions please ask in the comments below!**
After opening MS Word choose VIEW —> Object Palette
Then click on the circle. Holding down the shift key so that your object doesn't get distorted, draw your circle on your blank document. Mine are 2 inches.
Double click the object and format object will open. This is where you can edit your border line.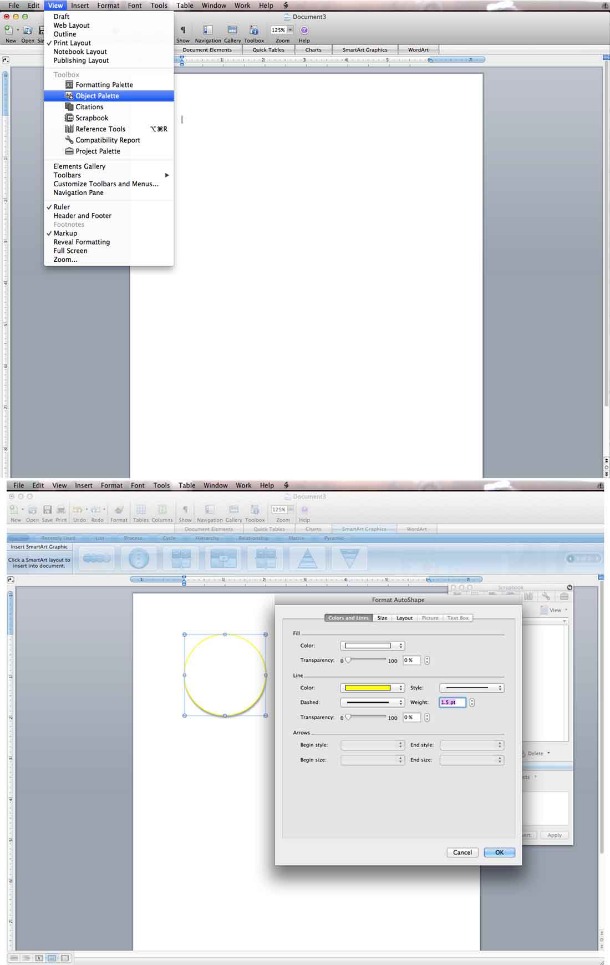 Next we are going to insert our image. I chose to do generic cupcake toppers for any type of beach or summer party this summer. If you don't already have images on your computer, just do a simple google search for BBQ+free+clipart or whatever your theme is. *at the bottom I have more sites that you can find great clipart*
With your object highlighted go to insert —> picture —> from file or clip art
Select your image and it will be added to your screen
Right click your image —> arrange —> in front of text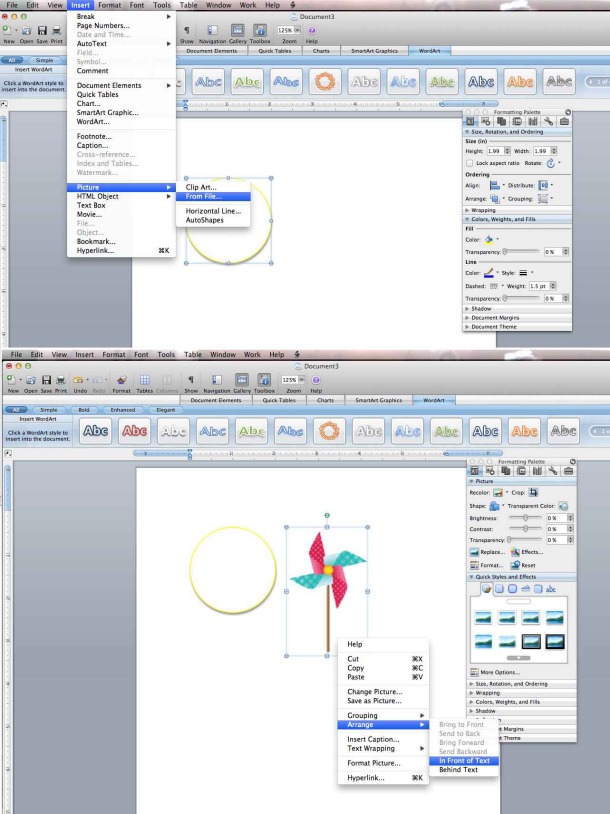 Now that you have your image placed on top of your object, PLEASE center your pretty image. Nothing gets me more than an off centered picture.
Select both your objects —-> align —> align center —> align middle BOOM. Doesn't it look better? Humor me…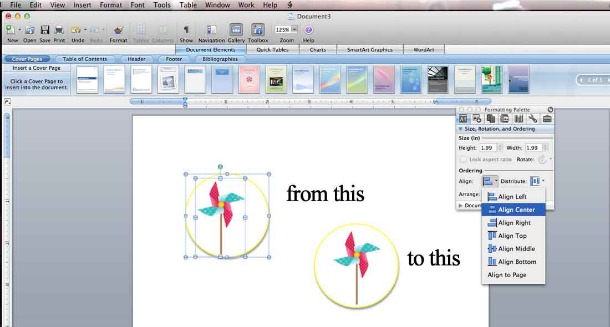 This next part blew my mind because I didn't know Microsoft Word had so many options! I have to admit that I rarely use Microsoft Word and I am seriously impressed with what they have now! They've come a long way since I consistently used Word back in 2006. Ha!
Formatting Palette —> Colors, Weights, and Fills —> Color —> Fill Effects —> Pattern
Now that you have that circle done, select both the circle and image, right click and copy the circle so that you can move onto the next one.
Formatting Palette —> Colors, Weights, and Fills —> Line —> Dashed —> Choose your line —> Adjust Color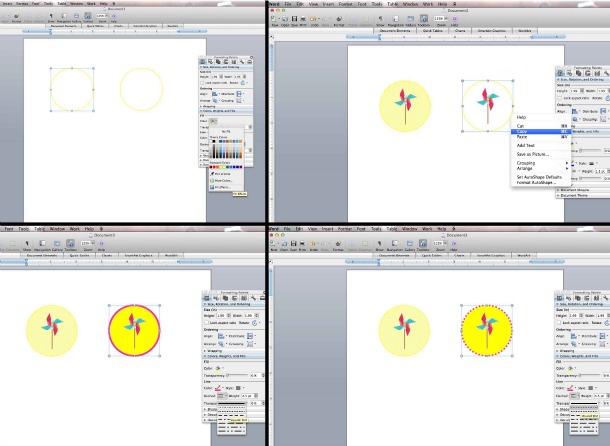 Other than filling your circle with a color and making your line straight, thick or dashed, you can also do a gradient background.
Formatting Palette —> Colors, Weights, and Fills —> Fill —> Color —> Fill Effects —> Gradient —> Two Colors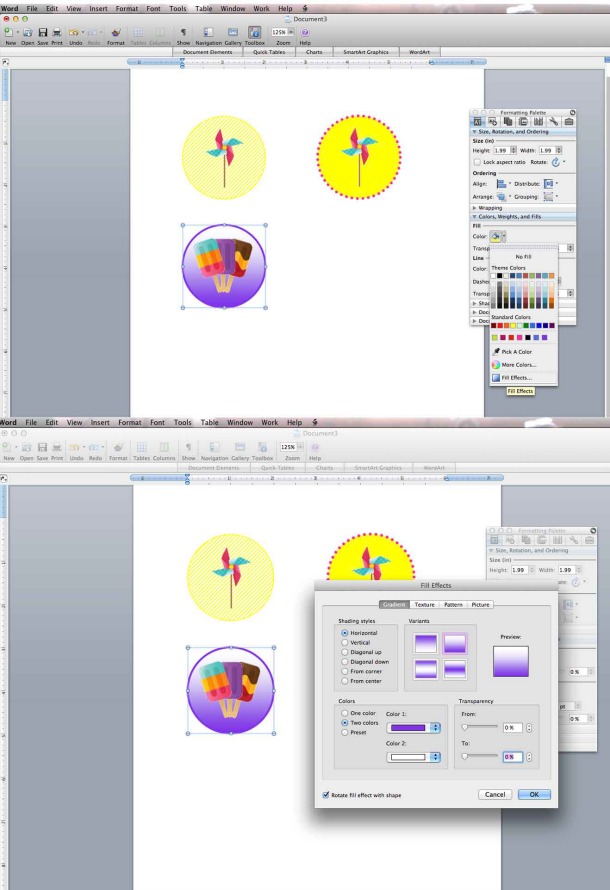 You can also do patterned lines as your background. I just about died when I saw the chevron/zigzag pattern! Eeeeek.
Formatting Palette —> Colors, Weights, and Fills —> Line —> Color —> Patterned Lines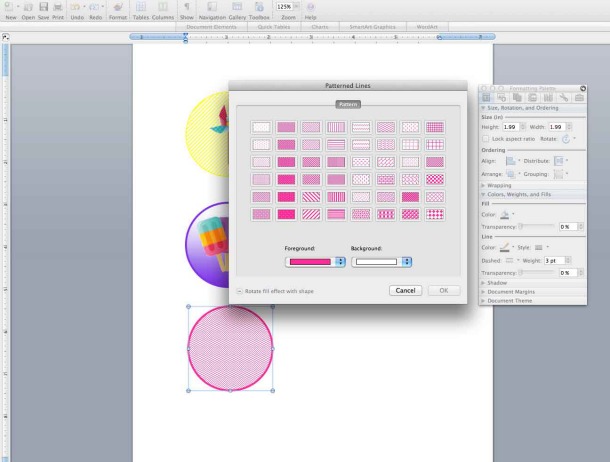 One thing I wanted to tell you guys is that when you insert an image and have previous ones already in your document, this happens below….don't freak out! Right click your newly inserted image —> arrange —> in front of text. Voila! Your images are all back where they should be. Except for the one you just did, but all you need to do is drag it to its new home. Remember to align —> align center —> align middle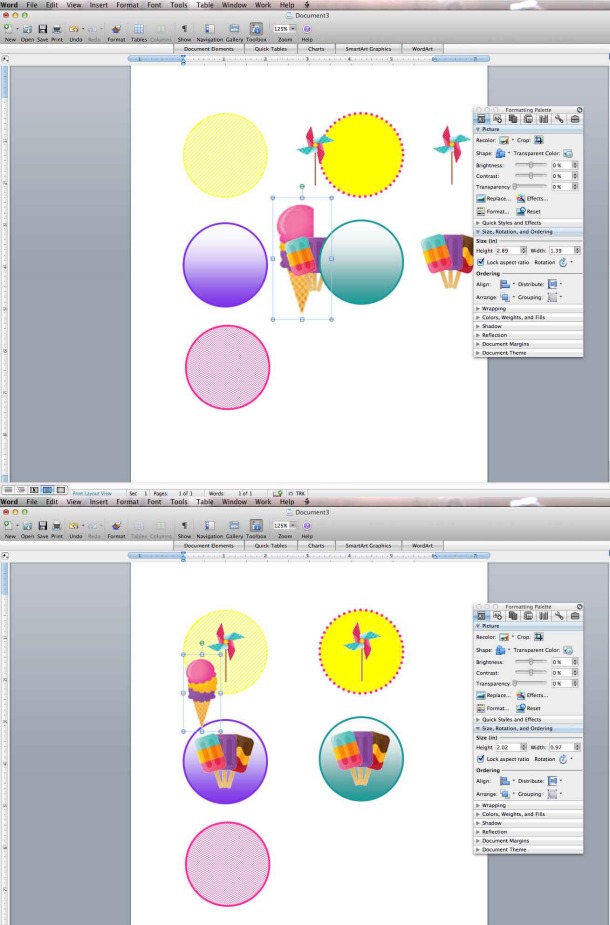 Next up – WordArt
You can either do insert —> text box —> type away
Or insert —> WordArt —> Choose Format —> Enter Text —> Position over object
In the end I actually went with a text box because I wanted each of my letters to be a different color.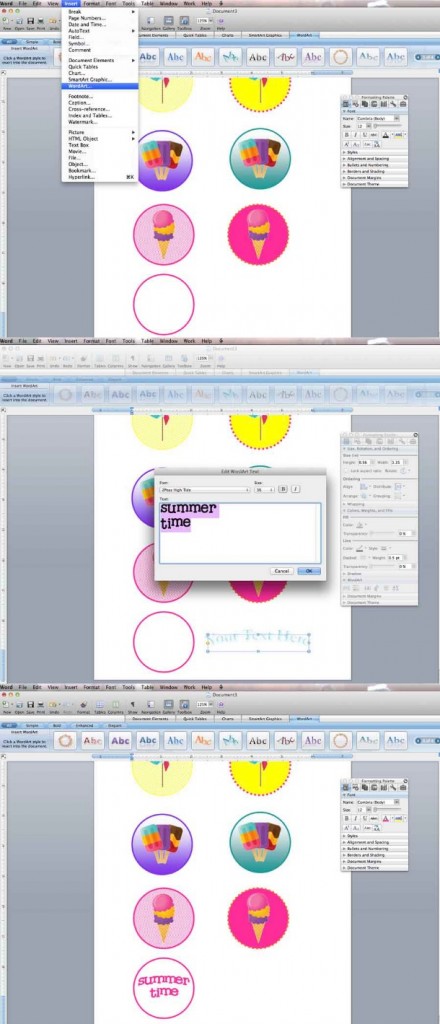 And there you have it – creating printables with Microsoft Word. It CAN be done, ladies and gentlemen!
For being so awesome, here are all the toppers I just created for this tutorial. I realize a couple are random, but I wanted to show different techniques. Have fun!
I really hope this tutorial took some of the intimidation factor out of creating printables in Microsoft Word. There is so much more you can do with this program – just dig in!! what type of printable will you be making?
Resources
Font Websites:
http://www.fontspace.com/category/elegant
http://kevinandamanda.com/fonts/fontsforpeas/
http://dafont.com
Papers and Graphics:
http://morguefile.com/
http://www.mygrafico.com
http://www.freevectors.net
http://dryicons.com
**When searching for images, if you want a transparent background (no white, search for a png file or vector.**
Things you may want for your cupcake toppers:
Cardstock – white and colored
Glue stick or double sided tape
Lollipop sticks or toothpicks
2 inch round hole punch
2 inch round scallop punch
Scissors
Ready for More Posts Like This One? Keep Reading!
About the Author: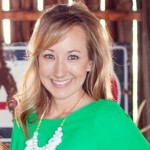 Hi! I'm Ashley, one of the two girls behind The Pinning Mama. I am a stay-at-home mama to my adorable tiny kiddos and I'm lucky to be married to my best friend. I love blogging over at The Pinning Mama where I can share my creativity, thoughts and "pin tests". Make sure that you follow us on Pinterest and Facebook to hear about our newest crafts, recipes and free printables.