This post may contain affiliate links which may give us a commission at no additional cost to you. As an Amazon Associate we earn from qualifying purchases.
Today, we are finishing up the How to Create a Printable Series. So far we have covered how to make a printable using PicMonkey and Microsoft Word. Kimber, from The Pinning Mama will now show us how to make a printable using Photoshop Elements.
Making your own printables is a great way to bring in new readers!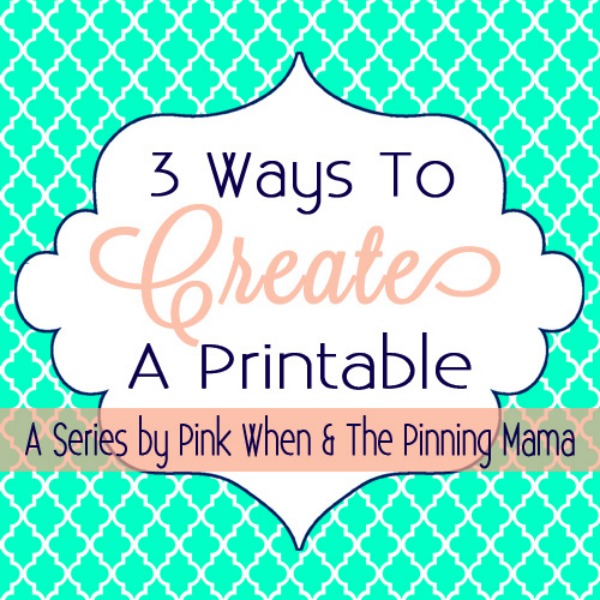 How to Make a Printable Using Photoshop Elements
Creating printables to giveaway on your blog are a fun way to engage with your readers as well as provide value, and make them feel special. There are many ways to create printables but today we will be talking about creating a printable with Photoshop Elements. In this series we will be covering creating a printable in PicMonkey, Microsoft Word, and Photoshop Elements (PSE.) PSE is the most involved of the three, but here are some reasons why I love it:
Unlimited Creativity: If you can imagine it, you can do it with PSE!

Easy Changes: Each change you make can be put on a different layer and adjusted at anytime in the process! No more maxing out the undo button.
Totally customizable: if you want a little more or less, a slight shift, things to blend etc. The answer is pretty much always yes!
Completely Affordable: PSE retails around $100 but I have seen it as low as $49.99 on sale! Check for Photoshop Element on Amazon as they usually have the best prices! (Affiliate Link)
We have made all sorts of printables with PSE from decorative like our Seasonal Collection to functional like our Babysitter Info Sheet and Pantry Organizer! There is no limit with the direction you can go creating printables.
Today we will learn how to recreate one of our most popular printables, our Patriotic Printable. It can be used for Memorial Day, July 4th, and Veteran's Day!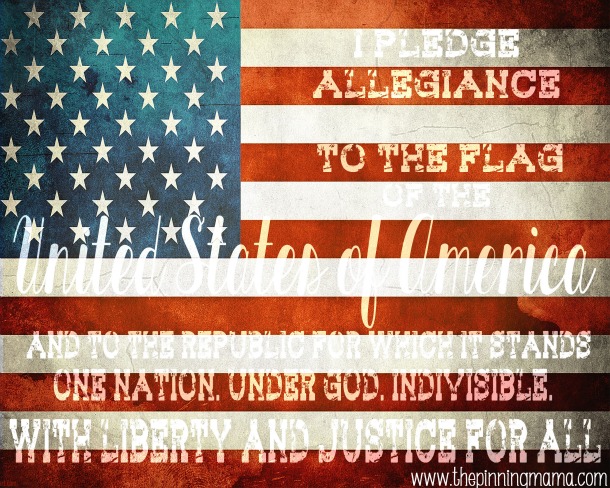 ***I use PSE version 11 to edit. All of my screenshots will be from that version. If you have a different version your interface may look slightly different from the pics, however you should be able to do everything we talk about regardless of version***
After opening PSE choose the EDIT button to open the editor.
Now you will choose File —-> New —–> Blank File
A window will pop up that allows you to choose the dimensions of your printable. You will want to specify if you are wanting inches or pixels and enter the height and width. We made our printable 8×10 so specified inches and for height I typed 8 and width was 10. You will want to set your resolution to 300 for anything that will be printed and make sure that the Color Mode box is set to RGB Color.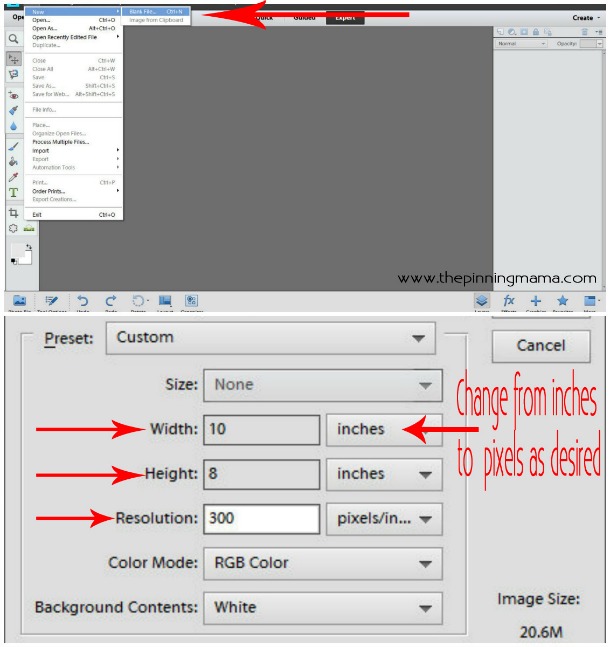 Now you have a blank palette on your screen ready for you to create.
First I Googled "free flag image" and scrolled until I found one that was nice and vintagey that I liked. Save your flag and open it in the editor.
It will show up in a new tab. You will click the Move tool and click and hold on the flag image and drag it up to the blank printable tab probably still titled "Untitled-1" at this point.
Once you have your mouse on top of that tab the blank canvas you created should show up. (Still holding) move your mouse down on the canvas and release and your flag image will appear on top of your canvas.
Since a flag is not proportional to 8×10 dimensions, and depending on the resolution of your flag image, you will probably have to resize it at the point to make it fit the canvas. Pull the corners in or out (if you can't see the corners zoom out until you can) until the flag fits on your canvas as you would like. On mine, I allowed a row of the stars to be off the canvas to make the flag look more proportional.
My flag was not as distressed as I would like, so I added a distressed looking texture to it. Open your texture image and move and resize just like we did with the flag. I got my texture here at The Coffeeshop Blog. The Coffeeshop Blog is the mecca for tutorials and free stuff on PSE!
Once you have the texture covering your canvas the flag will be hidden behind it. We will now change the blending mode to reveal the flag through the texture. I used hard light, but you can scroll through the blending modes to see which you like best! Each one blends the two pictures differently. You will want to reduce the opacity of this texture layer to around 25%.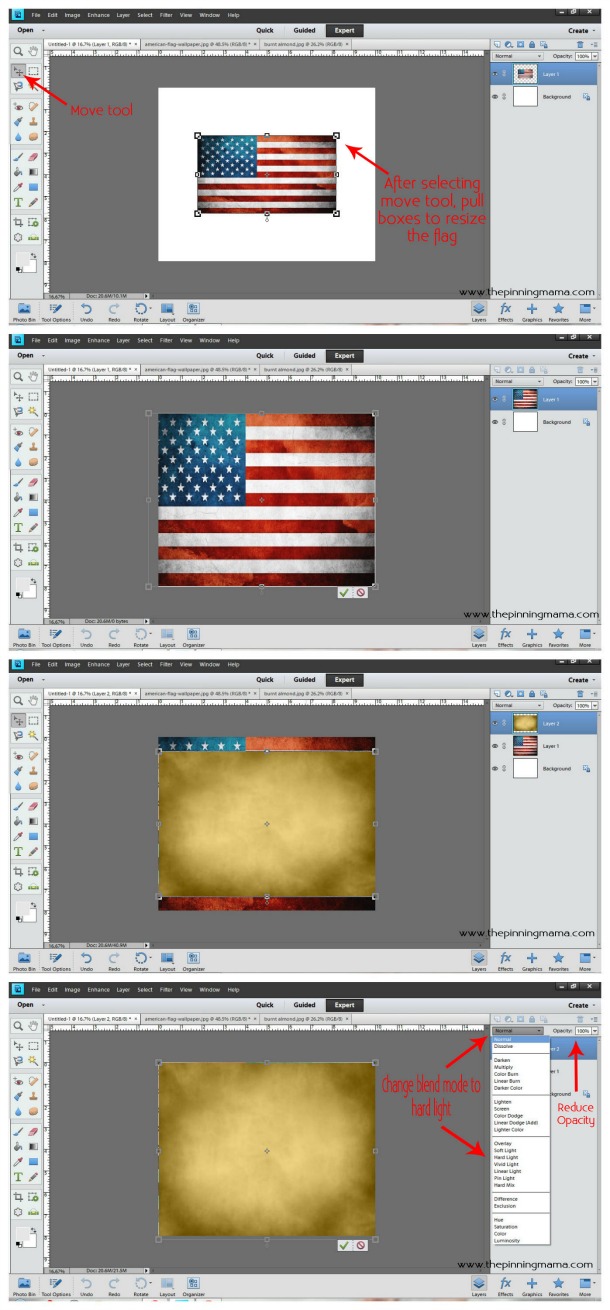 Now all we have left to do is add the text on top of the image! Click your Text tool. For each line of text we will make a new text box. Use the text tool to create a box for the line of text. If at any time you decide the box needs to be bigger or smaller just move your cursor to the little boxes on the outline of the text box and drag it to resize. Select your font, color and size. I used Redwood Creek in white at 40 pt size. For the middle line I used KG All Things New at 65 pt size stretched vertically. Then click in your box and type your first line of text.
Once it is typed, you can click your move tool and adjust the size by dragging in or out the corners and move the text box to perfectly place it.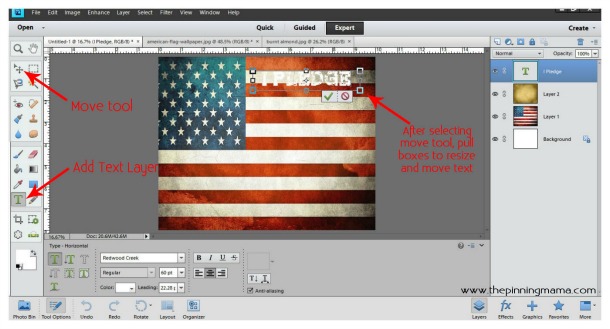 Continue this until you have all of your text typed and placed.
Next you will merge your text layers by holding the control (mac command) button and clicking on each text layer to highlight all of them. Right click and choose Merge Layers from the menu. You now have all of your text in one layer which will make it easier to manipulate as a whole.
Now we will change the blending mode of the text layer to make it seem more a part of the flag. Because when I first tried changing the blending mode the effect was too strong, we will duplicate the text layer so we are able to scale back the effect. To duplicate your text layer right click on the text layer and select Duplicate Layer. You will now have two identical text layers on top of each other. Select the top text layer and change the blending mode to overlay. You will not see any change since the identical layer underneath is still on normal.
Now select the bottom text layer and reduce the opacity (how much of the layer you can see) to reveal the effect we applied to the top text layer. Play with it until you are happy. I ended up using 30%.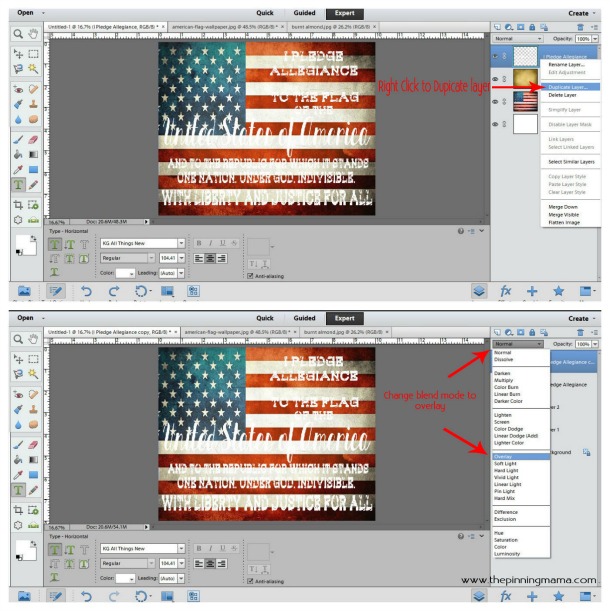 To finish you will just save your file in the format you want to print!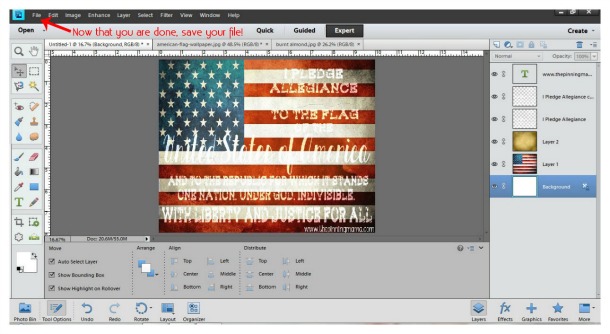 In this example you saw some basic things as well as some more advanced techniques using blending modes! Do you think you will give Photoshop Elements a try? If you already have PSE, what is your favorite thing to create with it?
Ready for More Posts Like This One? Keep Reading!
About the Author:

Kimber is one of two mamas that blog about crafts, food, parenting and their latest pin wins and pin fails at The Pinning Mama. When she is not in high gear keeping up with her two kids, she can be found doing photography, cooking, or reading. Make sure and follow The Pinning Mama on Bloglovin' so see what they will create next, and get exclusive access to fan only free printables by liking The Pinning Mama on Facebook.