This post may contain affiliate links which may give us a commission at no additional cost to you. As an Amazon Associate we earn from qualifying purchases.
Welcome to the October Instagram Challenge!
We absolutely love Instagram, and seeing all of the pictures our community shares.
That's why we've created this short mini-challenge and would love for you to join us.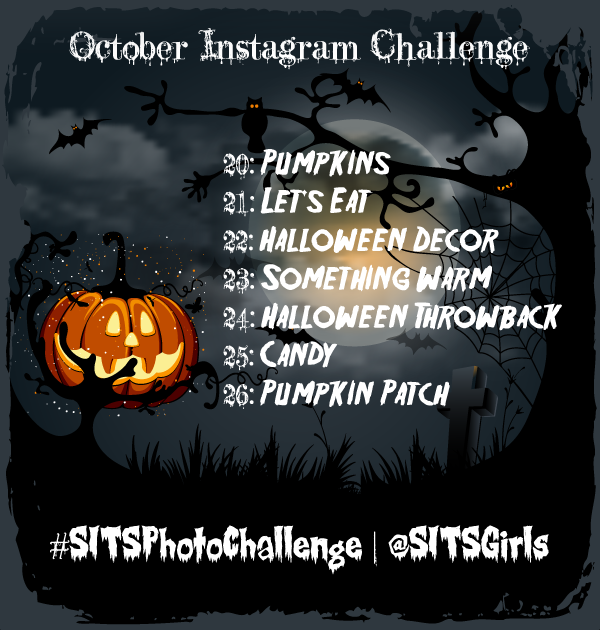 October Instagram Challenge
Check out what we have in store starting this Sunday, October 20:
Pumpkins
Sunday, October 20: Post a picture of your festive pumpkins! Let us see what kind of pumpkin carving you and your family are doing this year.
Let's Eat
Monday, October 21: We want to see what yummy fall food you are enjoying. Post a picture of your favorite fall treat.
Halloween Decor
Tuesday, October 22: Do you have your Halloween decor up? If so, we want to see your Halloween decorating skills.
Something Warm
Wednesday, October 23: How do you stay warm during the fall season? Do you have a favorite drink, sweater or blanket? Post a picture of what keeps you warm during the fall.
Halloween Throwback
Thursday, October 24: Post a picture of a past Halloween. This could be a throwback picture of you, your children, anything!
Candy
Friday, October 25: Here at The SITS Girls we love candy! We want to see lots of Halloween candy pictures, so post your a picture of your favorite Halloween candy.
Pumpkin Patch
Saturday, October 26: Did your family take a trip to the pumpkin patch this year? Show off all the fun you had by putting up a pumpkin patch picture.
Play along and follow the challenge on Instagram using the hashtag, #SITSPhotoChallenge.
Happy Halloween!