This post may contain affiliate links which may give us a commission at no additional cost to you. As an Amazon Associate we earn from qualifying purchases.
Instagram is such a fun social media platform that gives you a nice sneak peak into other's lives. We are hoping to connect with all of our SITStah's this month buy hosting a SITS Photo Challenge on Instagram.
Keeping reading for all of the details! This photo challenge is fun, light-hearted and a great way to connect with others and grow your following on Instagram.
Join the September Instagram Challenge!
I used to grab my phone, immediately open Facebook or Twitter and scroll through my news feed, catching up on the latest gossip or links that I had missed since I last signed on. Until I discovered Instagram.
My love for this new app grew and I soon found myself ditching the other platforms and devoting my time to my beloved Instagram feed. I catch myself scrolling through the photos, liking and commenting on the ones that make me smile.
Then I thought, what better way to share my love of Instagram than with a little photo challenge with all of you?
Starting on Sunday, September 15 we are hosting a week long Instagram photo challenge and we would love nothing more than to see you all join in.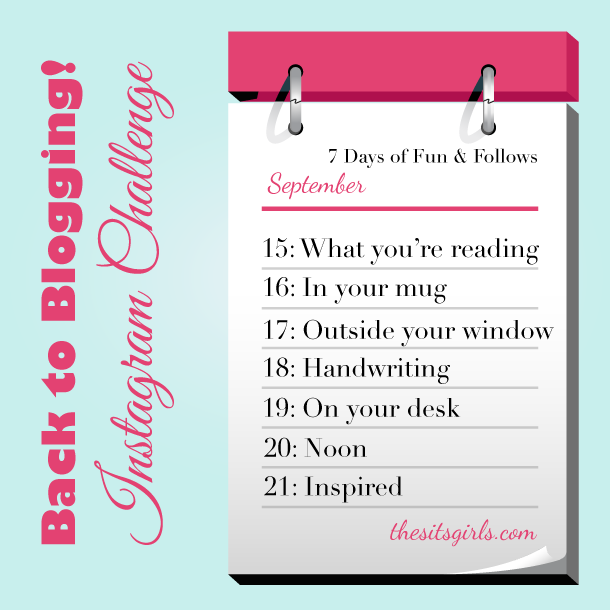 Our focus is all about getting back to blogging in a fun and easy way!
Just follow along with our daily prompts:
Sunday, September 15: What are you reading?
Monday, September 16: What's in your mug?
Tuesday, September 17: Outside your window
Wednesday, September 18: Handwriting
Thursday, September 19: What's on your desk?
Friday, September 20: Noon – Take a pic of what you're doing mid-day
Saturday, September 21: Where you find inspiration
Be sure to use the hashtag #SITSPhotoChallenge so we can all see your photos! Happy snappin'!
More on Photo Challenge Instagram
Looking for more posts to read? We've got plenty to get you started.