This post may contain affiliate links which may give us a commission at no additional cost to you. As an Amazon Associate we earn from qualifying purchases.
Besides an authentic voice, great photography will encourage readers to stay on your blog for longer and re-pin your images. I've been learning on a variety of cameras for the past few years. I started with a point and shoot camera, and I quickly learned that only the photos I took outside came out clear. I started toying with my iPhone camera since it always came with me, but then I took over my husband's very old DSLR. While I may not know what all the functions do, I have learned a lot about staging and styling a photo for my blog. I've learned that you can take great pictures no matter what camera you are using once you get comfortable with it. These point and shoot camera tips will help you take your pictures to the next level.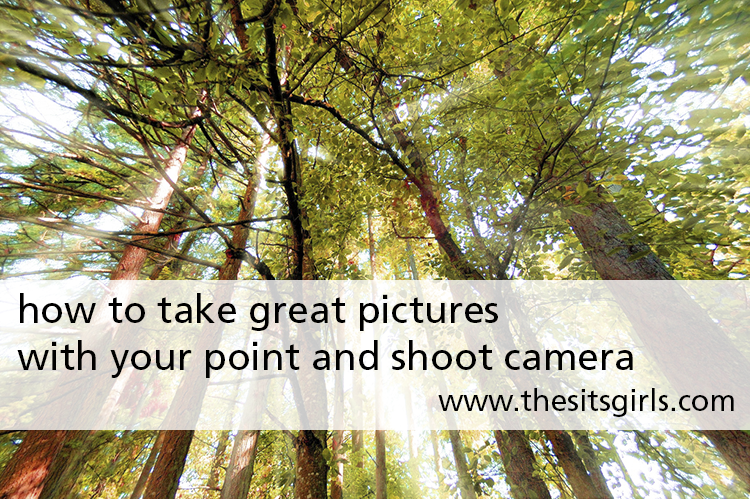 Point And Shoot Camera Tips To Take Great Pictures
You don't need a fancy or expensive camera to take nice photos, but you do have to try. Use what you've got to get beautiful images to make your blog shine.
1) Turn off the flash.
I have read countless photography tip sheets for bloggers that mention not using the flash, yet some seem to have missed the memo. It is so important to have clear and bright images on your website—especially for sponsored posts. Ignore the flash and work on taking your photos in better lighting so you won't even be tempted to turn it on.
2) Find the light!
Don't even attempt to take a photo in poor light. Use daylight hours to your advantage to take all of your photographs. I know that before noon I have harsh shadows in my pictures if I take them outside on my deck. I wait until the afternoon and right before sunset to have the right amount of light. With no flash, good lighting, and a well styled photo, it doesn't matter if I'm using an SLR, my iPhone, or my point and shoot.
When I was working full time, I knew that I had no time during the week to take any photos. I would stage everything on the weekend so that I wouldn't have to worry about poor lighting conditions in my photos.
3) Tell a story…
Think about what kind of photographs you like to see. Are they well styled with flowers or bright colors? What about them makes you interested or curious to learn more? Try to emulate these photos and see what you come up with.
Don't be afraid to appear in your photos or show action shots—someone enjoying a dip you made or redecorating a room in your home. Keeping a personal touch in your photos is always important to brands and readers who want to connect with you! Show us a slice of your every day life.
4) …but don't forget the backdrop.
Stop by the dollar store and buy a few white foam boards to use as backdrops. They also double as light reflectors! You can also use baking sheets or colorful fabric to have a stunning background. The bottom line is to not show your messy floors or outside distractions. Let the focus of your photograph be enough.
5) Take more than one photo.
Just taking one image may not be enough. I can't tell you how many times I thought I had a "perfect" photo only to find it out of focus on my computer monitor. Take several from a variety of angles. If you're learning your camera, try taking a few on automatic before switching over to another setting. You will be surprised at what you learn just by experimenting.
6) Try new angles.
A straight on image can be boring. Try shooting your photo from up above, below, and from the right and left sides. Be creative and don't be afraid to get in close. I have a stool to stand on for some of my product shoots, a tripod to help keep my camera steady, and a variety of crates and trays to help elevate items in my photos.
7) Edit your photos.
This can be as cheap or as expensive as you want it to be. Everyone knows Picmonkey is free, but Royale members have access to extra tools like Clone and Curves. I find both of those to be important in learning how to edit your photos for your blog. Curves can help brighten your photos while the clone tool helps me clean up my pictures. You can also try Photoshop Elements, Lightroom, or the full version of Photoshop. Adobe has the Cloud program where you can purchase these programs and pay a monthly licensing fee. I currently have Lightroom and Photoshop for $9.99 a month.
Try Canva to make graphics for your blog for free, and Pixlr to edit photos similar to Photoshop.
When you're editing, consider what platform the pictures are going on. Have a variety of sizes and photo orientations. Vertical photos look best on Pinterest and Google+, while Facebook loves horizontal images. When you go to include your photos in your blog post, make sure your photos fit the width of your layout so they are clear and easy to see. Usually that is at least 640 pixels wide.
Photos are too important to ignore them on your blog. If you're going to take photos, do your best. You don't need to be an expert or pay a ton on equipment. Use what you have and take the time to do it right.
Keep Reading
Looking for more photography tips? Here are a few posts you'll find helpful:
Disclosure: This post includes affiliate links.