This post may contain affiliate links which may give us a commission at no additional cost to you. As an Amazon Associate we earn from qualifying purchases.
I know as bloggers, we all work hard to make sure we get our photos just right for our blog posts. Most of us don't have professional studios and have to work with what we have! As a Photography blogger, I get asked a lot of questions about product photography. I've learned a few photography tips and tricks that have helped my product photography improve over the years. I thought hard on what I wanted to share with you about product photography and today I am here to give you 7 tips for awesome product photography for your blog.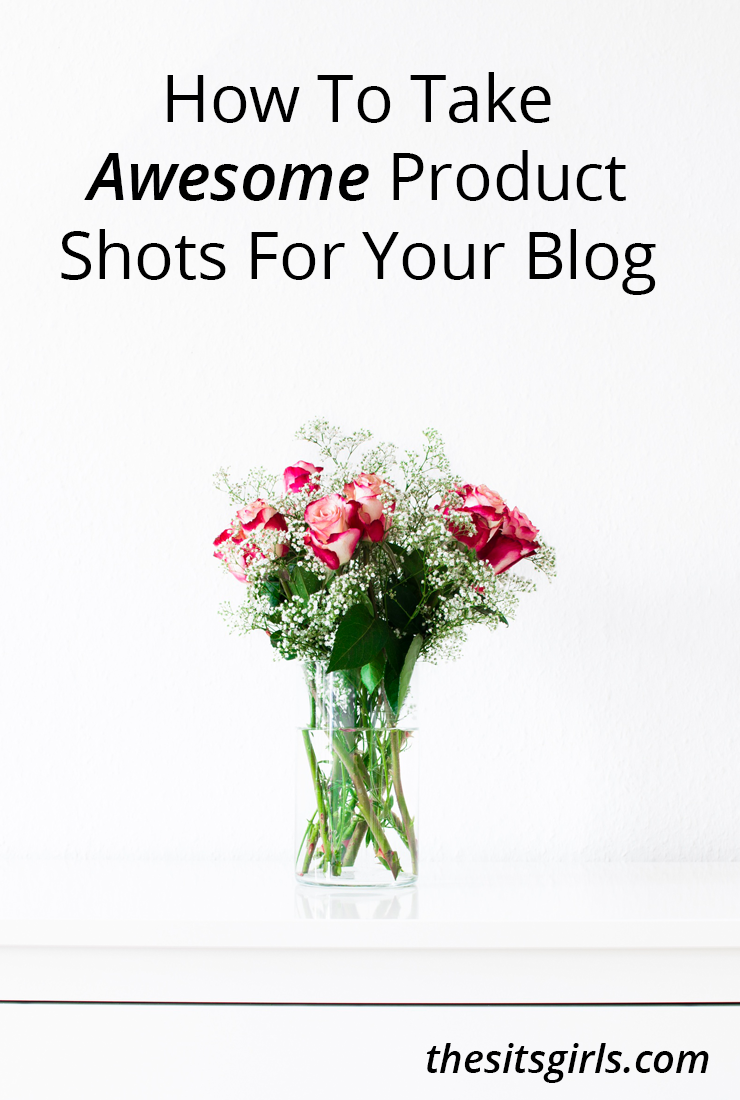 7 TIPS FOR AWESOME PRODUCT PHOTOGRAPHY FOR YOUR BLOG
1. NATURAL LIGHT
Go through your house and find where the best natural light is. That might be your kitchen, near the sliding doors in your bedroom, or on the floor of your living room. Where ever it is, use it! If you find the light is too strong, try softening it up with sheer fabric placed over the light source.
2. TAKE MORE THAN ONE SHOT!
Sometimes the difference between an OK photo and a great one is your angle. Don't stop at the first shot you get. Shoot from different angles. Try shooting from above, from below, from eye level, from the side or from what is known as three quarters: not quite overhead and not quite eye level.
3. GROUP IN 3's
The Rule of 3 is a principle used in design. The idea is that objects arranged in odd numbers are more appealing and effective than even numbered pairings or groups. Basically, odd makes your photo more interesting. So if you have one main object say a coffee cup, pair it up with 2 supporting objects like coffee beans and creamer.
4. PROPS ARE YOUR FRIEND
Props add visual interest and depth to your photos. You want it to look as though you just happened by your product and found it there in a natural setting….with beautiful light and perfect props. Keeping in mind our last tip( group in 3s), lets say your main product is a beautiful teacup. Now, while it's temping to get a beautiful photo of that tea cup and call it a day, think about our last tip and add a few props: tea leaves and a tea pot; the teacup, and saucer with a tea bag, the teacup, a good book and a teacup. Props help you tell a story, therefore making your photos more interesting.
5. KEEP YOUR BACKGROUND SIMPLE
Keep a your background simple so that the focus is on the product, not the background. This will help showcase your products better. The easiest way to do this is to get a large trifold board, a plain white poster board or a roll of white paper. Choose a board/paper with matte texture so that there is no glare from your background. Not only are they portable, cheap and PERFECT for product photography, the white boards will help you bounce light back to create even more light over your product.
6. USE A TRIPOD
A tripod makes sure you have a steady hand. You want to make sure that you have nice clear photos instead of blurry handheld ones because your shutter speed was too low. A tripod can also help you get those tricky overhead shots without having to balance yourself on a piece of furniture!
7. KNOW YOUR CAMERA
I can't say this enough. All the tips in the world won't help if you don't know how to use your camera. Take the time to read the manual, practice with your camera so that you know how to use it in any situation. Learn the settings your need to get those creamy blurred backgrounds, know how to get the correct white balance so your white teacup isn't yellow. And practice!
So there you have it! 7 tips for awesome product photography for your blog!
What tips do you have that make your product photography better?
Grow Your Instagram Today
If you are looking to grow your Instagram with a strong following (note: this is an affiliate link, and we receive a commission at no extra cost to you), we love the step-by-step Instagram advice in LaShawn's Instagram Better course. She teaches you how to build an authentic community with a focus on engagement that will keep your profile strong as you grow.
Looking for more photography tips?
Check out our best photography tips for bloggers!