This post may contain affiliate links which may give us a commission at no additional cost to you. As an Amazon Associate we earn from qualifying purchases.
Self portrait photos. Does the idea of taking a photo of yourself scare you? I admit it scared me until very recently. You may know by now that readers like to know what you look like. I like to know what other bloggers look like! It helps to draw me into their words & worlds, and feel a connection with their writing, tips, recipes or tutorials.
The idea was particularly daunting to me until I started to share more of myself through photos, and then I learned a few tricks on how to get photos of myself when no other adults are around! Don't worry – it isn't nearly as bad as you think. It can be fun!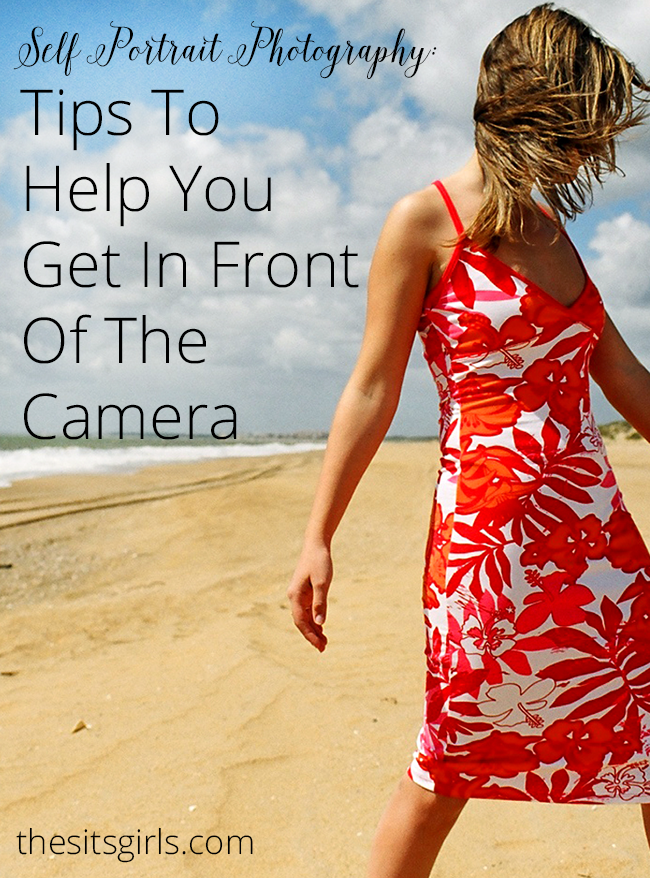 Why You Need A Self Portrait Photo
I think it's so important for us all to be in photos, even though I'm the queen of taking photos of my family without being in them. I'm changing that!
Here are a few reasons why you need self portrait pictures:
Your kids don't care if you don't have make up on or are in your PJ's.
You want your children to have images of you with them. You were present in their lives after all. You were THERE.
Don't you love seeing pictures of your parents and grandparents when they were younger? Let that happen for your kids and grandkids too!
If you don't have kids yet, capture this time so you can show them a glimpse of who you used to be, before being a parent.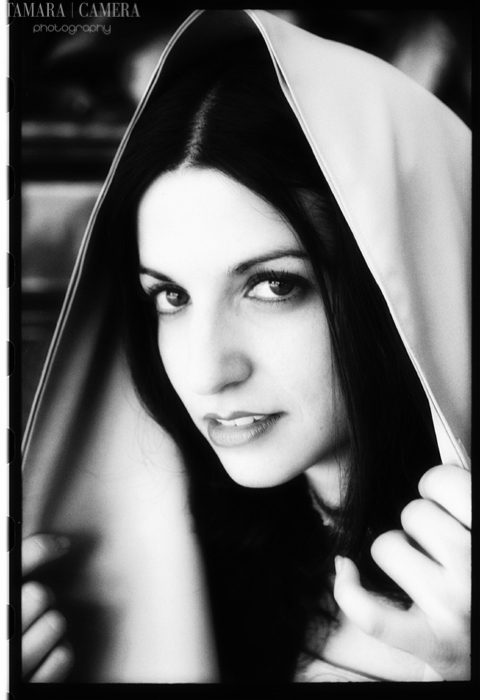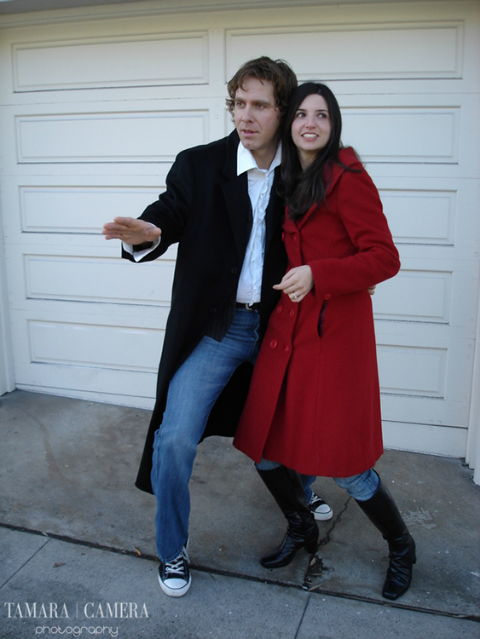 If you want some fun ideas and tips on how to capture your everyday life, check out Get In Front of the Camera.
WHY IT'S IMPORTANT AS A BLOGGER TO TAKE SELF PORTRAITS
Your readers want to connect with you.
You need a photo on your "About me" page and hopefully one on your sidebar.
It makes you seem like a real person. When your readers feel connected to you they keep coming back to read your blog. I know I am more likely to stick around and even come back if I have a face to go with the name of the blogger. By taking regular pictures of yourself, your readers will feel like you are a dear friend.
I took this image just for this article, and my son was happy to help! I used the self-timer drive on my camera (a Canon 60D). I aimed and focused the camera at my son, but you can aim and focus it at anything inanimate, too. Then I chose the proper exposure settings, hit the button, and jumped in!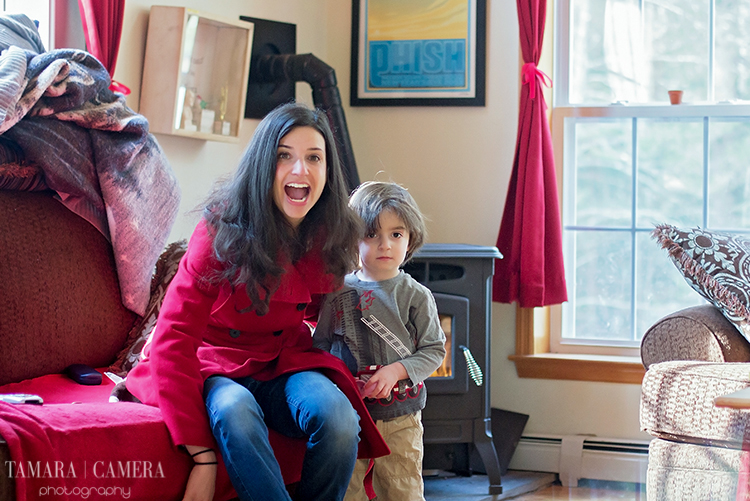 HOW TO TAKE YOUR OWN SELF PORTRAIT
Set your camera on a tripod or sturdy surface.
Use a remote or timer to set up your images. If at all possible, have it take several shots in one burst so you don't have to keep getting up to re-set your timer.
Get near some natural light. Remember, you want those nice soft shadows.
Turn to a 45 degree angle.
Have your eyes facing your light source. (Think catchlights.)
Remove any distractions that may be in the picture that aren't there to help tell your story.
Those are the technical aspects of taking self portraits. This is the self portrait picture I use on my blog's about me page.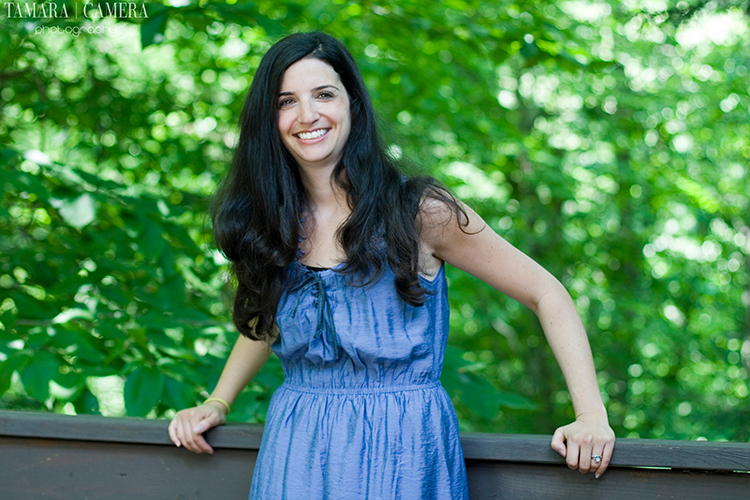 Now, let's talk about fun and cool self portrait ideas.
Think about using props, especially if you are a…
Photo blogger: Read a photography book, have your camera or other photo props in the image.  (You can use a mirror to capture your camera.)
Food blogger: Read a cookbook, in your apron, high heels and pearls (Isn't that how you cook?)
Lifestyle blogger: Take one topic your blog is about and find a creative way to show it in photos.
Social Media blogger: Typing on your laptop/computer or checking your cell phone.
Mom blogger: Have your kids in there with you.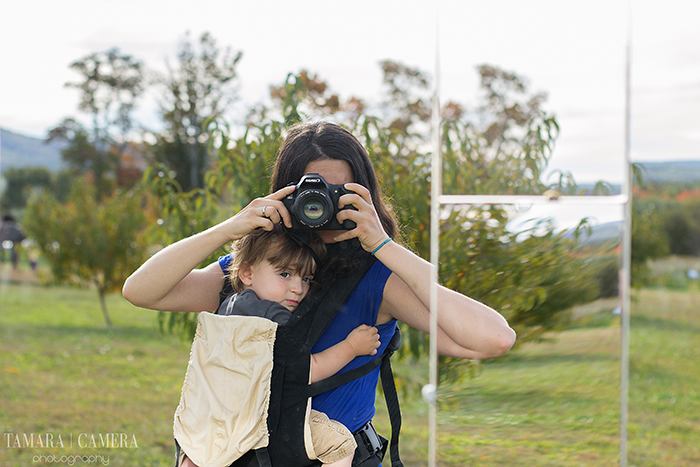 More Ways To Take a Self Portrait
As seen above in the self-portrait with my son, I do love to use mirrors for self portraits. This picture is one I took back in the days of using film. Don't use your camera's flash with a mirror as it won't give a nice result!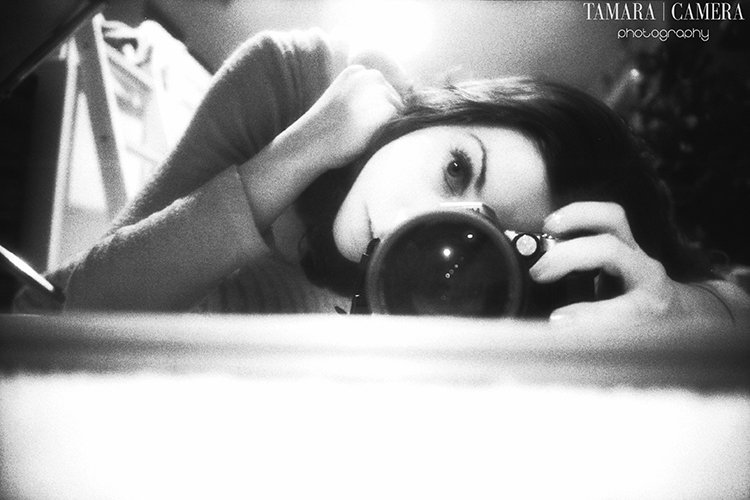 If another adult is present, I will often choose the manual settings myself, and then hand over the camera with a little direction.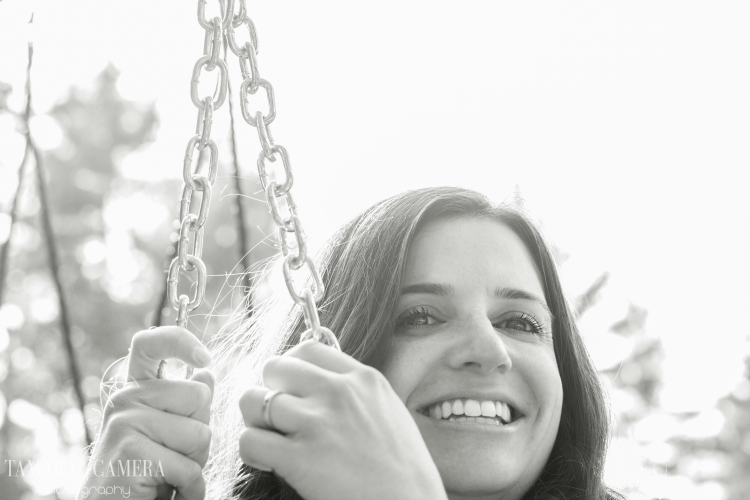 There are times in which there are no other adults! My daughter is very aware of my career and wants to learn photography, too. I will often choose the settings myself, and teach her about why I'm doing so, and then hand over the camera to see her vision. Often, I love it!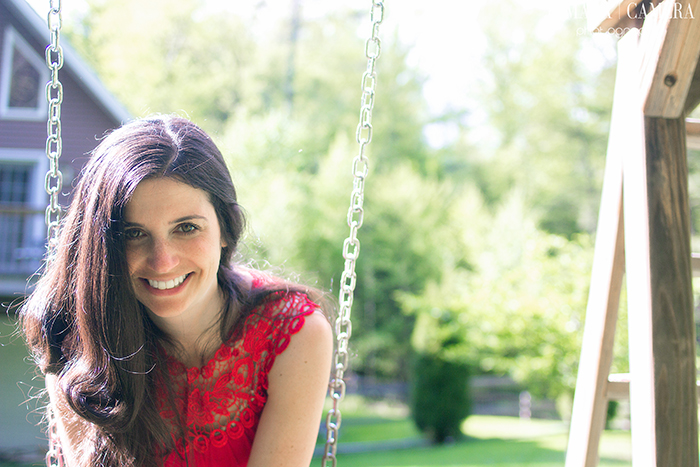 Another fun thing I like to do is put myself in the reflection of sunglasses, as I did in the picture below. You can see me in my husband's glasses. (I wore a white skirt so I would stand out!)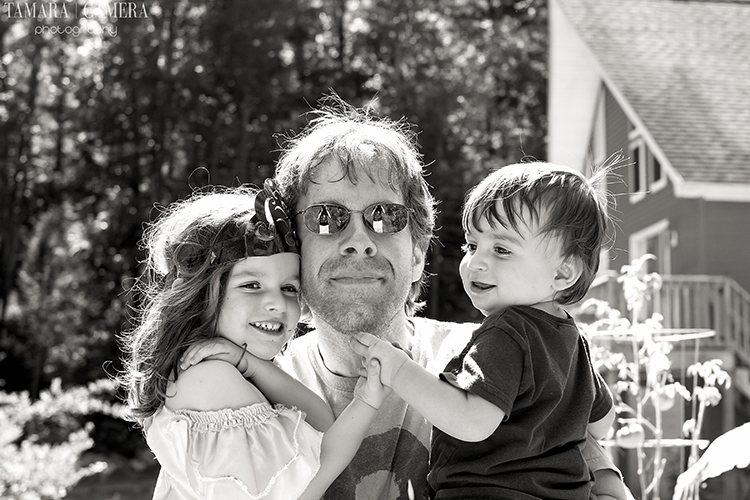 There are a lot of fun ways to take a self-portraits – using self-timers and tripods, mirrors and reflections, and having little helpers, too.
How do you get creative when you take your self-portraits?