This post may contain affiliate links which may give us a commission at no additional cost to you. As an Amazon Associate we earn from qualifying purchases.
In a sea of choices, how do you know which are the best podcasts to listen to? If you read our first Podcast 101 segment, you know what is a podcast, where to find them, and how to listen to them.
But which free podcast should you tune into? Just like blogs, there are literally thousands of them.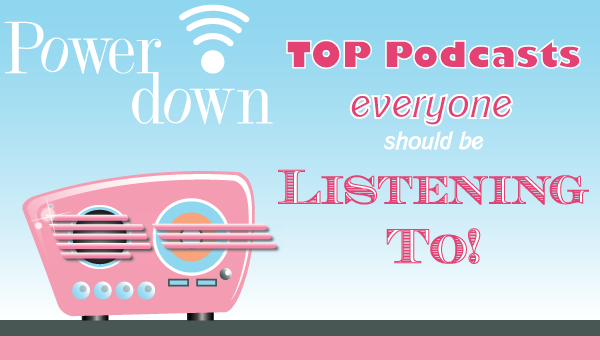 Best Podcasts to Download
Enter my top 10 list of best podcasts for bloggers and busy moms, designed for you to use as a roadmap to find the very best of the best when it comes to podcast downloads.
1. The Power Down Podcast
https://itunes.apple.com/us/podcast/power-down-podcast/id592912004
You knew we had to start our list with our own podcast, produced by myself, Amy Whitley, Heather King, and the SITS Girls, Tiffany and Francesca. Power Down is what we'd call a grassroots podcast: inspired by the growing need we've experienced in the blogger community to find online and off-line balance. Power Down is low on bells and whistles and big on great guests and passionate conversation.
Takeaway: You'll feel alternatively inspired and challenged, and will always come away with concrete tips for establishing online boundaries.
2. Making It with Riki Lindhome
https://itunes.apple.com/us/podcast/making-it-with-riki-lindhome/id451494319
In Making It, Riki Lindome interviews various people in the entertainment industry about how they 'arrived' in their careers. If entertainment interests you, you'll have a blast listening, but knowing who's who in Hollywood is not a requirement: the theme of the podcast is to tap into that elusive 'success formula', no matter who you are.
Takeaway: You'll get a better sense of what actions and choices define successful people.
3. Social Pros Podcast
https://itunes.apple.com/us/podcast/social-pros-podcast-real-people/id499844469
When it comes to the best podcasts, this one is gold for those wanting to get an edge on social media (and that's everyone, right?). Host Jay Baer features real social media marketing personnel and offers social media stats and tips that actually make sense. After I listen, I feel like I've just stepped out of a really good blog conference panel.
Takeaway: Exactly what it says on the label…social media advice you can use.
4. Mojo Mom Podcast
https://itunes.apple.com/us/podcast/mojo-mom-podcast/id80764369
Host Amy Tiermann is a mom, but that doesn't mean her podcast is all about motherhood. In fact, it's largely about balancing work and parenting, with lots of great current news talk and guest interviews added in.
Takeaway: You'll get all caught up on the best books and more relevant news articles without even realizing you're learning something.
5. Copyblogger Radio
https://itunes.apple.com/us/podcast/internet-marketing-for-smart/id402427480
CopyBlogger's Internet Marketing for Smart People isn't just for marketing professionals (although they listen too). It's for anyone with a blog, concept, or business they want to market in new media. It can get a bit technical at times, but don't let that intimidate you. What makes this one of the best podcasts is that it is marketing for dummies, without making you feel dumb.
Takeaway: Wicked smart and easy to implement strategies for growing your business or blog.
6. NPR's Fresh Air
https://itunes.apple.com/us/podcast/npr-programs-fresh-air-podcast/id214089682
It's NPR radio, so how can you go wrong? Fresh Air covers all kinds of topics, from the history of wine to a run-down of the year's worst network television series. (I listened to both, and loved them both.) It can be a bit dry at times, but is worth having on your feed so you can snag the episodes with topics that interest you.
Takeaway: You'll be smarter just by listening, and you'll look smart too, if anyone looks at your podcast picks.
7. Mac OS Ken
https://itunes.apple.com/us/podcast/mac-os-ken/id120867842
This podcast is like crack for me. It's short (only about 15 minutes), but daily (daily, people!) and delivers all the Apple-product news you could ever want. If you're a Mac girl, then this is the podcast for you. If you're not, well, why aren't you? Plus, creator Ken Ray has a fabulous dry humor that will have you chuckling as you listen to the adventures of those crazy kids over in Cupertino.
Takeaway: Will this podcast help you in your blogging endeavors? Probably not, unless you have a big deal in the works with Apple. It's just good fun if you're a Mac dork like me.
8. Shop Talk
https://itunes.apple.com/us/podcast/shoptalk/id493890455
If web design is your thing (or you want it to be), Shop Talk is one of the best podcasts for you. The hosts work at SurveyMonkey and CSS-Tricks respectively, and will teach you everything you need to know about front-end web design.
Takeaway: Amazing web design skills, of course!
9. Be the Voice
https://itunes.apple.com/podcast/be-the-voice/id286574406?mt=2
The first thing to catch my attention about Be The Voice is right on their splash page, where it proclaims, "Blogging should be a core responsibility of a CEO." Right off the bat, I know these people understand my people. The podcast shares stories about social media marketing, interviews key social media strategists, and always has at least one great tip you can implement right away.
Takeaway: You'll learn who's who in social media.
10. TED Talks (audio)
https://itunes.apple.com/us/podcast/tedtalks-audio/id160904630
The TED Talks slogan is 'ideas worth sharing', and I couldn't agree more. TED Talks are not new–they've been around for a while now–but the guests are always amazing, and the ideas shared indeed worth spreading, making it one of the best podcasts around. If you need something inspiring to go with your morning speed walk, this is the podcast.
Takeaway: You'll just better yourself by listening, honestly. And you'll have something intelligent to say at the dinner table when you bring up your best podcasts, too. Imagine that!
Don't forget to try out our Power Down podcast, and hey, if you like it, consider leaving a review on iTunes!
More Best Podcasts and How to Get Connected