This post may contain affiliate links which may give us a commission at no additional cost to you. As an Amazon Associate we earn from qualifying purchases.
Are you trying to figure out what is a podcast? Or maybe you've heard of our Power Down movement and are wondering how to get connected.
Whatever the reason, this post will give you the background you need to better understand what is a podcast, how to tune in, and why it is worth your time!
What Is A Podcast?
Take one part iPod and one part broadcast radio, mix them together, and what do you have? A podcast!
So, what is a podcast?
Simply put, a podcast is any type of digital media. Most podcasts are auditory, most easily compared to talk radio shows, but podcasts can contain image files and even video.
If this is all news to you, or sounds only vaguely familiar, you're not alone: apparently, as many as 60% of people avoid podcasts because they're not sure how to access them or what they are. Tapping into the world of entertainment, inspiration, and education available through podcasts really is as simple as we make it sound.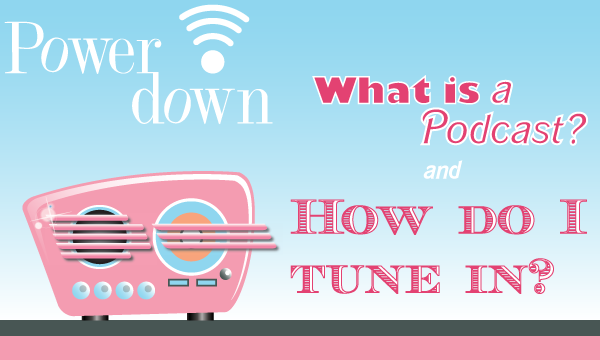 If you're game, we'll have you understanding what is a podcast and listening to compelling podcasts in just five easy steps.
Ready?
Step 1: Determine Your Listening Device
In other words, you'll need an mp3 player or computer. Nearly all podcasts are consumed through iPods of some sort–iPods, iPod Touches, iPads, or iPhones–but any brand of mp3 player will suffice. Alternatively, if you'd prefer to stream your podcast experience instead of download it, you can listen right on your desktop computer, laptop, or iPad…anywhere you run iTunes.
Step 2: Find Great Podcast Content On iTunes
Start by opening iTunes and navigating to Store—->Podcasts. That's it! You'll see all new and featured podcasts on the opening page, or can navigate through a selection of categories by accessing the drop down menu on the right-hand side. The iTunes podcast page will also showcase the day's top 10 podcasts, just as it does oh-so conveniently for top songs on its music pages.
Start surfing around, and one thing will become very clear: there a a kazillion podcasts! And just like with music, ebooks, and blogs, the selection ranges from great to cringeworthy.
How do you know where to begin?
Word of mouth: If you share a lot of interests with your Twitter followers, ask there. You'll get a plethora of suggestions within minutes. (Maybe even within seconds, depending upon how popular you are or how bored your Twitter friends.)
Blog recommendations: What podcasts do your favorite bloggers listen to? This is the part where I tell you to listen to The SITS Girls' very own Power Down Podcast, authored by bloggers Heather King and Amy Whitley.
Google: Yes, Google is still our friend. When I find a new interest, I immediately google the interest + podcast, and see what comes up. Since I'm a major TV junkie, I've been googling 'The Walking Dead + podcast' and 'Downton Abbey + podcast'.
Step 3: Subscribe or Stream
Once you've selected a podcast on iTunes, you can click play and listen to it right there at your computer. However, podcasts were born to be free, so you'll probably want to download your selections to your mp3 player of choice. When trying out new podcasts, click on that tempting 'free' button and download just the first episode. You don't want any surprises. Once you know you are truly in love with your new podcast, click 'subscribe' so ensure new episodes automatically stream into your device.
Step 4: Where Did It Go?
New episodes of each podcast you subscribe to or download individually will automatically be stored in the podcast area of your music library. You can then access it on your iPhone or iPod through the music app, or you can do what I did: download the free podcast app. The podcast app stores all your subscriptions in one place, so all I need to do is click on one app to find all my favorites. It also shows me how many new (not yet listened to) episodes I have of each podcast, and gives me the option of listening to top stations (streaming) in all categories.
Step 5: Listen and Be Inspired
Podcasts are like blogs: they're created by people passionate about their favorite subject matters. Some podcasts are highly professional, backed by sponsors and featuring sleek graphics and impressive guest stars. Others, not so much.
Should you decide a podcast is not for you, you can unsubscribe at any time. Podcasts are the ultimate no-risk, high-reward 'purchase', and the ultimate in grassroots, homespun entertainment. They have enriched my daily walks and jogs for years, and I won't take a road trip without one.
More On What Is a Podcast
Figuring out what is a podcast is easy. The best place to start is with our very own Power Down podcast. Check out these links to learn more:
Power Down Podcast: Learn more about our podcast. It's perfect for those looking for balance and more creative energy
Power Down on iTunes: Download the link to Power Down directly from iTunes.
Free Podcast: Get the inside scoop on how Power Down came to be from one of the women behind this grand idea.
Be sure to stay tuned for part 2 of our what is a podcast series when we cover the best podcasts for bloggers and busy moms!