This post may contain affiliate links which may give us a commission at no additional cost to you. As an Amazon Associate we earn from qualifying purchases.
Hip Hip Horray the holiday season is here! There is no other way to enjoy the holidays than a great playlist with all of your favorite songs. This playlist will get you into the spirit of wrapping presents, baking holiday cookies, building gingerbread houses, and relaxing with friends and family.
We hope your holidays are filled with love, family, happiness, and good tunes, of course!
Don't forget to pin this graphic, so you can save this Christmas playlist.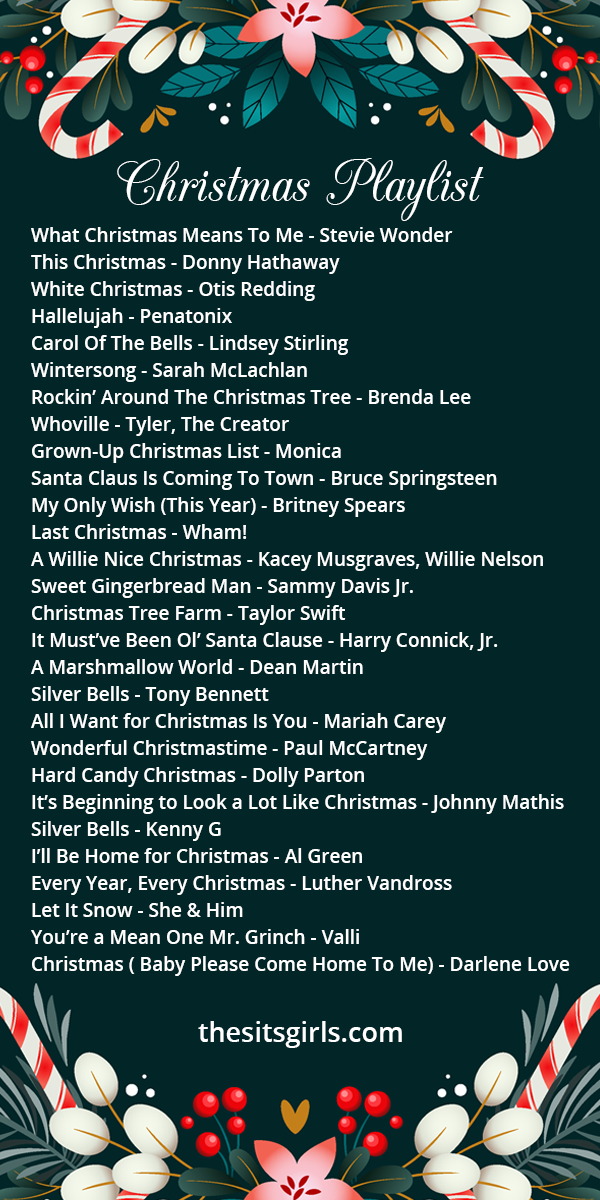 Christmas Playlist
What Christmas Means To Me – Stevie Wonder
This Christmas – Donny Hathaway
Like It's Christmas – Jonas Brothers
The Christmas Song – Sons of Serendip
White Christmas – Otis Redding
Home for Christmas – *NSYNC
Hallelujah – Penatonix 
Just for Now – Kelly Clarkson
Carol Of The Bells – Lindsey Stirling
Wintersong – Sarah McLachlan 
Rockin' Around The Christmas Tree – Brenda Lee
Whoville – Tyler, The Creator
Christmas In Hollis – Run – D.M.C.
Merry Christmas, Happy Holidays – *NSYNC
Underneath the Tree – Kelly Clarkson
Grown-Up Christmas List – Monica
Green Christmas – Barenaked Ladies
Have Yourself a Merry Little Christmas – Coldplay
Santa Claus Is Coming To Town – Bruce Springsteen
Mele Kalikimaka (Merry Christmas) – Bing Crosby, The Andrew Sisters
A Winter Romance – Dean Martin
My Only Wish (This Year) – Britney Spears
Last Christmas – Wham! 
A Willie Nice Christmas – Kacey Musgraves, Willie Nelson
What Christmas Means to Me – CeeLo Gree
Christmas Wrapping (with Iggy Pop) – Kylie Minogue, Iggy Pop
The Christmas Waltz – Peggy Lee
A Box of Chocolate Mints – The Flax
Sweet Gingerbread Man – Sammy Davis Jr.
Ride On Santa, Ride On – Stan Kenton
The Christmas Song – June Christy
Christmas Tree Farm – Taylor Swift
(It Must've Been Ol') Santa Clause – Harry Connick, Jr.
A Mashmallow World – Dean Martin
Silver Bells – Tony Bennett
All I Want for Christmas Is You – Mariah Carey
Santa Tell Me – Ariana Grande
Wonderful Christmastime – Paul McCartney
Hard Candy Christmas – Dolly Parton
Kiss Me at Midnight – *NSYNC
Santa, Can't You Hear Me – Kelly Clarkson, Ariana Grande
Froster The Snowman – Pentatonix, Alessia Cara
Kid Again On Christmas – Tori Kelly
It's Beginning to Look a Lot Like Christmas – Johnny Mathis
This Christmas – Christina Aguilera
Silver Bells – Kenny G
I'll Be Home for Christmas – Al Green
Every Year, Every Christmas – Luther Vandross
Rockin' Around The Christmas Tree – Miley Cyrus
Let It Snow – She & Him
Sleigh Ride / Santa Claus Party – Les Baxter, Ferrante & Teicher
Me and Mrs. Claus – J. Anthony Brown
All I Want Is You (This Christmas) – *NSYNC
You're a Mean One Mr. Grinch – Valli 
Lights On – Tyler, The Creator, Ryan Beatty, Santigold
Date With Santa – Emily West, K.S. Rhoads
Christmas ( Baby Please Come Home To Me) – Darlene Love