This post may contain affiliate links which may give us a commission at no additional cost to you. As an Amazon Associate we earn from qualifying purchases.
Newcomers to blogging may be puzzled when they first encounter a linky, or link up, or in some cases, a blog hop party. What is it and why do people do it?
To put it simply, a linky is when a host blog invites other blogs to link up a post, with the purpose of giving the linker and host, additional blog traffic and comment love.
It is also a great way to build an active blogging community, introduce the host blog's readers to other blogs, and in some cases, provide blogging inspiration by providing a writing prompt or theme for the linky.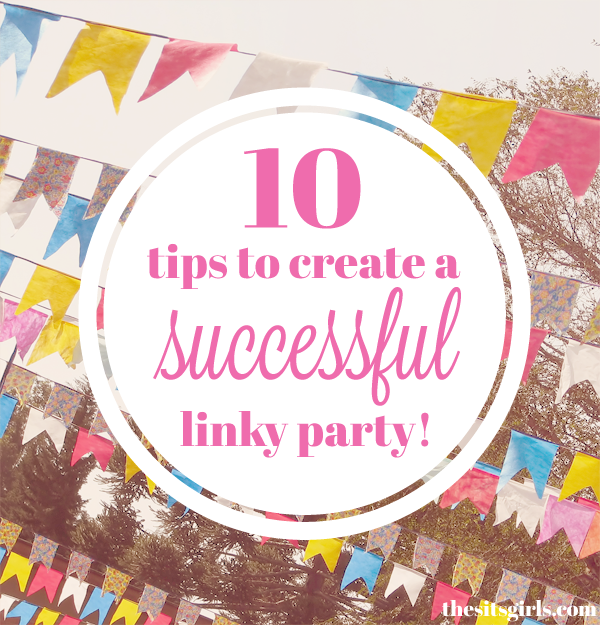 10 Tips For a Successful Link Up
Aside from post linkys, some blogs host blog hop linkys as a way to grow their blog, by inviting bloggers to link up their blogs or a social media profile, such as their Facebook page or Twitter account. It's a great way to meet new blog friends!
Want to try hosting one?
Here are 10 tips for a successful linky.
1. Choose a Linky Tool
The top two tools are Linky Tools and InLinkz. You can register for a free account, and choose to upgrade to a premium account at a later date. Premium accounts mean that you have more options to customize your linky. Research each tool, talk to other bloggers, then decide which tool you prefer to use.
2. Decide on the Type of Linky To Host
Will it be a weekly writing prompt such as Mama Kat's Pretty Much World Famous Writer's Workshop? Or do you prefer to host a Wordless Wednesday linky? It could be something simple, inviting bloggers to link up a favorite post of the week like our very own Saturday Sharefest. Pick something that you are interested in, that you can commit to.
3. Select a Catchy Name
Your linky name should be short, easy-to-remember, and preferably SEO-friendly. If you're hosting an Instagram linky, make sure that's reflected in your linky name. The name should also be fairly self-explanatory, so don't be vague.
4. Design a Fun Button/Logo
Linky hosts usually require participating blogs to include a linky button in their post and/ or a link back to the host. This is a great way to advertise your linky, so make sure your button is pretty, and that all the pertinent details are there – linky name and your blog URL or name. Such as "Instagram Tuesdays Linky, hosted by PhotoBlog.com". You can easily design a button using PicMonkey.
5. Decide on Your Schedule
How often do you want to host your linky? Weekly? Every other week? Monthly? What day of the week should you do it? Research existing linkys – what days are their linkys? Do you want to clash with theirs if it's a similar theme? Does it matter? What days are good for blog traffic? Pick a day, and stick with it.
6. Get a Co-Host
Aside from spreading the workload of creating, hosting and promoting a linky, having a co-host is a great way to give your linky more wings. By combining your heads, readers, and social media following, you can reach a wider audience.
7. Promote It
Okay, you've decided on a linky name and theme, how often and when you want it to go live, and designed a cute button – what now? Promote, promote, promote! You can write about it in a blog post the week prior, and have frequent reminders on the blog by inserting the linky button in your sidebar, and talking about it on social media. Engage a few blog friends to help you share it everywhere!
8. Visit All the Participants
Your linky is now live! You've been promoting it and you have linkers, awesome. I cannot emphasize how important it is that you and your co-host visit each and every linker. Head on over, read their blog post and leave a thoughtful comment. Remember to thank them for linking up, it's only good manners.
9. Promote Your Participants' Link
To show your appreciation to your participants, promote their link on social media. Tweet it, share it on Facebook, +1 it on Google+, you can even create a Pinterest board so you can Pin all your participants' posts or blogs there. Your linky participants will appreciate it, and spread the word about your awesome linky.
10. Encourage Participants to Share the Love
The best part of hosting linkys? Creating a community. Encourage your readers and the linky participants to visit each other, or follow on social media. Get into the true spirit of blogging!
Most of all – enjoy yourself!
Your Turn
Do you have any tips to make a linky successful? Name a linky you participate and love — even your own!
Want More Social Media Tips?
Then be sure to check out these posts: