This post may contain affiliate links which may give us a commission at no additional cost to you. As an Amazon Associate we earn from qualifying purchases.
So you keep hearing about it.  This thing called a plugin. But what is it really?  Without getting into all the technical jargon a plugin is a feature on WordPress that allows bloggers to optimize and customize their websites.  With everything from detailed site statistics to a customized sidebar, the best plugins can help you design the website you want.
Why is the blog space buzzing about finding the best plugins?
After you choose a WordPress theme for your new website you can tweak it to your personality with one of the several thousands of plugins that WordPress has to offer.  You don't need to hire a designer to customize your new website and you don't need to learn how to code.  If you want to add new features to your website such as photos from Pinterest or your Twitter feed all you have to do is download and install a plugin.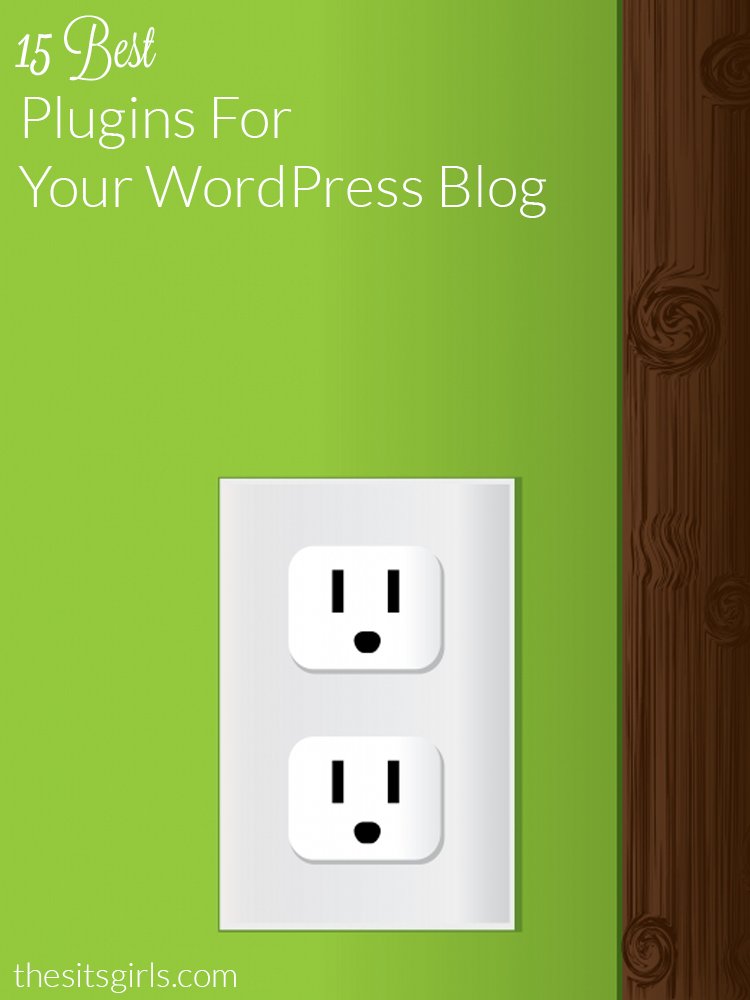 15 Best Plugins for WordPress
These WordPress plugins are easy tools that make your website awesome – and more importantly your own.  Oh and did we mention, they're free?
CommentLuv is a sharing plugin.  It allows people who leave comments on your blog to show their most recent posts along with their name and comment.  It's a great way to discover new blogs and encourage sharing.  I love leaving comments on blogs with CommentLuv.
This was one of the first plugins I installed on my blog. It shows several related posts underneath new posts based on the content.  It suggests your visitors to keep reading based on their preferences.  This keeps your bounce rate down and keeps readers on your blog.
This super simple plugin makes it easy for anyone to find your blog on search engines through keywords.  It will rank your blog content and let you know if it is being optimized for search engines.  It's a great way to attract new readers who are searching the web.
This plugin keeps you in the know with what's happening on your blog. It allows you to reply to comments on your blog through the WordPress dashboard or with the mobile app. When you reply to a comment it sends and email to the original commenter to let them know they have an answer.  It keeps the conversation going on your blog – and we all want that.
This is one of the most popular WordPress plugins.  If you have ever read a blog post you've probably seen this plugin.  It allows your content to be shared with just the click of a button.  It's customizable and it gets your content out into the space.
This plugin has made my life a lot easier because it helps plan content publishing topics and dates.  I use to write down ideas with a pen and paper, but now I plan.  This plugin lets you see any gaps in the content schedule as well as change dates and plan for the future.  This plugin is blog organization at it's best.
These plugins display your blog in a mobile-friendly platform.  It makes your blog accessible to everyone, anywhere at any time through their phones and other mobile devices.  In 2014 this plugin is a must have.
The What Would Seth Godin Do WordPress plugin displays a message to new visitors to your blog – any message you want.  If you want to welcome readers, encourage them to sign up for your mailing list or take any other action this plugin is the perfect pop up.
  This plugin protects your blog just in case something goes wrong.  If your blog crashes or gets hacked this backup will save your blog life because it restores the blog to its pre-crisis states.
Spammers stay away with this plugin.  This plugin catches almost any spam comment made on your blog and filters it out of your comments.
Building up organic links to your blog is a key component of successful search engine optimization. However, if your links are broken they do not provide any use, for you or those you are linking to in a post or page. An essential tool for bloggers, this plugin monitors your blog to find broken links. If it finds broken links, it lets you know so that you can go in and fix them! Genius, right? It looks through all the aspects of your blog and you have the option on whether or not to be notified via the dashboard or via email if any broken links are found. It will even allow you to prevent search engines from following your broken links.
Many bloggers do some affiliate marketing on their site. Pretty Link Lite tracks the clicks inside my WordPress Dashboard and when I share an affiliate link with someone, it's short and easy for them to remember. (Make sure that you always disclose; I have clearly disclosed to my readers that I'm using affiliate links.)
I like all of my blog posts to have an image, but I don't always have the time to take and edit a picture for each post; Photodropper is my hero. This plug-in allows bloggers to search images with the right licenses (be sure to check "show only photos that can be used commercially,") to use in blog posts. Each image comes with a credit back to the photographer's Flickr photostream.
This one deserves balloons. Tweet Old Posts lets you dust off older posts and share them again on Twitter in a non-spammy way. I just re-read that sentence and thought "duhhhh." Here's something that isn't so obvious: with this plug-in, you can select the time period it pulls posts from and you can deselect giveaways or other posts that don't need a repeat.
If you are running your blog on the Genesis platform then this plugin will change your life! Simple Hooks allows you to insert code into any of the 50 action hooks in the Genesis platform. With this use of this plugin you can skip hours of time spent in your theme file. You might even save some money by not hiring a designer to do the coding needed.
KEEP READING
Looking for more info? Here are a few posts related to starting a blog that you'll find helpful: