This post may contain affiliate links which may give us a commission at no additional cost to you. As an Amazon Associate we earn from qualifying purchases.
SEO can seem super complicated if you are new to blogging, but don't let it overwhelm you! There are plenty of small changes you can make to your site without extensive technical or coding knowledge that will help you boost your SEO. Make sure you consider these 5 elements when you are writing your next post and start boosting your search rankings!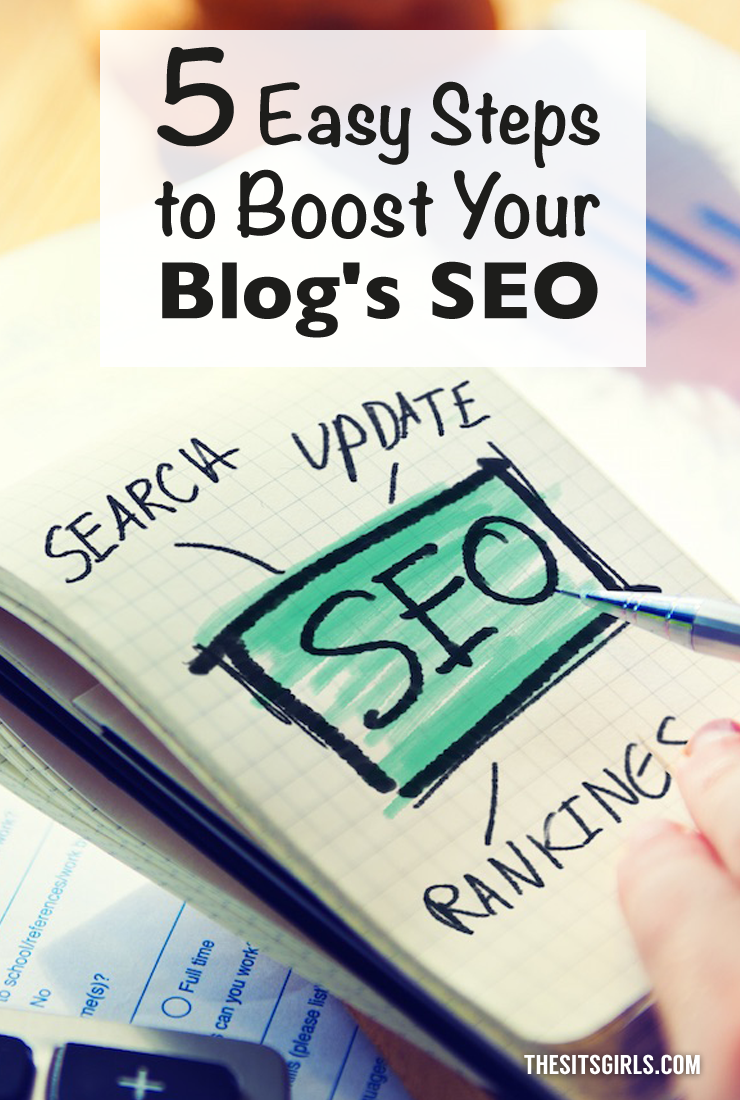 5 Easy On-Page Elements to Boost Your SEO
1. URL
Both the URL structure as well as the content of your URLs are important to your SEO.
The ideal structure is: www.website.com/blog-post-title or www.website.com/blog/blog-post-title.
By default many web management systems like WordPress set it so your URL turns out looking something more like this: www.website.com/year/day/month/blog-post-title
This isn't ideal because it is visually unappealing and hard to read, and the closer your keywords are to the beginning of your URL, the better.
To change this, visit your permalinks settings. This is what it looks like in WordPress: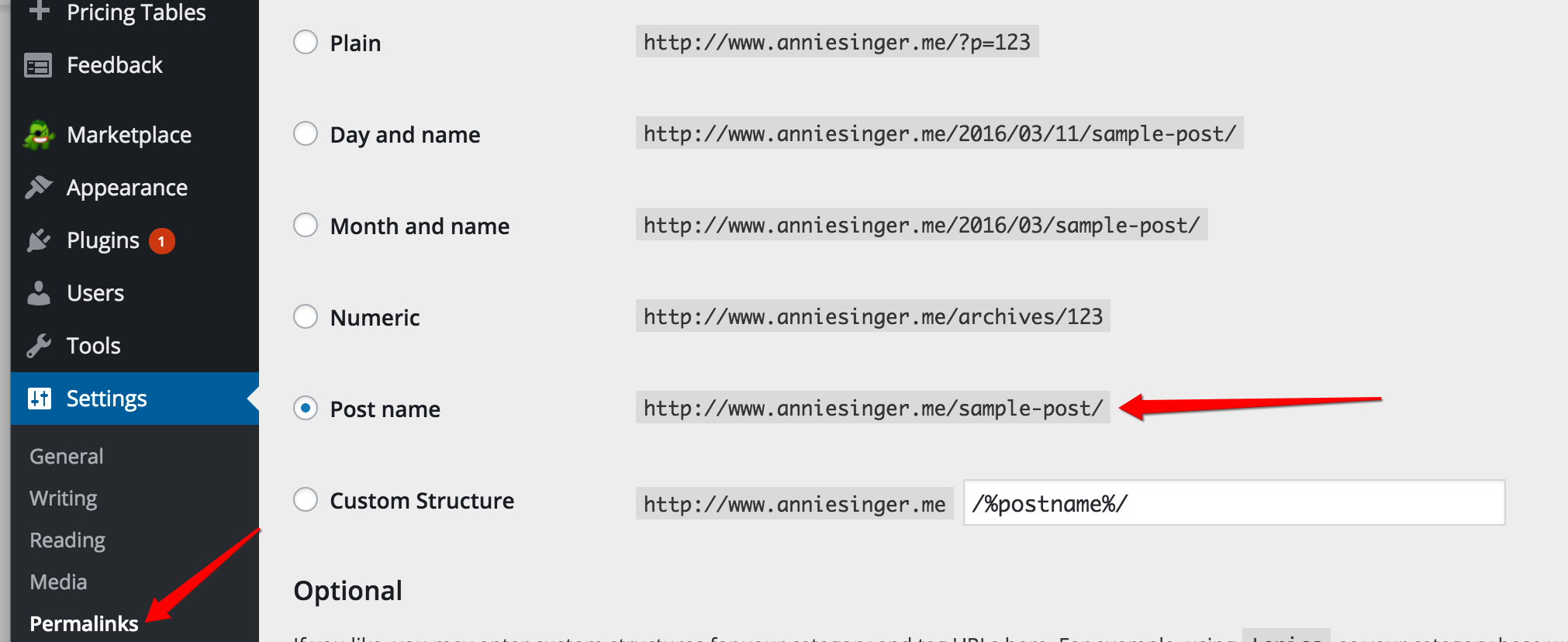 Keep in mind: If your website is not new and you have existing posts, it's important to take steps to redirect all of your old URLs. Here is a great guide to help you with the transition.
2. Post Titles
I see a lot of bloggers coming up with really creative titles for their blog posts. I completely respect the art of writing and know some writers can create beautifully catchy titles without speaking directly about their topic, but if you want to boost your SEO, it's important to include keywords in your post title.
Your title tag can be different than your post title if you use a plug-in like Yoast SEO, so even if you want to come up with a creative title, make sure that your official SEO title tag contains keywords relevant to your post.
3. Header Tags
A mistake I see shockingly commonly is not using header tags. Some bloggers know that headers are important visually so they bold their header texts, but bolded text is not the same as using actual headers.
To create headers in your blog posts, go to the code of the post. Where you see the text that you want to be the header, simply put <h2> and </h2> before and after the text. It will look like this:
<h2>My Header</h2>
Then, when you go back to your visual editor you will see that you have created an enlarged, bolded header that is search-engine friendly.
4. Img Alt Tags
Img Alt tags are another type of SEO tag that may sound intimidating, but really require no coding skills at all. If you use WordPress, you can find the Img Alt tag here: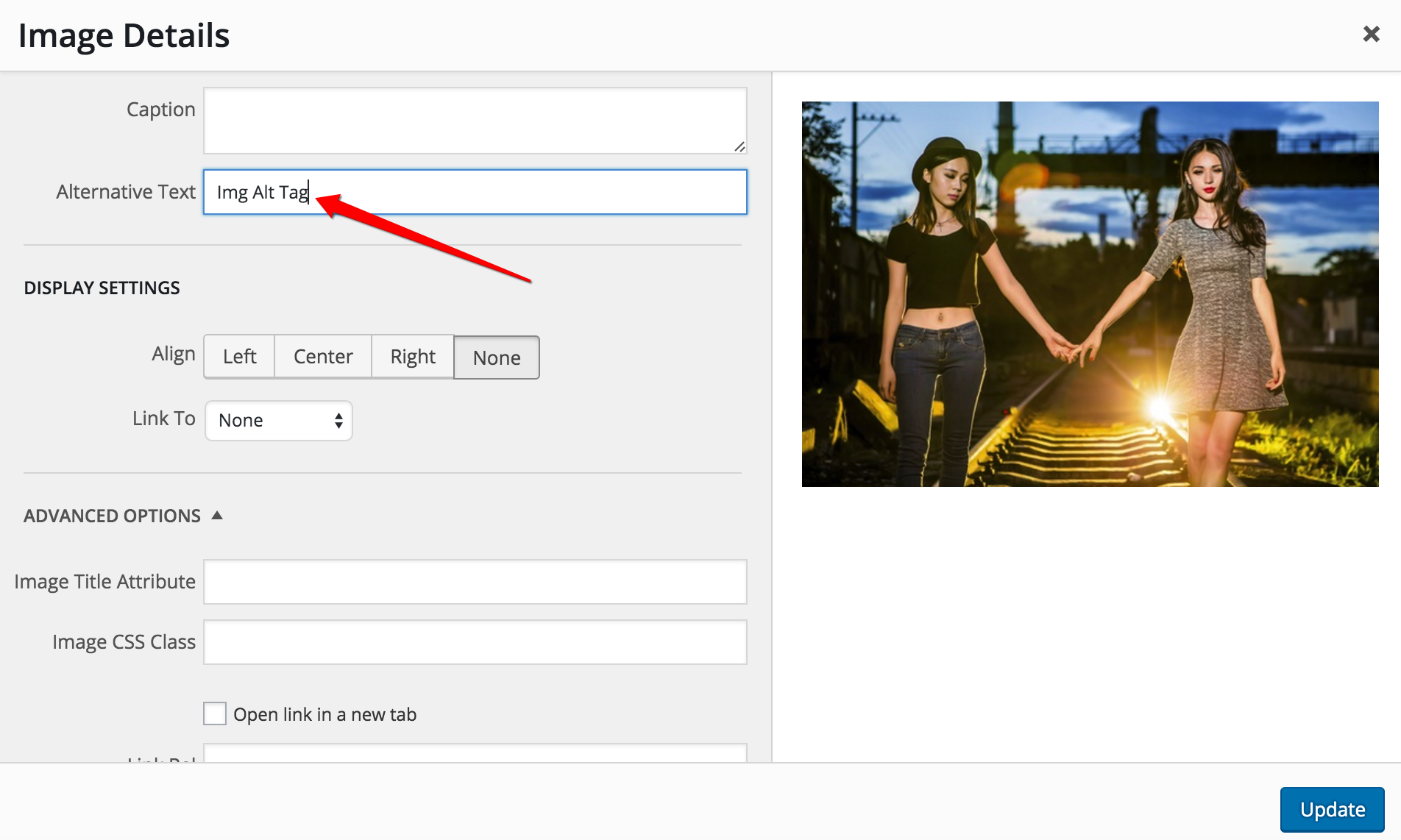 Search engines can't understand pictures visually like we can, so the Img Alt tag helps them understand what your image is about.
Img Alt tags aren't just for SEO purposes though, filling them out can also benefit your user. If for some reason your image doesn't load, your tag will still show up and they will be able to understand what the photo would have been, giving them more context to your post. They also auto-populate as Pinterest descriptions when someone pins your image.
5. Internal & External Linking
As someone who has been working professionally in SEO for years, I am a firm believer in the power of the link. Links are signals to Google that you trust and vouch for the content on a relevant website.
Link to authoritative content that is relevant to yours – for example if you are writing about fitness, you might link to a bodybuilding.com article where you got some information.
Internal linking is also beneficial both to your users as well as search engines. If you write a post on your goals for April 2016, and link the post to an article you wrote about the benefits of setting goals, not only are you encouraging your users to spend more time on your site enjoying relevant content, but you are also sending positive signals to search engines.
Improving your SEO might seem daunting, but by implementing these changes you can greatly improve the quality of your blog in the eyes of search engines like Google, Bing, and Duck Duck Go.
Author Bio: Annie Singer
Annie Singer is a growth marketer specializing in SEO and Google Analytics. She is currently offering a free and simple Google Analytics Dashboard with the goal of showing bloggers that data doesn't have to be overwhelming. Connect with Annie on Twitter or Instagram!
Keep Reading
Looking for more tips to help you boost your SEO? Check out these posts!