This post may contain affiliate links which may give us a commission at no additional cost to you. As an Amazon Associate we earn from qualifying purchases.
New to SITS? Welcome!! Go read this to get started.
Hello Sitstas! I'm Shannon from Mom Improvement and I'm starting a new feature here on SITS called The Saturday Sharefest.
Here's what we'll do: We'll gather here on Saturdays, I'll give you a blogging/marketing/SEO tip, then we'll play a comment game and share the love. Sound fun? Of course it does.
Today we're talking about creating killer blog post titles. Your goal in creating your title is two-fold: To entice readers to click and to be search-engine friendly.
When you first publish, you want people to click on your blog post title when they've found you through social media sites like Twitter or a feed reader. Your blog post title should be interesting, short and sweet, and include some key words.
Later, you'll want people to find you via search. Creating a search-engine friendly blog post title is a complex topic, but I can boil it down to a few key concepts.
Use words that people are likely to search for. There's a great post here to help you find out what people are searching for.
Put your keywords close to the beginning of your blog post title. For example, I used

"Creating Killer Blog Post Titles – Saturday Sharefest"

instead of

"Saturday Sharefest: Creating Killer Post Titles."

If you are a WordPress user, you can install the All in One SEO plugin which will let you set one title for display on your blog and another title for search engines.
Here's the rub: You can't create the perfect blog post title for every post you write. Your titles won't sound very personal and it's not worth obsessing over it. But for your best posts – the ones you think might convert visitors to regular readers on your blog – put a little extra care into those blog post titles.
Now, let's play a game! We all know that commenting is the secret to success. When you comment on another blog, you increase your visibility to other bloggers who read your comment. Here are the rules for the Saturday Sharefest:
Leave a comment here with a link to one of

your

best blog posts (or just your main URL if you prefer).
After you leave your comment, visit the link of the person who commented BEFORE you.
Comment on their post and be sure to say

"Happy Saturday Sharefest"

in your comment.
This last part is really important because other people visiting our various blogs will see this "sharefest" note and wonder, "What the heck is that?" Then they might seek us out and we'll get even more people involved in SITS. Get it? Good! Now, go play nice and leave some comments!
And, as always, when you see this: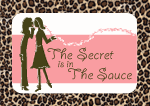 LEAVE A COMMENT.