This post may contain affiliate links which may give us a commission at no additional cost to you. As an Amazon Associate we earn from qualifying purchases.
Backlinks are important to every blogger. They contribute to our Page Rank and where our blogs show up in the search engines for keywords we are targeting. Beyond SEO, these backlinks can also help us bring in targeted traffic. These are readers that are going to keep coming back to our sites, and in one way or another, they will contribute to the profitability of our blogs.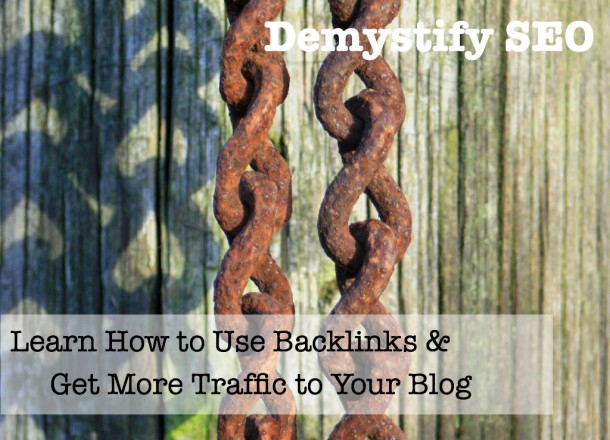 How to Get Backlinks
There are a few tools that can provide us with backlink data. None of them are perfect. Very few are free. Blekko is one of those tools that will provide us with backlink data, and no subscription is required.
What is Blekko?
Blekko is a search engine that allows searchers to create custom searches with the use of slashtags. If you are a Twitter user, you are likely familiar with hashtags. Slashtags are similar, but they require the use of "/" rather than "#". Backlink data can be found by doing a search for your domain with the slashtag "/domainlinks".
Info You Can Gather From a /domainlinks Search Using Blekko
External Sites That Link to You
Pages Linked to
Anchor Text Used
How to Find Backlink Data in Blekko
You will need to create a free account and login.
Perform a search for yourdomain.com /domainlinks. (There is a space between the URL and /domainlinks.)
By clicking through the number of links listed behind those URLs linking to your site, you can then see the page that linked to you, the page they linked to, and the anchor text they used.
Using Blekko to Get Backlinks
Blekko is one of the few free tools that will allow us to peek into another site's backlinks. By analyzing the backlinks of blogs similar to your own, you will likely find new networks to engage and new guest posting opportunities. These new possibilities can lead to more readers.
Over time we can become a little too comfortable with how our blogs are progressing. We start relying a little more on our readers to promote our work than we did back when we would show up anywhere and everywhere to find new faces. We start hanging out in only a few places as opposed to exploring new networks. Complacency is never good. Use Blekko to get out of your comfort zone. Find those new opportunities and new faces for your fabulous blog.
About the Author
Angie Nelson is a Virtual Assistant, avid blogger and PLR producer. The Work at Home Wife will show you how to make money from home as a home business owner, freelancer and blogger. You can also connect with her on Facebook and Twitter.