This post may contain affiliate links which may give us a commission at no additional cost to you. As an Amazon Associate we earn from qualifying purchases.
New to SITS? Welcome!! Go read this to get started.
Welcome to the weekly blogging tip and Saturday Sharefest comment game! This week I'm talking about the importance of getting your own domain name.
It's quick, easy and free to start a blog with a service like Blogger. It's also quick, easy and nearly free to purchase your own domain name. Here are four reasons why you should take this important step.
1.) Your own domain name gives you a more professional appearance online. It also adds a level of trust, making it appear that you are serious about your site and in it for "the long haul."
2.) An easy-to-remember URL helps you to brand yourself (and/or your business) over all the social media sites you participate on.
3.) Better to get the domain name you want now, than have someone else take it first. If you build up your blog's brand under a certain name, then find out someone else owns that domain, it might inhibit your growth in the future.
4.) Your domain can grow with you. If you decide to someday switch to a self-hosted blogging platform like WordPress, or to have a subdomain with a "spin-off" blog or web site, you can do this when you own your own domain and you will still keep your link juice and Google rank. You won't need to start from scratch.
In your Blogger account, click on the Settings tab, then Publishing and you can purchase your domain name for $10/year. Blogger will automatically set up your blog to publish on your custom domain. If you don't use Blogger, try GoDaddy, or check with your blogging platform to find out how to use a custom domain.
Now let's play a game! Here are the rules for the SITS Saturday Sharefest:
* Leave a comment here with a link to one of your best blog posts (or just your main URL if you prefer).
* After you leave your comment, visit the link of the person who commented BEFORE you.
* Comment on their post and be sure to say "Happy SITS Saturday Sharefest" in your comment.
Now, go leave some comments! And please visit my blog, Mom Improvement.
We've started our own Blog Frog Community! Every person who joins in the month of April is entered to win a $100 Target gift card!
SITS Girls is coming to:
San Francisco, Philadelphia and Austin tickets are on sale now!
Want to get an email each time we post? Just click here.
And, as always, when you see this: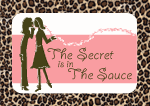 LEAVE A COMMENT.