This post may contain affiliate links which may give us a commission at no additional cost to you. As an Amazon Associate we earn from qualifying purchases.
When it comes to blogging, there's no end to the tools that people will try to sell you on. But one of the best tools for blogging is one that's absolutely free – the Google Keyword Planner Tool.
Before we talk about how to use the Google keyword planner, I think it's important to understand why you should use it at all — and to understand that, you need to have a little bit of knowledge on what keywords are.
Keywords are the words and phrases that people use to search. When you go to Google, you'll type something in the search box like "cute puppy videos" or "how to knit socks". Those are keywords.
The Keyword Planner helps you find the keywords that people are using in your niche. If you want your post to get found in search, you need to know how people are actually searching for it. It's a vital tool for search engine optimization.
For example, if you're writing about weight loss, is it better to write "lose unwanted pounds" or "lose unwanted fat"? Which one are more people searching for? Which one is more likely to bring you traffic? That's where the Keyword Planner Tool can help you.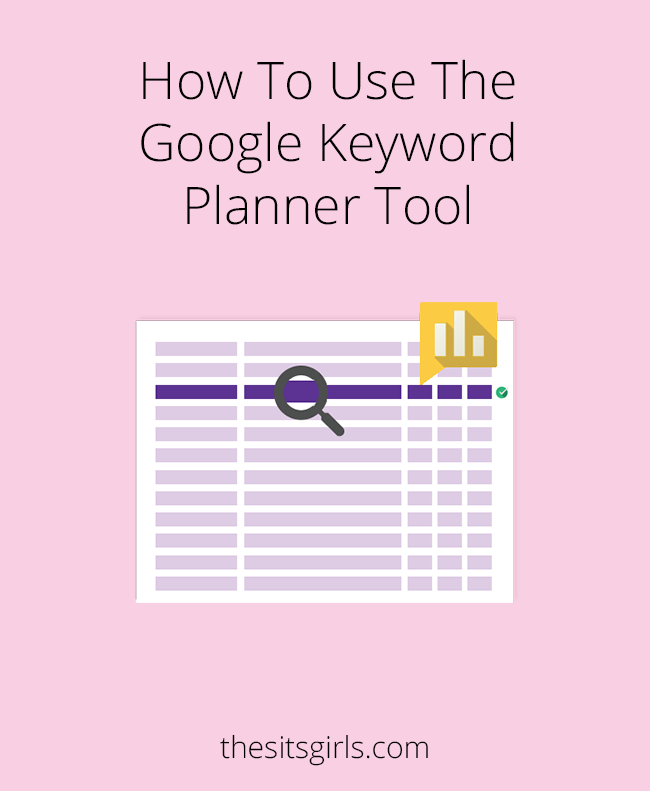 Step-By-Step Guide For Google Keyword Planner Tool
1. You need a Google account
This is pretty simple – if you already use Gmail, or Google+, or any other Google product, you've got an account. If you don't, go to Google Adwords and set up your account.
2. Log in to the Keyword Planner
Head over to the Google Keyword Planner and log in with your Google account information. The planner was created specifically to help people create paid ad campaigns so it has a lot of functions that aren't really needed by us as bloggers. What we need can be done by choosing "search for new keywords using a phrase, website or category".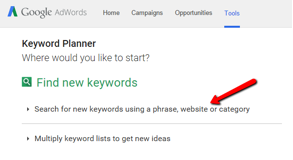 3. Begin Searching for Keywords
There are 3 ways that you can find keywords for your posts: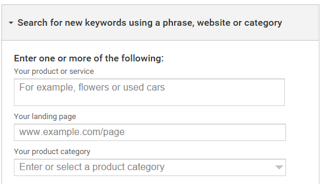 Your product or service: Type in one or more words that describe the topic of your post. Put each one on a separate line, and avoid using very broad terms like "books" or "dogs". You want to type in phrases that are specific to your post.
Your landing page: If you enter a URL into this box, the Keyword Planner will analyze it and recommend keywords based on that page. While it says "your" landing page, I like to use this to analyze pages from similar blogs to find out what kind of keyword phrases they might be optimized for.
Your product category: I never really use this option, as I don't find it to be very helpful when it comes to finding really good keywords. But, you can use it in combination with the "product or service" search to narrow things down. It's always a good idea to experiment – you never know what's going to give you an awesome keyword.
4. Filter Your Options
Depending on your topic and what kind of keywords you're looking for, you may find it helpful to further filter the type of keywords you're looking for.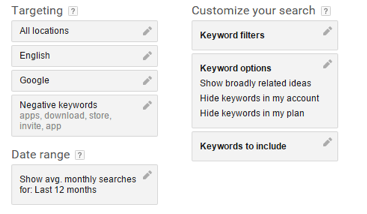 Targeting: There are four options under targeting. Let's break them all down.

Location let's you choose whether you want to see world-wide numbers, or if you want to focus on a specific country or location. If your target audience is in the US, you may want to look for US specific search terms. It's also helpful if you're working with local businesses and are looking for keywords that only apply to your local area. If you're creating content for a house painter in Baltimore, you can choose "Baltimore, Maryland, US" as your location, or widen it a little to include all of Prince Georges country.
Language is pretty self explanatory. If you're writing your post in English, you'll want to target English speaking searchers.
Search type is something you will leave set to Google as a blogger. The other option comes more into play for people who are looking for ad campaigns for Adsense.
Negative Keywords is where you'll enter any words that you do not want to be included in your search results. For example, if you're writing about an affiliate product for learning Spanish, you might not want to sift through keywords that include people searching to "Learn Spanish for free" – so you would include "free" as a negative keyword.

Customize your Search: Most of these options are only useful to people who are creating Adsense campaigns. However, Keyword Filters does give you the option to filter out keywords that have less than a set number of searches per month. I generally set this to less than (<) 10000 searches per month. Anything more than that is generally too broad and will have too much competition. But this is definitely something you can experiment with and test to find out what kind of numbers work best for your blog.

Keywords to include is the opposite of negative keywords. Any word that you add here will be in all the results. This is great help when you're looking for certain long-tail keyword phrases; simply add words like "How to", "What is" or "How does" to find phrases that people are searching for.
5. Find Your Keywords!
Once you've got everything set, click on the "Get Ideas" button, and after a second or two you'll be taken to the results page.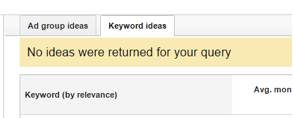 First, you'll notice that you have two options — "Ad group ideas" and "Keyword ideas". While Ad group ideas are generally more useful for people doing AdSense campaigns, it never hurts to check them out; they can often help you narrow down your ideas.
Click on over to the Keyword ideas tab and you'll see this:
The keywords are listed by relevance, according to what Google believes is most relevant to the search terms you chose. Y can also click on any column to sort the results; I usually sort by the average monthly searches.
Average monthly searches are exactly what you think. It bears keeping in mind this an average. If your search is for something like "How to deep fry turkey", the actual search numbers may fluctuate wildly, depending on the time of year.
You'll notice a little graph icon just to the left of the search numbers; click on this to see a graph of results over the last year. You'll be able to see seasonal differences in search numbers, as well as tell if something is getting more or less popular over time.
Competition is a measure of how many advertisers are bidding on a keyword. While it might not help your SEO, it can let you know how valuable that keyword is. Generally, if there is high competition, it means a lot of advertisers are creating campaigns with that term – because it makes them money.
Suggested Bid goes hand in hand with 'Competition'. If the bids are very high, it's because the search term brings traffic that's willing to spend money. Again, this may not be as important to your SEO purposes, but it's a good thing to keep in mind.
As you choose keywords, try to find words that offer a high volume of searches without too much competition.
Using this information, you should be able to use the Google Keyword Planner Tool like a pro to find the best keywords to bring traffic to your blog.
Looking for more SEO tips? Check out our Easy SEO Blogging Tips!