This post may contain affiliate links which may give us a commission at no additional cost to you. As an Amazon Associate we earn from qualifying purchases.
On Monday, we announced that our Food & Lifestyle channel is changing!  Going forward, we're giving our community yet another way to be featured with our "how to" post series.  This is your chance to guest post on SITS.  To get involved, simply send your post to [email protected] and we'll get you added to our queue.  All post titles need to start with the phrase…How To.  In other words, your job is to teach our readers something about what you know. Your topic could be informative, serious, funny, entertaining, whatever. The choice is yours.
Joining us today is Anne from Lady Anne.  She is teaching us why we need to give Google Reader a second chance. And after reading what she has to say, I definitely will be!
I feel like Google Reader is a love it or hate it kind of thing – people either can't live without it, or can't live with it.  I fall into the "love it – can't live without it" camp, and I want to share some tips to help you fall in love with Google Reader all over again.  It really can be a great tool to help you keep up with blogs and other websites, and I think it's much easier to remember to check one thing online than two hundred.
1. The "Next" Button
One of the downfalls of Google Reader is that reading posts inside Google Reader doesn't give the blogger page views.  Well, that just won't do!  We have to give our bloggy buddies page view love, and you can with the next button.

Clicking on that button, on the right side of your bookmarks toolbar in Firefox, takes you to your next unread post in Google Reader.  Neat, huh?
2.  Folders
Google Reader will automatically sort your subscriptions alphabetically, but I prefer to have them in folders sorted by topic.  This helps me prioritize reading when I don't have a ton of time, or just when I want to keep things organized.  You could create a folder for blogs from the SITS 31DBBB challenge, or fabulous food bloggers.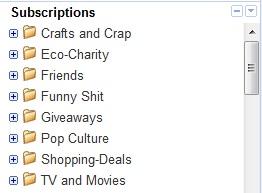 3.  "Mark all as read"
The biggest complaint I hear about Google Reader is that it gets overwhelming.  And it can!  I think the key to staying sane is giving yourself permission to hit that "Mark all as read" button.  If you've just gotten back from vacation and you have over a thousand unread items in your reader, plus the million other online and offline things to catch up on, it can be a bit much.  Just do it – hit "Mark all as read" and start from zero.  Hit up some of your favorite "must read" blogs and see what you missed, but don't feel like you have to read everything.  What's the worst that will happen?  You may miss some good posts, but if you're stressed about reading everything, you're not having fun, and that's the whole point of the blogosphere.

4.  Google Reader Widget
I use iGoogle as my homepage, and I have the Google Reader widget front and center.  This gives me a preview of my five newest posts, and lets me scroll through to see all of them.  I love the widget because it gives me a little preview and lets me see if there's something  that I "must read" as soon as I open my browser.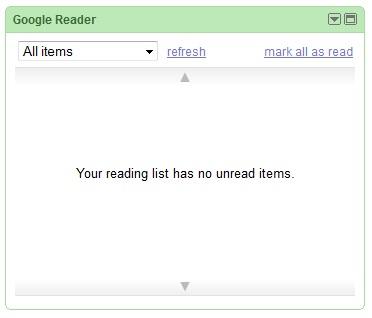 5.  Don't be Afraid to Unsubscribe
If there's a blog or website in your reader and you find yourself constantly hitting "mark all as read", go ahead and unsubscribe.  Why keep stuff in your feed if it's just clutter?  If it's meant to be, you'll find that blog again.  It's happened to me – I wasn't feeling a blog, so I unsubscribed, then a few months later "discovered" the blog again and subscribed.  Nothing's final – you can add and remove at your leisure.

6.  It's Not Just for Blogs!
I have a TON of stuff in my Google Reader – not just blogs!  From local news to Cute Overload to Tip Junkie Giveaways – I have all kinds of websites in my reader.  You can add anything with an RSS feed – go ahead, try it.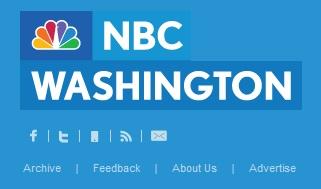 * As you can tell by these screenshots – I'm one of those people who (tries) to keep my Google Reader at zero.  But then, I'm also the kind of person who obsessively cleans out my email inbox.  Also – I would never unsubscribe from SITS.  😉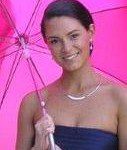 Anne Hogan is a 20-something workaholic and social media addict. In her rare free time she likes to experiment with crafts, cooking, gardening and home décor. You can find her at LadyAnne.me, where she shares her latest adventures along with copious pictures of her rescued Pomeranian, Teddy.