This post may contain affiliate links which may give us a commission at no additional cost to you. As an Amazon Associate we earn from qualifying purchases.
The importance of search engine optimization is something we've always tried to wrap our minds around at SITS because we have seen firsthand how paying attention to things like headings and domain names and keywords can dramatically improve the way a site is ranked.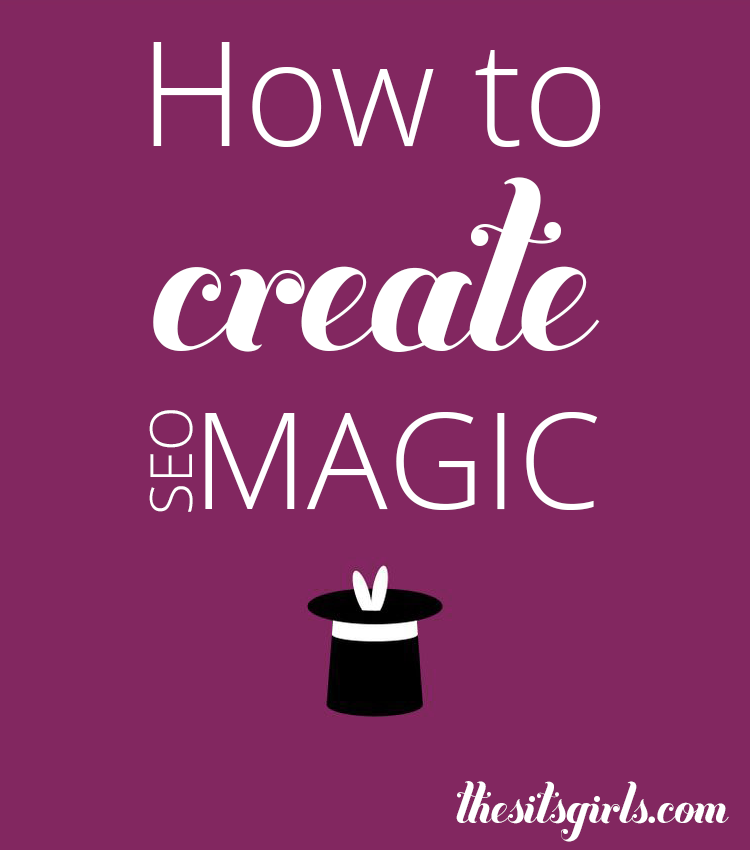 How To Create SEO Magic
Why should I care how my site is ranked?
You should only care about how your site is ranked if you want more people to find your blog so that you can grow traffic, gain readers, increase your influence and ultimately (hopefully) earn some money.
Part of doing this means asserting yourself as an expert on certain topics within your niche. When those topics are searched, the goal is for your site to show up on the first page of Google's search engine.
Why does the word "niche" keep coming up?
I blog about everything and I'm proud of it!!
Many of us fight the idea of pigeon holing ourselves into a specific niche, but in the case of growing traffic and improving SEO, it is actually a good idea. Even if your blog is about everything, you might want to think about honing in on a couple of things you do really well. Bloggers who limit their scope when writing have an easier time being found on the web.
Work on titling, describing, categorizing, and filling your posts with rich (and popular) keywords to become a subject matter expert while building your brand.
What else can I do to start optimizing my site for search engines?
I'm glad you asked. Here are some other easy things you can do today to improve your SEO:
Create SEO-Friendly Post Titles: Always include your keyword in your title. Try asking a question or using a number if you have written a list post.
Optimize URLs: Ensure your post URLs reflect your keywords.
Meta Descriptions: Add a brief and unique description to each page and post on your blog so your readers will be motivated to click. This is the description that will show up under your link title in search engine results.
Tag Images: Add your keywords to your images. Change image titles from "image028837.jpg" to "healthy-recipes.jpg". Use alt text to your advantage by including keyword-specific descriptions that will also work well as a Pinterest description.
Claim Your Blog: Get access to the information Google has about your site by adding it to Google Webmasters.
Our hope is that while you focus on writing great content, you will be able to also take important steps toward getting your content discovered by a wider audience.
How much do you pay attention to SEO, and what are some things you've done to improve it?