This post may contain affiliate links which may give us a commission at no additional cost to you. As an Amazon Associate we earn from qualifying purchases.
We're thrilled to have Angie from The Work at Home Wife joining us as our featured blogger today.  Not only is she a Virtual Assistant and Freelance Writer, but she also has much to teach us about internet marketing techniques , such as Search Engine Optimization, aka SEO.

When Angie first started her blog, she found that she was getting very little traffic from search engines, such as Google.  In fact, because her traffic was for keyword phrases that had nothing to do with her blog, she was forced to continually market her blog manually…
When I first started my blog, I was living the "if you build it, they will come" dream.  Like most beginner bloggers, I thought if I started posting regularly and marketing through social media, somehow search engines would start sending me traffic. I didn't know anything about SEO blogging, and it all sounded far too confusing to learn.
Once I did finally resign to learn SEO, I spent a lot of time trying different methods until I found one that worked and was easy to incorporate.  I was so excited when I started seeing measurable results that I had to share what I was doing.  I wrote my free report, The Beginner's Search Engine Optimization Strategy.
Here are two methods I describe in my report that I've used to improve my search engine ranking:


Post Titles
Post titles are one of the easiest places to start incorporating SEO.  Rather than being vague in your titles, start adding keywords.  When constructing your next blog title, take a moment to plug your topic into the Google Keyword Tool.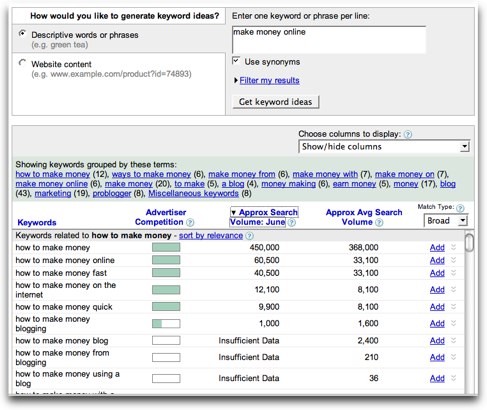 If your blog relates to recipes, instead of using "How We Eat at Home Every Night," use a title like "Fast, Easy Meals for Weeknights."  "Fast easy meals" is a keyword phrase that people searching for information are using.  By using this alternate title, you'll be able to reap the rewards of this organic traffic.


Post Categories
Most blogs will use the category name for the URL when archiving posts.  URLs that optimize keywords show up in search results.  Instead of having 100 different categories, use the Google Keyword Tool to select 10 to 12 keyword phrases that relate to your blog topics.  When a web surfer searches for one of the keyword phrases you selected for your categories, they will not only receive one post, they will be directed to all of those posts archived under that topic.
If you're interested in reading more from Angie, such as a step by step guide to affiliate marketing, home business solutions, or how to make money online, then be sure to stop by her blog!
* * * * * * * * * * * * * * * * * * * * *
Would you like to be featured on our website and get a nice bump in traffic and followers? Then let us showcase your blog! Read about how to get involved here.
And, as always, when you see this button:
Be sure to support your fellow SITStah & leave a comment!