This post may contain affiliate links which may give us a commission at no additional cost to you. As an Amazon Associate we earn from qualifying purchases.
One of the most important – and least understood – parts of blogging is search engine optimization, usually shortened to SEO. But SEO is one of the most important factors in bringing traffic to your blog, which explains why there are so many SEO blogging tips out there. The problem is, even when you read blogging tips and tutorials, they can be a little confusing – so we're going to try to break it down a little.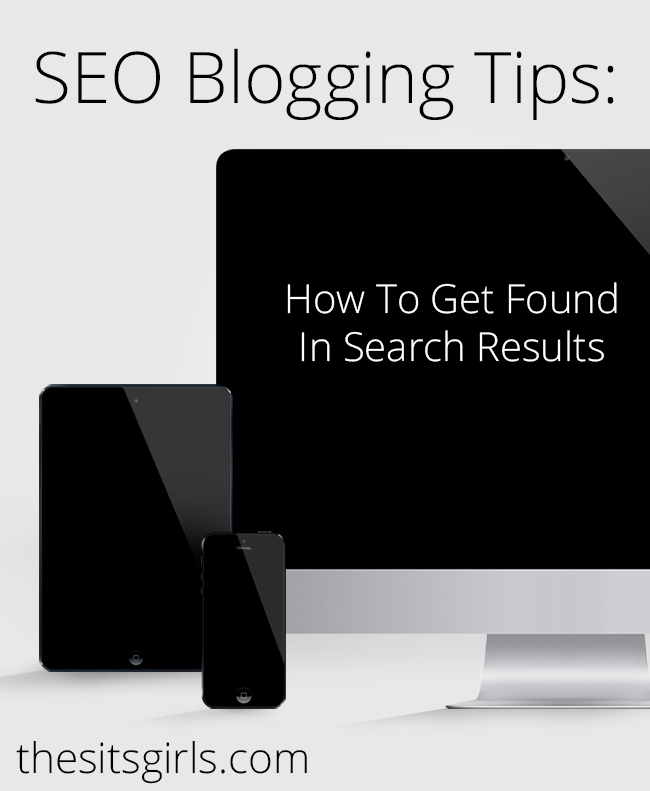 SEO Blogging Tips
SEO is a little easier to understand once you understand the basics of how Google works. I'm going to focus on Google, because really, it's where 99% of your search traffic is going to come from, and if you rank well in Google, you'll be doing all right in Yahoo and Bing as well.
Google's whole existence is based around providing internet users with the very best search experience possible. When someone does a search for "how to crochet a doily", Google wants to show them the very best web page on that topic as the number one result.
SEO is what you can do to show Google that your page is the best one. To help you out, we've put together some SEO blogging tips that every blogger should be using to improve their search engine ranking.
1. There are two types of SEO
The first is "on-page" SEO. These are things that you do on your actual blog to make it more attractive to the search engines. The second is "off-page" SEO (makes sense, right?), and this is about getting back links from other places around the web that point to your content.
2. Make sure your post URL is SEO friendly.
The URL of your post – called the permalink – is the web address that shows in your browser when you're on your post. Make sure that you're not using the default permalinks; on your WordPress dashboard, you can choose how you want your permalinks to be displayed. Most people choose to have a date and post title.
But you can go even further! Your permalink is totally editable. Just click on the "edit" button, and you can use your keyword phrase as your permalink. That's great for SEO!

3. Every post should link to at least two other posts.
Google loves it when your post links out to other related posts. In every post that you write, you should link out to a bare minimum of one of your own posts, and a post on another site. Linking out to other sites makes your site look like an information hub, and will help you rank higher.
4. Use SEO-friendly anchor text for your links.
Anchor text is the actual text of your link. Remember my crochet example above? Imagine I'm writing my crochet article, and I want to link out to someone's article on choosing yarn. I'm not going to use a link that says "click here!" – I'm going to use one that says "choosing yarns for crochet projects".
That's the kind of keyword phrase someone would use to search, and it's related to the topic of my post, so it's great for SEO.
5. Your image ALT-text should be keyword rich
As of yet, Google spiders can't look at the file for you image and know what it's a picture of. So for now, make sure that you go into your ALT-text and give a description of the image. Bonus: That also makes your blog more friendly for people who are blind and use text readers to "see" the web page. It is also great for Pinterest, as the alt text will often auto-populate in the pin description when someone tries to pin your post.
6. Focus on one keyword per post.
Each post that you write should be centered on optimizing for one keyword. It should be in your title, in the first paragraph and then once or twice throughout your content, depending on how long your post is.
But it's also important to include related keywords, because it confirms that your keyword is actually what the post is about. A really great way to find the best related phrases is by using Google itself! Simply do a search for your main keyword phrase, then scroll down to the bottom of the page. When I do that for our doily keyword phrase, this is what I find:

Including two or three of those related keywords will give your SEO a boost!
7. Remember that your content is the most important thing.
Remember what I said at the beginning: Google wants to give the user the best possible result in the search engine. If you're consistently writing the best possible content, you will get ranked, it's just a matter of time. All the SEO blogging tips in the world won't help you if your content isn't valuable to the reader. Think about what the readers want. Write posts that answer their questions and solve their problems.
In the end, it's also your content that's going to help you the most with your off-page SEO. When your content consistently kicks butt, other people are going to share it, and that's going to give you those back links you need.
SEO isn't all that hard! Write content that people are looking for, help Google find it so they can show it to their users – and watch your traffic grow.
Want more information about SEO? Learn how to find good keywords and how to write blog post titles that are SEO and reader friendly.