This post may contain affiliate links which may give us a commission at no additional cost to you. As an Amazon Associate we earn from qualifying purchases.
So you've got terrific, original content- fabulous! But if you don't start off with a strong, clickable blog post title, your genius will be relegated to the fifth or sixth pages of search engines.
Fear not! I've culled the top five tips for creating better blog post titles; ones which will be SEO friendly and inspire readers to click through!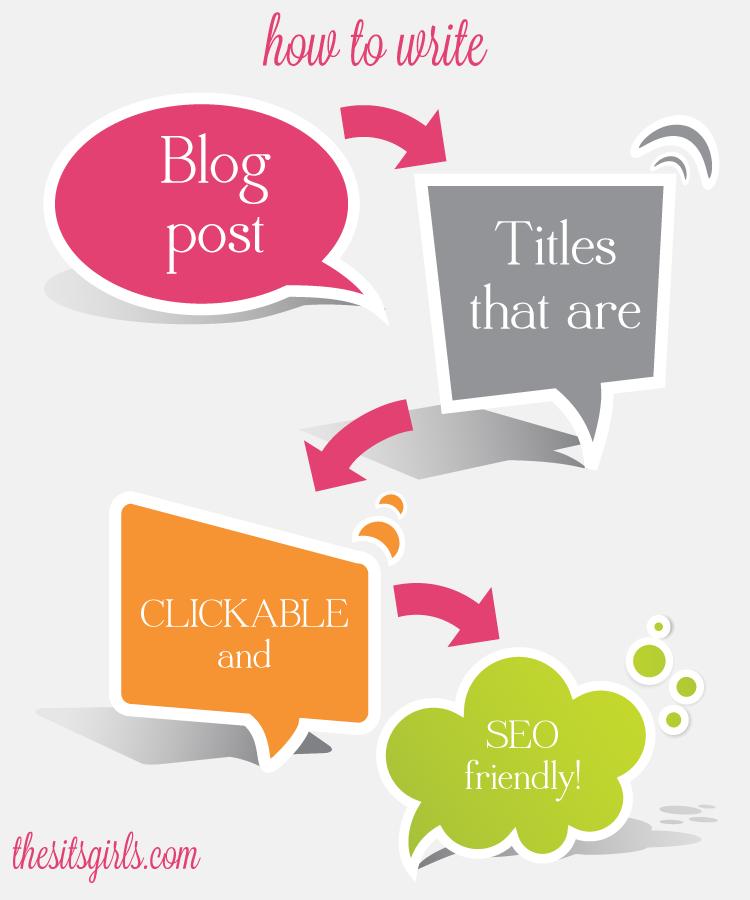 How to Create SEO Friendly Blog Post Titles
1) You need keywords that are strong- and easily indexed by Google
This is hugely important to remember: Google has zero sense of humor. I agree, Does Anyone Else Think It's Weird That I Stirred Soap Into My Coffee This Morning is a downright hilarious blog post title. But search engines will have no idea what to do with it. It's not gonna shove your post higher in search rankings because it felt you were especially clever that morning. (Bummer, I know.) So save your witty repartee for that handy "content" section of your blog post, and keep your post title simple. (And try keeping your soap separate from your coffee creamer.)
2) That said, don't get married to your draft post title
As you write your piece, allow for newer, more powerful keywords that may have popped up while you were creating content. Sure, you may have started out writing about Alpaca grooming tips, but if the piece evolves into how to best house Alpacas, go back and tweak the post title. (Don't lead the people astray.) And there are great tools to help you choose those perfect key phrases! Google Keywords, for example, helps you pick keywords for your post title that are highly searchable yet low in competition- meaning folks will see your alpaca blog way before the rest.
3) People love numbers in titles
I have no idea why, they just do. Maybe something about 4 Ways To Guarantee Happier Monkeys seems more doable than Happy Monkeys Are Attainable. So whether you're offering up 19 Reasons Your Child Can't Eat Dairy or 3 Things To Do Today To Make Tons Of Cash, number those posts. (And if someone could hurry up and write that last article, I'd really appreciate it.)
4) Adjectives are your friend!
Tell me the truth, which group of words would inspire you to click on over: Exceptional, ridiculous, and stunning? Or Nice, good, and fine? Unless you're reworking a textbook from the 1950s, forget about the Dick and Jane adjectives and go big (and descriptive)! Gorgeous Lint Art In 4 Effortless Steps. I'd click that.
5) Ask a question. Or make a statement
Utilize the whos, whens, hows, whats, and whys in your post title and you will get readers clicking through to discover what, exactly, makes you such an expert. How I Lost 15 Pounds Overnight. When To Potty Train Your Exceptional Emu. But here's the kicker: you've gotta follow through with your title and actually address the darned emu issue. Link bait n' switching is not only annoying, but leaves scores of emu-owners in the dark as concerns potty training.
Now get out there and create strong, clickable post titles to match your stellar content! Got any tips you'd like to add? Comment below!
LOOKING FOR MORE POSTS SIMILAR TO THIS ONE?
Looking for more posts similar to this one? Then be sure to click through the below links!