This post may contain affiliate links which may give us a commission at no additional cost to you. As an Amazon Associate we earn from qualifying purchases.
Being an SEO copywriter and analyst by day, I get a lot of emails from fellow bloggers asking for advice about SEO and optimizing their blog for SEO. Today I am going to answer the question that is on everyone's lips: How do I optimize my blog for SEO?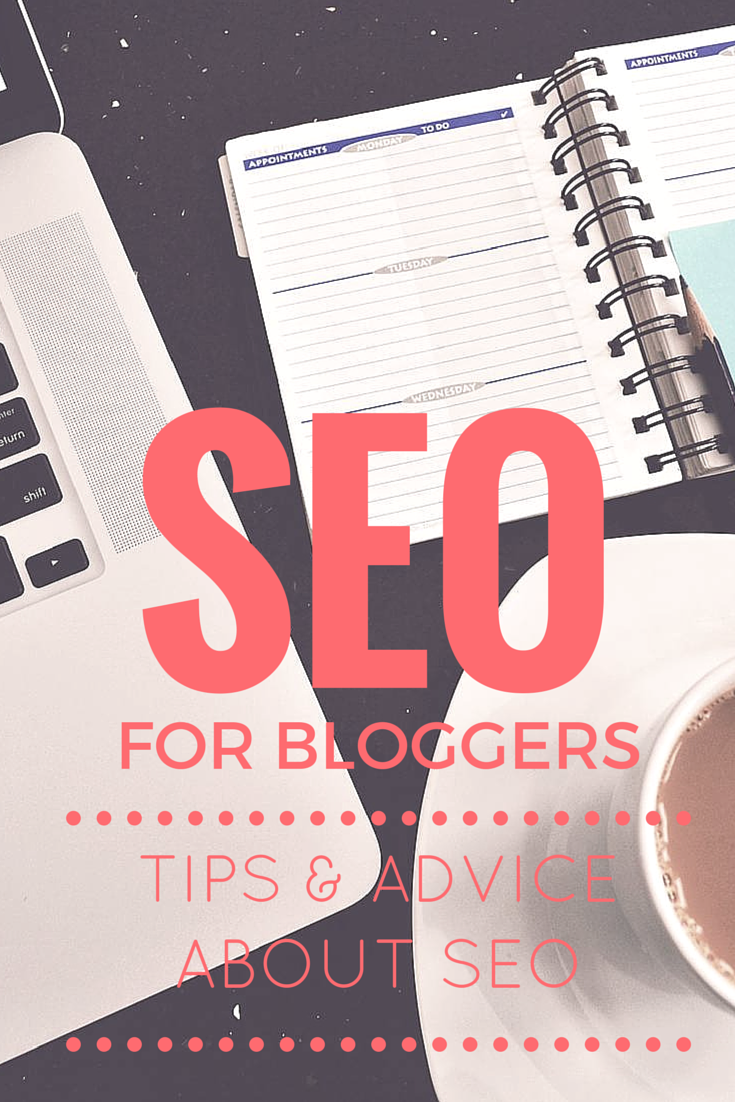 SEO TIPS FOR BLOGGERS
First, what does SEO stand for? The acronym SEO stands for Search Engine Optimization. But what does that mean for those of you not in the know? SEO is how people find your site on search engines, like Google, for example. So, if someone is looking for "makeup", and you are a beauty blogger, you'd ideally want your site to appear on the first page of Google.
I also like this explanation form Elle & Company Design: "Each time you enter a subject in Google's search bar and hit Enter, Google crawls and indexes pages to see which websites are the most relevant. Many websites attempt to build in keywords and implement other techniques in order for Google to find their site relevant and give them a high ranking, and this is called SEO."
SEO is important for your blog for so many reasons, but, the most important reason is this: TRAFFIC! Traffic from search engines can boost your amount of visitors and presence online.
So, how do you you make your blog or website SEO friendly? Start today by doing the following every time you write a post:
1. Title your posts properly
Think about what you would search to find an article about the topic you are writing for and name your post accordingly.
Good SEO Post Title: Beach Bag Essentials for Celebrating Summer
Bad SEO Post Title: Celebrate Summer With This In Your Bag
2. Remember your content is important
When writing an article, make sure your content adds meat to the bone. Include popular search terms in your post and bold them. You can also link these terms to any relevant articles on your blog. Remember that you are still writing for your readers, and not Google, so ensure that your articles are reader friendly.
3. Use text instead of images
Google can't really read images, so stop using these cool graphics as headers for your post – it won't help your blog's SEO. Always start your blog post with words. When you place images in your content, make sure you title them properly so they will be found in Google Images. Remember the importance of alt text, too!
4. Link older posts
At the end of the post, add links to older post that are relevant to your topic. You can also add these links within the content of your post.
5. Stop stuffing keywords
If there is one thing that annoys the Google spiders, it is keyword stuffing. What is keyword stuffing? Well, that is when you overload a post with keywords and bolding or linking those. Not only does this make it difficult to read for your readers, but the Googlebots marks you as a spammer and will rank your posts negatively.
Author Bio: Imka Webb
Hi, I'm Imka Webb. Wife, SEO Analyst and PR Account Manager by day and Lifestyle Blogger by night. I live in sunny South Africa, and I am obsessed with pink, glitter, love and life!