This post may contain affiliate links which may give us a commission at no additional cost to you. As an Amazon Associate we earn from qualifying purchases.
As a blogger, it's key that we not only check our stats in Google Analytics, but that we also understand them. Today we are going to focus on Real Time Google Analytics numbers. What they are, what they mean, and why these numbers are important. You can use analytics results to plan future blog posts.
Real Time Google Analytics: Use Analytics To Grow Your Blog
When you first log into your Google Analytics dashboard you'll see a page like the below image.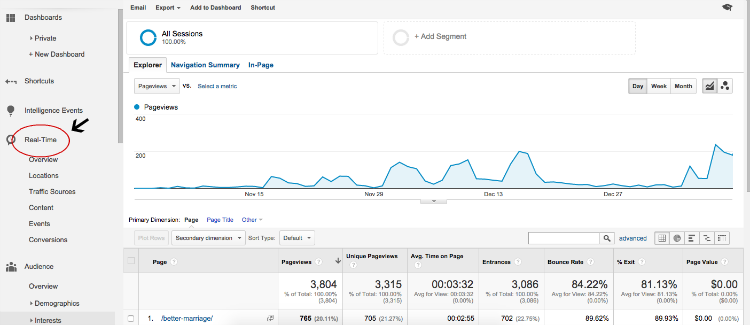 You'll want to start off by clicking on the Real-Time option in the left-hand sidebar.
From there it will take you to a page that looks like the below image.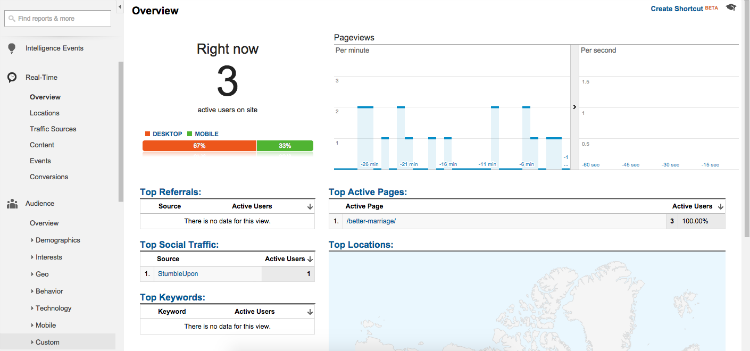 The "Right Now" number you see will be different than the one above. The number in this section represents the number of people that are actively on your site at that very moment.
If you are familiar with the time of day your visitors frequent your site the most, you'll probably have a good idea of what you want that number to be at any given time. It's a good idea to keep an eye on this number on a regular basis. This number can tell you a lot about what's going on with your site.
If your number is lower than normal, there may be a tech problem or maybe your promotion for the day isn't paying off. If your number is much higher than normal, you might want to see if a post went viral. Staying on top of your real time Google Analytics number will let you know when you need to work a little harder with your promotion, when things are going great, and when there might be some sort of issue.
Within the Real-Time section, you can also check to see what outlet the traffic is coming from and what content they are viewing.
Here are some examples of what the other screens look like.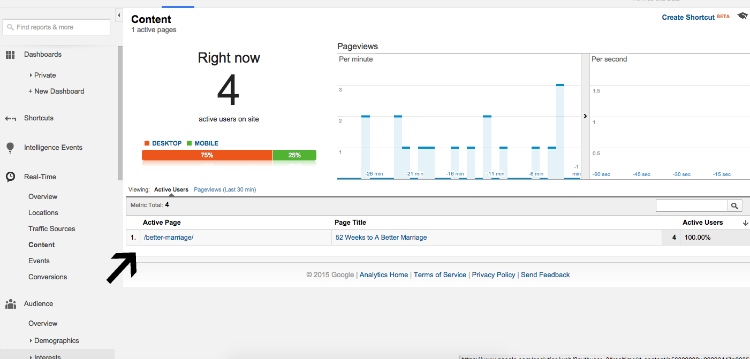 The image above represents the content the active users on your site are looking at.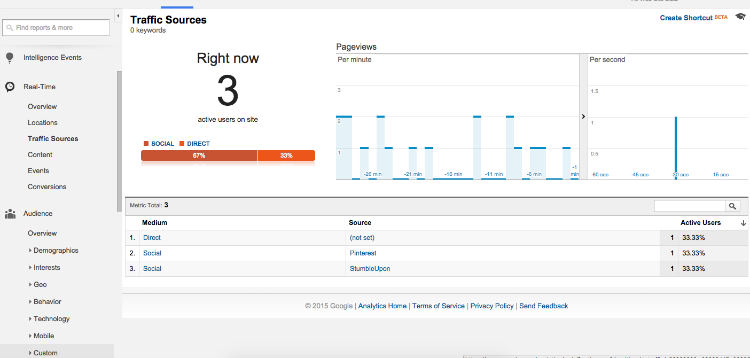 The image above represents where the traffic is coming from.
Take some time to study your real time Google Analytics numbers in order to figure out what a good number for you is. As you learn to use analytics results, you will be able to key in on exactly what is working for your blog.
Check out these posts to find keywords and blog topics in your Google Analytics.